Updated: 08/22/2019
Among many exciting and interesting things and attractions in Vietnam, Suoi Tien Theme Park (Công Viên Suối Tiên) is outstanding for its special oriental architectural style and fascinating entertainments that will win the heart of tourists and visitors who have a chance to visit the vibrant city, Ho Chi Minh (Hồ  Chí Minh). Located in Tan Phu (Tân Phú) Ward, District 9, Ho Chi Minh City, this amusement park with plenty of world-class entertainment facilities is a Vietnamese water-filled fantasy land and one of the biggest theme park in Ho Chi Minh City.
Suoi Tien Theme Park: The Cultural Park In Saigon, Vietnam
When Is The Best Time To Visit Ho Chi Minh City
To enjoy the fun and interesting outdoor activities in Suoi Tien Theme Park (Ho Chi Minh City), I suggest you should visit the park during the drier months of Ho Chi Minh City (from December to March). At this time the temperatures are between 21°C and 34°C. Many visitors like to visit the park with their family during the weekends or Tet (Tết) festival in late January or early February. However, if you prefer quietness, it is recommended avoiding those occasions and visiting the park on weekdays when not many people travel to Ho Chi Minh City.
Why Suoi Tien Theme Park Is Special?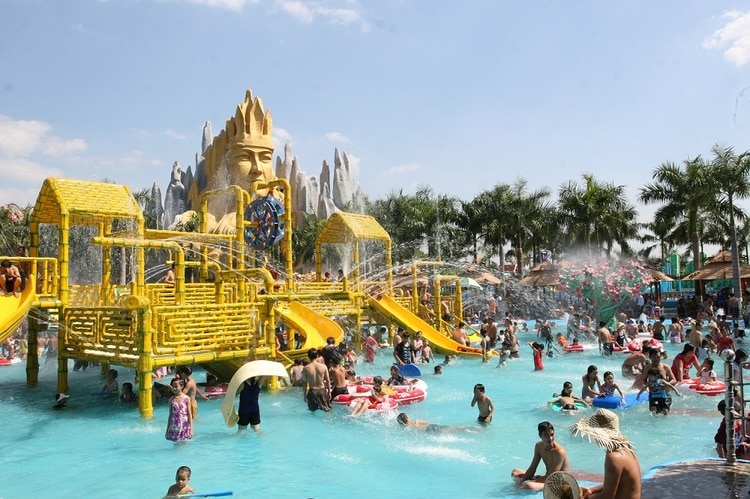 Vietnam's Suoi Tien Theme Park focuses on Vietnamese folklore, history, and of course, the Buddha. With the concept of oriental beliefs, the park was built in Oriental architecture that is shown by all the buildings, statues and games of the park. In the park, we can see an oversized golden dragon with mouth containing a neon, a swimming pool with a massive facade of dragons surrounding, avenues with pillars having the shape of elephant tusks, and a giant frog sculpture at the entrance. Those all symbolize the wish for happiness, peace and wealth. Besides, you can also find some buildings and statues constructed based on long-standing Vietnamese legends such as Lac Long Quan – Au Co (Lạc Long Quân – Âu Cơ), Thanh Giong (Thánh Gióng) and Chu Dong Tu – Tien Dung (Chử Đồng Tử – Tiên Dung).
Construction in Suoi Tien Theme Park is divided into 12 areas. The outstanding features of Suoi Tien are legendary and historic characteristics of architectural facilities used for entertainment purposes. Suoi Tien has designed and established 4 zones based on the legends of 4 sacred animals including Unicorn, Dragon, Phoenix, and Turtle. Each zone in Suoi Tien is corresponding to each typical element, namely wood, metal, water, earth and fire. We can say that the charming beauty of this theme park is a combination between artificiality and natural, modern and ancient architecture, which make Suoi Tien Theme Water Park become one of the most enchanting attractions in Ho Chi Minh City.
Visiting Suoi Tien Theme Park, tourists can not only play many interesting games but also have a chance to learn about Vietnamese history. What's more, it is a great idea to visit this site during cultural festivals that are periodically held with many exciting Vietnamese traditional activities, like in the occasions of Mid-Autumn Festival, Lunar New Year and Hung King Anniversary.
Moreover, Suoi Tien Amusement Park also helps to raise people's awareness of loving the nature and protecting the environment as it is home to many specious animals such as chimpanzees, aquatic species, bears, tigers, etc.
What To Explore And Play At Suoi Tien Theme Park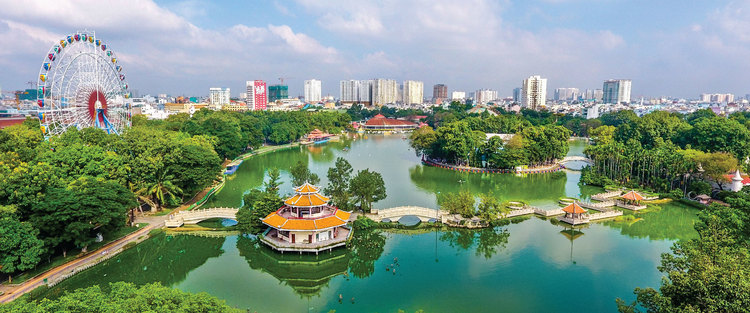 Visiting Suoi Tien Theme Park, tourists not only admire the unique architecture and immerse in nature but also join in numerous kinds of games from thrilling, scary to adventurous ones like 4D Theatre, Mystery of the Forest, Air Bicycle and Roller Coaster. Even children would not be disappointed when visiting this recreational area because there is a specialized area for kids called The Children Kingdom. In this place, children can enjoy a lot of attractive and funny games from children train, electric car to ball house.
The water park area is one of the main things you should not miss when you have a chance to come to Suoi Tien Theme Park. It is an ideal place for those who love playing on water because the park features many fascinating water games for you and kids to enjoy. Besides, there is a paintball area. With the entrance fee of 100,000 VND, you can spend an hour on paintball extravaganza complete with guns, gear, and paint. If you are the ones who are scared to paintball or do not want to get dirty, you can visit a laser tag area in which most of the rides designed for kids are not scary or fast.
You can also visit a crocodile farm that is home to about 1,500 of the reptiles. You can feed the crocodiles or also buy a baby crocodile on this farm.
A dolphin and sea lion show held every couple of hours also attracts many visitors and tourists to visit and watch. The animals here are kept and trained well; therefore, they are able to perform many incredible feats such as hitting balls with their tails or jumping through a hoop of fire.
Playing in Vietnam's Suoi Tien Theme Park, children are also interested in a turtle or dog shaped boat ride around the park. Furthermore, the Palace of Unicorns has an amazing gory house of horrors
This park opens every day from 8 am to 6pm. On weekends, the park closes at 6:30 pm while on special occasions and national holidays, it opens to welcome guests until 11 pm.
To enjoy the funny and interesting things and activities in Suoi Tien Theme Park (Ho Chi Minh City), you have to pay the entrance fee of 50,000 VND for adults and 25,000 VND for kids. Some games in this park require the extra costs varying from 5,000 VND to 60,000 VND to play.
Read more:
Suoi Tien Theme Park is a wonderful stopping destination for any tourists traveling to Ho Chi Minh City as it brings interesting and paranormal experiences with a number of majestic wonders. It will give you the feelings of soothing and relaxing, creating unforgettable memories. Thanks to the unique architecture, wonderful scenery with shady plants, and amusement activities, Suoi Tien Cultural Theme Park is considered as one of the ideal and popular tourist sites in Saigon that attracts the larger number of domestic and international visitors. If you want to know more activities in Ho Chi Minh, don't hesitate to click Vina.com.