Updated: 08/24/2019
Tam Chuc Tourist Area (Khu du lịch Tam Chúc) in Ba Sao town (thị trấn Ba Sao), Kim Bang district (huyện Kim Bảng), Ha Nam province (tỉnh Hà Nam) has been dubbed the "Ha Long Bay on land" (Vịnh Hạ Long trên cạn) with its beautifully pristine and magnificent landscape, making people feel pure, soothing, and peaceful once they have arrived. This area possesses Tam Chuc Pagoda (Chùa Tam Chúc), which appears with a unique design and dating back over 1000 years. It is also a religious destination attracting numerous Buddhists as well as tourists.
Tam Chuc Pagoda In Ha Nam, Vietnam: "Ha Long Bay On Land"
I. How To Get To Tam Chuc Pagoda?
About 60 kilometers from the center of Ha Noi (Hà Nội), 12 kilometers far from Phu Ly city (thành phố Phủ Lý), Tam Chuc Tourist Area is located on National Highway 21A (Quốc lộ 21A) adjacent to Hoa Binh (Hoà Bình) and Ninh Binh (Ninh Bình). This is one of the tourist areas approved by the Prime Minister as a national key tourist area. In recent years, the transportation system connecting Ha Noi and Ha Nam is very convenient. In order to play the potential of regional integration, Ha Nam Provincial People's Committee has planned infrastructure to link Tam Chuc Tourist Area with Bai Dinh Pagoda (Chùa Bái Đính) and Huong Pagoda (Chùa Hương), forming a "Golden Triangle" of the top spiritual and ecological tourist area in Vietnam.
From Phu Ly city, you just need to go along National Highway 21A to reach the tourist area.
II. What Are Attractions Of Tam Chuc Pagoda?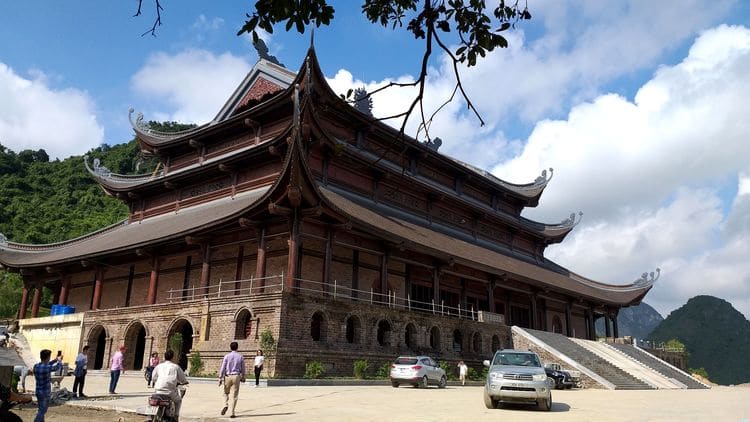 1. The Mysterious And Ancient Beauty
Tam Chuc Tourist Area consists of submerged majestic limestone mountains, which still retains the natural wild beauty. It is evaluated in terms of feng shui as the sacred land because its back is leaning against mountains and its face is looking out to lakes. Due to this, Tam Chuc is also called "Ha Long Bay on land."
Tam Chuc Pagoda is a work located on an area of nearly 5000 hectares of Tam Chuc Tourist Area, involving 1000 hectares of lakes, 3000 hectares of mountains, and 1000 hectares of valleys, all of which make Tam Chuc one of the most special pagodas in Vietnam. The front of the pagoda is a huge natural freshwater lake, and in the middle of the lake, there are 6 small mountains rising up, creating spectacular figures. On the back of the pagoda are other 7 mountains that can glow when there is moonlight at night. About the present of these mountains, folk circulated for long time a legend: 7 mountains in the back are 7 fairies descending from the heaven and forgetting the way back after being fascinated by the charm of Tam Chuc. And 6 mountains in the front are 6 bells brought down to call the fairies back but useless.
The pagoda was built with thousands of stone paintings meticulously crafted by the skillful hands of craftsmen. There were 12000 paintings depicting the Buddha's events sculpted from volcanic stones by Indonesian Muslims, then taken to Vietnam. In addition, Tam Chuc Pagoda also established a giant garden of 1000 stone pillars with Buddhist scripture carved on them, and each pillar is 12 meters high and weighs 200 tons.
The total structure of the pagoda includes Ngoc Pagoda (Chùa Ngọc), Tam The Shrine (Điện Tam Thế), Phap Chu Shrine (Điện Pháp Chủ), Quan Am Shrine (Điện Quan Âm), Tam Quan Gate (Cổng Tam Quan), and International Meeting Room. All the shrines and Buddha statues at Tam Chuc Pagoda are extremely large in size. Specifically, the giant Buddha statue weighing up to 200 tons is the biggest bronze statue in Southeast Asia today. The most remarkable structure here is Ngoc Pagoda, which is located at the top of That Tinh mountain (núi Thất Tinh) and constructs by Hindu artists with elaborate designs. Besides, Tam The Shrine has a height of 39 meters, a floor area of 5400 square meters, which enables 5000 Buddhists to officiate at the same time.
Currently, the new pagoda is being rebuilt on the base of the old one. The project is expected to be completed in 2048 (construction within 50 years); at that point, Tam Chuc Pagoda will probably be one of the largest pagodas all over the world.
2. An Over Two-Thousand-Year-Old Bodhi Tree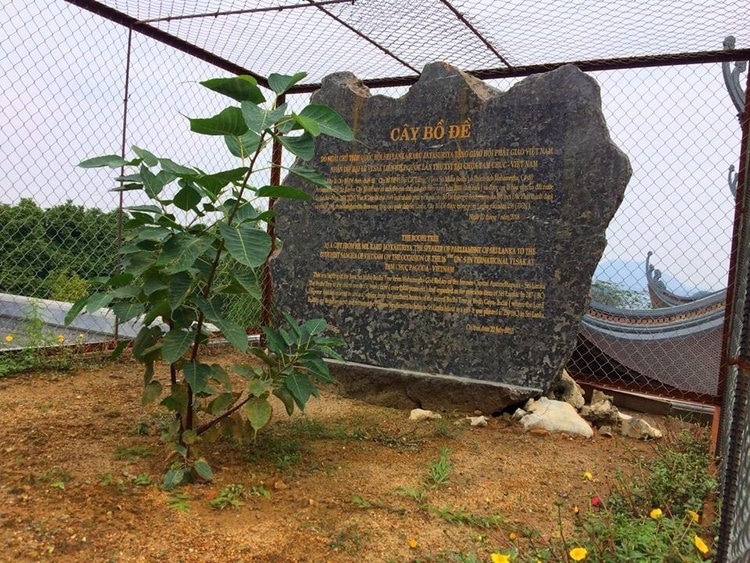 Tam Chuc Pagoda owns the world's highest life-long Bodhi Tree, which was presented by the Chairman of National Assembly of Sri Lanka. This Bodhi Tree is extracted from "The Great Bodhi Tree" (Jaya Sri Maha Bodhi) at Mahamegha Relic, Anuradhapura Ancient Capital, Sri Lanka. It is considered the treasure of this island nation.
The venerable monk Thich Minh Quang (Thích Minh Quang) – Deputy Head and Chief Secretary of the Vietnam Buddhist Sangha of Ninh Binh province said: "The Bodhi Tree symbolizes the enlightenment of the Buddha's mind and the Buddhists' good heart." Therefore, for Buddhist countries, the Bodhi Tree is as respected as the Buddha; Bodhi Tree, Buddha Statue, and Stupa are equally valuable. Till now in the world, Vietnam is the second country after Nepal to receive this precious tree. Furthermore, the Bodhi Tree planted at Tam Chuc Pagoda also marks the 2019 Vesak Ceremony, affirming the relationship between Vietnam and Sri Lanka. This Ceremony is a very rare event of cultural exchanges.
In the letter to Vietnam on the occasion of "inviting" the Bodhi Tree to Vietnam, the Chairman of National Assembly of Sri Lanka wrote: "I am very honored to send a message to celebrate the historical event that Sri Lanka gives the Bodhi Tree extracted from our country's sacred Great Tree for planting in Tam Chuc Pagoda. The tree will be a messenger of lasting friendship between two countries, contributing to tightening our cultural exchanges. May this Bodhi Tree bring peace, prosperity, and happiness to your Vietnamese people."
III. What To Eat And When To Stay When Visiting Tam Chuc Pagoda?
Tam Chuc Tourist Area in general and Tam Chuc Pagoda, in particular, is still in the construction phase and rushing to complete in the nearest time. Thus, visitors will not yet find places to rest and diner in this complex. You have to book accommodation in Phu Ly city and bring along food if you want to enjoy when sightseeing.
Tam Chuc Tourist Area is really an attractive spiritual destination thanks to the perfect combination between the ancient beauty of thousand years old pagodas with the majesty of immense scenery. We hope through this article, you will find the inspiration to set foot on this holy land. If you have any questions, do not hesitate to leave a comment in the box below. For more information about other attractions to visit in Vietnam, please go to our Vina site.