Updated: 08/24/2019
Cho Lon (Chợ Lớn), sometimes called Saigon's Chinatown (Khu phố Tàu), is a famous market in Ho Chi Minh City (Thành phố Hồ Chí Minh). This is a place with a strong historical and cultural character that any visitors coming to Ho Chi Minh City must set their foot on at least once. Cho Lon is one of the city's oldest markets, which is home to the majority of Vietnamese Chinese people, formed by the need to exchange goods and the process of urbanization.
Saigon's Chinatown (Chợ Lớn): Must-See Big Market In Vietnam
I. How To Get To Saigon's Chinatown?
The area of Cho Lon stretches from District 5 to District 6, which is around 5 to 6 kilometers from District 1 – the center of Ho Chi Minh City. It is best for tourists to catch a taxi or a motor taxi to get to Cho Lon since there is not a so appropriate public transport to reach there. If you still want to try with public transport, for example, from the heart of the city, the Notre Dame Cathedral (Nhà thờ Đức Bà), take a walk to the bus station at the University of Economics (Đại học Kinh Tế), get on the bus no.150 and get off at Cholon bus station, which is right in front of the market's main gate on Le Quang Sung Street (Đường Lê Quang Sung).
II. What Are Attractions At Saigon's Chinatown?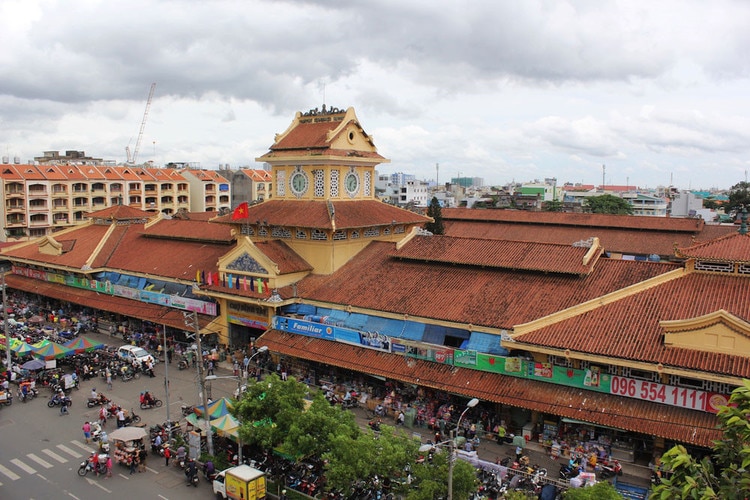 1. Specific Architecture
The whole market was built according to modern French techniques but still, possesses an ancient Chinese style with overlapping tile roofs and gently curved roof corners. The main tower of this market has a 4-side clock that enables people can see the current time in all directions.
The unique point of Cho Lon is that in the middle of the market there is a spacious courtyard surrounded by blocks. In the courtyard, visitors can find fish ponds and several benches for relaxing. This is also the place where the statue of Mr. Quach Dam (Quách Đàm) – the founder of Cho Lon – is located.
2. Market Area
Just like the name Cho Lon, which means "big market" in English, here everything you need and even things you never need are available. Starting from Cho Lon Post Office (Bưu điện Chợ Lớn), there are countless markets, one after the other, with numerous kinds of items from household, stationery to confectionary, construction materials, chemicals, etc. We can mention Kim Bien chemical market (chợ hoá chất Kim Biên), Dai Quang Minh needle market (chợ kim chỉ Đại Quang Minh), Soai Kinh Lam cloth market (chợ vải Soái Kình Lâm), or Binh Tay market (chợ Bình Tây) with a series of food carts, consumer goods, artificial flowers, and so on.
Many visitors to Cho Lon will feel familiar because the system of business streets here is not so different from the 36 streets in Hanoi. Each street is named after the item sold there, such as lantern street, lion head street, ornamental fish street, insect street, and Chinese herbs street.
3. Temples And Society's Premises
In Ho Chi Minh City, Vietnamese Chinese people converge heavily in District 5, 6, 10, and 11, but when it comes to Chinatown, everyone thinks of District 5, since this place concentrates most of the temples with bold Chinese architecture, and the culture of the Chinese descent in Cho Lon area is also the most obvious.
The most characteristic feature of temples in Cho Lon is the glazed tile roof, colorful and patterned pillars in the sanctuary, and huge worshipping area. Almost all of the temples in District 5 worship Quan Nhi Ca (Quan Nhị Ca) or Quan Cong (Quan Công), who is considered to be the god of good and prosperous business. The largest and richest temple of Quan Cong in Cho Lon is Ong Temple (Chùa Ông), visitors can visit here from the morning till 5 pm.
In addition to worshipping, temples in District 5 also operate on behalf of society's premises, namely Ong Temple belongs to Nghia An Society's Premises (Hội quán Nghĩa An), Ba Temple (Chùa Bà) belongs to Tue Thanh Society's Premises (Hội quán Tuệ Thanh), Quan Am Temple (Chùa Quan Âm) belongs to On Lang Society's Premises (Hội quán Ôn Lăng). Society's premises, with the function of a village council, brings together people with the same origin and is managed in a very organized manner. This is also a place that supports and helps the Vietnamese Chinese families in society in daily work and life.
Particularly, there is a church inside Cho Lon area. It is named after the first priest – Gia Tam (Gia Tam) – and is an over-100-year-old church. The church has Gothique architecture, like other churches in Europe, but the element of Asian culture is still respected while the name of the church is engraved with Chinese characters, the roof is double tile, and all corners are in curved shape.
4. Alleys
The last thing worth mentioning when wandering in the Cho Lon area is the alley culture. Walking from Gia Tam Church, along Tran Hung Dao Street (Đường Trần Hưng Đạo) or Nguyen Trai Street (Đường Nguyễn Trãi) toward District 1, you will notice many alleys with the culture of the Guangdong (Quảng Đông), Chaozhou (Triều Châu), Hua (Hẹ), Hainan (Hải Nam), and Fujian (Phúc Kiến) Chinese people.
All alleys have their own names with the word "Ly," "Hang," "Phuong" at the end, like Dich An Ly (Dịch An Lý), Thai Ho Hang (Thái Hồ Hạng), or Tung Que Phuong (Tùng Quế Phường). Often the alleys have two entrances. The typical architecture of these alleys is a courtyard surrounding the one-story house. The houses here are usually iron or wooden doors, which are now degraded quite a lot.
III. What To Eat At Saigon's Chinatown?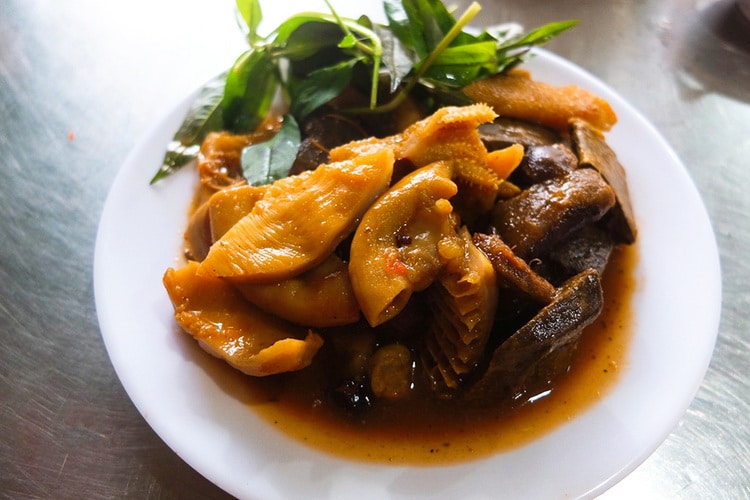 You can find any types of food in Ho Chi Minh City because of its rich cuisine and because it is the focus of many different cultures. However, in such a "food city," District 5's cuisine is always on the list of must-try things. You will feel free to explore the food paradise of Cho Lon without too much worry about your wallet.
1. Pha Lau
Pha lau (Phá lấu) is an extremely famous dish in Ho Chi Minh City. It is processed by ears, nose, tongue, or internal organs of pigs and chickens. To complete this dish, the cook must thoroughly clean and deodorize the stink of the meat, then shred and marinate with spices, white wine, soy sauce, sugar, and other additives. More importantly, pha lau must always be cooked with fresh coconut water to create the right taste, and then depending on liking, some people will add coconut milk or fresh milk to increase the fat.
2. Roast Duck
Currently, in Cho Lon, the most popular roast duck selling area is along Bui Huu Nghia Street (Đường Bùi Hữu Nghĩa) with more than 10 shops, but the most well-known is the shop located on the left corner of the street. In the old time, roast duck was a dish that only served kings, as the cooking process is quite sophisticated. The criterion of a delicious roast duck is that the skin must be brittle with a yellow-brown color and the meat must be soft, juicy, and fresh.
3. Kungfu Noodles
The fresh kungfu noodles which are made on the spot on traditional trolleys are another dish that you cannot pass when you have an opportunity to go to Cho Lon food area. The noodles are not like any noodles that you buy in supermarkets but much tastier, chewy and soft at the same time. One reason why people enjoy this dish is that they are able to see the dough after the molding process and a few jungles, turns into thin slices of noodles. The pulling of noodles is only for those with strong hand force, skill, and experience.
4. Sweet Gruels
Different from other types of sweet gruels from other places, Cho Lon's sweet gruels are less sweet and fat. The most favorite among sweet gruel dishes here are sweet gruel with tea eggs (chè trà trứng), guiling gao (cao quy linh), papaya stew (đu đủ hầm), black sesame sweet gruel (chè mè đen), and almond sweet gruel (chè hạnh nhân). After being full of sour, spicy, and salty dishes, the last thing to finish your food tour in Cho Lon is to try a little sweetness of sweet gruels.
If you are planning to come to Ho Chi Minh City, spend a few leisurely days in Saigon's Chinatown market to totally immerse into the simple but unforgettable things above, and you will not be regretful. To question us or share with us your memories, do not hesitate to leave a comment in the box below. For more information about other attractions in Ho Chi Minh City and Vietnam, please check our vina homepage.