Vung Tau (Vũng Tàu) is a well-known popular tourist destination with many beautiful long beaches of Vietnam; however, the nightlife in Vung Tau is not as dynamic and animated as other big cities such as Hanoi (Hà Nội), or Ho Chi Minh City (Thành phố Hồ Chí Minh). But when the sun sets, this coastal city becomes pretty peaceful with the road full of couples and shining lights.
To discover this nightlife beauty of Vung Tau, you can go for a walk along the beautiful beach, enjoy the cool weather and air blowing from the sea, eat delicious seafood in a small restaurant and then wander along the long street full of souvenirs and food stalls. But, the interesting things about the nightlife in Vung Tau are more than that. In this article, I would like to recommend some great entertainment ideals for tourists to enjoy the best nightlife in Vung Tau.
Nightlife in Vung Tau, Vietnam: What To Do At Night
1. Visit Vung Tau Light House
Built in 1862, Vung Tau Light House located on top of Small Mountain is the awesome attraction you can visit in the evening. Featuring 170m height, Vung Tau Light House has a spiral staircase and a balcony on the top where you can see the panoramic view of Vung Tau city. And at night, it is great for you to enjoy the shimmering beauty of Vung Tau city here. Furthermore, no matter where you stand, you can still see the two light rays of Vung Tau lighthouse and know how the boats can find the way to come back home based on this light.
The Vung Tau Light House attracts tourists because of the historical and architectural value but this Light House in the evening really wins the heart of many people. After sightseeing, you should go down look for a drink at Son Dang Café (cà phê Sơn Đăng) that serves the best coffee.
2. Visit The Lam Son Stadium (Trường Đua Chó Lam Sơn)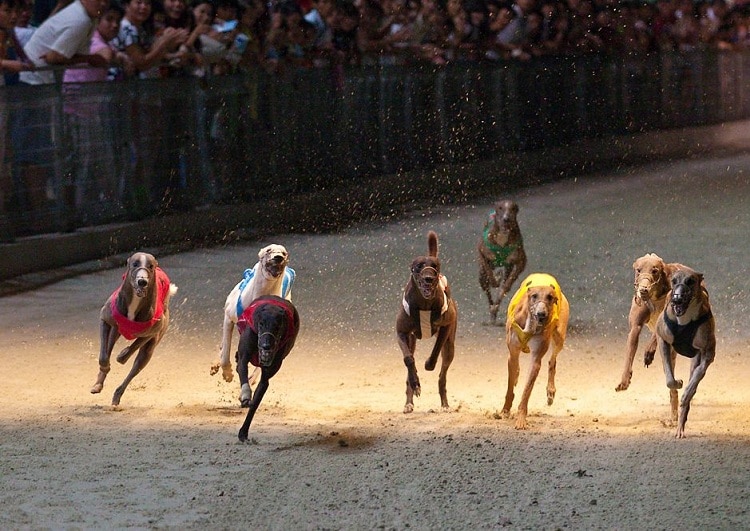 If you love dog racing, visiting the Lam Son Stadium located at 15 Le Loi (Lê Lợi), Ward 1 is one of the interesting activities for the best nightlife in Vung Tau, Vietnam. Featuring live greyhound traces, this stadium opens every Saturday night. It is the ideal place for you to watch and bet on dog racing, the only form of gambling Vietnamese can join in legally.
It is great for you to take your kids with you because, besides the races, this stadium also features a miniature petting zoo and toy games that keep children interested in.
Opening to the public, the Lam Son Stadium requires an entrance fee of 60,000VND (for one person) that allows you to stay in the park until it closes.
3. Have A Camping Picnic
Vung Tau is one of the most favorite beautiful destinations with long beaches; therefore, camping is also one of the most popular activities for tourists. In the article about nightlife in Vung Tau travel guide, I also would like to recommend this wonderful entertainment idea for you. It is great to set the campfire, sing and dance together, eat delicious food, sleep in tents, and watch stars or sunset.
If you want to experience a picnic, you should go to these three campsites including Hodota Camping, Zenna Pool Camp, and Tu Phuong That Dao Ecotourism Area (Tứ Phương Thất Đảo).
Hodota Campsite has a part of Ham Tan (Hàm Tân) District, Binh Thuan (Bình Thuận) Province. This campsite is famous for the freshwater stream, immense blue sea, and white soft sand. Camping in this site, tourist can have a chance to immerse in the wild, new and airy environment with a stretching beach, white sand, and rows of casuarina.
Zenna Pool Camp is situated in Phuoc Tinh (Phước Tỉnh) commune, Ba Ria – Vung Tau (Bà Rịa – Vũng Tàu) province. This campsite with an area of 6.5 hectares is surrounded by windy forests. Camping in this site, visitors and tourists can enjoy many activities such as campfire, camping, beach parties, swimming or under-sunset. You can have the great BBQ parties and enjoy many interesting games here.
Besides, Tu Phuong That Dao ecotourism area in Phuoc Huu (Phước Hữu) hamlet, Long Phuoc (Long Phước) commune is also the must-try campsite in Vung Tau where you can enjoy the comfortable atmosphere and fresh air.
4. Enjoy The Street Food On Do Chieu (Đồ Chiểu), Le Lai (Lê Lai) Streets
Do Chieu and Le Lai streets near Vung Tau beach are full of many food stalls and popular restaurants that open only in the evening and at night. Enjoying the street food on Do Chieu and Le Lai Streets is an indispensable thing for the best nightlife in Vung Tau.
Walking along Do Chieu and Le Lai streets, tourists can enjoy the delicious foods, especially Vung Tau seafood types such as grilled squid, snail, crab, etc. There are also many food stalls that sell the common specialties of Vietnam like noodles, oyster porridge, fried rice with seafood, squid noodles, etc.
Here are some recommendations about the best food stalls with affordable prices:
Loan Restaurant (Quán Loan) at 49 Do Chieu

Cuu Long Restaurant (Cửu Long Quán) at 54 Do Chieu

Hai Lang Quan ( Hai Lang Quán) at 45 Do Chieu
5. Play In White Rabbit Park In Vung Tau
Situated at 3 Thuy Van (Thùy Vân) Street and Le Hong Phong (Lê Hồng Phong) Street, Thang Tam (Thắng Tam) Ward, Vung Tau, White Rabbit Park is an amusement park of Vung Tau with a lot of activities games and activities. Opening till late at night, playing in White Rabbit Park is definitely one of the amazing entertainment ideas you can take part in Vung Tau at night.
There are two main areas in this park: an outdoor play area and an indoor play area. In an outdoor play area, children and young people can try playing some thrilling games (the roller coasters, flying saucers, Pirates of the Caribbean, etc) and traditional games (folk games, Highland dance, Donal duck, steam house, Highland dance, fairy train, fishing lake, royal carriage, etc). The Indoor play area offers 100 machines with new modern games, giving the children and their family endless beautiful and fun memories.
6. Vung Tau Night Market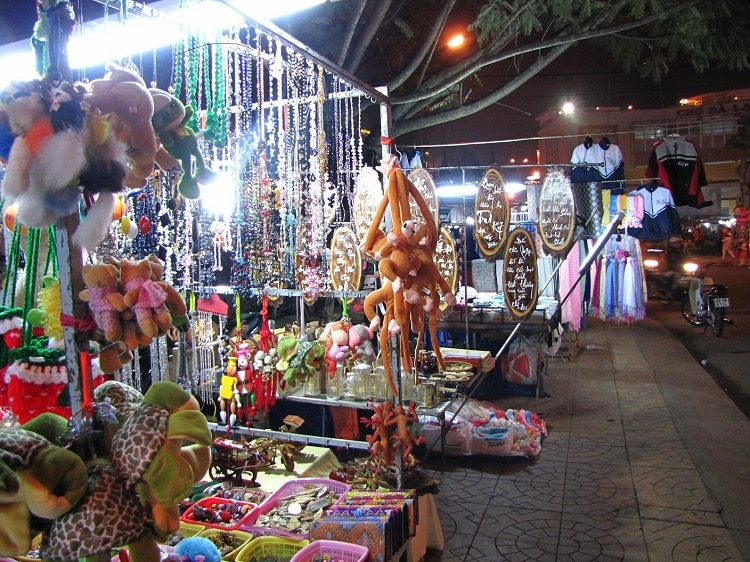 Vung Tau Night Market located behind the Imperial Hotel, Ward Thang Tam, Vung Tau opens from 3 pm to 1 am. In this market, you can find all kinds of food here and most of them are seafood such as shrimps, snailfish, and octopuses. You can eat the grilled octopus with okras with the price of 70,000 per serving or mud crab claws with tamarind with the price of 70,000 for 10 claws. The grilled mussel is sold at 10,000 for each serving.
In addition to seafood stalls, Vung Tau Night Market also has a huge selection of souvenir stores where you can buy special gifts for your friends and your family.
7. Join The Nightlife Party In The Best Bars & Clubs Of Vung Tau
Unlike other big cities of Vietnam, Vung Tau is not a party city and its nightlife is not as dynamic and animated as Ha Noi or Ho Chi Minh City. But there are some options of clubs and bars in Vung Tau that are worth a visit if you want to play a night out in this beautiful coastal city.
Here are some suggestions for the best nightlife in Vung Tau:
Vung Tau Beach Club at 8 Thuy Van, Black Beach, Vung Tau

Black Pearl Bar Vung Tau at 64 Ha Long (Hạ Long) Street, Ward 2, Vung Tau

Gazebo Beach Front Lounge & Café Vung Tau 90 Ha Long Street, Ward 2, Vung Tau

Fang Pub at 3 Ly Tu Trong (Lý Tự Trọng), Ward 1, Vung Tau
Read more:
Vung Tau has amazing activities and attractions to do and visit at night, which will definitely give you the best memorable experiences. I hope that you find useful information in this article in Vina.com. Any questions you want to ask can be left in the comment section below. And we will answer them as soon as we can.