As a coastal city, Vung Tau (Vũng Tàu) is attractive in the eyes of both domestic and foreign tourists thanks to being rated as one of the most livable cities in Vietnam plus with possessing a lot of worth-visiting attractions.
Besides the famous tourist sites such as Vung Tau lighthouse and Binh Chau Hot Springs (Suối nước nóng Bình Châu), Vung Tau is also proud of the charming May Lake (Hồ Mây). Read on the following detailed travel guide of May Lake to start planning a trip to this destination in Vung Tau for a quick relaxation from the hustle and bustle of Ho Chi Minh City.
I. What The Are Attractions In May Lake?
1. The Artificial Lake
Highlights of Ho May tourist area are the two artificial lakes named upstream May Lake and downstream May Lake with an area of about 3 hectares located on the top of the mountain. These two lakes are designed at a height of more than ten meters, creating a waterfall with a height of 9 m.
2. The Zoo
The zoo of May Lake tourist area has animals such as mountain goat, porcupine, horse, deer, peacocks, wild boar, cashews, Hai Tuong fish. Not only children, but adults are also easy to be attracted by this place.
3. May Ha Lake (Hồ Mây Hạ), Caribbean Pine Forest, Ho May Waterfall, Love Garden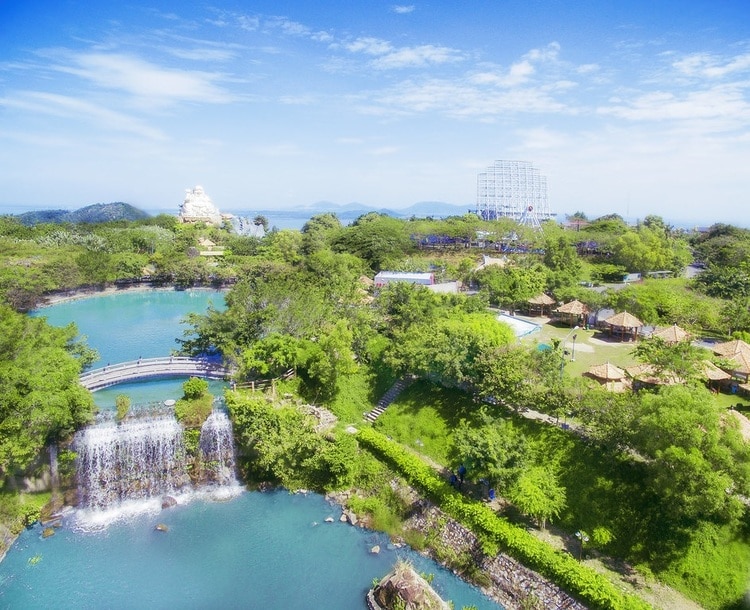 You can go to these places for sightseeing and taking pictures. At May Ha Lake, there are also swan boats for you to entertain.
4. Cultural & Religious Areas
Coming to May Lake, you should not ignore spiritual sights such as the Tich Dong (Tích Đồng) Buddha statue, arhat statues, the Maitreya Buddha statue, the temple of national heroes and Ho May main hall.
5. The Entertainment Area
The entertainment area of May Lake Park has a lot of different games for you to play all day long. There are games for adults and for children only that make everyone not want to leave at the end of the day:
Outdoor pool

Zipline Coaster, Sumo, archery, sports car racing

Watch 5D movies, ride a double bike and go on a dragon boat

Dog circus, horse riding, Jacuzzi water pool massage

Watch horse circus, climbing, horse riding, super swing Mega Bounce

Ferris, airplane, swivel chair, flying chair, duck boat ride

Watch art bubbles, magic tricks, play electric cars

Shooting paint, octopus swinging, fishing
II. What To Eat Nearby May Lake?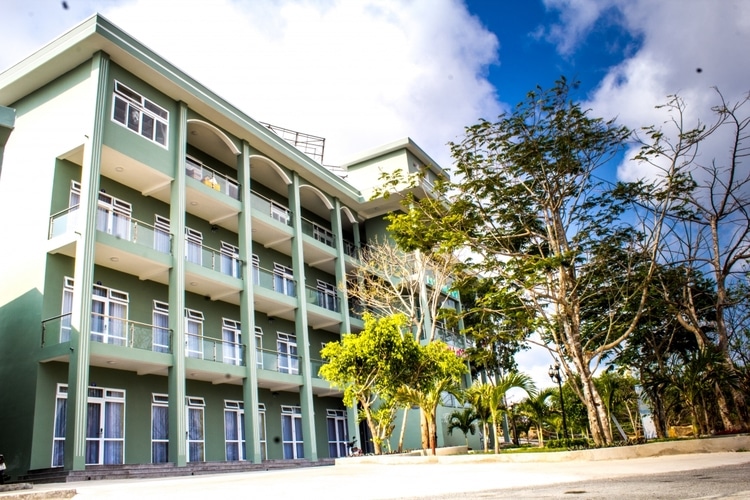 At May Lake, there is Ho May restaurant and Hon Ru Ri (Hòn Rù Rì) seafood restaurant serving many special dishes, but the price is not cheap. So if you want to save costs, you should bring prepared food.
The above are some travel experiences on traveling to May Lake that you will definitely need to plan your trip. Before departing your trip, be prepared with all necessary supplies and plan your expenses carefully to have a fun and safe tour. Wish you have great moments at May Lake!
III. Visitor Information
Address: 1A Tran Phu (Trần Phú), Ward 1, Vung Tau city
Phone: 0254.3856078 – 0933010654
Opening hours: 7:00 – 23:00
Website: homaypark.com
IV. How To Get To May Lake
Departing from Ho Chi Minh City, you have some options to get to May Lake:
In the Mien Dong bus station (bến xe Miền Đông), you can choose one of the coaches going to May lake like Mai Linh (Mai Linh), Phuong Trang (Phương Trang), Rang Dong (Rạng Đông), and Kumho.
Vung Tau is about 125km away from Saigon, so if you go on a motorbike, it only takes about 3 – 3.5 hours. Take the following route: Saigon – Cat Lai (Cát Lái) – Nhon Trach (Nhơn Trạch) – Nhon Trach Industrial Area – National Highway 51 – go about 100 km more to reach May Lake.
The hydrofoil comes from Bach Dang pier (Bến Bạch Đằng) and stops at Cau Da pier (Bến Cầu Đá). The total travel time is about 1.5 hours. You can buy tickets of hydrofoils firms such as Vina Express, Green Lines at some agents in Ho Chi Minh City or Vung Tau. During holidays, you should book tickets early to avoid running out of tickets.
V. Where To Stay In May Lake?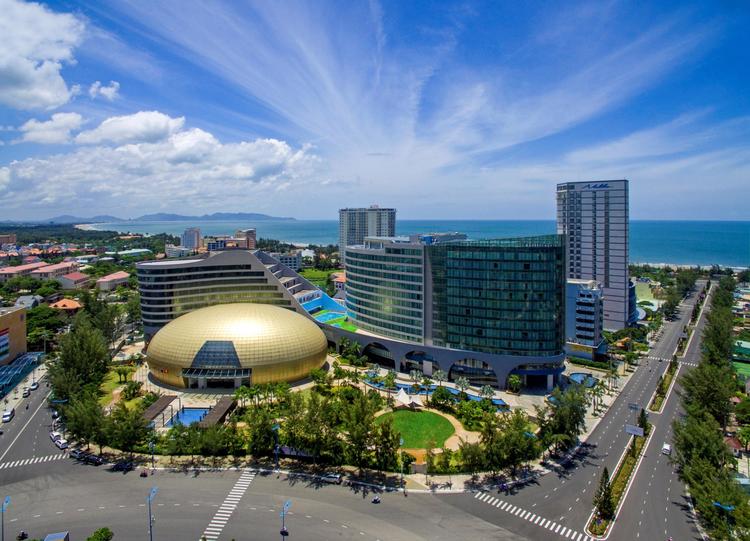 There are many hotels for you to choose from budget to luxury hotels. Here are some hotels in Ho May – Vung Tau with quality, comfort and modern facilities that you can choose:
1. Sun Shine Hotel (Anh Duong Hotel)
Address: 24B Ha Long (Hạ Long), Ward 2, Vung Tau

Lowest room rate: 24 $
2. Sasavuta Hotel
Address: No. 10 Ly Thuong Kiet (Lý Thường Kiệt), Ward 1, Vung Tau
Room rate: 30 – 36 $
3. Pullman Vung Tau
Address: 15 Thi Sach (Thi Sách), Thang Tam Ward (Phường Thắng Tam), Vung Tau
Room rates: $ 98 – $ 151
VI. Fare to May Lake
1. Overall Fare
Adults over 1m3: 400.000VND

Children 1m – 1m3: 200.000VND
2. Tram Tour Fare
Visiting the Battle of the Old Cannon: 150.000VND/adult, 75.000VND/child

Visiting Ho May Park: 100.000VND/adult, 50.000VND/child

Visiting the evening sightseeing: 200.000VND/adult, 100.000VND/child
Note: Fares will be reduced by 20% if you are a Vung Tau resident or studying or working in Vung Tau.
Read more:
Best Bars in Vung Tau, Vietnam – Enjoy a Wonderful Night Out
White Rabbit Park – A Famous Playground in Vung Tau, Vietnam
Nightlife in Vung Tau – Entertaining Ideas for Tourists to Enjoy
For any comment related to this entry about May Lake (as well as other attractions in Vietnam), do not hesitate to drop your words below.
By Van Tran