Updated: 08/22/2019
Vung Tau (Vũng Tàu) is a popular and interesting tourist destination for both locals and international tourists cross the world. This place not only owns many pristine beautiful beaches but also develops the relaxation and entertainment facilities that help you relax and overcome the stress after hard working time. If you want to enjoy the best vacation and relaxation in Vung Tau, do not forget to spend your time visiting White Rabbit Park. Officially opening to welcome visitors and tourists in 2015, White Rabbit Park will complete your trip to Vung Tau and give you a memorable and enjoyable experience.
Basic Information About White Rabbit Park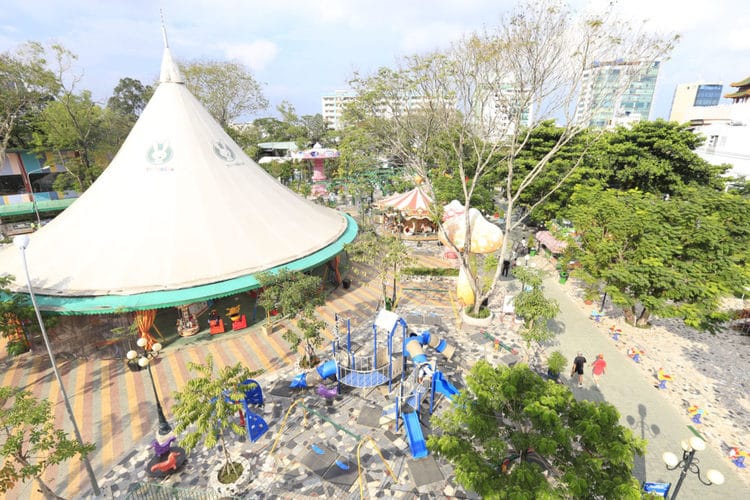 Situated at 9 Thuy Van (Thùy Vân) Street and Le Hong Phong (Lê Hồng Phong) Street, Thang Tam (Tháng Tám) Ward, Vung Tau City, the White Rabbit Amusement Park is a great entertainment venue that first was built in Vung Tau. The building and development of Vung Tau White Rabbit Park can diversify the rich tourism products of Ba Ria – Vung Tau (Bà Rịa – Vũng Tàu) province. Although newly built, the White Rabbit Park has received a lot of curiosity and interest from both domestic and international visitors. Built and designed with Japanese style, the Vung Tau White Rabbit Park is in harmony with the beautiful Vung Tau landscape. If you have a chance to visit Vung Tau, the coastal city, and wonder which attractions or places you can visit and play in Vung Tau, the White Rabbit Park in Vung Tau is definitely an ideal choice. With an abundance of interesting activities and fun games, White Rabbit Park will give you great relaxation and a great experience.
Activities You Can Do At White Rabbit Park 
The White Rabbit Park is an impressive place as the outdoor play area has two main places including the area for children and area for young people. If you like to conquer height and speed and love the feeling of joining in the adventure, you should take part in the thrilling games such as roller coaster, Caribbean pirate, flying saucer, etc. The thrilling games are suitable for young people. Children should not play these games without careful supervision.
Besides the thrilling games, you should not miss the traditional games in this park. The games such as Donal ducks, folk games, steam houses, Highland dances, fairy trains, fishing lakes, and royal chariots are ideal for children as they are safe and comfortable to play and boost children's creativity.
Young children are also attracted by a lot of fun and interesting games like Mekong singing, Aircraft, Fishing lake, Steam house, Cheo boat lake, and many folk games. There are also many great games for children to practice their skills and boost their dexterity.
In the X Gameplay area, there are over 100 machines and new modern games that give children memorable experiences and endless joys with their families and friends.
More interestingly, there is a 6D American movie theater with 180 degrees round screen you won't find anywhere in Vietnam.
Thanks to the professional security and modern services, Vung Tau White Rabbit Park will give children and families the most comfortable enjoyable moments to play. It is great to play in the park at night when the park is full of colorful lights. Vung Tau White Rabbit Park opens from 3 pm to 10 pm from Monday to Friday. On Saturdays, Sundays and other special occasions like Tet, this park opens until 11pm.
Visiting the park, if you want to play, you have to pay the fee of 20,000 VND to 50,000 VND for each game. You can buy the couple package ticket that costs you about 550,000 VND. This ticket includes 17 special games, 7-day tickets, exchanging favorite tickets and chances to receive photos and gifts.
Where To Eat In White Rabbit Park 
After playing in this wonderful place, it is time for you to enjoy the meals to restore your energy. In the park, you can find a café and some culinary restaurants that have a cozy and beautiful design and serve nutritious and delicious dishes of Vung Tau. These restaurants and café are beautiful and comfortable space for you to relax, reduce stress, chat your friends and families and enjoy great food.
Where To Stay Near Vung Tau White Rabbit Park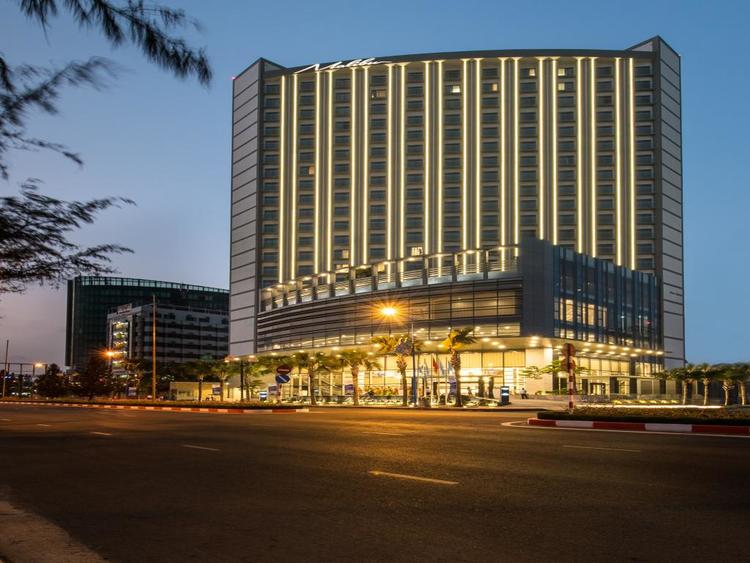 Vung Tau has a wide option of accommodations for tourists and visitors to stay overnight. Near White Rabbit Park, you can find the hotels like Hai Phuong Homestay (0,6 km far away from White Rabbit Park), Sea Villa Vung Tau (0.4 km from White Rabbit), Malibu Hotel (0.2 km), etc. These hotels are well-known for the best services that will make you satisfied.
Vung Tau White Rabbit Park has amazing games and activities. Hopefully, you and your friends or family will enjoy the memorable experience here. Any questions can be left in the comment section and we will answer them as soon as we can. If you are interested in Vietnam and want to plan a trip to this S-shaped country, our detailed and informative articles on Vina.com will help you.