Long Hai (Long Hải) is a coastal town about 12km from Vung Tau city center (Thành phố Vũng Tàu). With the white sands, blue sea, and yellow sunshine along with beautiful cherry forest and cool climate all year round, Long Hai is an ideal resort for relaxation.
Long Hai beach is not as crowded as Vung Tau beach, but still has a pristine and attractive beauty, leaving a good impression in the mind of tourists. Now, if you are wondering what makes this beach appealing and different from other beaches in Vietnam, just read on our article below on Vina.com!
I. Some Information About Long Hai Beach
Long Hai is a town in Long Dien District (Huyện Long Điền), Ba Ria-Vung Tau Province (Tỉnh Bà Rịa – Vũng Tàu). It is about 12km northeast of Vung Tau, 7km southwest of Ba Ria Town, and about 100km from Ho Chi Minh City (Thành phố Hồ Chí Minh).
Long Hai Beach is one of the ideal tourist destinations near Saigon (Sài Gòn) for vacation on the weekends or holidays. This beach is long and wide with white sand and calm waves. The most special feature is that one side of the beach is the sea and the other is the jungle, which is suitable for those people who love sea bathing.
Becoming a new trend in tourism in recent years, Long Hai is widely chosen by many tourists, both domestic and international thanks to its pristine beaches, beautiful natural scenery, and abundant seafood resources.
II. What Is The Best Time To Visit Long Hai Beach?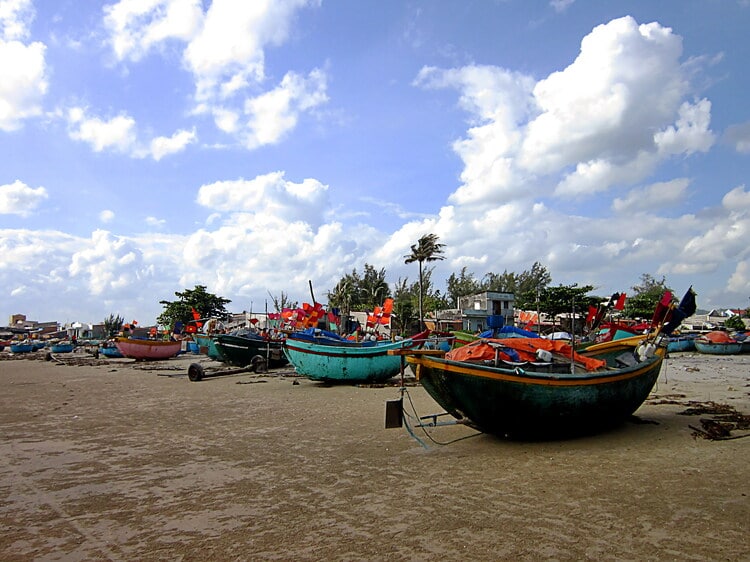 Due to its location in South East Vietnam, Long Hai always has a cool climate all year round, allowing tourists to come and visit at any time of the year. However, it is highly recommended to visit the beach in October and November because, at this time, the weather is cool, making it easy for you to bathe, relax and especially watch the blooming cherry blossoms.
III. What Are Attractions In Long Hai Beach?
1. Long Hai Beach
Of course, Long Hai Beach is exactly the main destination you want to visit. Its coastline runs along Minh Dam Mountain (Núi Minh Đạm). This beach has many wild features, but is very clean. Many tourists said that the stretching yellow sand and the blue water sparkling in the sun gave them an unforgettable impression. With wild beauty, natural beach, Long Hai will be a great place for visitors to swim and sunbathe.
Walking along the beach, you will admire the rock formations of various shapes that adorn the sea.
Across the pass, there are cherry trees. Especially in the last days of the year, cherry blossoms bloom all over the way, creating a brilliant scene that you can hardly find anywhere else.
In addition to bathing, visitors can enjoy fresh and delicious seafood early in the morning. Besides, if you want to explore the life of the fishing village, you should get up early and go to Long Hai market to get into the bustle of this place.
2. Minh Dam Mountain
This mountain is located about 150 km from Ho Chi Minh City. From Ba Ria town, go to Long Hai about 30 km, you will see Minh Dam mountain which is about 200 m high. In the past, this mountain is also known as Chau Long (Châu Long) or Chau Vien (Châu Viên).
Coming here, you can learn about the typical historical relics of Minh Dam Mountain. On the mountain, there are a jungle forest, and many caves, which was formerly the resistance base of people in Ba Ria – Vung Tau.
Going up to the middle of the mountain, visitors will have a chance to see the whole scene of Long Hai Beach. Going uphill, you will reach the mountain peak and see a small shrine called Bach Van Dien (Bạch Vân Điện).
Looking down at the mountain foot, you will see Thuy Duong tourist area (Khu du lịch Thùy Dương). If possible, spend time visiting this area since there are many interesting things you can discover here.
Many people compare this mountain with large arms embracing the beach and cherry blossom forest, creating a romantic and sweet scene. Today, Minh Dam Mountain has become an ideal tourist destination for many types of tourism activities, such as mountain climbing, picnicking, and ecotourism, which increasingly attract many visitors to visit and explore.
3. Nuoc Ngot Pass
The road passing through the Nuoc Ngot pass is beautifully decorated and somehow adventurous. It will give visitors the feeling of interspersed. The Nuoc Ngot pass is like a dear child between the majestic cliffs of Minh Dam and Phuoc Hai beach (Bãi biển Phước Hải).
Recently, couples often come here for taking wedding photos or outdoor photos. Every afternoon, many young people gather on the embankment of the sea to watch the sunset, chat and eat.
4. Dinh Co Temple (Đền Dinh Cô)
In the middle of Huong Bien Beach (Bãi Hương Biển) and Hang Duong Beach (Bãi Hàng Dương), Dinh Co Temple is located silently. The temple is quite large and mysterious, stimulating curiosity for tourists.
Every year, from 10 to 12 February lunar year, local fishermen held festivals to worship her and pray for the fishermen to be safe and can catch much fish when going fishing.
On this day, many pilgrims from the different areas of the region come here to pray. Besides, located 1 km from Dinh Co, on Co Son hill (Đồi Côn Sơn), Mo Co relics (Di tích Mộ Cô) is another spiritual tourist attraction worth visiting.
5. Truc Lam Chan Nguyen Monastery (Thiền Viện Trúc Lâm Chân Nguyên)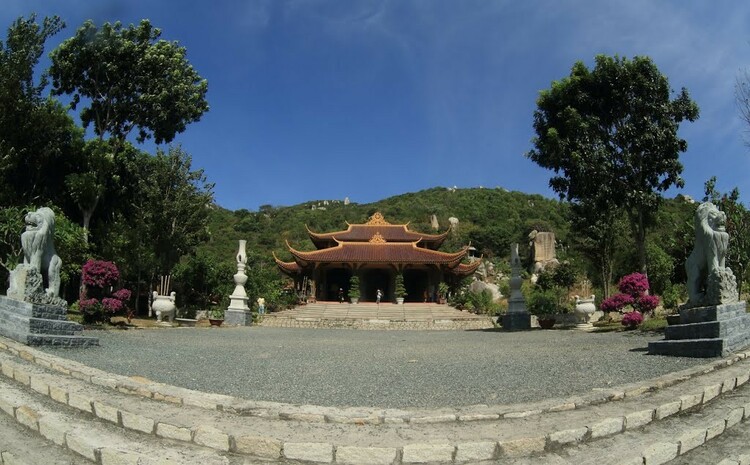 Also known as Monkey Temple, Truc Lam Chan Nguyen Monastery is located at the foot of Ky Van Mountain in Phuoc Hai Town, Long Dat District (Huyện Long Đất), Ba Ria – Vung Tau Province.
A long time ago, this monastery was only a small temple, but in 1987, Thich Thong Luan (Thích Thông Luân) repaired the temple and practiced right here. This monastery has a simple architecture and worships the Buddha meditating on the lotus.
Not only is the scenery inside Truc Lam Chan Nguyen Monastery very beautiful, but it also has an interesting feature different from any other place nearby. It is the funny monkeys raised in the natural environment on Ky Van Mountain (Núi Kỳ Vân) located right behind the monastery.
Besides, there are many rock formations with different shapes resembling the shapes of many animals, ranging from snakes, dolphins, elephants to turtles, and phoenixes.
6. Long Hai Fishing Village
Located about 7km from Ba Ria Town, Long Hai fishing village is a favorite destination for many young people to enjoy and explore the beautiful and clean beaches. If you come to the fishing village early in the morning, you can discover the bustle of an early market when the fishing boats return. Normally, from 5 am to 6 am, many traders and tourists gather here to trade and exchange fresh shrimp, fish, and squid.
IV. How To Get To Long Hai Beach?
Just over 100 km from Ho Chi Minh City, Long Hai is convenient for people to travel to. You can go by coach, car, motorbike or hydrofoil.
1. Travel By Coach
Buy tickets at the Mien Dong bus station with the ticket price ranges from 65.000VND to 95.000 VND, the destination is Long Hai. Passenger car to Long Hai runs continuously from 4h to 19h30 daily.
Some contacts of coaches going to Long Hai are:
Thien Phu (Thiên Phú): 0917351035

Long Dien (Long Điền): 064 3 862 038

Mien Dong: 08 38 455 205 – 08 8993384

Dong Bac (Đông Bắc): 08 35 119 203
2. Travel By Car Or Motorbike
You can move in one of the following two directions:
Follow this route: Saigon – Highway 1A – Dong Nai bridge (Cầu Đồng Nai) – Vung Tau crossroads (Ngã ba Vũng Tàu). After that, turn left to National highway 51, and go along the provincial road 44A to get to Long Hai Beach.

From Saigon, go towards Cat Lai (Cát Lái) and then head to Nhon Trach (Nhơn Trạch). After getting to Highway 51, you enter Vung Tau City to get to Long Hai Beach. If taking this route, you will shorten the distance for about 20km.
3. Travel By Hydrofoil
Follow this route: Sai Gon port – Ben Da (Bến Đá) – Vung Tau City – Long Hai Beach.
V. Where To Stay In Long Hai Beach?
To save money when traveling to Long Hai beach, you can set up tents on the beach to relax overnight, or choose a hotel or motel in Long Hai to stay in. If you book a room online, you should book through reputable sites like Agoda.com.
Some resorts and luxury hotels in Long Hai that you can refer to are:
Alma Oasis Long Hai Resort and Spa – Ky Van (Kỳ Văn), Provincial 44, Long Hai Town, Long Hai Beach – Room price is from $ 124.07.

An Hoa Resort (Khu nghỉ dưỡng An Hoa) – Long Hai Town, Ba Ria, Long Hai Beach – Room price is from $ 88.53.

Long Hai Beach Resort – Provincial 44, Long Hai Town, Long Hai Beach – Room price is from $ 70.04.
Some mid-range and low-cost hotels and guesthouses in Long Hai include:
Gold Stars Hotel – Road 44, Long Hai Town, Long Hai Beach – Room price is from $ 19.84.

Nam Long Guesthouse 2 (Nhà nghỉ Nam Long 2) – Pho Hai Trung, Long Hai Beach – Room price is from $ 19.06.

Dai Duong Hotel – Hai Tan, Long Hai Town, Long Hai Beach – Room price is from $ 14.53.

Tien Phuc Guesthouse – Provincial 44, Hai Tan, Long Hai Beach – Room price is from $ 12.12.

Quoc An Guesthouse – Hai Trung, Long Hai Beach – Room price is from $ 10.40.
VI. What To Eat In Long Hai Beach?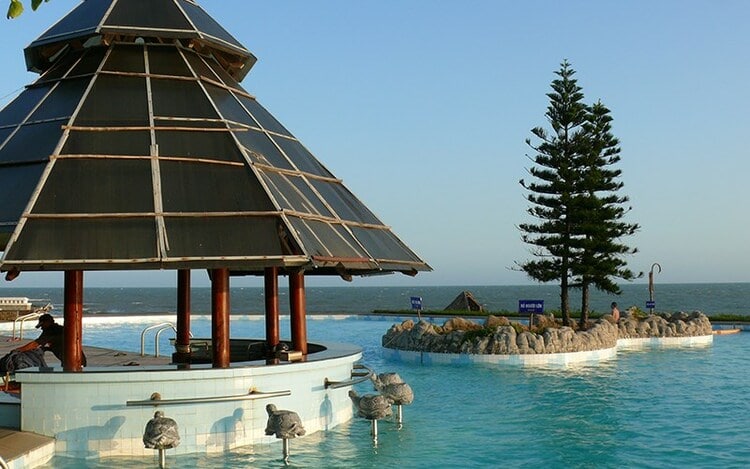 When traveling to any place, food is always a concern. At Long Hai, you cannot miss the famous specialties such as country pancake, hot-pot, seafood, and lobster blood pudding.
Refer to some of the following addresses to have the best dining experience in Long Hai:
Gai Seafood Restaurant (Nhà hàng hải sản O Gái) at Provincial 44, Long Hai Town.

Nghia restaurant (Nhà hàng Nghĩa) at Hai Son Street (Phố Hải Sơn), Long Hai Town.

Long Hai restaurant at 6 Street, Long Hai Town.

Cay Duoi Restaurant (Quán Cây Duối) near the foot of Mount Minh Dam.

Thuy Duong Restaurant and Hotel (Nhà hàng và khách sạn Thùy Dương) near Nuoc Ngot Pass.
VII. Some Tips On Visiting Long Hai Beach
Some areas in Long Hai Beach have very dangerous reefs, so when you go to this beach, you should choose the crowded areas.

You should buy seafood in the morning because they are still fresh and are sold cheaply.

Bring mosquito repellent because there are many mosquitoes in Minh Dam Mountain.
The information above is what you should know before starting your journey to Long Hai Beach. To have a more satisfying trip, you can combine visiting Long Hai beach with other places in Vung Tau City, such as Binh Chau Hot Springs (Suối nước nóng Bình Châu) and Con Dao Islands (Đảo Côn Đảo). For more information, please refer to our other articles.
Finally, if you still have questions about Long Hai Beach, leave a comment below. We will respond as soon as possible.
By Van Tran