Thanh An Island (Đảo Thạnh An) has long been known as a pristine small island in the heart of Saigon (Sài Gòn). This island is isolated from Can Gio District (Huyện Cần Giờ) so the only way to get here is by waterway. Today, Thanh An Island is changing itself and attracts more and more tourists.
If you are interested in this island, do not miss our article below on Vina.com. Our A-to-Z guide will make your trip to Thanh An Island truly an unforgettable experience.
I. Some Information About Thanh An Island
Thanh An Island is an island in Thanh An Commune, located in Can Gio District. It is a small island located about 70km east of Ho Chi Minh City (Thành phố Hồ Chí Minh). From Can Gio district center, the island is about 8km by airline and isolated with Can Gio district.
The four sides of East, West, South, North of Thanh An island commune are adjacent to the following places:
To the east, it borders Ba Ria -Vung Tau (Bà Rịa – Vũng Tàu).

To the west, it borders Long Hoa Commune (Xã Long Hòa) and Tam Thon Hiep Commune (Xã Tam Thôn Hiệp).

In the south, it borders Ganh Rai Bay (Vịnh Gành Rái).

To the north, it borders Phuoc An Commune (Xã Phước An), Nhon Trach District (Huyện Nhơn Trạch), Dong Nai Province (Tỉnh Đồng Nai).
Thanh An Commune has three hamlets: Thanh Hoa (Thạnh Hòa), Thanh Binh (Thạnh Bình), and Thieng Lieng (Thiềng Liềng). Thanh Hoa and Thanh Binh Hamlets are located on Thanh An Island, and Thieng Lieng Hamlet are located on Thieng Lieng Island.
Located in Ho Chi Minh City and not far from the city center, Thanh An Island is really the perfect destination for you on the weekend to enjoy the sun, the sea breeze and the peaceful life of the people here.
II. What Is The Best Time To Visit Thanh An Island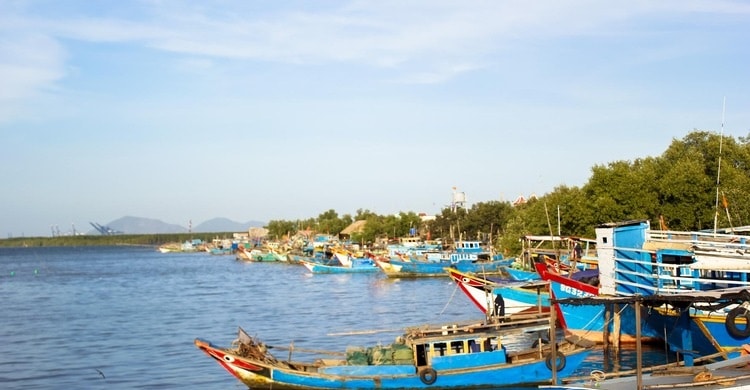 You can visit Thanh An Island at any time of year, but avoid going on rainy days or stormy days. To go to Thanh An Island, you will have to take a wooden boat which is not suitable to go during the rainy season with big waves.
III. How To Go To Thanh An Island
To get to Thach An Island, you first need to go to the ferry terminal. You can travel by car, motorbike or bus.
1. Travel By Motorbike Or Car
From Huynh Tan Phat Street (Đường Huỳnh Tấn Phát), get on Binh Khanh ferry (Bến phà Bình Khánh) and cross the ferry to continue to go until meet Can Thanh market (Chợ Cần Thạnh), then turn left. When you see Coopmart supermarket, turn right to reach the Thanh An ferry.
The distance from Binh Khanh ferry to Coopmart supermarket is quite long and very deserted, about 40km. If you should go early in the morning or in the evening, and it is best to follow a large group of people.
2. Travel By Bus
Take bus number 20 at Ben Thanh bus station to get to Binh Khanh ferry. After crossing the ferry, take bus number 90 (the only bus to Can Gio), then ask to stop at the Thanh An ferry.
From this ferry terminal, there are ships to Thanh An Island and ships to Vung Tau, so you need to pay attention to board the right boat:
Boats from the mainland to the island will depart at 6:30, 9:00, 10:30, 12:00, 14:00, and 17:

Boats from the island to the land will depart at 6:30, 7:30, 10:30, 12:00, 14:00, and 17:
However, boat hours may vary depending on weather and tide. In particular, as the number of visitors to the island increased dramatically in recent times, there are more ships coming to the island on weekends. Ticket price is 10,000 VND / ticket.
Note: You should come to the ferry before the boat leaves for about 20 – 30 minutes. The number of tourists traveling to the island is very high, you should arrive early to get the best traveling experiences.
IV. What Are the Attractions In Thanh An Island?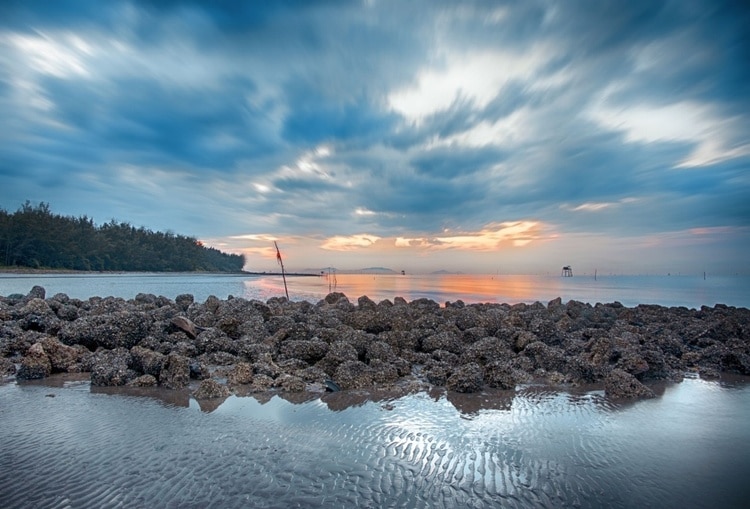 Thanh An Island has not been developed in terms of tourism so that there are not many recreational activities like in other tourist resorts. But in return, when visitors come here, they will feel overwhelmed by the natural and romantic scenery. On this rustic and quiet island, all the tiredness and anxiety will follow the wind and fly away.
1. The Rocky Stretch In The Middle Of Thanh An Sea
Many tourists say that they come to this island not because of the majestic natural landscape or the stretching white sandy beaches but because of its tranquility, friendliness and slow pace. The rocky stretch of beach is a place where young people can enjoy the sea and take unique pictures.
2. Explore The Human Life On Thanh An Island
Exploring the life of local fishermen is one of the most interesting things for tourists when coming here. The large white salt fields are the main source of life for the people of Thanh An.
You can walk along the roads connecting two communes of the island to explore local and ordinary life. As the people mainly live by fishing and fishing, you will find quite a lot of dried fish and shrimp along the road.
You can meet the smile of the fishermen who are tired but still love life or the innocence of children anywhere.All of them create beauty and simplicity.
In addition, Thanh An Island is home to some species of mangrove trees. So, in addition to exploring the peaceful life and learn to be fishermen on the island, you can also take part in kayaking activities, learning about the mangrove ecosystem, fishing, and admiring local people fishing here.
V. What To Eat In Thanh An Island?
It is no coincidence that the island is so popular with tourists. Although there are few places to visit, Thanh An attracts tourists by its cuisine, which is diverse, fresh and cheap. The small restaurants along the way are various in terms of types. You can visit them or directly to the seafood market to enjoy many fresh foods.
Indigenous people advise you not to skip grilled oysters, oyster gruel, grilled squid, fried squid, steamed spider crab, and fried anchovies.
In addition to seafood, there are also Western Vietnam dishes such as grilled rolls, grilled bananas, grilled yellow fish, noodles, and toast.You are free to choose the food that suits you. Other support services such as wifi, grocery stores, and cafes have also appeared, so you will never have to worry about eating when coming to Thanh An Island.
VI. Where To Stay In Thanh An Island?
Most people come to Thanh An Island for a single day, but some stay here overnight to explore the island at night. By 2015, there is no any guest house or motel in Thanh An island. However, in recent years, there are many information about the island on the Internet, so there are more and more young people come here to have fun.
At present, the island has small guest houses to meet the needs of tourists. Here are some of the guest houses on the island:
Binh guest house (Nhà nghỉ Bình An) (Tel: +84 168 414 9232)

Quoc Thai guest house (Nhà nghỉ Quốc Thái) (Tel: +84 28 3874 9063)

Quynh Hoa guest house (Nhà nghỉ Quỳnh Hoa) (Tel: +84 28 3874 9003)
Also, to get new experiences, you can ask to stay with the local people here.
VII. Some Extra Tips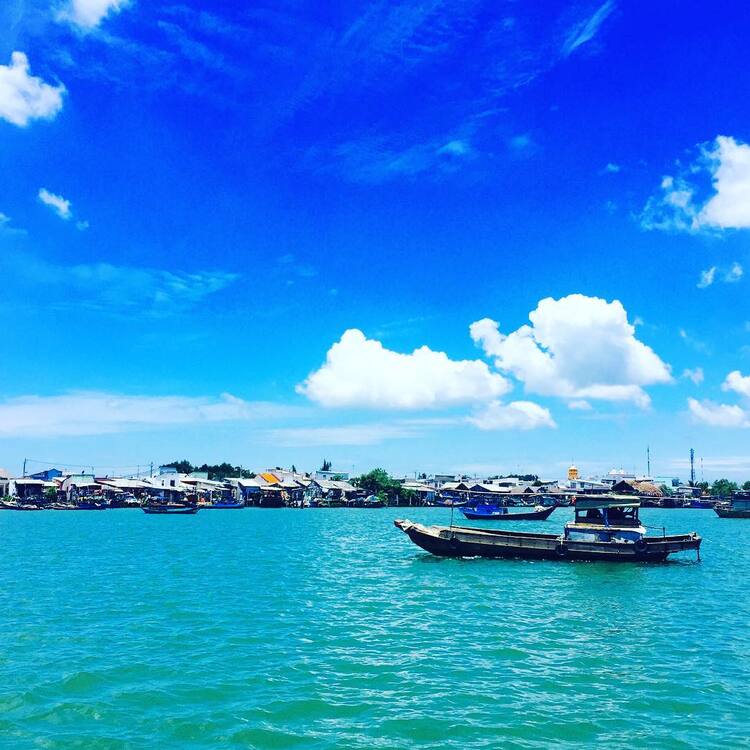 Thanh An is still an underdeveloped small island, and the livelihoods of local people depend mainly on agriculture and fishing. Therefore, this place does not have full travel services like other places, such as Vung Tau or Da Lat (Đà Lạt).

The guest houses are quite cheap; however, they are very clean and tidy.

The people here are very hospitable and friendly, so be polite when communicating and do not forget to keep the island clean.

Always pay attention to the time to not miss the last boat from the island to the mainland.
Up to now, Thanh An Island has kept its tranquility and peace, so it will be a pity without going to this island to feel the simple life of locals, and temporarily stay away from the hustle and bustle of Saigon.
For any questions related to Thanh An Island, leave your words below this post. We will respond as soon as possible.
By Van Tran