The Ho Chi Minh Municipal Theater (Nhà Hát Thành phố Hồ Chí Minh), also known as Saigon Municipal Opera House (Nhà Hát Lớn Sài Gòn), is an opera house in Ho Chi Minh City, a typical example of French Colonial architecture in Vietnam. This is a venue for professional art performances, also can be used to hold other major events. The Municipal Theatre has been a tourist attraction not to be missed when coming to Ho Chi Minh City.
I. How To Get To The Ho Chi Minh Municipal Theater?
The address of the Municipal Theatre of Ho Chi Minh City is No.7 Cong Truong Lam Son Street (Đường Công Trường Lam Sơn), Ben Nghe Ward (Phường Bến Nghé), District 1 (Quận 1), which is a prime location right in the heart of the city. The theatre is next to two luxurious hotels, the Caravelle and the Continental, making it much easier to access for tourists.
II. What Are The Attractions Of Ho Chi Minh Municipal Theater?
1. Architecture And Historical Value Of The Theatre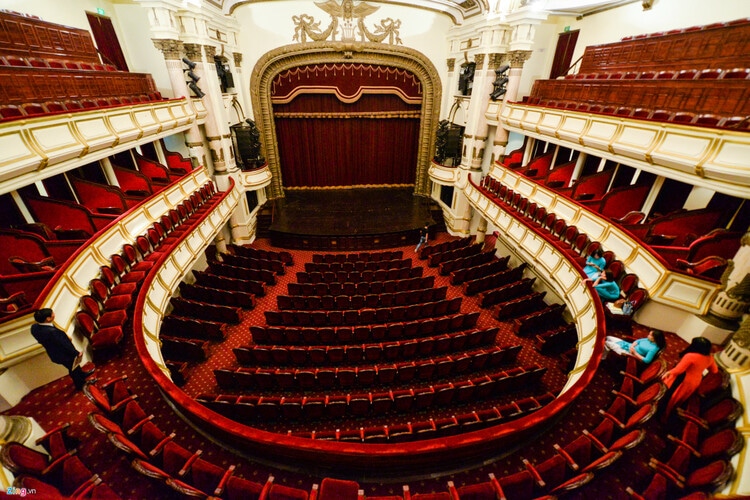 The Ho Chi Minh Municipal Theater was constructed in 1900 by French architects including Eugène Ferret, Félix Olivier, and Ernest Guichard in the flamboyant style of the French Third Republic. It is a counterbalance of the Hanoi Opera House (Nhà Hát Lớn Hà Nội), which was shaped like the Opéra Garnier in Paris and inaugurated a decade later. Moreover, it is a typical and most expensive cultural project in Saigon under the French Colonial period.
The façade of the theatre was influenced by the architecture of the Petit Palais Museum, which was built in the same year. A famous French painter had redrawn all of the decorations and reliefs of the façade and the interior similar to the models of French theatres in the 19th century. The system of arched windows and the series of handrail was also designed with strong French classical architecture.
The theatre has a ground floor and two more levels of seating above, which enables it to accommodate up to 1800 people at a time.
Through many ups and downs of history, Ho Chi Minh Municipal Theater could not avoid damages. By 1955, the theatre was rehabilitated but then used as the House of Representative of the Republic of Vietnam (Hạ Nghị Viện của Chính phủ Việt Nam Cộng Hoà). It was not until 1975 that the government returned Ho Chi Minh Municipal Theater to its original function as a theatre.
In order to celebrate 300 years of the founding of Saigon – Gia Dinh (Sài Gòn – Gia Định), in 1998, Ho Chi Minh City authorities issued a decision to renovate the Municipal Theatre with the motto of preserving the prime architectural style. Therefore, the decorations and sculptures like the goddess of art statue or the flower strings had all been restored to their condition nearly 100 years ago.
2. Activities At The Theatre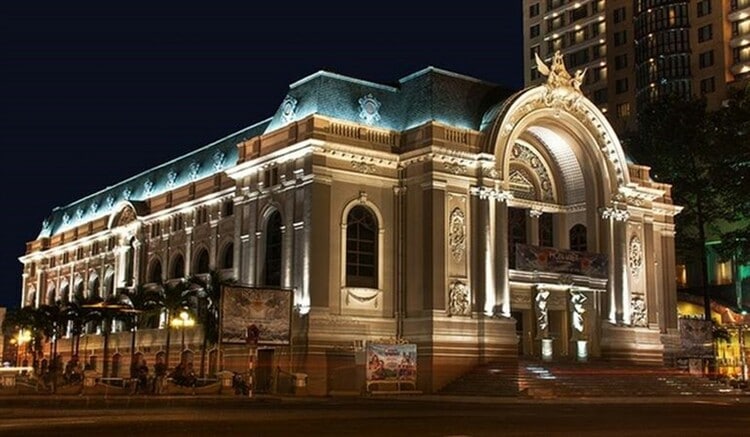 Today, the Ho Chi Minh Municipal Theater regularly organizes plays or operas with quite an expensive ticket fare. As a result, the performances here mostly cater to foreigners or the elite who are passionate about the 7th art form.
In addition to admiring the ancient architecture of the theatre and enjoying art performances, visitors can also take a tour at Saigon Continental Hotel (Khách sạn Sài Gòn Continental) – one of the oldest hotels in Ho Chi Minh City with a lifetime of up to hundreds of years. This place has welcomed lots of heads of state and politicians from all over the world.
Regardless of whether you are interested in learning about one country's culture or just simply appreciate beauty, the Municipal Theatre is an indispensable stop on your trip around the city. This is truly a gorgeous architectural work that contributes to adding elegance and grace to Ho Chi Minh City.
After this very brief introduction, we hope you have a great overview of Ho Chi Minh Municipal Theater. Do not hesitate to leave us a comment if you have any questions or if you are willing to share with us your experience. For more information about other attractions in Ho Chi Minh City in particular and Vietnam in general, please visit our homepage.