Updated: 08/19/2019
Ho Chi Minh City (Hồ Chí Minh) is a bustling, crowded city in the opinion of most people. People traveling to Ho Chi Minh City enjoy the best services, entertainment activities, relaxation, and a modern lifestyle. However, sometimes you can slow down your life and immerse in nature by visiting beautiful parks here. A visit to Ho Chi Minh City will not complete without relaxing in Hoang Van Thu Park (Công viên Hoàng Văn Thụ), a beautiful corner and green lung of the city. It is a recommended place for someone who wants to enjoy the charm and beauty of nature.
When Is The Best Time To Visit Hoang Van Thu Park 
You can visit Hoang Van Thu Part at any time of the year. The early morning or late afternoon is the ideal time you can come if you want to enjoy the fresh air, cool atmosphere, meet local people in Ho Chi Minh City and know more about their daily activities.
If you want to combine a visit to Hoang Van Thu Park with other must-see attractions of Saigon, the recommended time within the year would be the dry months from December to March with the temperature between 21°C and 34°C.
Hoang Van Thu Park – A Green Lung Of Saigon City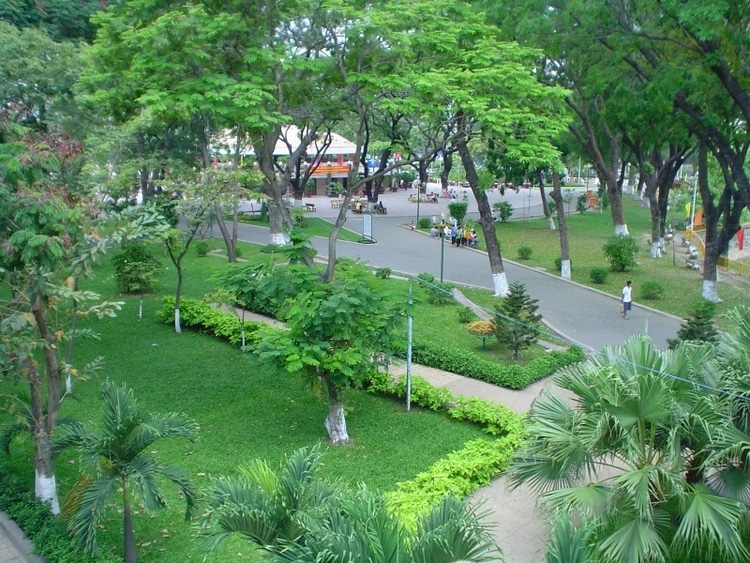 Set within the block of Hoang Van Thu (Hoàng Văn Thụ), Phan Dinh Giot (Phan Đình Giót), and Tran Quoc Hoan (Trần Quốc Hoàn) Street, Ward 2, Tan Binh (Tân Bình) District, Hoang Van Thu Park with the area of 106,500 square meters is considered as a green lung and a green oasis of Saigon City. Because it possesses a lot of trees and a small lake located in the middle of the park, the park has a cool and relaxing atmosphere and gives the visitors a feeling of being lost in a paradise of nature.
All the parks in Ho Chi Minh City have their own designs and architectural features with the goal of attracting tourists and visitors to come. Hoang Van Thu Park is not an exception. The most impressive and outstanding here is its triangle shaped design and elegant architecture rinsing into the air. That shows the desires and hopes of people for a dynamic developing city.
Visiting Hoang Van Thu Park, tourists and visitors will be impressed at the design of the road through the park. Two sides of the road are filled with rows of green trees and birds singing. A visit to Hoang Van Thu Park will help you get out of stress and depression and find a peace of mind.
Going forward to the entrance of the park, the scenery of various kinds of flowers with different colors such as purple, red, yellow, orange, etc will draw your attention and interest. Stepping deeply into the park, the endless green space with shades of trees will give you the feeling of relaxation and freedom.
Hoang Van Thu Park features huts for recreation, relaxation and playing that serve and satisfy the needs of all the human classes from the elderly to children. A visit to Hoang Van Thu Park is a great opportunity for you to watch the daily activities of residents in Ho Chi Minh City. For example, you can see the elderly do exercise while the middle-aged people stroll along the road with rows of trees leisurely. Furthermore, young kids have a great time reading interesting books under the huts. They can play many games such as funny swings or colorful slides with full of excitement. Therefore, Hoang Van Thu Park is a great place for you to take your children to play.
In the park, you can also see vendors selling different kinds of products, including mixed rice cakes, drink fruits, and colorful balloons.
On weekends, in Hoang Van Thu Park, many fun activities are organized for young people to have fun. At this time, you can easily catch the moments of people singing and playing guitar, camping, playing fun games and going for a picnic.
A park is also a great place for couples to date. Holding hands, strolling along the road and immersing in the beauty of flowers and nature, couples will experience the love of life and nature that enrich their soul. In the park, couples will enjoy the romantic atmosphere which strengthens their love and builds a better relationship.
Visiting Hoang Van Thu Park, you can meet the urban residents, exchange cultures, enjoy the fresh air and get rid of stress and anxiety of everyday life.
Where To Eat In Hoang Van Thu Park 
Discovering the park is great but if you get hungry, you can taste delicious Vietnamese dishes in the park restaurant. Furthermore, near the park, we can find a wide option of restaurants and food stalls that serve not only Vietnamese cuisine but also special food from different countries.
Where To Stay Near Hoang Van Thu Park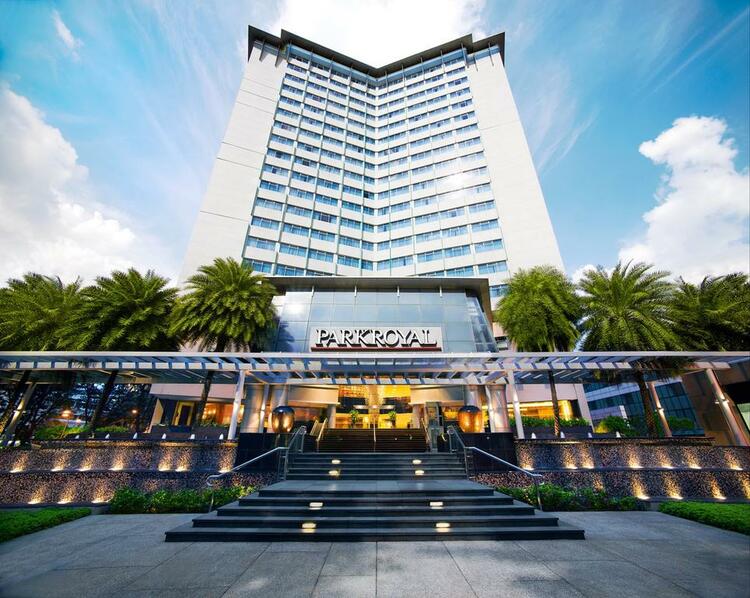 Ho Chi Minh is a city with modern tourism services; therefore, it is easy for you to find a suitable hotel no matter how much your budget is. Near Hoang Van Thu Park, you can relax and stay overnight at the hotels like ibis Saigon Airport (1.4km far from Hoang Van Thu Park), Eastin Grand Hotel Saigon (0.5 km from Hoang Van Thu Park), Hotel Nikko Saigon (4.2 km from Hoang Van Thu Park), Parkroyal Saigon (0.1km), First Hotel (0.6km), RedDoorz Plus (0.2 km), The Alcove Library Hotel (0.7 km), etc. These hotels not only are near Hoang Van Thu Park but also serve you the best prices, amenities, activities, nightlife, and dining.
Hoang Van Thu Park in Ho Chi Minh City is a romantic, green and relaxing place for the elderly, young people, middle-aged residents, couples and children with many interesting entertainment activities. I hope that you can find useful information in this article. Any questions can be left below the post and we will answer them as soon as we can. On Vina.com, we have many useful articles about Vietnam's attractions and activities. If you are planning to visit Vietnam and do not know how to get the best experience here, please do not hesitate to click on our website.