Contents
Being in the assemblage of beautiful and famous architectural works of Ho Chi Minh City, Ho Chi Minh City Museum is a tourist address that attracts both domestic and international visitors. It is one of five typical museums published in the list of "Ho Chi Minh City – 100 interesting things" with its unique architecture. In this article, you will discover this destination, which no visitor should bypass.
I. How To Get To Ho Chi Minh City Museum?
Ho Chi Minh City Museum is on No.65 Ly Tu Trong Street, Ben Nghe Ward, District 1, bounded by the four streets Ly Tu Trong, Nam Ky Khoi Nghia, Pasteur, and Le Thanh Ton. With the location right in the city center, you can get to the museum by various means.
If you choose public transport, take bus number 04, 18 or 36 from Ben Thanh Market, then get off at Pasteur-Ly Tu Trong stop, which is only 50 meters from the museum. If you have personal vehicles, you might have Google Maps as your assistant.
II. What To Do At Ho Chi Minh City Museum?
1. Admire The Featured Architecture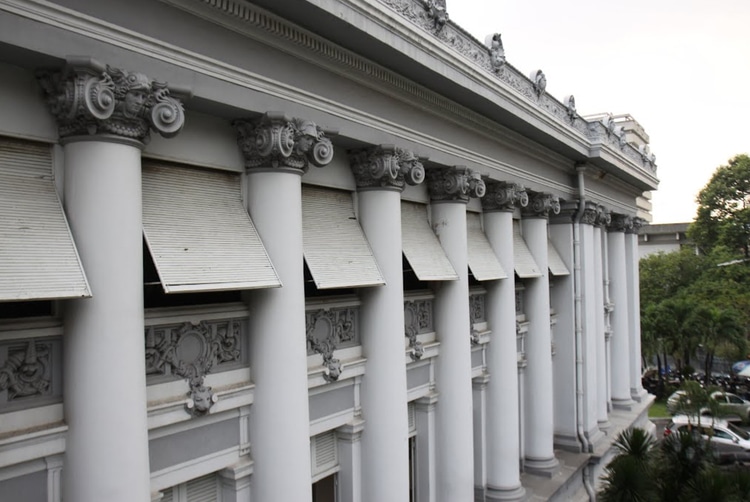 Ho Chi Minh City Museum was designed by French architect Alfred Foulhoux and built from 1885 to 1890. The total architecture covers the area of 1.700 square meters, using a classical Baroque style with European and Oriental influences: The façade is European-styled, while the roof is Oriental-oriented. Surrounding the museum building is a flower garden campus.
Due to the original purpose of the building is to be the Trade Museum displaying domestic products, on either side of the main door, there are two pillars decorated with two statues of the Goddess of Commerce and the Goddess of Industry. Lots of round, large pillars also run continuously along the corridor, and on top of the pillar, there are reliefs of the French Republic's guards with the meaning of protection for the museum. Moreover, between every two pillars is a lion head statue demonstrating the strength and power.
Looking up, you will see on the top of the triangle roof is a bust of the Goddess of Trade with a crowd and laurel wreath. The two sides are adorned with embossed motifs such as willow branches, garlands, images of snakes, roosters, owls, and many more.
Ho Chi Minh City Museum is a witness to numerous historical events since its completion. Immediately after construction in 1890, the building was used by Cochin-China Governor Henri Eloi Danel as his own mansion. Later, it became Governor's residence until 1911. In 1943, Cochin-China Governor Ernest Thimothée Hoeffel demolished the two goddess statues at the main door to build a porch. In 1954, the mansion had its title changed to Gia Long Palace and was the residence of President Ngo Dinh Diem from 1962 to 1963. During this period, the President built a secret underground tunnel with a total cost of 12.514.144VND at that time, according to the design of architect Ngo Viet Thu.
Coming inside, the museum's interior is Gothic style from the curved vault, flooring, staircases, halls to countless glass windows, all of which create a spacious area as well as bring a nostalgic sensation. 122 years have passed but the texture and decorations are still intact and undamaged. That shows how meticulous craftsmen back then had to be to accomplish this artwork.
Read more: Top 18 Things To Do In Ho Chi Minh City 
2. Visit Exhibition Rooms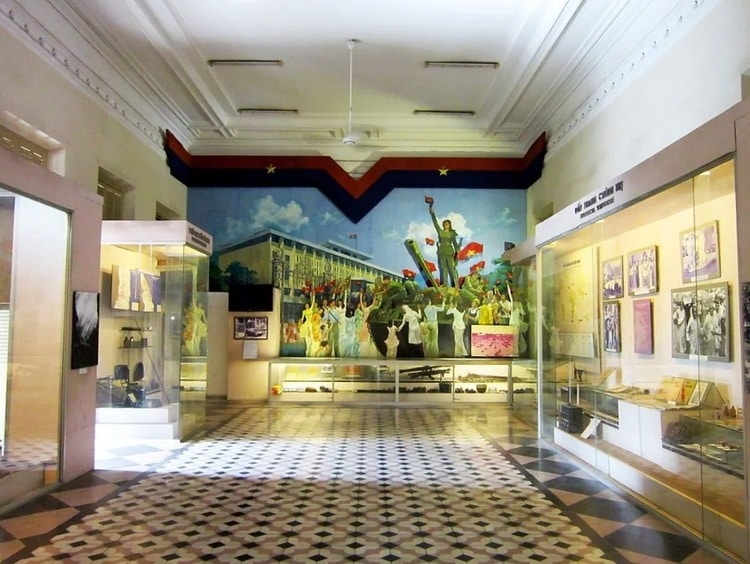 The display content of Ho Chi Minh City Museum consists of 9 fixed parts with 45.666 artifacts:
Room of Nature – Archaeology:

Introducing basic characteristics of geographical location, geology, topography, minerals, climate, river systems, flora and fauna, archaeological sites, and life of ancient inhabitants 2000 – 3000 years ago.

Room of Geography – Administration:

With a collection of maps, diagrams, photos, and objects, the showroom represents the process of formation and development of Saigon – Ho Chi Minh City in terms of geography and administration.

Room of Trade Port – Trade – Service:

The exhibition gives an overview of the role of Saigon in the economy of the Southern region in particular and the country in general through the following issues: Saigon port system, Ben Thanh Market, Chinese miscellaneous goods shop, ancient weights and measures, and traffic system.

Room of Industry – Handicraft Village:

Introducing some traditional handicraft such as pottery, jewellery making, wood engraving, weaving, bronze casting, and industrial situation of Saigon – Ho Chi Minh City at the end of the 19

th

century and the early 20

th

century.

Room of Culture of Saigon – Ho Chi Minh City:

Focusing on introducing Southern fork belief, custom, traditional performance art, and education of four ethnic groups Viet, Cham, Chinese, and Khmer.

Room of Revolution Struggle 1930 – 1954:

Highlighting the political movements since the establishment of the Communist Party of Vietnam and partially displaying the Independence Day's (September 2

nd

, 1945) scene in Norodom Square.

Room of Revolution Struggle 1954 – 1975:

Exhibiting artifacts regarding Geneva Congress, Uprising movements, The Establishment of the Southern Vietnam Liberation National Front, Cu Chi Tunnel, Mau Than offensive, and many more events taking place between 1954 and 1975.

Room of Souvenir of War Resistance:

Displaying artifacts and relics accompanying the life and fight of cadres, soldiers, and martyrs in 30 years of resistance.

Room of Vietnam Currency:

Showcasing currency collections throughout historical periods of Vietnam including Bronze and Zinc coins, Silver bars, banknotes, as well as money casting stages in feudalism.
In addition to current exhibition rooms, Ho Chi Minh City Museum also has thematic ones and a display area of several types of aircrafts, vehicles, weapons outside the building.
3. Take Photos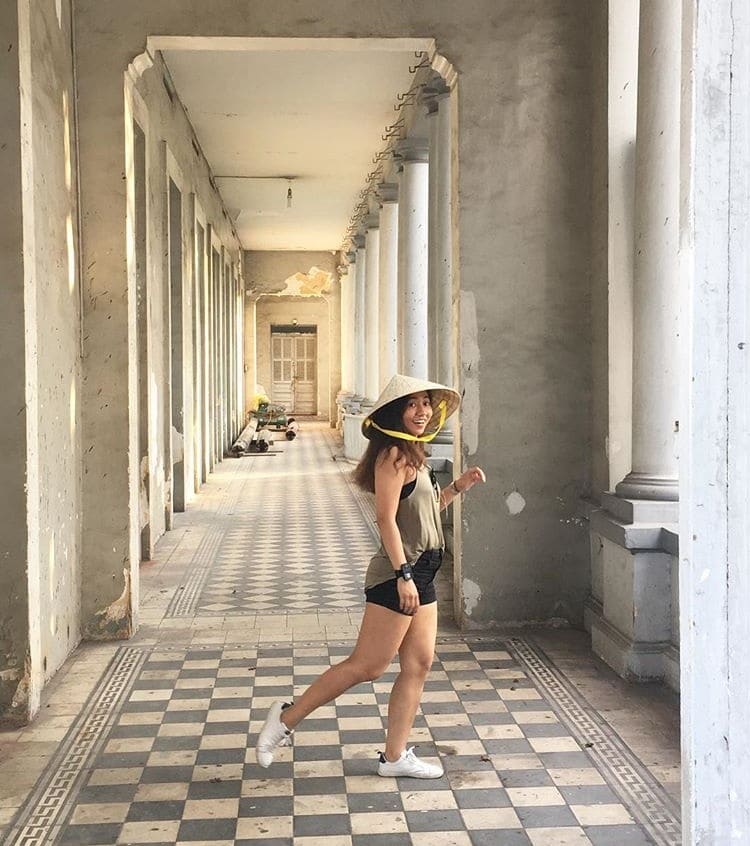 Besides being a destination for history lovers, Ho Chi Minh City Museum recently is also where the youth come for quality photos. Every little detail of the museum is extremely sophisticated and highly aesthetic, hence, for those who like vintage style, this place will provide really ideal and excellent backgrounds. However, there is a small note, because the museum is a public and sacred environment, the ticket price is also very reasonable, so try not to make too much noise and affect other visitors.
View more: 20 Beautiful Street Photos Of Saigon/Ho Chi Minh City, Vietnam 
III. Extra Tips
Opening hours of Ho Chi Minh City Museum are between 7:30 and 17:00 from Monday to Sunday, including National Holidays.

The ticket price is 30.000VND/person. For students with a valid student card, the price is halved.

The parking fee in the museum is 5.000VND.

Visitors are free to take photos by mobile phones or amateur cameras but charged 20.000VND per a professional camera.

The museum allows wedding photography with the fare of 400.000VND/couple.
It can be said that the whole history of Saigon since the territorial expansion until 1975 was preserved almost fully and intact in Ho Chi Minh City Museum, from social life, custom to belief, worship, and the process of industrial and commercial development. This place is a familiar address of those who are passionate about learning, researching, and exploring the Southern region.
Do not hesitate to share with us our experience at Ho Chi Minh City Museum by commenting in the box below. If you have any further questions about a trip to this museum, also write to us and wait for our response in the nearest time. For more information about other attractions in Ho Chi Minh City and Vietnam, please go to our homepage.