Updated: 08/19/2019
Ho Chi Minh City (Hồ Chí Minh) has multiple public parks and 23/9 park or September 23rd is an undeniable must-visit destination that will complete your journey to Ho Chi Minh City. A visit to 23/9 Park will be a great opportunity for all visitors and tourists to explore the culture life and daily activities of Saigon people. Located in a convenient location in the center of Ho Chi Minh City, 23/9 Park is the only park housing a huge culinary and shopping complex. Visiting the park, you can not only take part in daily activities of residents in Ho Chi Minh City but also stroll through the trees, enjoy delicious foods, listen to great music performances and admire the dynamic market. In this article, I would like to give you the complete guide that helps you enjoy a wonderful trip to 23/9 Park in Ho Chi Minh City.
When Is The Best Time To Visit 23/9 Park 
You can visit the park at any time of the day. However, if you want to enjoy the fresh air and pleasant temperature, it is recommended visiting the park in the early morning or the late afternoon. The late afternoon is an ideal time for you to stroll around the park, sit and chat with your friends or Saigon people.
If you go to the park in the early morning, you can have enough time to participate in interesting activities in the park.
It is great for you to not only visit 23/9 Park but also explore some must-see attractions in this bustling modern city. The recommended time for a journey to Ho Chi Minh City is during the dry months from December to March with a temperature of about 21°C to 34°C.
Basic Information About 23/9 Park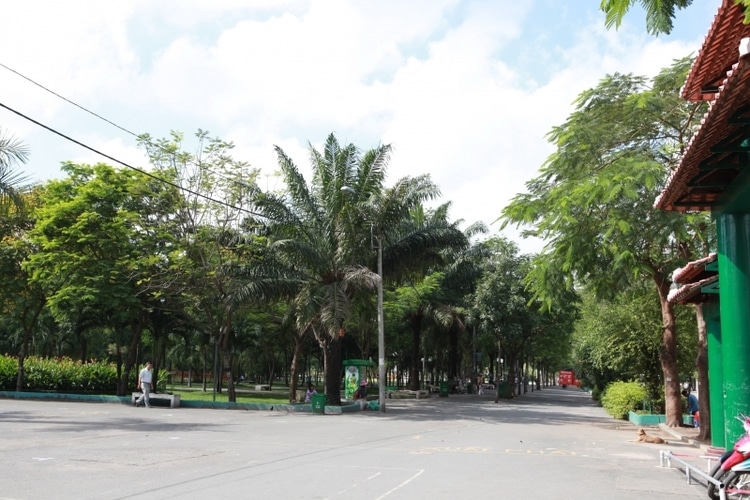 Situated in the heart of Ho Chi Minh City, lying between Pham Ngu Lao (Phạm Ngũ Lão) and Le Lai (Lê Lai) Street, 23/9 Park in Ho Chi Minh city is reputable relaxing and playing place for all people classes from the elderly to young people and children.
The park is considered as an exercise ground, classroom and a meeting spot as tourists and visitors can come here to enjoy the music and entertainment festivals and taste many delicious snacks and street foods while walking around the park. Furthermore, a large number of Saigon people visit the park in the morning to talk with their friends or enjoy the relaxation. Families often take their children to the park as they can feel interested in many fun activities and games. On the weekends, you can easily see some ladies, who participate in exercises, and classes with the booming dance beats and music.
There are two areas in the park: the park A is designed as a large shopping center that is convenient for dining, shopping, and sightseeing. In park area B, there is a bus stop, so that you can travel to the park from other places by bus.
A visit to the park will give you a great and memorable experience with many exciting activities you can enjoy.
What To Do At 23/9 Park – Interesting Activities You Can Enjoy In The Park 
1. Shopping At Sense Market 
Location: Section B, 23/9 Park, Pham Ngu Lao Street, District 1, Ho Chi Minh City
Opening hours: 10 am – 10:30 pm
23/9 Park or September 23rd Park houses a big underground shopping complex – Sense Market with an area of 11,000 square meters. It is a combination of CoopMart supermarket and Taka Plaza, a vibrant game area and international culinary area with Asiana Food Town.
Taka Plaza at Sense Market in the park offers clothing and fashion items, including menswear, womenswear, childrenswear, jewelry, wallets, sunglasses, and accessories. The products, mainly the fashion sold here have a wide range of price of around 9$ – 15$.
Located at Sense Market, CoopMart supermarket is also an excellent option for a shopping experience as it caters various items like fresh ingredients, veggies and other groceries serving the needs of customers.
On weekends like Saturdays and Sundays, there are several markets opening from late morning to the night. For example, the Box Market set within the park is a place where you can find a variety of fashion items. The top-rated fashion merchants will introduce their best-sellers and give tourists many big deals when they buy their products. Furthermore, going along the markets of the park, you can see some stalls selling nail art or providing portrait sketching.
2. Eating In The Culinary Area 
23/9 Park features not only a shopping complex but also the culinary area. When you feel hungry and want to get something to eat, you should go to Asiana Food Town, the pride of the park. Set within the Sense Market, the food court with a diversity of food stalls and restaurants can be found right after tourists and visitors enter the market entrance.
Here you can eat not only delicious Vietnamese foods of all regions –South, Central, and North but also a lot of tasty desserts and international cuisine of famous culinary brands. Restaurants here offer quite reasonable prices. For example, a Vietnamese lunch with sautéed meat, rice, and veggies costs only 2$ – 3$. A hotpot is above 7$. It is recommended browsing around the food court and selecting the best restaurant you want to eat.
3. Meet And Socialize With Locals 
September 23rd Park or 23/9 Park is a great place where you can hang out, date and stroll especially at night because it is time the street vendors start to sell their products on the sides of the park. Furthermore, visiting the park in the late afternoon, you can see the bonding activities of groups of locals. That will make you understand about the cultural life of local people in Ho Chi Minh City.
You are also asked to join in these fun activities. Shuttlecock kicking is an exciting game that attracts international tourists most. They are often amazed at how excellently Vietnamese play this game. However, do not worry about how bad you are at this game, keep playing and learning from the locals who are generous to beginners.
4. Enjoy The Light Exercises On The Ground 
The 23/9 Park does not have various exercise apparatus but the exercise equipment facilities here somehow still satisfy your simple needs. The most popular exercise here is lower body exercise or cycling. It is easy for you to find the suitable apparatus at Le Lai Street in the park.
However, if you do not need to exercise with apparatus, walking, running and jogging are great options for light exercises in this park.
5. Enjoy Cultural Festivals And Events Held In The Park 
The 23/9 Park in Ho Chi Minh City is a place where some important festivals or events frequently take place. Coming to the park when these events are held means you are very lucky to have a memorable experience.
Great festival and events that were organized in the spacious park include Vietnamese Spring Festival, Japanese Cherry Blossoms Festivals, Korean Food Fair Festival, etc.
6. Talk With Foreigners In English 
If you are students and are studying English, 23/9 Park seems to be a great outdoor class where you can meet and speak with foreign travelers. You can talk with them, make friends and invite them for a smoothie or a beer, or take them to your favorite eating spots.
7. Travel To Nearby Attractions In Ho Chi Minh City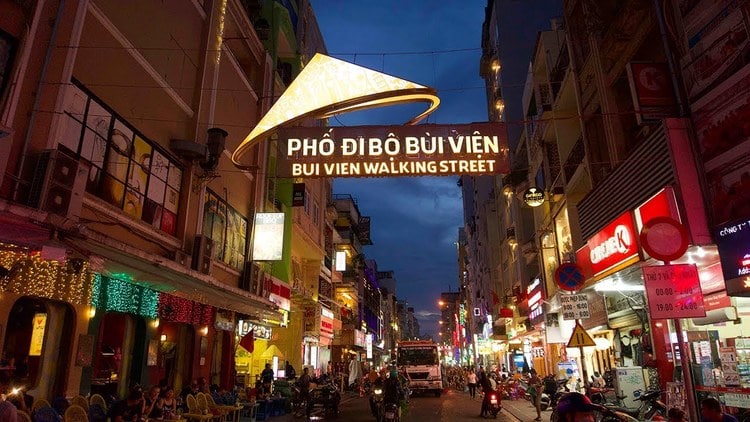 Near the 23/9 Park is the crowded and famous district in which Bui Vien (Bùi Viên) Walking Street is well-known, attracting tourists and visitors who have ever visit Ho Chi Minh City. From the 23/9 Park, you can also visit the Thai Binh (Thái Bình) Market, a local market in the city.
Ho Chi Minh City also has more other attractions to visit. Let's take a motorbike city tour with your local guide to discover every corner of Ho Chi Minh City.
Where To Eat In 23/9 Park 
There is a culinary area in the park where you can enjoy many delicious Vietnamese and international foods from famous restaurants and food stalls. Furthermore, it is also great for you to find the local street foods sold by vendors in the late afternoon.
Where To Stay Near 23/9 Park 
Ho Chi Minh City has developed tourism services and accommodation to attract more visitors to come. Therefore, it is not difficult for you to find the best hotels or resorts when you travel to this city. The hotels and resorts in Ho Chi Minh City offer a wide range of prices to suitable for every budget and serve the best services to meet the needs and demands of every customer.
If you visit 23/9 Park and want to stay in an accommodation nearby, the recommended options for you would be Prague Hotel (83m far from 23/9 Park), Eden Star Saigon Hotel (0.2km from 23/9 Park),  Harmony Saigon Hotel (0.3km from 23/9 Park), New World Saigon Hotel (0,2km), Fusion Suites Saigon (0.4km).
As the ideal place of natural, language, shopping complex, eating spot, eating area and festival convergence, 23/9 Park is a promising attraction for gentle and friendly greetings.  A visit to 23/9 Park will make your journey to Ho Chi Minh City meaningful and memorable. I hope that you find useful information in this article. Any questions you want to ask can be left below the post, and we will answer them as soon as we can. On Vina.com, there are interesting, informative articles available. If you are planning to visit any destinations of Vietnam, click the link to find the useful tips and suggestions for your trip.