Located in the heart of bustling District 1, Ho Chi Minh City, Bitexco Financial Tower (Tháp Tài Chính Bitexco) is a 296-meter-high skyscraper designed by American architect Carlos Zapata and invested by Bitexco Group. Since being inaugurated in 2010, Bitexco has always been a favorite destination for the youth as well as tourists at all ages because it is an integrated place of shopping, eating, watching movies, and other entertaining activities.
I. Characteristics Of Bitexco Financial Tower
Bitexco Financial Tower consists of 68 floors, which allowed it hold the record of being the tallest building in Vietnam until Keangnam Hanoi Landmark Tower was completed in 2011. Currently, Bitexco is the 4th tallest building in Vietnam, after Landmark 81, Keangnam Hanoi Landmark Tower, and Lotte Center Hanoi.
However, this tower was designed not to compete for height. "Competing for height does not mean anything, any height can be easily overcome" said Mr. Zapata. One of the main intentions of Mr. Zapata in the design is to show the traditional culture of Vietnamese people. He and his colleagues had opened a public survey for collecting ideas. The result was, he took the designing idea from the shape of a lotus bud, which is a symbol of purity and optimism, a precise image to assert the goal towards the future of the tower. The image of lotus bud was chosen but not the flower not only because of its slender and elegant appearance, conveying the meaning of "rising" but also because the bud is a metaphor for "the blooming of Vietnamese culture".
Bitexco is a modern commercial center with luxurious stores, coffee shops, restaurants, bars, as well as cinemas. Visitors can enjoy shopping, eating, and chilling out with friends all day. The tower has 12 elevators with a speed of 7m/s, enabling people to move around within 45 seconds. This speed will sometimes make visitors shocked at their first time but it is definitely worth a try.
The most special feature of Bitexco Financial Tower is the helipad on the 52nd floor. This landing area is 40 meters long at an altitude of 191 meters, suspended from the main structure of the tower. Not intended to create a visual impression, the purpose of the helipad is to create a subtle convenience when welcoming guests of honor to the tower.
II. When To Get To Bitexco Financial Tower?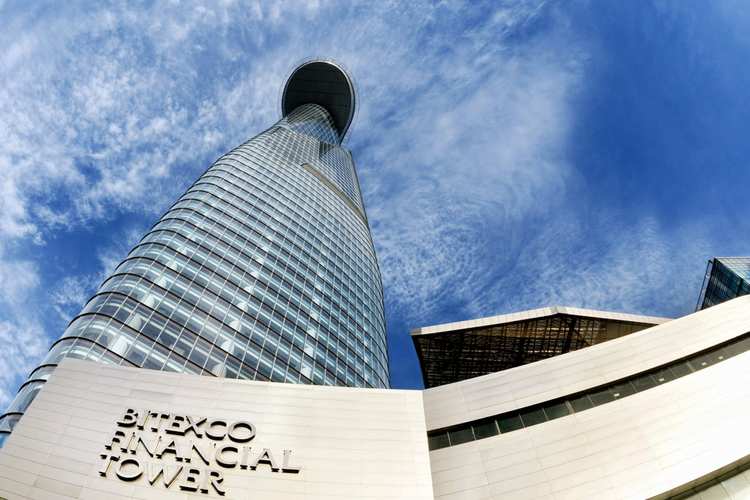 The opening hour of Bitexco Financial Tower is from 10:00 to 21:30 on weekdays. For weekends, the tower is closed later at 22:00. If you want to experience Bitexco that is not too crowded, you can choose to visit on weekdays.
III. How To Get To Bitexco Financial Tower?
Bitexco Financial Tower was built on Nguyen Hue Street (Đường Nguyễn Huệ), the area adjacent to the three streets Hai Trieu (Hải Triều), Ngo Duc Ke (Ngô Đức Kế), and Ho Tung Mau (Hồ Tùng Mậu). The exact address of the tower is No.19-25 Nguyen Hue Street, Ben Nghe Ward, District 1 (19-25 Nguyễn Huệ, Phường Bến Nghé, Quận 1). This prime location is very favorable for tourists to visit during their tour in Ho Chi Minh City, either by public transport, private means or even on foot.
IV. What To Do In Bitexco Financial Tower?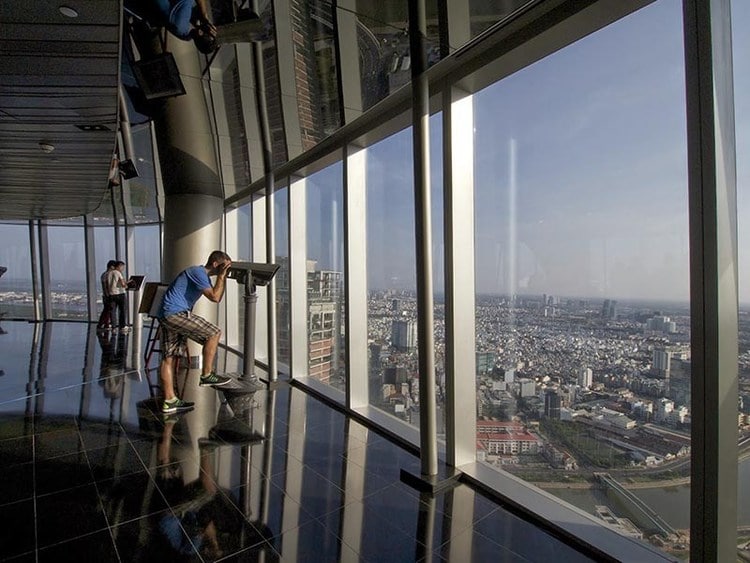 1. Go Shopping
The main development orientation of Bitexco Financial Tower is an office leasing but not shopping segment, so it can be seen that the number of brands here is quite small compared to other malls in Ho Chi Minh City. Nonetheless, owning such brands like Topshop Topman, Adidas, Nike, Puma, Vans, Converse, Pedro, and Charles & Keith is more than enough for shopping lovers to have satisfying hours at the tower.
2. Explore Food And Cinema Complex
If you take a careful look, you will realize that most people come to Bitexco with 3 main purposes: eating in the Food Creative food-court, watching movies at BHD cinema, and parking their vehicles to go somewhere out of the tower.
It is not too much to say that the cinema is the major reason why so many people spend their time in Bitexco. Although there are only 7 screens within 2 floors, from the opening until late at night, this place never stops crowding.
The food-court on the 3rd and 4th floors includes dozens of stalls. But to be honest, visitors do not have many choices with the food, and the quality is also not too excellent. If you need energy for further activities, it is fine to eat here.
3. Contemplate The Whole Landscape Of Ho Chi Minh City From Above
Saigon Skydeck on the 49th floor is something not to be missed if you only have the opportunity to visit Bitexco once. Just contact staff from the ground floor for tickets to access the Skydeck with the price of 200.000VND/person and you will be overwhelmed when standing at this altitude to see the beautiful city through the binoculars. Especially, if you come to Skydeck at night when every street starts being decorated with sparkling lights, you will have a chance to meet an exceptional Ho Chi Minh City.
You can also try a new experience by admiring the city while enjoying a hot coffee at EON café on the 51st floor. This place will certainly bring you the perfect view of Ho Chi Minh City's landscape.
Read More: Top 21 Things To Do In Ho Chi Minh City (HCM) / Saigon 
V. What To Eat In Bitexco Financial Tower?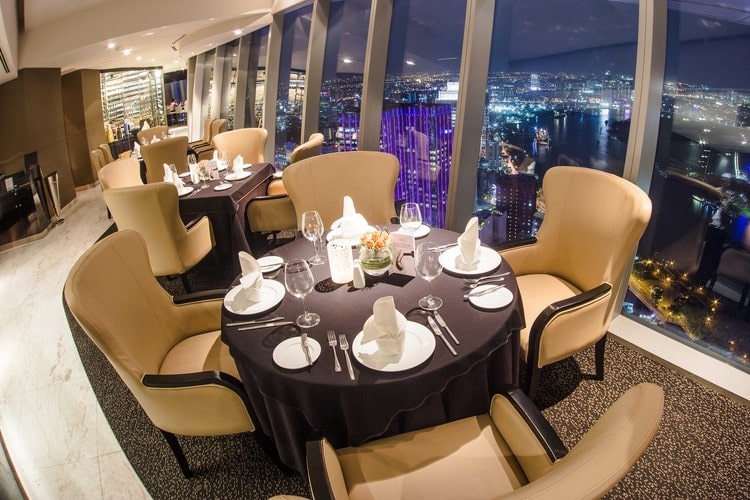 1. Hoang Yen Buffet
With a spacious area, a fair view straight towards the city center, meticulously processed dishes, enthusiastic and attentive service like a 5-star restaurant standard, Hoang Yen Buffet (Buffet Hoàng Yến) has been a high-class buffet model, which is much more popular with food followers these days.
Hoang Yen Buffet serves lunch and dinner with a menu made from both rustic ingredients such as sticky rice, fresh veggies, and high-quality ingredients imported such as American beef, lamb, lobster, sea crab.
The price for a buffet serving here ranges between 200.000VND to 385.000VND depending on the combo type and time of eating.
2. EON Fine Dining
EON Fine Dining is one of the high-end restaurants with luxurious space in Ho Chi Minh City. Located on the 51st floor of the tower, this is really a brilliant dining place. Coming to EON Fine Dining, you will enjoy gentle Acoustic music, traditional Vietnamese dishes, and many special Asian-European dishes. Due to its high visibility range, if you come to EON Fine Dining for dinner, you not only can overlook the shining city but also can watch the fireworks from Thu Thiem Tunnel (Hầm Thủ Thiêm) on important occasions.
According to the responses of customers, the quality of food is quite commensurate with the price, around 800.000VND to 1.000.000VND is fit for a group of 4 people.
3. Strata Buffet
If you have not eaten buffet at a high altitude, go to Bitexco's 50th floor to undergo that feeling. The price of the buffet here is not cheap, about 820.000VND per person including soft drinks, but it is reasonable for a 5-star buffet restaurant. Strata serves over 50 different dishes. Besides, you can chill and try a variety of beverages after finishing your meal at the restaurant bar.
We hope this article has provided you with a concise-but-complete guide for a visit to Bitexco Financial Tower. If you have any questions, do not hesitate to leave us a comment. Also, write below to share with us your experience at this attraction of Ho Chi Minh City. For more information about other tourist destinations in Vietnam, please check our homepage.