Updated: 08/22/2019
As one of the most developed dynamic cities in Vietnam, Ho Chi Minh City (Hồ Chí Minh) has a fast growth rate, with more constructions appearing and a larger number of personal vehicles increasing. Therefore, every green space is specious. It is a reason why Tao Dan Park (Công Viên Tao Đàn) in the central district of Ho Chi Minh is attracting many citizens and visitors who come to enjoy some fresh air.
Tao Dan Park: The Green Lung Of Ho Chi Minh city, Vietnam
What Is The Best Time To Visit Tao Dan Park
To immerse completely in nature and have fun while wandering around the park, the best time for you to visit here is dried months from December and March when the temperatures are 21°C and 34°C. But of course, you can visit this park at any time in the year.
February is also a great time to visit Tao Dan Park (Ho Chi Minh City) because you can take part in the festivals that are held to celebrate the Vietnamese Tet Holiday.
It is recommended going in the early morning right after the sunrise as the cooler temperatures make you more active and comfortable.
Where Is Tao Dan Park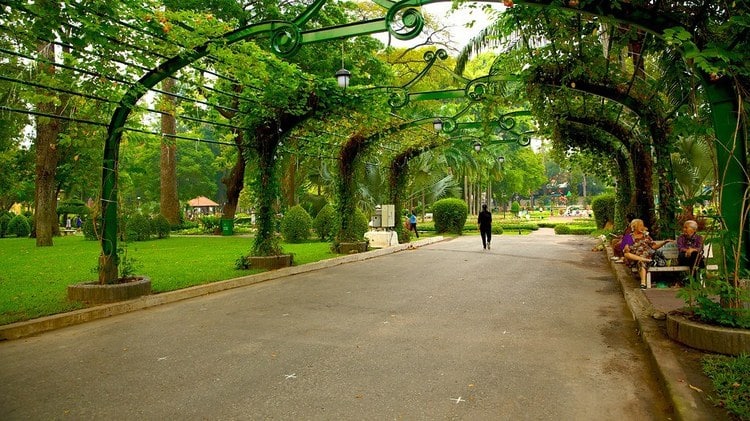 Tao Dan Park located at 55C Nguyen Thi Minh Khai (Nguyễn Thị Minh Khai), Ben Thanh (Bến Thành) Ward, District 1, Ho Chi Minh City is just about 700 meters away from Ben Thanh Market.
From Le Thanh Ton (Lê Thánh Tôn) gate, you should go straight to the intersection of Le Thanh Ton – Truong Dinh (Trương Định). After that, you can turn right and keep walking for 400 meters. Look at your left you can see the park.
Covering 10 hectares, Tao Dan Park in District 1 has over 1,000 trees; therefore, this park is known as not only one of the largest parks in Ho Chi Minh City but also a green lung of this vibrant city.
This park does not require any entrance fees; therefore, going to Tao Dan Park in Saigon is one of the amazing free activities to do in Ho Chi Minh City.
The History Of Tao Dan Park
150 years ago, Tao Dan Park was a garden of the Residence of Governor-General. In 1869,  after the building of a road (now called Huyen Tran Cong Chua (Huyền Trân Công Chúa) Street), the garden was separated from the residence house. Jardin de la Ville was the official name of this garden; however, the local people like to call it Bo Ro  (Bờ Rô) Garden or Ong Thuong (Ông Thượng) Garden.
Later, there are many facilities were constructed on the land of the garden for Hoi Tam Diem (Hội Tam Điểm) (Freemasonry), Hoi Hieu Nhac (Hội Hiếu Nhạc) (Philharmonic Society), and Saigon Sports Clubs with a pool, a soccer field, and a tennis court. At the corner of the streets in the garden is the Institute of Puericulture.
After 1954 when the French withdrew and the Residence of Governo-General became the Presidential Palace, the garden change its name to Tao Dan Garden.
What To Do At Tao Dan Park
As the green lung of Saigon city, Tao Dan Park is mostly shaded by larger tall trees. Visiting this park, you will be astonished at the elaborate plant sculptures in the shape of animals like dragons and tigers.
Furthermore, Tao Dan Park in Saigon has many interesting activities that are why many families love to go. In the morning and afternoon, you can see groups of people of all ages do exercise together. People come to the park to practice Tai Chi, martial arts, racket, and ball games. At the borders of the park, there are a variety of public gym devices you can use to improve your health while relaxing and talking with your partners.
In this park, the popular activity of people is jogging. Also, you can sit at the benches while talking with your friend and seeing other people doing exercise. Tao Dan Park is also an ideal destination for children as there are two playgrounds for young children where they will definitely be interested in swings, slides, and seesaws.
Furthermore, many youth organizations choose this park as the venue for many interesting outdoor activities and organizational events. It is also the place of some flash mob events.
Going to Tao Dan Park, you can also visit some special constructions. First, you can explore the Hung King Temple (Đền Vua Hùng), which is famous for its modern and traditional architecture. This temple worships Mother Au Co (Âu Cơ), National Ancestry Hung Vuong (Hùng Vương), And Ho Chi Minh President. The second construction in Tao Dan Park is a model of a Po Nagar Cham Tower. That gives tourists a great opportunity to learn about the Cham culture. From the Nguyen Thi Minh Khai gate, walking through, you can see both temple and tower on the right side.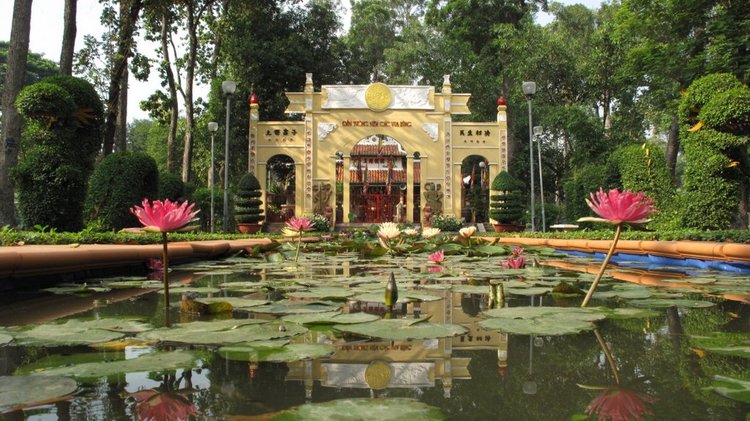 If you go to the park in the morning weekend, you will have a chance to enjoy the bird-singing contest which is the unique interesting activity of Tao Dan Park. In this content, bird owners bring their pet to the park, listening to their bird' singing and talking to their peer. Some bird species can be found at this contest show are Oriole, Oriental Magpie-Robin, Canary, Songbird and more. The beautiful voice and colorful feather of these birds will give people the feeling of relaxing.
The great time for you to visit Tao Dan Park is also around February. This is because you can enjoy a Spring Flower Festival that is held to celebrate the Tet (Tết) holiday of Vietnamese people. Lasting about 2 weeks, this festival exhibits many types of beautiful flowers, miniature oases, and precious trees. Throughout the day, tourists and visitors will be fall in love with some entertainment activities at Tao Dan Park such as Lion Dance show or music show.
Do not worry when visiting the park with an empty stomach because you can have a light breakfast and coffee in the park. There is no wonder when Tao Dan Park is a pretty, peaceful and refreshing place to eat.
Read more:
Escaping from the busy life, you can find the peace and relief in Tao Dan Park that gives you the opportunity to meet and talk with a lot of people. More interestingly, you do not need to pay any entrance fees. I hope that you can find this blog informative and useful. Any questions can be left in the comment section of Vina.com and we will answer them as soon as we can.