Giang Dien (Giang Điền) is the only area near Ho Chi Minh City possessing a waterfall. Giang Dien waterfall is quite a beautiful waterfall and often compared with Cam Ly waterfall (Thác Cam Ly) in Da Lat (Đà Lạt). In recent years, this place has been built into an ecotourism area, drawing a large number of tourists, both domestic and international.
If you are looking for a place nearby Saigon that gives you ideal spaces to relax, especially on the weekend, then look nowhere than Giang Dien waterfall. Just simply read on our Vina.com travel guide to Giang Dien waterfall in Dong Nai, Vietnam.
17 Most Beautiful Waterfalls In Vietnam From North To South
Ca Du Waterfall – An Interesting Destination For Summer Fun
I. What Is The Best Time To Visit Giang Dien Waterfall?
This waterfall is beautiful and clean in the dry and sunny seasons. The dry season starts from the beginning or mid-November and ends at the end of April next year. You had better visit this site during this period since, in the rainy season starting from late April to November, rainwater makes the waterfall's water look discolored and dirty.
II. What To Do At Giang Dien Waterfall?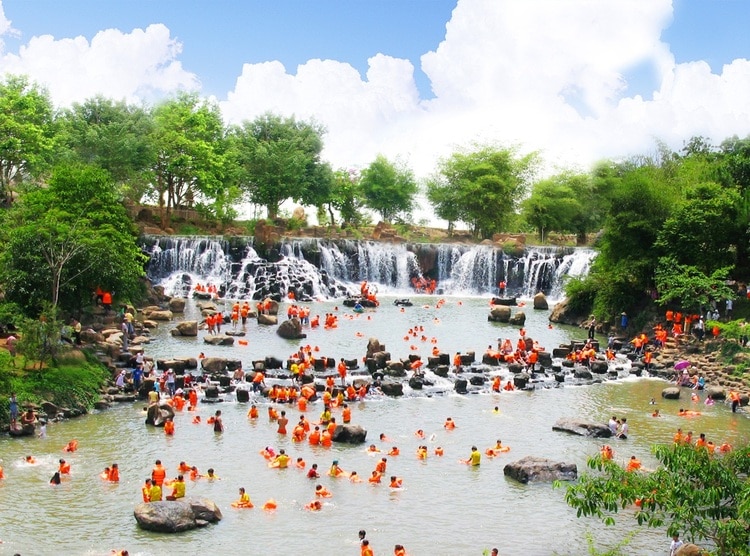 1. Swim At The Waterfall
Swimming at Giang Dien waterfall brings a cooling feeling since the water here is so cool. It will be more rewarding if you visit this site in the dry season. However, to swim safely, strictly follow regulations and do not forget to wear a jacket (rent or brought by you). The rental fee is about 20.000 VND.
A tip for swimming here is to swim right in the middle of the waterfall. Avoid the left or right side because it can be dangerous due to cloudy and tight space of the fall.
Note: If you have sensitive skin, do not join this activity since the water may trigger rash and itching.
2. Cycle To Explore Natural Landscapes
Cycling and exploring Giang Dien waterfall on a bicycle is one of the most interesting things to do at Giang Dien area. It just takes from you 10.000 VND to rent a bike/electric bike for an hour. On weekdays, it is quite easy to rent these means, but it takes more time on holidays and weekends.
3. Camp And Go Teambuilding
This is considered one of the most exciting activities in Giang Dien waterfall because there are many campsites here, along with fresh air and beautiful scenery.
In case you do not want to prepare or bring many things for camping, let your mind free by using the services of renting tents, canvas and cooking utensils with affordable prices, ranging from 200.000 to 300.000 VND.
To stay overnight, you need to pay extra from 90.000 VND to 120.000 VND.
There are many associated convenient services that tourists can take advantage when visiting Giang Dien waterfall in Dong Nai, Vietnam, namely boat trips on the lake, travel taxis, amusement park and karaoke. Here, your outings will be fulfilled and memorable. Sure!
III. Where To Stay In Giang Dien Waterfall?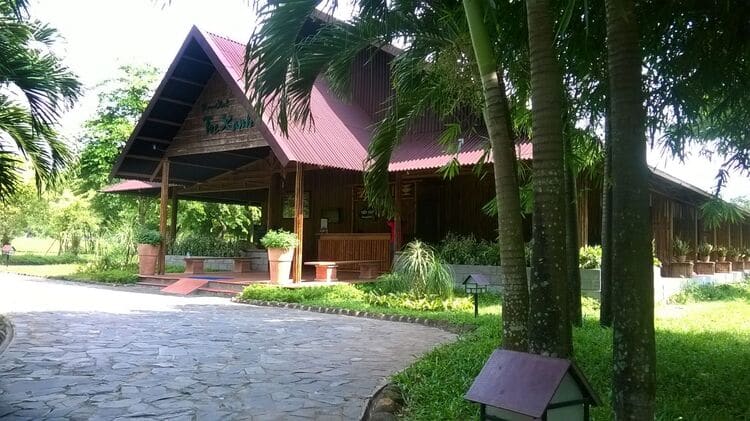 1. Tre Xanh Hotel (Khách Sạn Tre Xanh)
Come to Tre Xanh hotel, you can immerse yourself in the natural lush green. The natural surroundings bring quiet moments and fresh space, making you feel relaxed. The prices of rooms in this hotel range from 500.000VND to 600.000VND depending on the rental duration.
2. Homestay – Treehouse
Each house has its own design but in harmonized with nature, bringing fresh air and allowing you to stay away from the hustle and bustle of modern cities and enjoy full relaxation. Treehouse can accommodate from 2 to 4 guests with the price ranging from 400.000VND to 700.000VND, depending on the rental period.
3. Bang Lang Advanced Tents (Lều cao cấp Bằng Lăng)
Bang Lang Advanced Tents are settled on the green grass, surrounded by trees. Each tent is named after unique flowers and herbs, creating a sense of fun for tourists when hearing for the first time. Tent renting fee ranges from 350.000VND to 600.000VND, depending on the rental period.
IV. What To Eat In Giang Dien Waterfall?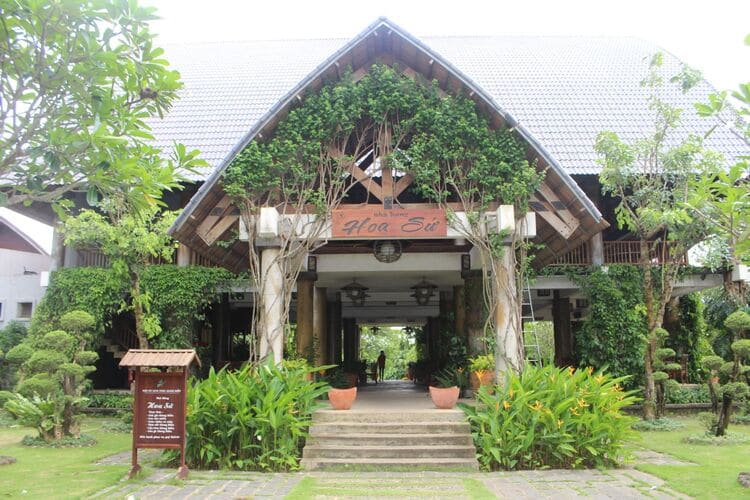 In Giang Dien waterfall ecotourism area located in Trang Bom district (huyện Trảng Bom), Dong Nai (Đồng Nai), you can have meals at one of the following restaurants:
1. Hoa Su Restaurant (Nhà hàng Hoa Sứ)
Opening hours: 9:00 – 21:00
This restaurant was designed in the shape of a communal house (a typical and symbolized type of house in the Vietnamese Highlands), giving tourists a comfortable space.
Hoa Su restaurant includes two floors with a capacity of over 400 people. Here, you can enjoy the food while watching the waterfall and listening to its sound. This experience resembles the epic of nature.
Mainly serving dishes made from seafood and specialties of Giang Dien, this restaurant became a popular dining area for most tourists. More than that, the staff here is very caring, attentive, and professional.
2. Hoang Yen Restaurant (Nhà hàng Hoàng Yến)
Opening hours: 9h00 – 18h00
Hoang Yen restaurant is designed in combination of both traditional and modern style. Luxury architecture is combined with fresh natural scenery, creating a relaxing and comfortable feeling when dining here. In addition to being capable of accommodating up to 70 people, this restaurant also offers a diverse and unique menu which can meet most demands. 
3. Phuong Son Restaurant (Nhà hàng Phượng Son)
Opening hours: 6h00 – 18h00
A unique dining space, Phuong Son restaurant features a cone-shaped architecture with a central clump of huts and seven huts around it, which are spacious and airy. Especially, you can hear the sound of the waterfall and immerse yourself in the scenery while enjoying the food, making your dining experience more memorable and the food even more delicious. The restaurant could accommodate up to 250 individuals and professionally serves fast food as well as buffet. 
4. Thac Reo Fastfood Restaurant (Nhà Hàng Thức Ăn Nhanh Thác Reo)
Thac Reo fast food restaurant specializes in serving snacks, such as grilled chicken wings, sausages, and fish balls. In addition, you can also rent life jackets, bamboo chairs, and huts here.
V. How To Get To Giang Dien Waterfall?
Giang Dien waterfall is located in Giang Dien Commune (Xã Giang Điền), Trang Bom District (Huyện Trảng Bom), Dong Nai Province (Tỉnh Đồng Nai). It is near Trang Bom town, about 22 km from Bien Hoa City (Thành phố Biên Hòa), 48 km from Ho Chi Minh City and 82 km from Vung Tau City (Thành phố Vũng Tàu).
To get here, you have the 4 options below:
1. Travel By Motorbike Or Car
From the center of Ho Chi Minh City, you go along the Hanoi Highway to head to Dong Nai, then cross over Saigon Bridge to go to Suoi Tien tourist area (Khu du lịch SuốiTiên). After that, you continue crossing Dong Nai Bridge (Cầu Đồng Nai) and arrive at Vung Tau Fork. Follow the Highway 1A to go to Tri An (Trị An). Finally go straight ahead about 1.3 km to reach Giang Dien waterfall.
During your trip, if you have any questions about directions, do not hesitate to ask local people to avoid straying and wasting time.
During your trip, if you have any questions about directions, do not hesitate to ask local people to avoid straying and wasting time.
2. Travel By Bus
Currently, there are two bus routes leading to Giang Dien, and you can choose the bus with appropriate stops:
Bus Route 12: Ben Thanh Market (Chợ Bến Thành) – Giang Dien Waterfall
Operation time: 5h00 – 16h45.
Bus Route 602: Dau Giay Junction (Ngã ba Dầu Giây) – University Of Agriculture And Forestry (Trường đại học Nông Lâm)
Operation time: 5h00 – 18h30.
VI. Entrance Fee Of Giang Dien Waterfall
1. Entrance Fees During The Regular Day
Adult: 40.000VND / ticket.
Children: 30.000VND / ticket.
2. Entrance Fees During The Weekends And Holidays
Adult: 70.000VND / ticket.
Children: 60.000VND / ticket.
Giang Dien waterfall is ideal for any short trip from Ho Chi Minh City as well as nearby areas thanks to the convenient transportation and the proximity to Saigon. That means you do not have to spend too much money and time in order to have fun here. Therefore, there is no reason to not organize a trip to the Giang Dien waterfall as soon as possible.
If you still have questions about this destination, leave a comment below. We will respond as soon as possible.
By Van Tran