Updated: 08/19/2019
A must-visit corner in Ho Chi Minh City (Hồ Chí Minh) is Gia Dinh Park (Công Viên Gia Định) that is well-known as the green lung of the city with spacious space, golf course in the front and green trees providing the shades and pleasing atmosphere for the park. To help you have the best trip to Gia Dinh Park, this article will give you the complete tourist guide. I hope that you will find these following guide useful and informative.
Where Is The Gia Dinh Park?
The Gia Dinh Park is a green entertainment park located in Go Vap (Gò Vấp) District, Ho Chi Minh. The main entrance of the Gia Dinh park is on Hoang Minh Giam (Hoàng Minh Giám) Street, Ward 3, Go Vap District, and a portion of the park is in Ward 9, Phu Nhuan (Phú Nhuận) District, Ho Chi Minh.
When Is The Best Time To Visit Gia Dinh Park?
Gia Dinh Park is in Ho Chi Minh City, an area with tropical climate; therefore the best time for you to visit Gia Dinh Park depends on the weather of Ho Chi Minh City, especially if you want to visit not only Gia Dinh Park but also other famous attractions of Saigon.
The recommended time for a trip to Ho Chi Minh in general and Gia Dinh Park, in particular, is the dry season from December to March. During this time, the temperature will be between 21°C and 34°C. On a few days, the temperature will reach 36°C, but in the early morning or late afternoon, the temperature will cool down a little bit. It is a reason why if you visit the park in the early morning or late afternoon, you will see many local people gather in the park to do exercise, chat, stroll around or even make friends with visitors. For people who want to know more about the daily activities of residents in Ho Chi Minh City, it is the ideal time.
Overview Information About Gia Dinh Park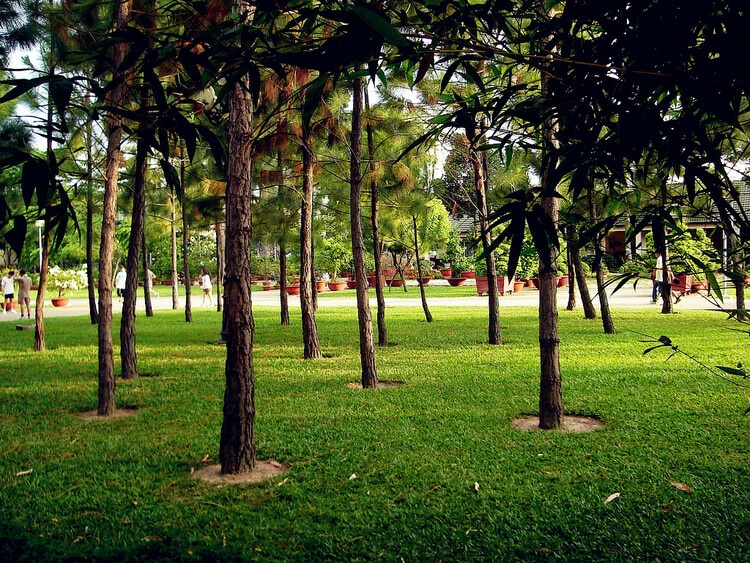 Gia Dinh Park with an area of 8300 square meters is divided into different sub-zones for children with a wide range of ages (from 3 to 6 years old, from 7 to 11 years old, and from 12 to 15 years old). With the total investments of over 12 billion dong, the park has built and developed many modern facilities and entertainment equipment such as swing, movement games, ladder climbing adventure, etc.
The park has Gia Dinh 1 Park and Gia Dinh 2 Park. The Gia Dinh 1 Park isn't as large as other Ho Chi Minh public parks, but it offers the fresh air, tranquility and peaceful atmosphere. In the center of the park is a fountain. The park is covered with the shades of trees, which is not only an essential characteristic of the Gia Dinh 1 Park but also makes the park become the ideal place for people to do exercise and jogging.
Gia Dinh 2 Park is larger than the Gia Dinh 1 Park. In the park, people placed large stones on the artificial grass hills, which is the outstanding characteristic of the park. In Gia Dinh 2 Park, there are squirrels and birds. If you are lucky, you can see some parrots flying or sitting on the trees. It is not surprising when Vietnam is one of the famous attractions that attracts many filmmakers.
Gia Dinh Park is a public park; therefore, you can visit the park without spending any costs.
Activities You Can Enjoy In The Park 
1. Do Exercise Or Go Jogging 
Because of the spacious space and shades of tall trees, the Gia Dinh Park has the fresh air and pleasant atmosphere that are ideal for locals and tourists to come to relax, do exercise and go jogging in the early morning or late afternoon.
2. Have A Picnic
The Gia Dinh Park has the greenery and artificial grass hills, so it is an ideal place where students and young people often plan to have a picnic, read the book and exchange the music. Nothing is greater than meeting friends, eating, and having fun with friends on the grass in the middle of the city without traveling far.
3. Play In Entertainment Area 
The Gia Dinh Park has its own entertainment area for children who at various ages with many interesting games. On weekends, parents and families often take their children to the park for exercising and playing.
Where To Eat  Near The Gia Dinh Park 
Gia Dinh Park is located in the middle of the city; therefore, it is easy for you to find the best restaurant or food stall nearby.
However, the unique must-try foods you should taste are mi quang tron (Mì quảng trộn) and hu tieu (hủ tiếu). The best place you can try mi quang tron is 129 Hong Ha (Hồng Hà) Street, 9 Ward, Phu Nhuan District near Gia Dinh Park. A bowl of mi quang tron here is delicious with the soft tender meat combined with eggs, raw vegetables, rice paper, and sour and sweet sauce.
Hu Tieu is sold at 32/1 Nguyen Van Dau (Nguyễn Văn Đậu) Street, 5 Ward, Phu Nhuan District. Hu Tieu is the combination of sweet soup and lean meat, minced meat, eggs, and shrimps. Hu Tieu here is so delicious that many people who have eaten want to come back again when they have a chance. However, the only disadvantage of this restaurant is the cramped space. Moreover, it is essential for you to keep in mind that the shop opens only from 8 am to 2 pm.
Near Gia Dinh Park, there is a culinary area with many street food stalls that you should taste when you travel to Ho Chi Minh City. It is called the paradise of culinary in Saigon.  You can find my food choices here, including banh trang tron (bánh tráng trộn), grilled octopus, hot ga nuong (hột gà nướng), etc. These foods here are very delicious but affordable.
Where To Stay Near The Gia Dinh Park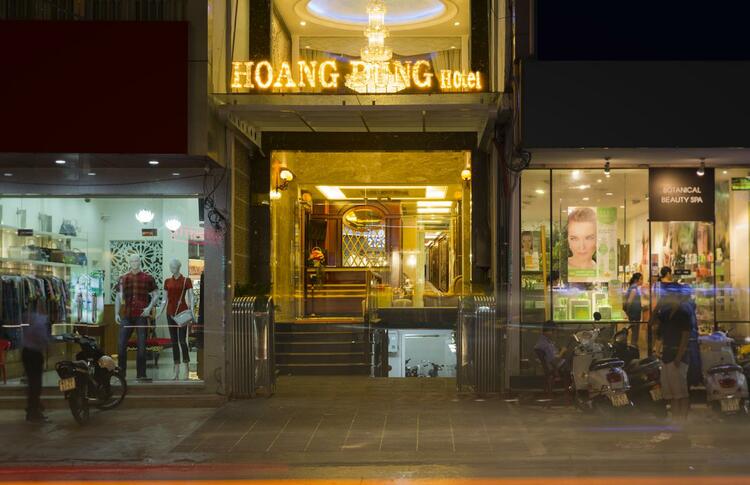 Ho Chi Minh City is loaded with resorts and hotels. Therefore, no matter where you visit, you can easily find the best accommodation nearby.
Looking for the hotels, guesthouses and resorts near Gia Dinh Park, you can choose the accommodation like ibis Saigon Airport (0.2 km far from Gia Dinh Park), Mai Villa Hotel Airport (0.1 km from Gia Dinh Park), The Tropical Residence Services Homestay (0.3 km from Gia Dinh Park), Bluesky Serviced Apartment Airport Plaza (0.2 km), Hoang Dung Hotel (0.3 km), Christina's Saigon-The Transit House (0.2km).
Gia Dinh Park is a peaceful and romantic place in the middle of a bustling, crowded and dynamic city. If you have a chance to travel to Ho Chi Minh City, let's enjoy the fresh air, play in the entertainment area in the park and eat at the restaurants or food stalls nearby. I hope that you can find useful information in this article. Any questions can be left in the comment section, and we will answer them as soon as we can. On Vina.com, we have useful articles that give excellent suggestions for somebody who is planning to have a trip to Vietnam, so please click in if you are interested.