Updated: 08/19/2019
Officially opened to the public in 1912, Haiphong Opera House, Municipal Theater, Vietnam is one of the three famous opera houses in Vietnam. The construction of Haiphong Opera House started in 1904 when the French wanted to build an opera house in the city of Hai Phong (Hải Phòng). During that time, this historic building was the central area of Hai Phong City and a meeting place of Chinese, the Europeans, and Vietnamese. Thanks to the architectural and historical values, Haiphong Opera House has drawn the attention of not only domestic but also international tourists.
Hai Phong is a great tourist destination with many attractions and interesting activities including Cat Ba National Park (Vườn quốc gia Cát Bà)  trekking, rock climbing, sea kayaking Lan Ha Bay (Vịnh Lan Hạ), cycling Cat Ba Island (Đảo Cát Bà), etc which are appealing to individuals, families and small groups. But if you are interested in the history and the ancient architecture and want to know more about Vietnam in the old time, Haiphong Opera House is absolutely an ideal must-stop destination.
History Of Haiphong Opera House 
During the early 20th century, the French were building several opera houses in Vietnam, especially in any city with the European population. And Hai Phong was chosen as an excellent place for building an opera house as in the 20th century, this northern port town had roughly 16,000 residents in which thousands of residents were French soldiers and expatriates. To accommodate the European population in Hai Phong City, Haiphong theater was built and developed in the city center. To start the project of building an opera house in Hai Phong, Hai Phong's French administration decided to choose the site of An Bien Market as the place to construct the theater. After moving the trading post in 1900, the French began to build this theater in 1904. All materials used in the construction were imported from France. The development of the theater was completed in 1912.
Special Things Of Haiphong Opera House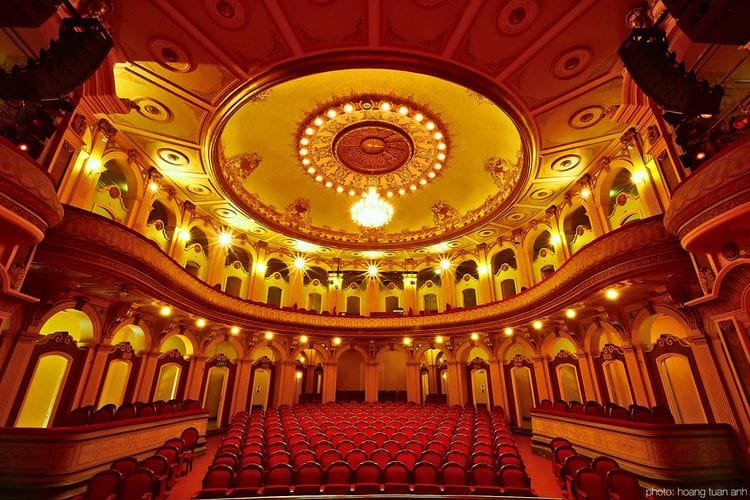 Nowadays, Haiphong Opera House still remains the French colonial architecture with the splendid Gothic interior, winding staircases, opulent paintings used to decorate the floor and ceiling, and Grecian design elements. In 2000, several professional experts were invited to the opera house to restore the decaying paintings of the theater.
There are two floors, 100 doors, corridors, windows, canteen, mirror room and a main performance hall inside the theater. The central performance hall of Haiphong Opera House can provide the seating for 400 people. Coming to the Haiphong Opera House, tourists and visitors will admire at the red plush cushioned chair that matches perfectly to the high domed ceiling of the theater. Going to the upstairs, you can see numerous beautiful, impressive wooden furniture in 10 meeting rooms. Furthermore, the auditorium makes tourists impressed and astonished at the vaulted ceiling and stunning decoration with flowers, art elements and names of several European artists such as Beethoven, Mozart, Moliere, etc. Outside the theater are a modern big square, water fountains, beautiful flower garden, and twinkling lights.
The Haiphong Opera House also attracts tourists as it has witnessed many recent historical events. For example, on November 20, 1946, a battle of Vietnamese soldiers fighting against the French, sacrificing and killing 50 enemies took place outside the opera house's door. After performing the restoration, Haiphong Opera House is still considered as an essential natural monument in Vietnam in general and Hai Phong City in particular.
Activities In Haiphong Opera House 
In the 20th century, the period of French colonial, the Haiphong Opera House is considered as a center of culture and politics of the French and wealthy people. During that time, only the famous troupes in the country and French troupes were allowed to come in the theater. However, today, this theater is gaining popularity, Haiphong Opera House is a place to organize and celebrate many vital holidays, cultural activities, events and ceremonies. For example, it is great for tourists and visitors to come to Haiphong Opera House at the New Year's Eve when you have a chance to understand more about the cultural and spiritual life of Vietnamese people.
Visiting Haiphong Opera House, tourists and visitors can not only explore the French architecture and impressive decoration with stunning paintings but also enjoy many interesting performances such as the hat tuong (hát tuồng)– the classical Sino-Vietnamese, hat cheo (hát chèo)– the ancient Vietnamese drama, cai luong (cải lương) – the popular folk musical and other music performances. The Haiphong Opera House is also a great place to hold many concerts of Vietnamese music like ca tru (ca trù), nhac dan toc cai bien (nhạc dân tộc cải biên) – the neo traditional Vietnamese-Western music, quan ho (quan họ) , hat chau van (hát chầu văn) and other popular songs.
Located on 65 Hoang Van Thu (Hoàng Văn Thụ) Street, Haiphong City, the Haiphong Opera House opens from Monday to Sunday at from 7:30 am to 5 pm. Visiting the theater, if you have something to ask or wonder, you can find the useful free information from the Visitor Information Office. Here you can ask for a guide service.
Where To Eat Near Haiphong Opera House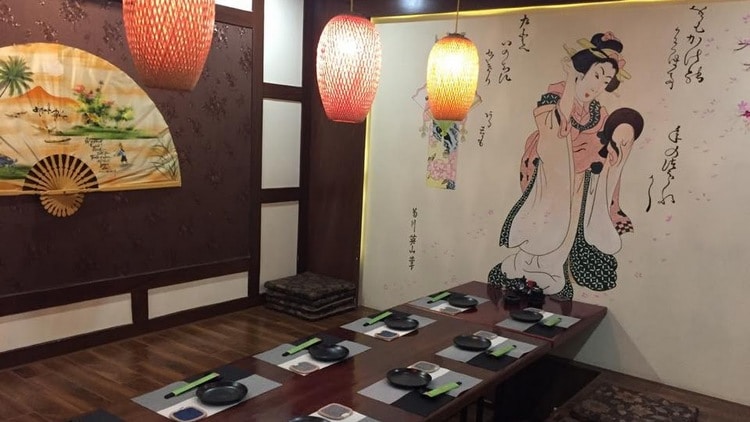 Hai Phong offers many excellent restaurants and food stalls which serve you a diverse range of delicious cuisines. In Hai Phong, you can not only taste the local foods but also enjoy the cuisine from different countries in the world such as Japan, America, China or Singapore.
A visit to Hai Phong city will not complete without trying seafood. Do not miss the crab noodles, the typical food in Hai Phong with special taste and aroma. Banh mi (bánh mì) served with pate is also another Hai Phong's specialty. So make sure that you grab some banh mi from the street vendors while exploring Hai Phong.
If you visit Haiphong Opera House and feel hungry but do not want to travel far, you can eat in the restaurants such as Nha Hang Vu Lap (Nhà Hàng Vũ Lập), Koyuki Japanese Restaurant, Fryday BBQ & Hoto, Nha Hang San Gong (Nhà Hàng San Gong), etc. These restaurants not only are located near Haiphong Opera House but also serves many delicious foods.
Where To Stay Near Hai Phong Opera House 
Hai Phong is loaded with a  wide range of hotels and resorts with different quality and prices. If you are not in a tight budget, you should choose to stay in the hotel such as Sea Stars Hotel, Manoir Des Arts Hotel, Mercure Hai Phong, Cindy Hotel and Suites, etc which provide customers the luxury services with the price of more than one million VND for one night.
If you do not need to stay in a luxury hotel with 5-star services, I guarantee that these hotels like Lac Long Hotel Hai Phong (Khách Sạn Lạc Long Hải Phòng), Dong Duong Hotel (Khách Sạn Đông Dương), Pham Ha Hotel (Khách Sạn Phạm Hà), Bach Dang Hotel (Khách Sạn Bạch Đằng), etc can satisfy your needs and requirement.
As the center of culture and politics, Haiphong Opera House has attracted more and more tourists and visitors to come. It enriches the spiritual and cultural life of the people.
I hope that you will find useful information in this article. Any questions can be left in the comment section and we will answer them as soon as we can. The website Vina.com has many interesting and informative articles that may help you if you are planning to visit Vietnam and its popular attractions. If you want to read, please do not hesitate to visit my website.