Visiting night markets in Phu Quoc (Phú Quốc) is one of the best-expected nightlife activities for tourists and travelers, especially if you love seafood. Phu Quoc Island has two-night markets: Dinh Cau (the old market), and Bach Dang (the new one). They are both located in Duong Dong (Dương Đông) town, just a couple streets far away from each other. Therefore, it is convenient for you to go shopping in both markets in the evening.
Night Markets In Phu Quoc – The Best Nightlife Attractions In The Little Island
1. Dinh Cau Night Market (Chợ Đêm Dinh Cậu)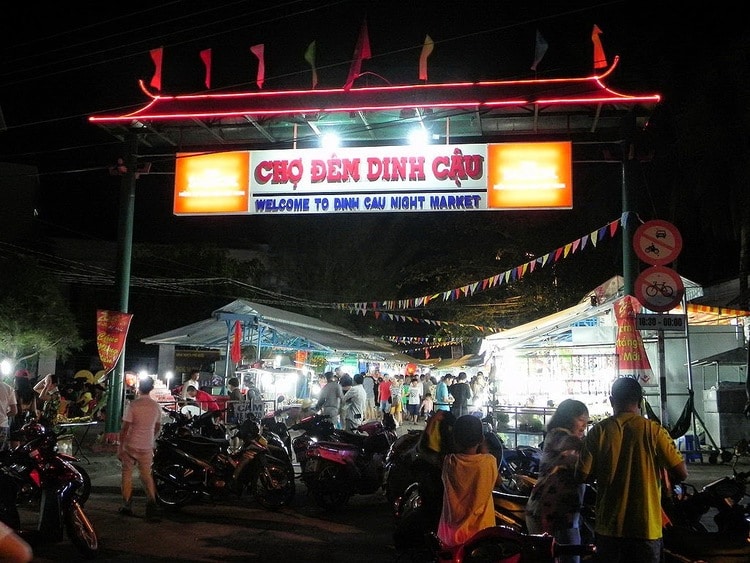 Located on Vo Thi Sau (Võ Thị Sáu) Street, Duong Dong, Phu Quoc Island, Dinh Cau Night Market is the popular attraction of Phu Quoc at night. The characteristic feature of this market is a clean, open, beautiful and cool space. In this market, you can find plenty of fresh seafood, snacks, street food, local craft beer, and souvenir shop. For example, a variety of seafood includes sea snakes, sea urchins, blood cockles, scallops, oysters, abalone, shrimp, octopus, shark, giant clam, squid, grouper, sea snails, sea perch, razor mussels, king fish, cobia, etc. Besides seafood, you can also see many food stalls that offer the Phu Quoc specialities and Korean or Japanese cuisine. It is great to buy souvenirs like pearls, shells, wooden boats, handicrafts, etc as gifts for your friends and your family. The prices of foods and souvenirs here are affordable.
This market opens from 5 pm to 12 am and at this time, the streets are blocked and just allow walkers only. This market will become very crowded around 7pm; therefore, it is better for you to arrive soon if you want to look for the freshest seafood and take pictures.
Location: Vo Thi Sau Street, Duong Dong, Phu Quoc
Opening hours: 5 pm to 12 am
2. Bach Dang Night Market (Chợ Đêm Bạch Đằng)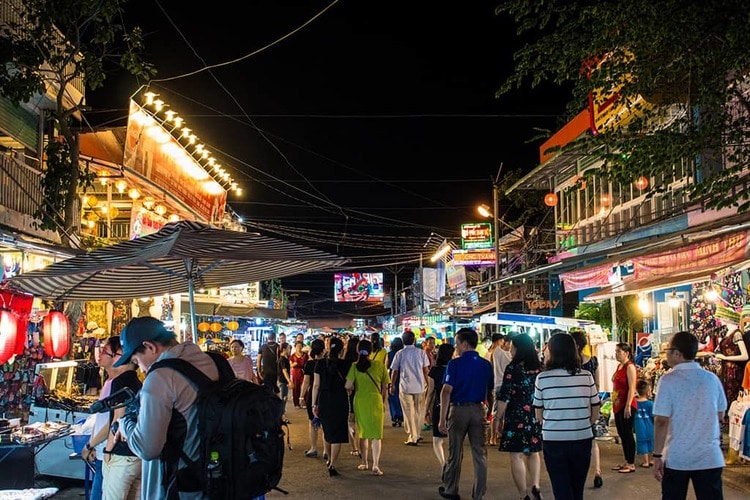 Located on Bach Dach (Bạch Đằng) Street, Duong Dong town, Phu Quoc Island, Bach Dang Night Market is a new market established in 2016. Opening from 5 pm till 2 am of the next day, this market is ideal for those who do not like the noise and crowd. In this open-air market, you can shop for special gifts, enjoy fresh seafood and try a variety of local and Vietnam specialities. This place also gives tourists a good view to watch the sunset.
The main audience of this market are tourists both Vietnamese and international. A few locals come there to watch the tourists. This may be because the prices in Bach Dang Night Market is often higher than ones in the Dinh Cau Night Market and other local places.
Location: Bach Dang Street, Duong Dong, Phu Quoc
Opening hours: 5 pm to 2 am
Read more:
Around Dinh Cau Night Market and Bach Dang Night Market are many tourism services such as hotels, restaurants, and guesthouses. For the convenience to go shopping at night, it is recommended staying at famous hotels nearby such as Lighthouse Phu Quoc Hotel, Huong Bien Hotel (Khách sạn Hương Biển), etc. It is all about the best night markets in Phu Quoc Island. I hope that you will find useful information in this article. Any questions or opinions can be left in the comment section of Vina.com. We will respond as soon as we can.