Traveling to Phu Quoc, you bring an enthusiasm to explore and start exciting journeys to the beaches stretching long and wide, or you want to feel the peace in a wild and rustic area, Rach Vem Fishing Village (Làng chài Rạch Vẹm) in Phu Quoc (Phú Quốc) is a great choice for you!
Escape the Cold and Come in Rach Vem Fishing Village
About Rach Vem Fishing Village
Rach Vem Phu Quoc is a coastal village where about 180 households live in adjacent stilt houses. The livelihood of the people here is fishing, but when tourism in Phu Quoc began to develop, they built raft houses and open business services associated with tourism in the self-sufficient way. It means fresh seafood often caught the night before will be used to serve tourists directly. Coming here, you will be acquainted with the locals who are very honest, open-hearted, and extremely simple.
What to Discover in Rach Vem Fishing Village?
1. Visit the Raft Houses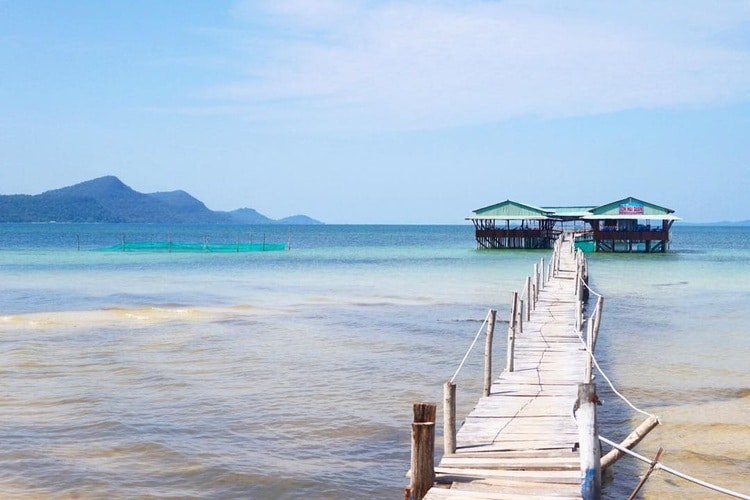 The famous destination you should first visit when visiting the Rach Vem fishing village is a series of raft houses. 
Rach Vem raft houses were built about 200 – 400m from the coast; these houses were also built similar to stilt houses. They were erected by many wooden stakes embedded deep into the sand to make a solid foundation. Floors were lined with boards, roofs were covered with leaves and corrugated iron, and houses were surrounded by trees and planks. These raft houses have an area of about 25m2 – 30m2 so they are very solid, airy and comfortable.
When you come to Rach Vem, you will see the furthest raft house called the Tình Yêu (Love). When hearing its name, you will probably imagine the exciting prospect for your discovery journey. The seawater here is clear and clean, and you will spend about 5 minutes walking on the wooden plank bridge connected to Thu Bao raft house, then you will spend more 5 minutes in a small boat reaching it because it is quite far from the shore.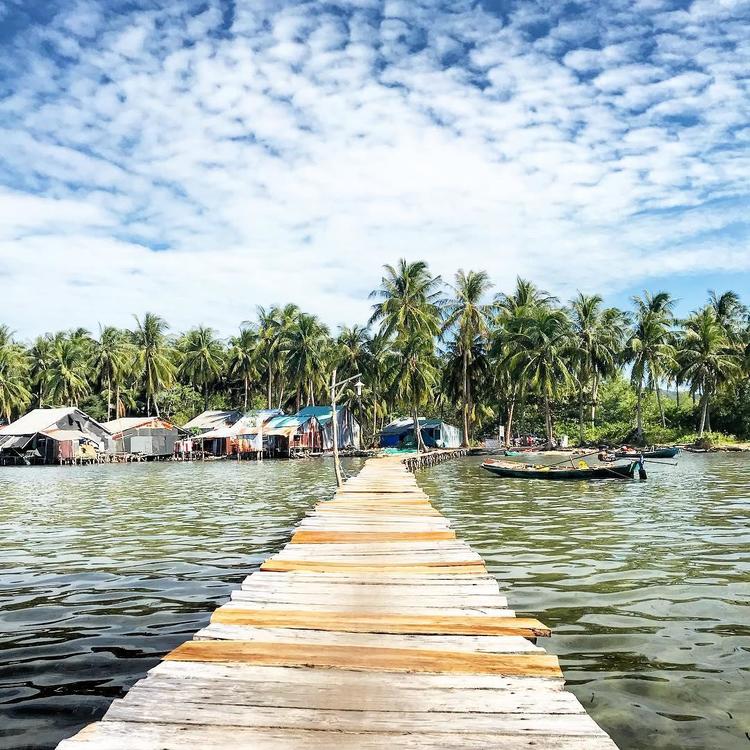 It would be a very refreshing feeling if standing on the raft house and looking towards the vast ocean. You can also immerse yourself in nature, enjoy the wonderful scenery, let your soul follow the gentle sea breeze, admire the clear blue sky, soak your tiny toes in the clear seawater, and play with the school of fish swimming around. Hey guys, try coming here once to experience the feeling like I've had here!
2. Enjoy the Beauty of Rach Vem Fishing Village
Rach Vem is a harmony picture between nature and people, between poetic scenery and wild beauty. Roaming around the fishing village, you will discover interesting surprises here. The poetic scenery is mixed with beautiful colors, a little of the sky, the sea, the sand, coconut leaves overhead, boats moored on the shore, undulating roofs, and raft houses floating offshore.
When traveling to coastal areas, no one does not want to wake up early to catch the dawn, or take a walk in the coastal sunset. Because those moments will surely be wonderful moments not to be missed when traveling. That is the time you can admire the sparkling natural scenery and explore the daily life of the locals throwing their nets every morning to catch shrimp and fish.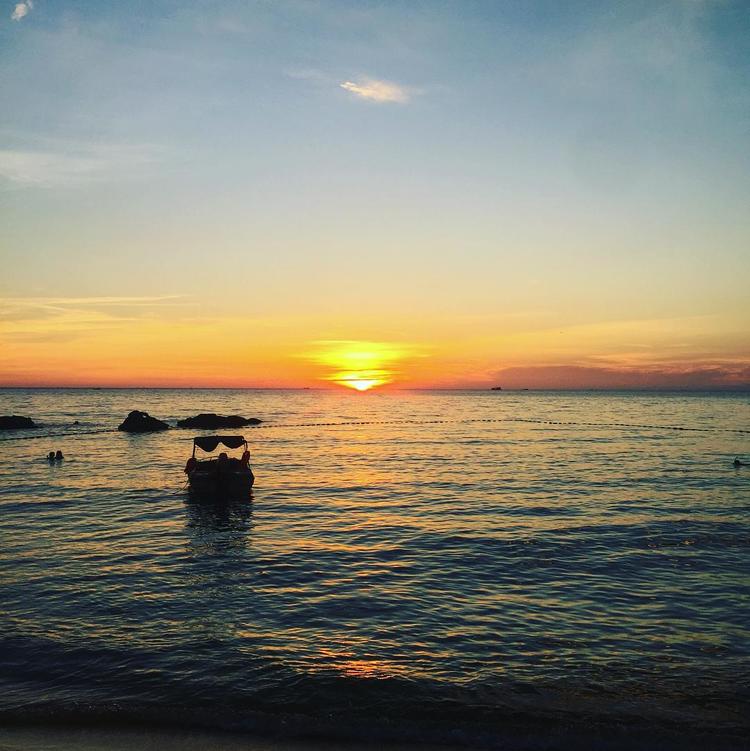 You can also try asking fishermen to get on their boats to visit the fish cages, and experience things like dropping nets, squid fishing, fishing offshore. Come to Rach Vem, do not forget to explore such things!
Rach Vem brings you a fresh, airy atmosphere and also gives you unexpectedly interesting experiences that are nowhere to be found. Those things will make you love the Rach Vem fishing village even though it is only the first time you arrive.
3. Play with Starfish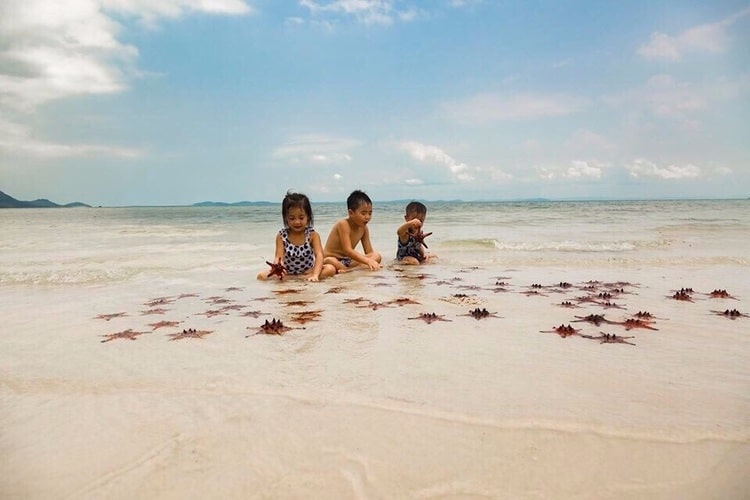 Known as the name "kingdom of starfish", so playing and taking pictures of starfish is one of the must-see activities for tourists coming here. This species seems to be everywhere, sometimes hidden in the clear blue water, sometimes lying dormant along the white sand. Visitors can find them quite easily and comfortably take cute photos to keep as memories during their travel trips.
4. Swimming in the Sea & Taste Rach Vem Seafood
Not all beaches are created equal; therefore, swimming and enjoying the typical seafood in each coastal area are activities that cannot be missed. 
Rach Vem fishing village is a pristine place, so you can immerse yourself in the clear blue seawater without worrying about the hustle and bustle. This is also where you can enjoy fresh seafood with reasonable prices.
Like the famous beaches on the Pearl Island (đảo Ngọc) or Phu Quoc Island (đảo Phú Quốc), Rach Vem also has pristine white sandy beaches covered partially by moss that drifted ashore, with rows of green coconut trees making a murmuring sound when the wind blows to the shore.
In addition to playing on the beach, the food here is not a small attraction for visitors, because it is a fishing village itself, and the people of Rach Vem live on fishing, so the seafood here is always fresh and delicious. Moreover, you can taste Phu Quoc specialties at restaurants or bars along the way.
To get more information about how to come to Rach Vem fishing village, or know what to eat and where to stay, or other information about Phu Quoc island district, leave your comments, and Vina.com will provide you with all of the details if possible. Thanks and have great trips!
By Hang Pham