Updated: 08/19/2019
Phu Quoc (Phú Quốc) Island is well-known for not only beautiful beaches and picturesque landscape but also several traditional unique festivals. One of the most popular festivals in Phu Quoc is Ding Ba Ong Lang Festival (Lễ hội Dinh Bà Ông Lang) which reflects the cultural, historical and traditional values of Vietnamese in general and Phu Quoc residents in particular.
A visit to Phu Quoc will give you the great opportunity not only to enjoy the beautiful sightseeing of this pearl island but also join in Dinh Ba Ong Lang Festival that helps you learn more about the cultural values of Vietnamese.
Dinh Ba Ong Lang Festival – The Meaningful Traditional Festival In Phu Quoc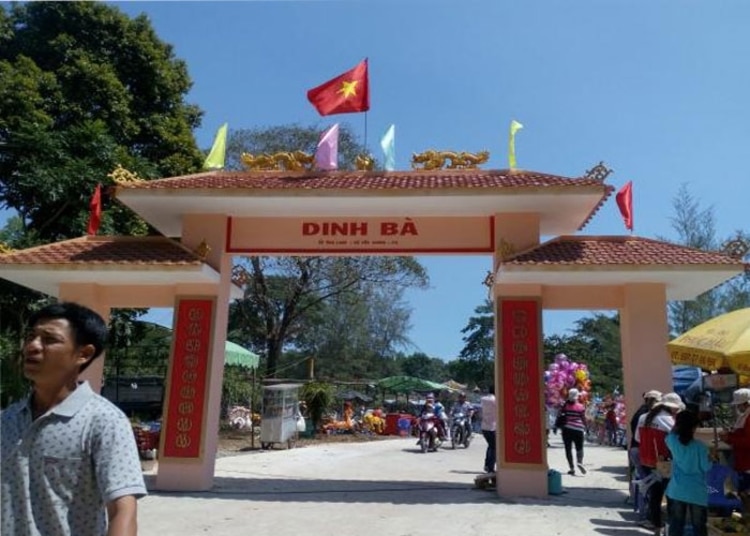 Phu Quoc residents live mainly by fishing and sailing; therefore, they often face many risks, difficulty, and challenges coming from the sea and nature. It is a reason why Phu Quoc residents often celebrate many rituals of praying and worshipping.
They often pray the gods for the shelter, protection, and peace. Festivals and ceremonies have become an essential part of locals' life to fight against natural disasters and risks. They also reflect the hope of fishermen and locals for an abundance of fish and successful business season.
According to the story told by the old, Dinh Ba Ong Lang temple worships the wife of Nguyen Trung Truc (Nguyễn Trung Trực) leader – Kim Giao. The story also said that Dinh Ba Ong Lang Temple is a place where locals on Phu Quoc Island can pray for peace, health, and happiness.
The temple is located near Ong Lang Beach, Cua Duong (Cửa Dương) Commune, Phu Quoc, Kien Giang (Kiên Giang). Standing at Dinh Ba (Dinh Bà) Temple, tourists and visitors will admire at the beautiful beach and white long sand.
Ceremonies of the Dinh Ba Ong Lang Festival take place on 18th and 19th January of the lunar calendar. Dinh Ba Ong Lang Festival is one of the traditional festivals in Phu Quoc that attracts tourists and visitors coming to burn incense and pray for a year of peace, happiness, luck, and prosperity. This festival appeals not only the old but also the young and couples who visit Dinh Ba Ong Lang Festival to pray for the eternal happiness.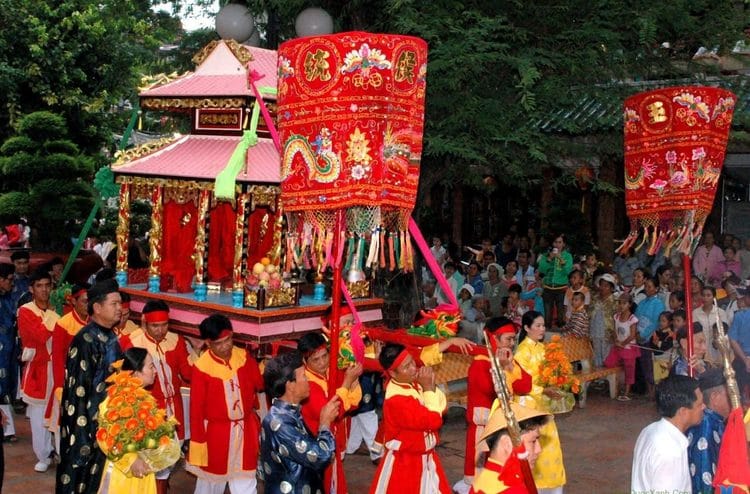 Before the festival, Phu Quoc residents prepare carefully to give the tourists the best experience. Furthermore, the festival is also a great opportunity for tourists and visitors to taste many delicious local foods.
Moreover, tourists and participants can take part in many exciting activities and games, which adds a lively atmosphere during the festival.
Dinh Ba Ong Lang Festival contributes to the diverse Phu Quoc tourism and boosts the number of tourists and visitors coming to Phu Quoc.
Let's visit Phu Quoc during the Dinh Ba Ong Lang Festival to enjoy the lively festive atmosphere, have the great experience, relax peacefully and learn more about the cultural and historical values of Vietnam in general and Phu Quoc pearl island in particular. You can also burn incense and pray for your family's health and happiness. I hope that you will find useful information in this article and any questions can be left in the comment section for me to answer them. On Vina.com, there are many interesting articles about Vietnam's attractions and activities.