Updated: 08/24/2019
Officially operating since 2012, Clay Village has become a tourist destination in Da Lat which attracts many domestic and international tourists.
After many years of research, Mr. Trinh Ba Dung – the author of this wonderful sculpture has brought to visitors the truly unique and attractive artworks. The village was built entirely of basalt clay, a safe and environmentally friendly material.
Mr. Dung created this project with the hope that every tourist who comes here can imagine the old Da Lat, bringing with it the beauty as well as the equally solemn and majesty.
The village consists of many different structures inside. The first is a clay house with a Vietnamese map engraved on the roof. The size of this map is 2.75m x 11m with two prominent islands of Truong Sa and Hoang Sa.
Inside the house, there are many items, such as beds, cabinets, tables, chairs, fireplaces, pictures on the walls… These items are all made from red basalt soil mixed with additives.
In this article, Vina.com will introduce to tourists all basic information and the attractions that Da Lat clay village in Lam Dong brings about.
Basic Information:
Clay Village, also known as miniature Da Lat City, belongs to Da Lat Star tourist area, located in Ward 4, Da Lat City, Lam Dong Province, next to Tuyen Lam Lake Tourist Area.

Entrance tickets of Da Lat Clay Village: VND 60,000 / adult and VND 30,000 / child under 1.2 meters high.
Da Lat Clay Village: New Exciting Place In Lam Dong, Vietnam
1. How To Go To Da Lat Clay Village In Lam Dong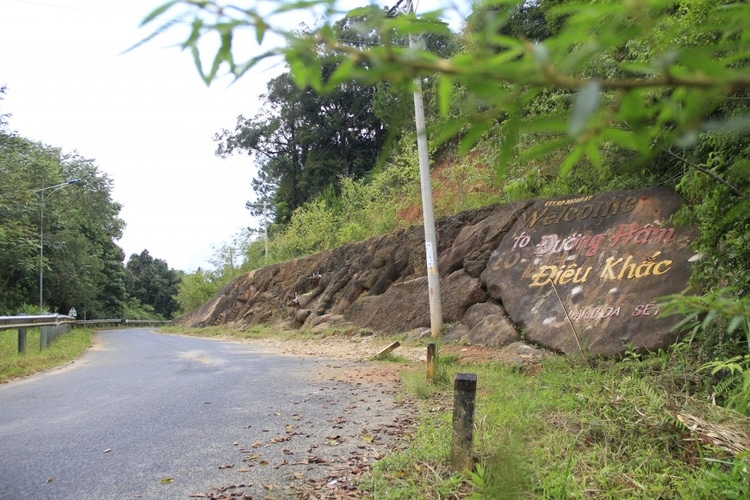 There are many ways to travel from Da Lat to the clay village (it's about 15 km from the center of Da Lat to this destination):
From The Center Of The City: This is the most chosen direction when choosing to visit here. You go from the city center to Trieu Viet Vuong (Triệu Việt Vương) Street, then follow that path and go through Truc Lam Monastery (Thiền Viện Trúc Lâm). After that, you will see a sign that shows the direction to Da Lat Star resort – Tunnel of Sculpture. Tunnel Of Sculpture is a part of the Clay Village.

From The Prenn Pass: Clay village is located in Tuyen Lam tourist area, ward 4, Da Lat city. You can travel from the center of Da Lat city towards Prenn Pass to clay village. The distance is only about 12km and quite easy to go.
2. The Best Time To Go To Da Lat Clay Village
The clay village is open from 7:30 am to 5:00 pm. In the rainy season, the closing time may be earlier. Therefore, you should not come here in the rainy season or in the case of going in the rainy season; you should come early.
3. What Are Activities For Tourists To Do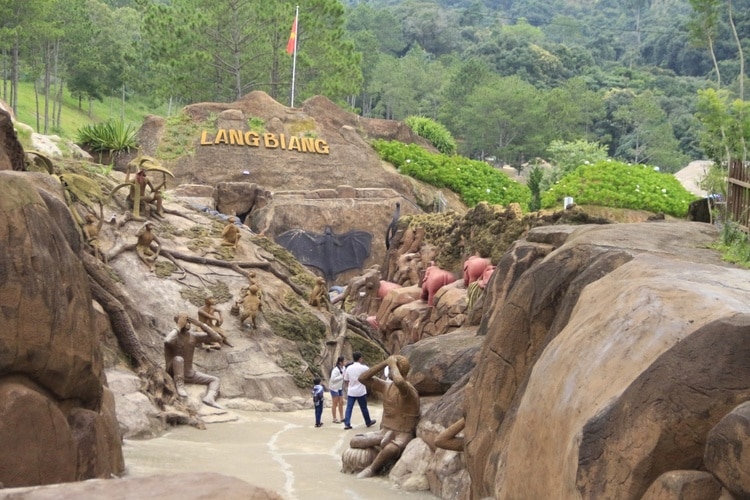 Right from the village gate, you will see firsthand the exquisite "dragon head" shaped architecture as a reminder of the origin of the Vietnamese people. Going deep inside, a series of unique buildings of the city are clearly visible with very realistic and vivid details.

In addition to the famous buildings, simple rustic houses or scenes of daily life of the Vietnamese peoples are also recreated by the author with great fervor and enthusiasm.

Not only attractive to domestic and foreign tourists, but this special village also left an impression in the Vietnam Record Book with 2 outstanding records: a record of the unique 90-square-metre house and a record of The Clay House that has a roof of Vietnamese map, honoring the national origin.

Basalt clay not only helps the construction more unique when it is shaped but this material also contributes to create a fresh, airy, and fresh atmosphere, making tourists feel healthier and more comfortable when visiting the village.
Read more:
4. Additional Tips
If you plan to visit this village, you should also visit Tuyen Lam Lake by boat. This combination will help you save the travelling and parking fees (if traveling by motorbike). The boat will take visitors to the Clay Village faster and more interesting.

You should come in the morning or the afternoon and put on sports shoes or sandals for climbing and taking photos. It is very hot at noon, so you need to wear long clothes and use sunscreen to protect your skin.
In the village, there are many unique and strange sculptures, suitable for visitors to keep unforgettable moments by taking photos. Therefore, visitors should be sure to bring their phone and camera with a full battery and a battery backup as well.
Da Lat clay house and tunnel project has been awarded the 2014 Green Architecture Award by Vietnam Association of Architects and quickly became a new product of Da Lat tourism, attracting tens of thousands of domestic and foreign visitors. It is a worthwhile destination to try once when visiting Da Lat. Don't forget to visit this project if you have a chance to come to Da Lat, Vietnam! Finally, if you have any personal experience in Da Lat clay village, do not hesitate to share them with other readers by leaving your comments below.