Updated: 08/24/2019
Hanoi Museum is located on Pham Hung Street, Me Tri Commune, Tu Liem District, Hanoi, Vietnam. It is considered one of the modern architectural and artistic works in the system of museums in Vietnam. Hanoi Museum project was started construction on May 19, 2008, and completed in the grand celebration of 1000 years of Thang Long Hanoi.
Hanoi Museum covers an area of nearly 54,000 square meters with a height of 30.7 meters. It was impressed by the innovative architecture of an inverted pyramid and a night-light system like a lotus flower. Coming to the museum, tourists will have the opportunity to admire the exclusive stairs designed inside the museum.
Hanoi Museum: The Unique Architectural Museum Of Vietnam
What Is The Best Time To Visit?
Hanoi Museum opens every day.
Opening time: 8 am to 11:30 pm and 1:30 pm to 5 pm.
You will not pay for the entrance fee at its gate.
What Are Activities For Tourists To Do?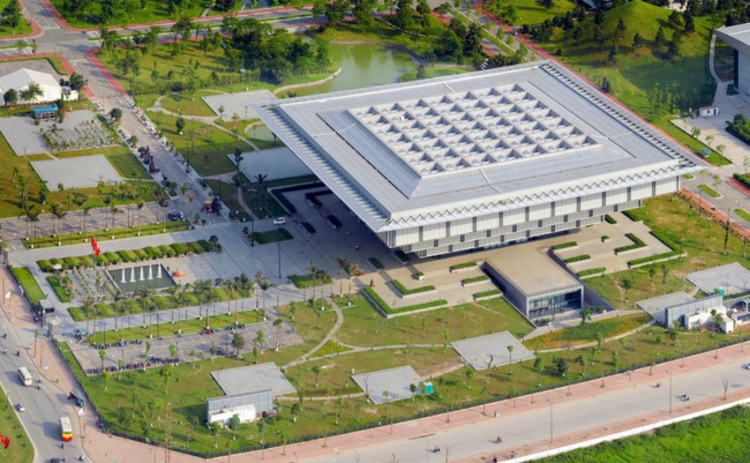 To celebrate 1000 years of Thang Long Hanoi, Hanoi Museum has been invested and built. The museum is designed in a modern style with 4 floors that shows the strong development of Hanoi. In addition, the Museum is a combination between the solemn atmosphere and the harmony and closeness to nature.
As soon as you step into the Museum, visitors will admire an extremely large campus. Many trees and flowers are planted and lined up in the garden that creates fresh air. From 2010 until now, the Hanoi Museum has organized exhibitions of many valuable artifacts, documents, and collections to introduce to visitors.
Hanoi Museum consists of 3 main sightseeings with typical activities:
The first floor is a place for exhibiting artifacts of copper materials and ceramic materials with the theme of Typical Antiquities of the Museum. In particular, there are many exhibits that have been recognized as national treasures such as Co Loa Bronze Drum, Thanh Mai Bell, Blue-gray ceramic lampstand with the year of 1582, the collection of bronze plowshares under Dong Son culture, Long Dinh Bat Trang pottery in the seventeenth century. These artifacts are of great value in understanding, studying history and social culture through different periods of Hanoi. In addition, there is a display of the image of Doai Communal House, typical festivals in Hanoi, and a sophisticated dragon-shaped pillar model during the Ly Dynasty.

The second floor of Hanoi Museum is a specialized display area to introduce the various plants and animals such as Ho Tay shrimp specimen, turtle skeleton in Ho Guom, some typical flowers of Hanoi, etc. Besides, the thematic display of Hanoi – prehistoric time is where visitors can admire the numerous rare artifacts of Hanoi history from the beginning of the country.

On the 3rd floor, visitors will be able to see more about the valuable ancient artifacts through the collection of Vu Tan collector and artifacts that are donated the Museum by individuals and organizations; for example, dragon head, Bronze drums, communal houses, ivory, and antique ceramics.
In particular, in the exhibition booth about Hanoi – October memories, visitors will have the opportunity to see the years of indomitable and heroic struggle of the Vietnamese nation, and feel the joyful atmosphere when the capital was completely liberated in 1954.
The fourth floor of Hanoi Museum is a display space of wooden and bronze artifacts originating from famous craft villages of Kinh Ky – Ke Cho (Kẻ Chợ). Visitors not only admire the ingenuity of the old artisans but also learn about foreign artifacts such as Japan, China. In addition, this place also brings nostalgic moments of ancient Hanoi through rare historical photos displayed in the old and present Hanoi exhibition.
Discover the unique architecture Hanoi Museum, domestic and foreign tourists will be immersed in the unique cultural specialties of the Capital. At the same time, through artifacts and antiquities visitors will learn about the heroic history of Thang Long thousand years of civilization. Therefore, the Hanoi Museum will become one of the most typical cultural places of Hanoi Capital.
What To Eat?
Coming to Hanoi Capital and visiting Hanoi Museum, tourists should taste the delicious dishes of Hanoi. Let's check out the best Hanoi restaurants here.
Where To Stay?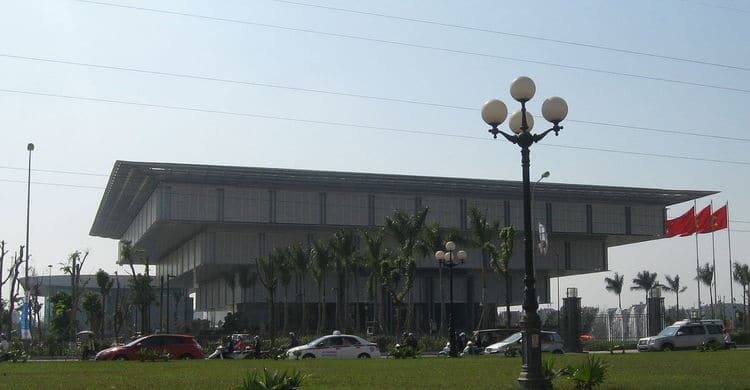 Below are some of the best hotels located near Hanoi Museum, you can stay when visiting here:
JW Marriott Hotel Hanoi: 8, Do Duc Duc Street, Me Tri, Tu Liem District, Hanoi and next to Hanoi Museum. The price of a room begins at $406/night.

InterContinental Hanoi Landmark 72: Keangnam Hanoi Landmark Tower, Plot E6, Me Tri, Tu Liem, Hanoi and about 0.3 km from the museum. The price of a room begins at $325/night.

Crowne Plaza West Hanoi Residences: 36, Le Duc Tho, My Dinh, Tu Liem, Hanoi and about 1.5 km. The price of a room begins at $175/night.

National Convention Center Resort: 1, Dai Lo Thang Long, Tu Liem, Hanoi and about 0.5 km. The price of a room begins at $87/night.
Other suggestions include Top Hotel, Hanoi Ping Luxury Hotel, Blubiz Hotel My Dinh, etc.
We hope that you find the useful information and helpful advice here if you want to take a tour to Hanoi Museum, Hanoi, Vietnam. Let's share your enjoyable moments in Hanoi with us. We love all. For more information about other places to travel to Vietnam, visit our Vina site.