Whenever visiting Hoi An, tourists often look for Chua Cau (Chùa Cầu – Japanese Bridge Pagoda) because it is extremely famous for not only domestic but also international visitors. However, to any discoverers that love the beauty and story of Vietnamese pagoda, Chua Ong (Chùa Ông) Pagoda is a must-see place. The pagoda takes an immense position in the local community's spirit. If having a chance to come to Hoi An, you should not forget to come across Chua Ong Pagoda, a symbol of the 17th century.
Chua Ong Pagoda – Hoi An, Where 17th-Century Beauty Is Preserved
Chua Ong pagoda is located at No.24, Tran Phu (Trần Phú) Street. Being built in the middle of 17th Century, the pagoda was a joint construction of Minh Huong (Minh Hương) people and Vietnamese people. The temple worships the General who is Quan Van Truong (Quan Vân Trường), talented and brave General under the Three-kingdom period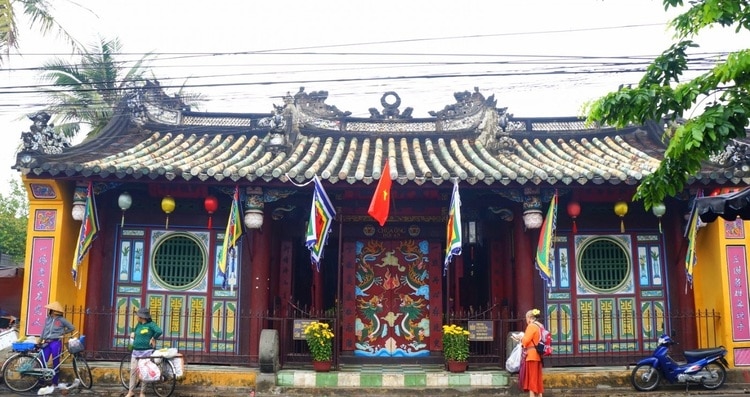 Chua Ong pagoda is considered as the place to preserved 17th-century beauty. In architecture, the pagoda is divided into four large blocks. In the main hall, a statue of General Quan Van Truong is placed. It is a pride of Hoi An local people. The General's statue is truly a work of art with astute and sharp lines, proving the perfect craftsmanship.
In addition, two other statues represent for the escort as well as two horses are displayed in the main hall, which make visitors say "wow" when enjoying the art. It is not overstated that the pagoda is storing the precious value of the past. Tourists can find many ancient artifacts in the pagoda. Furthermore, valuable antique poems and paintings are displayed here as well with plenty of meaningful stories behind. These are also considered as vestiges of the Trinh – Nguyen dissension time since the 18th century. Though the pagoda is small and simple, its values are always appreciated and respected.
The present of Chua Ong pagoda is seen as a prominent destination in your trip in Hoi An that you should not miss. Chua Ong silently stands there for centuries to witness many remarkable changes of the ancient town, from a prosperous trading era to a peaceful modern era. Therefore, the pagoda belongs to an indispensable part of Hoi An local spiritual life.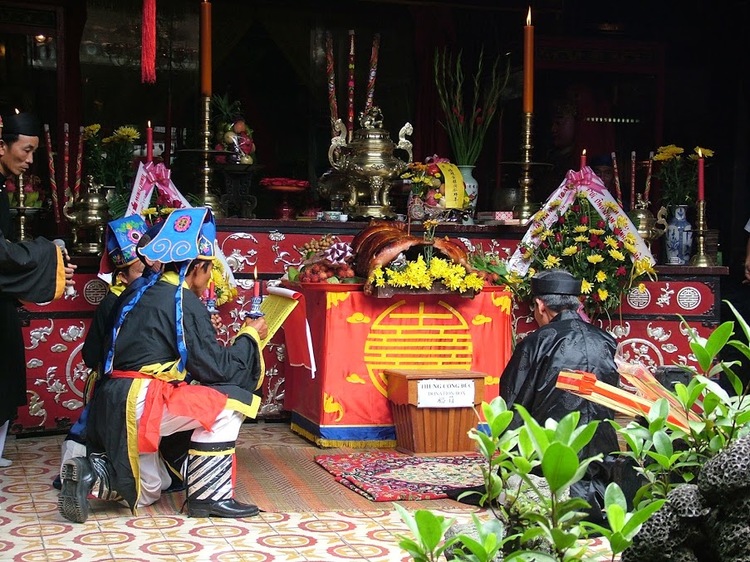 It is great to combine Chua Ong pagoda with other destinations in the Ancient Town to make your trip more interesting. As mentioned, the historical pagoda is on Tran Phu Street, inside the Ancient Town so that it is easy for you to travel among different destinations. The town is small so you can walk through the street to discover the pagoda, Chinese Assembly Halls, famous local food restaurants, Japanese Bridge and so on. Tran Phu Street is known as a typical street of the Town that you have to cross frequently if you want to understand it. You can prepare for your meals during the trip when visiting Tran Phu Street if you want. But we highly recommend you to try local street food in Hoi An that would make you impressed. It is not only about the local taste but also the local style. Many tourists come and go but the biggest impression of Hoi An in their heart sometimes is the food taste and the coziness of the people here.
In addition to other famous destinations, Chua Ong Pagoda is among the must-see places to go when in Hoi An as well so that don't forget to put it in your bucket list of travel.