Hanoi is famous for Vietnamese dishes, and now it also becomes an interesting destination with the availability of many culinary cultures around the world. In recent years, the trend of refined eating with a lot of traditional foods from Japan attracts not only domestic diners but also foreign tourists. Let's join Vina.com to find out what makes a unique difference in Japanese restaurants compared to other ones in Hanoi!
Generally, the majority of Japanese restaurants in Hanoi often focus on traditional menus that highlighting the sophistication of their culinary culture. You will easily encounter familiar dishes associated with the image of the land of cherry blossoms, namely sushi, ramen or sake. All are subtly prepared to bring the standard Japanese taste to guests. Here are the top 5 Japanese restaurants that you must visit at least once when visiting Hanoi:
Top 5 Must-Visit Japanese Restaurants In Hanoi, Vietnam
1. Asahi Sushi Restaurant
The first name on this list is Asahi Sushi – a Japanese restaurant which is so famous for its elite designed space and food quality. The main dish of this restaurant is salmon imported directly from Japan with sweet and sure meat. Thanks to ingredients' freshness, sashimi dishes from fish are always served freshly and varied in presentation style.
To enjoy all of these wonderful delicacies, you can order full sashimi set with a special flavored sauce from Asahi. In particular, you can enjoy the famous eel rice served with miso soup. The fragrant and tasty eel meat combined with the fineness of soup is even more emphasized since the dish is displayed on wooden plates or boxes, making diners like tasting "a little Japan" at Hanoi.
Location: 288 Ba Trieu street (Phố Bà Triệu), Hai Ba Trung District (Quận Hai Bà Trưng), Hanoi
Tel: +84 24 3974 5945
Price ranges: 200.000 – 440.000 VND/person
2. Jiro Robatayaki Restaurant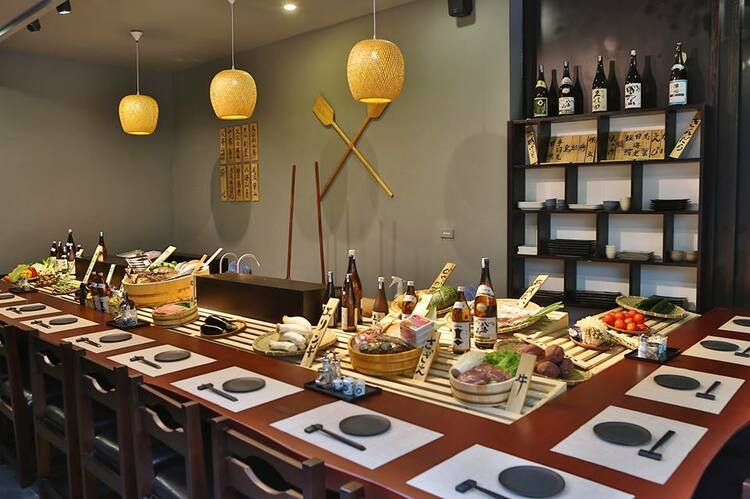 Being one of the most well-known Japanese restaurants in Hanoi with a typical dish having a very strange name – kami nabe (paper hotpot), Jiro Robatayaki is worth a try for Japanese cuisine lovers.  Surely, if you haven't heard about this traditional food, you won't be able to figure out the difference. Actually, it is a classic-style hotpot when using paper to replace the pot.
Whenever enjoying the dish, guests will taste a surprisingly subtle difference from this paper pot. In addition, appetizers, main courses, and other desserts are perfectly prepared with fresh ingredients under the talented hands of Japanese chefs. A plus point comes from the luxurious space of Jiro Robatayaki which combines the tradition of Japanese cuisine style in a beautiful way.
Location: 8 Linh Lang, Ba Dinh District, Hanoi
Tel: 024 3232 1624
Price ranges: 200.000 – 1.000.000 VND/person
Read more:  15 Hanoi Attractions Tourists Should Know – Places Worth Visiting
3. Kirin Restaurant
If you are looking for a standard and rich flavor of rustic dishes from the rising sun country, Kirin may be an option. Its chef is highly appreciated for the beautifully decorated sets of food. Moreover, miso soup with Japanese-style multi-layer pancake is very well received by gourmets when visiting here. In addition to the light-flavored menu, you can enjoy some fried cuisines such as shrimp tempura, with crispy and gently greasy fried squid. Besides, Sukiyaki hotpot with rich Teriyaki flavored soup and American beef as well as some fresh vegetables create the characteristics that Japanese people are extremely popular with.
Location: 51 Nguyen Hong Street (Phố Nguyên Hồng), Lang Ha Ward (phường Láng Hạ), Dong Da District (Quận Đống Đa), Hanoi
Price ranges: 150.000 – 330.000 VND/person
Tel: 024 3776 5150
4. Matsuri Restaurant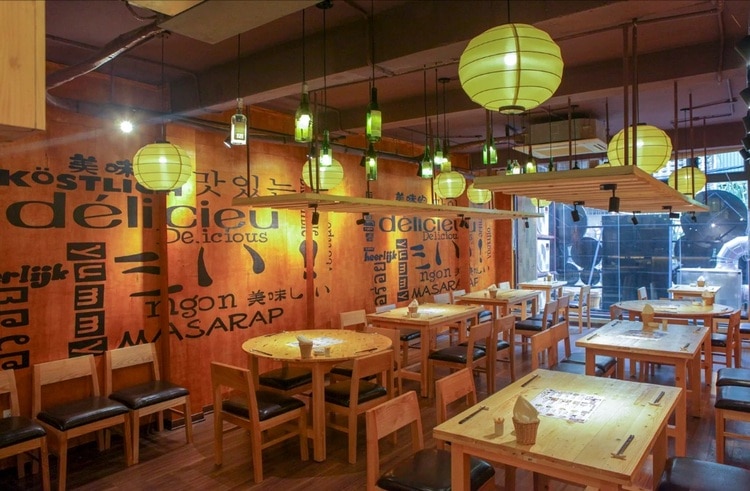 Are you a follower of traditional Japanese noodles? Welcome to Matsuri Restaurant – the paradise of the famous fresh noodles in Hanoi. It can be said that, instead of focusing on the number of dishes, Matsuri only pay attention to highlight the subtlety in true noodle flavor. The noodles here are kneaded and processed for use in the day only, unlike the other types of dry noodles severed in some Japanese restaurants. Specifically, with the unique slogan "the spicier is the cheaper" will certainly attract those who love spicy noodles. Come immediately to Matsuri and immerse yourself in this elite culinary paradise with the classy standard!
Location: Indochina Plaza, 241 Xuan Thuy Street (phố Xuân Thủy), Dich Vong Hau ward (phường Dịch Vọng Hậu), Cau Giay District (Quận Cầu Giấy), Hanoi
Tel: 024 6294 9596
Price ranges: 70.000 – 250.000 VND/person
5. Izakaya Yancha Restaurant
Izakaya Yancha Restaurant is considered an ideal place for domestic and foreign travelers. For those who love Japanese cuisine as well as their building style, Izakaya Yancha will not disappoint you! Located on Trieu Viet Vuong street, belongs to an old Japanese area, it is designed in accordance with the old way to build a Japanese house, including private rooms and bamboo curtains.
If you have the opportunity to visit Izakaya Yancha, you need to try the delicious curry hotpot. The special hotpot of Japanese curry flavor with warm taste is accompanied by vegetables and beef. However, the most special thing to mention here is the noodles served with hotpot. Ramen noodles here will be mixed with nutritious raw eggs before being dipped in hotpot for customers. In addition, the pancake called "the heart of Osaka" with the crispy octopus, smoked tuna and red salt ginger is what you will find in the excellent cuisine here.
Location: 121 Trieu Viet Vuong Street (Phố Triệu Việt Vương), Bui Thi Xuan Ward (Phường Bùi Thị Xuân), Hai Ba Trung District (Quận Hai Bà Trưng), Hanoi
Tel: 024 3974 8437
Price ranges: 100.000 – 220.000 VND/person
There are also many other delicious restaurants that you can check out at Restaurants page. In a later article, we will introduce to you more about restaurants in Hanoi. If you have a review of another restaurant, please leave a comment to share with everyone.