Located at 54 Lieu Giai (Liễu Giai) Street, Cong Vi (Cống Vị) Ward, Ba Dinh (Ba Đình) District, Hanoi (Hà Nội), Lotte Center Hanoi is one of the most popular and largest shopping malls in Hanoi. Completed on September 2nd  2014, this skyscraper becomes the most attractive shopping spot where locals and visitors can go shopping, enjoy good dining options and take part in many entertainment activities.
Lotte Center Hanoi – Hanoi Popular Shopping Mall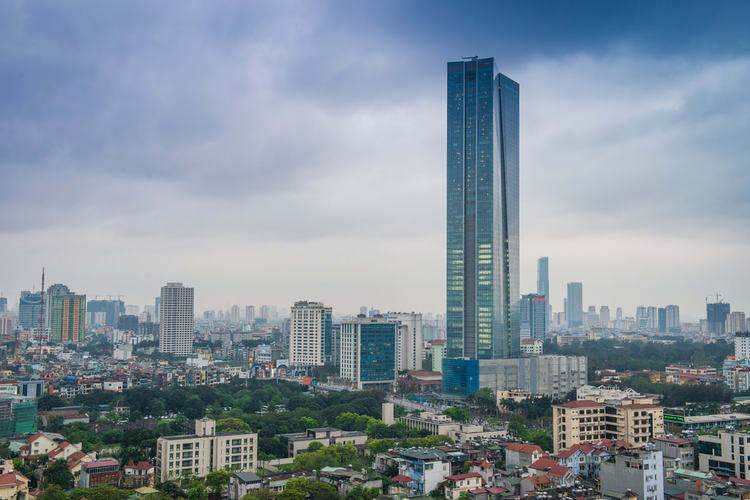 Lotte Center Hanoi features 65 floors and was built in a modern architectural style by the talented hands of the designers from Callison, an American company. Up to now, this tower has been known as the second tallest building of Hanoi, after the Keangnam Hanoi Landmark Tower located in Cau Giay (Cầu Giấy) Street. Offering a 5-star hotel, serviced residences, a 6th floor Lotte Department Store, the Lotte Mart, the Evian Spa, many restaurants and an observation deck on the top, Lotte Center Hanoi can provide a comfortable and convenient life and meet people's need for shopping, staying, dining and entertaining.
Inside this shopping mall, you can find about 250 lifestyle and fashion brands. On the first floor is a hypermarket where you can buy plenty of the family's food needs and household items. On the second floor, customers can find many luxury and high-end brands of imported fashion, jewelry, watches and cosmetics. The third floor is the women's paradise as there are a variety and huge selection of women's fashion, handbags & shoes, and top-rated cosmetics from Koran, Japanese, France, etc. If you like clothes shopping, please do not forget to explore the fourth floor of Lotte Center Hanoi where you can try stylish and fashion unisex & jeans, young casual, casual watches, and lingerie. Customers can go to the fifth floor that houses men's fashion and sports items. Furnishings and home appliances can be purchased at the shops and stores on the sixth floor.
There is a huge selection of restaurants in Lotte Center Hanoi that give visitors unique setting and atmosphere such as Gojumong Casual, Pizza 4P's Lotte Center Hano, Tim Ho Wan Restaurant, Sopresso, Thai Express Lotte, Honest Kitchen, etc.
Furthermore, if you have a chance to visit this shopping mall, do not miss the Lotte Center Hanoi observation deck named Top Of Hanoi on the 65th floor. This observation deck is divided into four areas including Welcome Zone, Attraction Zone, Romantic Zone, and Experience Zone. These different zones feature Lotte Center Hanoi Skywalk, Welcome Theatre, Bamboo Road, View Terrace, Photo Zone, and Sky Gallery. Visiting there, you can enjoy the stunning panoramic views of Hanoi city and take amazing photos. The prices for experiencing the Lotte Center Hanoi observation deck depend on your age and the time of day you come. If you come in the evening, the prices are more expensive. For instance, the entrance fee for those aged from 8 to 19 years old is VND 110,000 – VND 170,000 (day/night) while 20 – 64-year-old people have to pay VND 130,000 – 230,000. Children at 3 – 7 years old pay VND  90,000  – VND 110,000.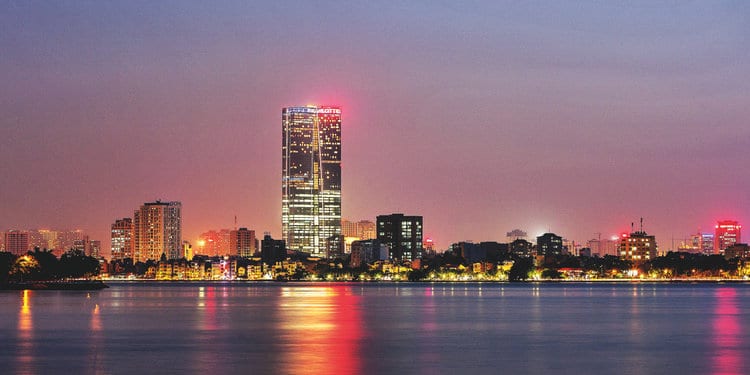 At the 65th floor, you can easily find a separate lift that will take you up to the 67th floor, the top floor named "PH". On this highest floor that has no roof, you can come to relax in a rooftop bar and enjoy a meal in a mini restaurant. That will definitely give visitors unforgettable experiences.
Hanoi houses many shopping malls and Lotte Center Hanoi is a worth-seeing spot that won't make you disappointed. I hope that this article in Vina.com gives you the useful information you want. Any questions can be left in the comment section and we will answer them as soon as we can.