The XQ Embroidery Art Museum in Hue city allures both tourists and artists. The XQ Embroidery museum gives visitors a chance to discover and experience one traditional Vietnamese craft for centuries.
After two years of restoring and renovating facilities with organizing display activities, on 27th April, XQ Embroidery museum officially opens. The grand opening ceremony of the museum marks the development of Vietnam XQ embroidery, also makes an impressive point for tourism in Hue. 
Location Of The Museum
Located on Huong riverside along with Nguyen Dinh Chieu walking street, XQ Embroidery Art Museum in Hue becomes the bright star alluring local people, tourists and art researchers. This museum has near 400 artworks, objects, photos, documents featuring embroidered pictures, double-sided embroidered pictures, thread sculptures and other artifacts relating to embroidery. All of them are represented through three major themes: embroidery body, embroidery face, embroidery voice.
The content of artworks in the museum is focused on 64 double-faced pictures, 13 still-life pictures, and 25 scenery pictures, 94 artworks about the countryside, 42 portrait pictures, 126 artworks about flower species, 15 philosophy works and more than 50 thread sculpture artworks. 
 

History Of XQ Embroidery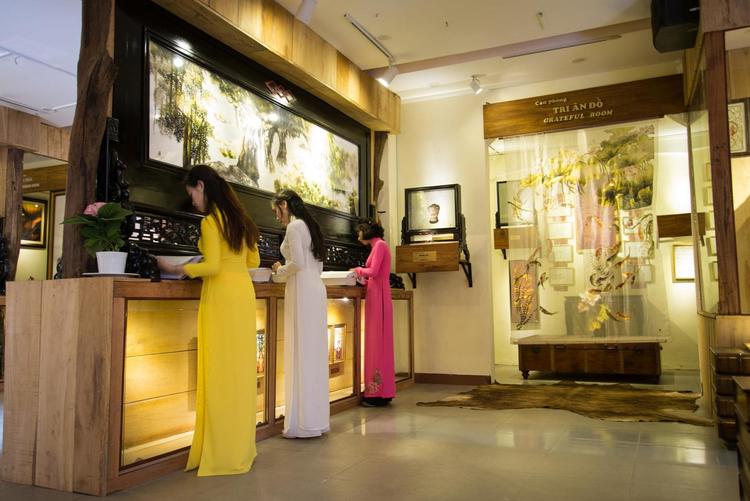 Vietnam, embroidery is the traditional craft with development history for many years. History of this traditional craft sticks to the spiritual history of Vietnamese women in the past. Dating back to the 1st century, besides the "Đền Nợ Nước, Trả Thù Nhà" embroidered flag in Two Trưng Sisters'revolutionary (Hai Bà Trưng), Vietnamese women decorate and refurbish their house by embroidered works, especially desire to show feelings and beautify themselves.
However, the origin of Vietnamese embroidery remains an unanswered explanation. Who was the master of art turning the sewing and embroidering work into artworks? According to legendary, at the beginning of the XVII century, Vietnamese embroidery was stamped a new developing turning-point. At that time, Le Cong Hanh (1606-1661), in Quat Dong village, Quat Dong commune, Thuong Tin district, Old Ha Tay province, summarized experience of traditional embroidering techniques to spread a craft art.
In the feudal period, the embroidery was among craftwork serving Emperors and royals. Embroidered works were completed in fabric and thread materials thanks to Vietnamese craftsmen's creativity. The handicraft formula dyed strings of thread with natural materials such as brown tubers, indigo, Terminalia catappa bark, which made other people admire much to criticize that: "the dying colour looks simple until the mixture of weird colours creates "unparalleled" artworks. 
In the past, embroidery was typically the domain of Vietnamese women due to Confucian values "women need four Virtues: housekeeping skills, beauty, appropriate speech and moral conduct (công, dung, ngôn, hạnh). Most of the Vietnamese women have embroidery skills, yet Hue women have been known as centralizing and professional features for generations. When Nguyen Dynasty built Ancient Imperial Capital, Hoang Thi Cuc, the mother of King Bao Dai, along with queen Phuong Nam associated the advantages of European embroidery techniques and quintessence of Asian ones to make it imperial embroidery which connects to gentleness, meticulosity of Hue women.
In the early 90s decade, 20th century, Vietnamese silk embroidered pictures gradually reached the pinnacle of art. When the XQ company was established, the couple artists, Vo Van Quan and Hoang Thi Xuan took a new path for the craft by combining features of painting art and quintessence of traditional techniques which Hoang Thi Xuan succeeded from her family and created her own methods. 
 

Values Of XQ Embroidery Museum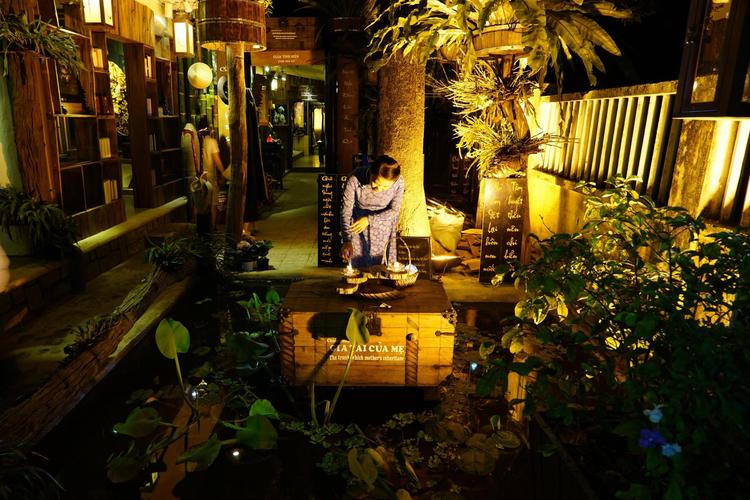 In the grand ceremony opening, the museum displayed two artworks embroidered by DMC thread along with cotton and silk to honour two famous Hue craftsmen – Minh Mẫn and Thanh Hương. Through artworks, the museum recalled the origin and development of the art of XQ embroidery with the purpose to pay respect to Vietnamese women – the owner of embroidery. Besides, XQ Embroidery museum holds scenes "Water procession ceremony in Huong River" ("nghi lễ rước đuốc sông Hương") and "ancestors' breathe" ("hơi thở tổ tiên"). 
Especially, the establishment of XQ Embroidery museum has an impressive point, which makes the cultural space in Le Loi street tourist attraction. Nowadays, XQ silk embroidered pictures reach to art forms of music, poetry and painting. Through themes about life-death-hope-hidden belief and features of human conditions, the art of embroidery somehow brings the vision of our world in the image of music realm presented by traditional art. 
Gabrielle, a female French scholar and researcher of Oriental Cultures, wrote: "In many places, people have transmitted through generations, an extraordinary art by painting in threads, making lotus flower bloom on silk, butterflies hover on blue water surface. Vietnamese embroiderers are more skillful than the Chinese in their use of sewing with the fine lines and their methods of mixing colors…"  
At the end of the 19th century, Hocquard, an author criticized: "The Vietnamese embroiderers were very clever in distributing color on silk to create the harmony on embroidered pieces without any hard contrast."  
The difficult centuries passed by, the Vietnamese embroidery went through ups and downs but it kept the national cultural character. Hence, XQ Embroidery museum can be considered the frame to preserve and remain cultural values of this unique art of embroidery from generations to generations. 
If you have a chance to travel to Hue, remember to not ignore one of the most important art forms in Vietnam with hundreds of years of development.