Updated: 08/22/2109
Da Lat (Đà Lạt) makes tourists and visitors impressed by its wonderful natural landscapes with green trees and beautiful flower. It is not surprising when Da Lat is called the "the city of nature" or "the city of flower". If you have a chance to visit Da Lat, one of the amazing destinations you should not forget to stop and enjoy the time is Bidoup Nui Ba National Park (Vườn Quốc gia Bidoup Núi Bà) which is rich in fauna and flora. With the fragile and beautiful ecosystem, Bidoup Nui Ba National Park (Da Lat) has attracted not only domestic visitors but also international tourists.
Bidoup Nui Ba National Park – Great Destination In Da Lat, Vietnam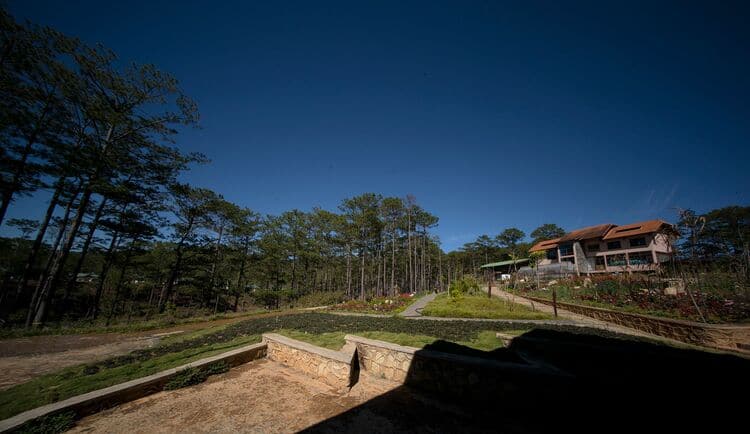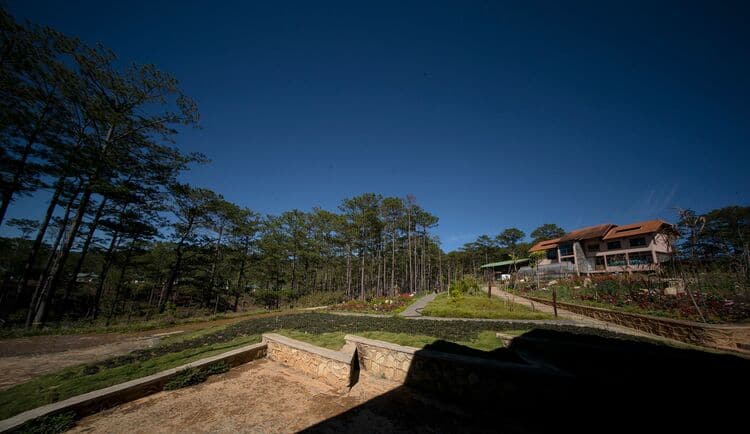 Situated in Lac Duong (Lạc Dương) District, Bidoup Nui Ba National Park in Dalat Vietnam with an area of 63,938 hectares has beautiful sceneries, stunning waterfalls, and diverse natural resources. Built in 2004, the name of this park derives from Bidoup Mountain (the highest mountain on Lam Vien Plateau), and B Mountain (the highest mountain in Da Lat).
As one of the twenty-eight national parks in Vietnam, Bidoup Nui Ba National Park is also one of 221 regions where special kinds or rare bird of the world can be found. Furthermore, the park is also included in the list of four biological multiform centers of the S-shaped country Vietnam.
Set within in the range of the South of Truong Son (Trường Sơn), Bidoup Nui Ba National Park has received more interest and attention for the preservation work. A program to preserve the ecological system in Truong Son mountain range has been conducted and Bidoup Nui Ba National Park is also included in.
91% of the parking area is forest land and forest with a lot of species of plants and animals. Particularly, Bidoup Nui Ba National Park is home to 1933 species of plants in which 62 species are in the Red Book o Vietnam. There are 96 primordial plants, 300 species of orchids, coniferous trees, pine forests, evergreen trees, bamboo groves, and grasslands. In the term of narrow endemic, Bidoup Nui Ba National Park in Dalat Vietnam features 91 species in Lam Dong (Lâm Đồng) and other nearby areas, 9 species of dalatensis, 14 species of langbianensis, and 5 species of bidoupensis.
The park also houses many animals in which there are 56 species of precious animals, 47 species in the Red Book of Vietnam in 2007 and 30 species in the Red Book of IUCN in 2010.
In this park, we can find animals such as black bears, yellow-cheeked gibbons, vampire flying frogs, etc.
If you have a chance to visit Bidoup Nui Ba National Park, you should visit the famous beautiful Thien Thai (Thiên Thai) Waterfalls in the middle of the forest situated at Da Nhim (Đa Nhim) Commune, Lac Duong District. Thien Thai Waterfalls is said to have the God of Water or it is also considered as the "Country of the Immortals". The Thien Thai Waterfall has strong streaming which leaves a lot of white bubbles around, creating picturesque sightseeing.
Bidoup Nui Ba National Forest is a heaven of breathtaking scenery, thick forest, serenity, fresh air, and pure nature. It is also well-known for a local legend in which a pregnant K'ho woman went to labor while picking up fruits in the forest of this area. She collected some leaves and made a bed of leaves where she could give birth. After that, she used the leaves to wrap her newborn baby and came back home. Seeing this brave mother and her newborn baby, the villagers were happy and celebrated that day.
Bidoup Nui Ba National Park is an ideal place for foreign and domestic biologists to study its ecosystem.
If you have a great opportunity to discover the park, you can try the trail trekking that is guided by tribe members. It is a wonderful chance for you to interact with nature and aboriginal culture here. At night, nothing is greater than relaxing and enjoying a long campfire. You will see several K'ho girls in brocade dresses perform the gong dance. They are willing to ask you to join in and teach you the basic steps of the gong dance. And do not forget to socialize with local people and drink ruou can (rượu cần), the wine in a jar drank through bamboo straws.
In the Bidoup Nui Ba National Park, tourists and visitors can also take part in many interesting activities such as trekking, hiking, bird watching, wildlife viewing, rafting, kayaking, and mountain biking. In the near future, many tourism activities and games will be developed in the park to attract more and more tourists and visitors.
Where To Stay And Eat In The Park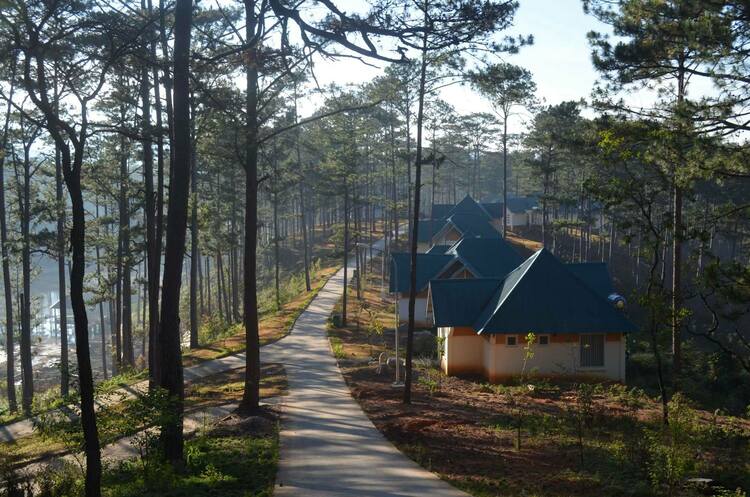 This area has no hotels but you can stay and rest in the villagers' homes. The rental fee for one room is only 300,000 VND for one night. Furthermore, there are some villas inside the pine forest of the park you can also stay overnight.
Visiting Bidoup Nui Ba National Park (Da Lat), you can enjoy not only western but also Asian cuisines. But I would like to recommend you try the local delicacies in Da Lat restaurants that own the special taste.
Notes And Rules 
Here are some notes and rules you should know before exploring Bidoup Nui Ba National Park.
Put the litter in rubbish bins

Reduce packaging  you bring into the park

Do not leave any trace of picnicking

Avoid lighting fires in the park

Do not take plants or animals out of the park

Do not purchase any souvenirs made of animal or plant parts

Do not disturb the forest and wildlife

Do not consume bushmeat in restaurants

On designated trails, walk only
A visit to Bidoup Nui Ba National Park in Dalat Vietnam gives you a great and memorable experience. I hope that you will find useful information in this article. Any questions can be left in the comment section and we will answer them as soon as we can. If you are interested in our articles, you can find moe on my website Vina.com.