Vung Tau trip is not complete if you miss one of the Dinh Co destinations. This place is attractive to tourists by its nature and spiritual ceremonies of famous festivals. Therefore, taking a trip to Dinh Co destination, tourists, especially history lovers, can have a chance to discover the legendary of Dinh Co temple and experience festivals. 
Legendary of Dinh Co Destination & Famous Festivals
Dinh Co mountain belongs to Tam An commune, Long Dat district (now Tam Phuoc commune, Long Dien District, Ba Ria- Vung Tau). This place is alluring to tourists with green fields of Tan An and the curving lines of the mountain; especially Dinh Ba Co temple is an ideal attraction for those people who love exploring spiritual values.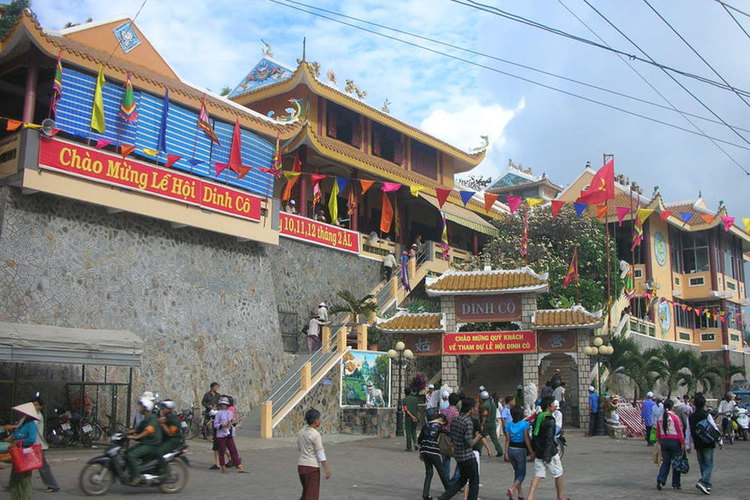 Setting foot on Dinh Co destination in Ba Ria Vung Tau, tourists should not ignore one great spirit temple-Dinh Ba Co (or so-called Dinh Co temple). It was built 250 years ago and is more and more popular among tourists and local people to come and worship. Unfortunately, this place was partly damaged by war, so the village group (including 24 people who often take care and hold the annual festival in Dinh Co) have restored and refurbished this place many times. In 1987, the authority built the guest house and the yard for martial arts to serve tourists everywhere in festival times. 
Legendary Of Dinh Co Temple:
Dinh Co Mountain is unique for its legendary Dinh Co temple. People constructed a temple meticulously on large rocks. Initially, this temple was used to worship a wise woman. Some of the local history lovers said that Dinh Co Mountain was initially called Ba Ria Mountain. There was a close relationship between an unknown woman who was worshipped in Dinh Co temple and the legendary of Ba Ria Mountain. It was rumored that the unnamed woman (or known as Ba Co later) was a wise person, and she helped the local people and soldiers in difficult times of the war. Therefore, to pay honour to her, the local people built a temple on Dinh Co Mountain to recognize her great credit.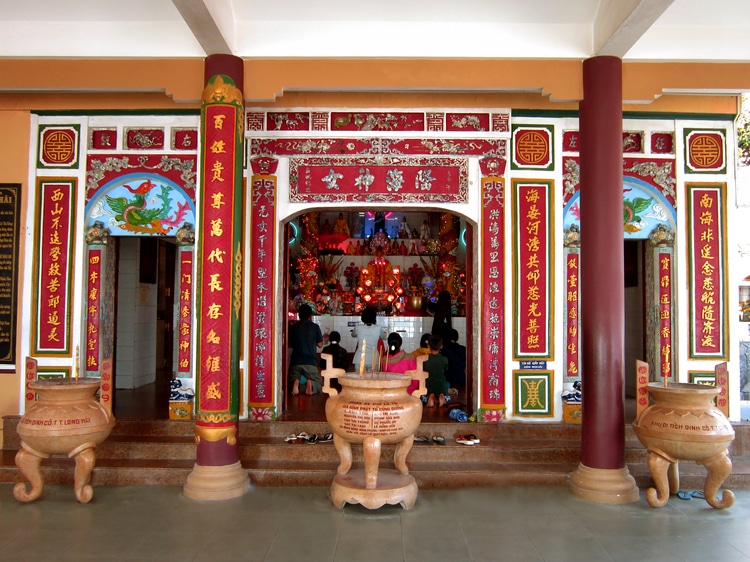 Dinh Co Mountain looks like a giant conical shape covering Tam An field, which creates a remarkable point for this place and helps it attract tourists to visit and worship in the temple. According to Tam An people, after the death of Ba Co, this mountain became strangely spiritual. There is a wide belief among local people that getting to this place to worship and pray for luck and happiness; this aspiration will come true. In Particular, rumours and myths of Ba Co were made up and spread by the local people; eventually, it is just local people's aspiration for a dream model with good manners and behaviours to pay respect and admire. 
Festival In Dinh Co Temple:
Every year, Dinh Ba Co attracts tourists both domestically and internationally to take part in the Ba Co ceremony. This festival is a vitally important event of Tam An people because it shows the honour and gratitude to Ba Co; also Ba Co festival is an occasion for people to express their wishes to a happy and wealthy life. Therefore, the authority and villagers always prepare every stage of the festival carefully and organize activities during the ceremony precisely. It is noticeable that Dinh Ba Co festival lasts for two days from 22nd to 23rd March (lunar calendar). Excellent gongs, drums and drama performances are impressive points to gain tourists' attention to the festival.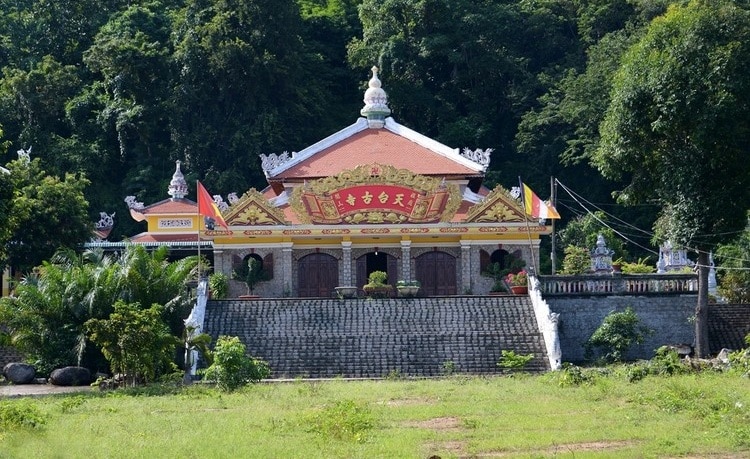 After admiring the broad view of the green field from the height of about 80m along with three-step stairs bending Dinh Co mountain, tourists can continue the Vung Tau trip by visiting another monument – Tổ Đình Thiên Thai (Religious Organization Buddhist Temple). This place is commonly called "Tổ Đình" because it was the place to establish Thiên Thai Zen Buddhism (1935) with the speech "Bát Nhã âm" for propagandizing to make Buddhism proper. The ancestor monk Huệ Đăng built Thien Thai pagoda from 1922. The whole campus of the pagoda was about 6 hectares wide, featuring main hall, lecture hall, eight-sign tower. Tổ Đình Thiên Thai is popular among tourists and local people not only by its landscapes and architecture but also stories about the father of this pagoda. 
  Taking a trip to Dinh Co destination in Vung Tau is a perfect choice for tourists to explore the beautiful and natural landscapes of this place. Moreover, it is also a good chance to experience Ba Co festival and take part in special activities. Notably, if you are the faithful of Buddhism and keen on spiritual values, you should spend your time getting Dinh Ba Co temple to pray for blessing and happiness. 
By Minh Phuong