Source: chaohaulongson.blogspot
In Vietnamese cuisine, there are many kinds of rice porridge and oyster porridge is known as one of the best dishes that many people love. This dish uses fresh oysters and rice as its main ingredients. Especially, when being cooked, oyster does not need many spices because its salty tastes and natural sweet have been the best flavors. In this article, VinaFood will show you the basic knowledge of Vietnamese oyster porridge and some of the places where you can enjoy this dish in Vietnam.
I. Vietnamese Oyster Porridge In Vietnam Cuisine – The Introduction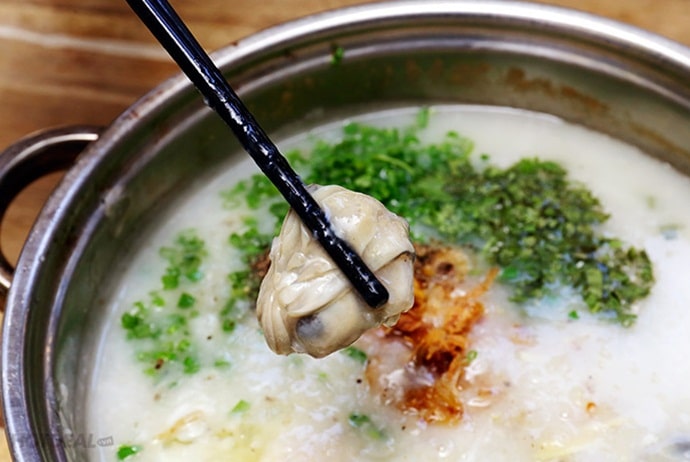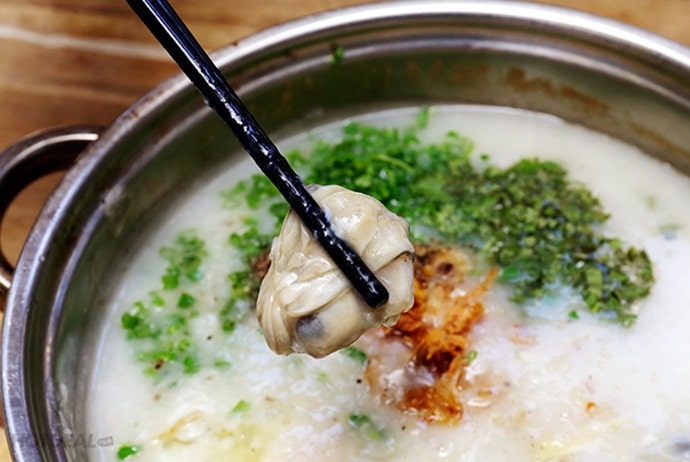 Source: hotdeal
The sweetness of the oyster makes the oyster porridge become sweet and aromatic. Oysters contain a lot of nutritional values such as protein, carbohydrates and vitamins A, C, D, B, B2, B3, zinc as well as other essential minerals. So, oyster porridge is very nutritious and good for people of all ages. With high nutritional value, oysters can help cure many diseases in humans such as dizziness, depression, insomnia, headache, menstrual disorders in women and men's sexual issues. Especially, this dish is said to help increase male sexual libido, so this dish is ideal for men who have low sexual libido.
II. Famous Places For Vietnamese Oyster Porridge
In Vietnam, there are some famous places for Vietnamese oyster porridge and in each place, people cook this dish in a different taste. And, here are some places where you can enjoy oyster porridge.
1. Oyster Porridge In Phu Yen

Source: gcaeco
Phu Yen has lots of attractive seafood dishes, including dishes made from O Loan oysters. The meat of O Loan oysters is so sweet, and the chefs can make many Asian and European dishes from these oysters, but the most popular dish is oyster porridge. Vietnamese people in the central region often eat this dish with baked girdle cakes, creating a unique taste.
Oysters are available year-round but their season is from Lunar New Year to summer. Oysters are washed, marinated with spices and thin sliced ​​onions and then put into the porridge pot. Sprinkle a little pepper and cilantro, and then you will have a delicious bowl of porridge. In some oyster porridge shops, people can hit the egg into the porridge before pouring into the bowl to create the nutritious oyster porridge with egg.
Especially, people here often eat oyster porridge with baked girdle cakes. The aromatic scent of these cakes can make this dish more delicious. Porridge is scooped into the bowl, before placing a little cake pieces into. The combination of porridge and girdle cakes can help cool down the hot porridge and make this dish strange. If you have a chance to visit Phu Yen, you can order oyster porridge at any seafood shop.
Learn More: Vietnamese Cartilage Porridge Recipe (Cháo Sườn Sụn)
2. Oyster Porridge In Quang Binh

Source: kienthucseo
If you have a chance to visit Quang Binh and Quan Hau town, you can enjoy delicious, fatty and sweet dishes made from oysters. Oysters here are taken from the Nhat Le River. Interestingly, in the same river, but oysters in other places are not as good as those in the river through the town. Therefore, many people have to bring oysters from other places to soak in the water of this river. Being the specialty of Quan Hau town, oysters here are very delicious and best in spring.
When cooking oyster porridge, people here often add water cooked from the bone to increase the sweetness of the dish. After being marinated, oysters are poured into the pot of boiling porridge, making this dish fatter and sweeter. The sweetness of oysters here has made this dish unique.
Read More: Vietnamese Clam Porridge Recipe (Cháo Ngao)
3. Oyster Porridge In Vung Tau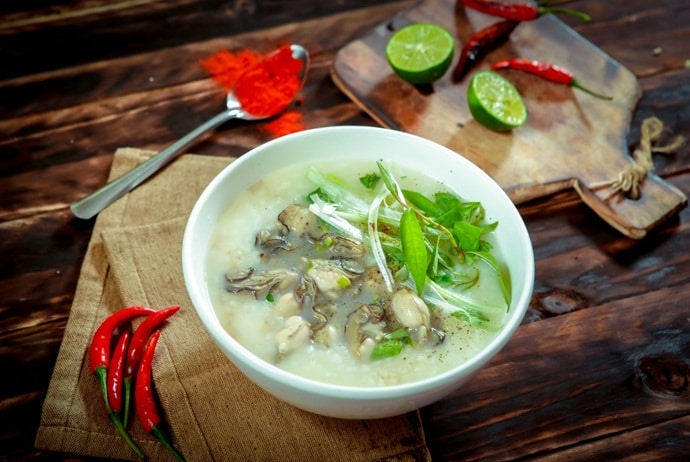 Source: langvietonline
Oyster porridge is a specialty of Vung Tau and this dish is easily found in the restaurants or restaurants of hotels near the sea. Processing oyster porridge is not difficult, but the most important thing to make a delicious bowl of porridge is fresh oysters. The rice used to make porridge is not crushed, oysters have to be the fresh ones. The porridge here is always accompanied by a bowl of fish sauce, along with a few fresh herbs and sliced banana flower.
Check Out More: Is Vietnamese Food Healthy? 15+ Best Healthy Foods In Vietnam!
4. Oyster Porridge In Con Dao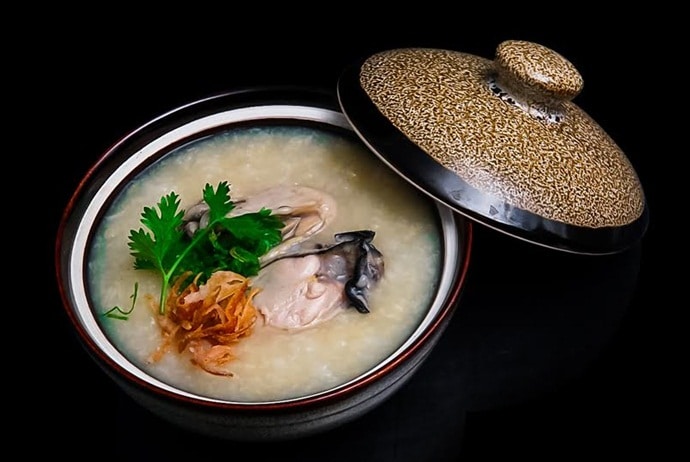 Source: maguronhatanh
Con Dao is well-known for beautiful beaches and sandy long white. Besides, the cuisine here is also extremely unique. And, oyster porridge may be one of the most famous dishes here. This dish is considered as a delicious specialty with many nutritional values that anybody who has the chance to visit Con Dao should not miss.
This dish uses soft but not crushed rice, pepper, cilantro and purple onion. Especially, it only uses fresh oysters caught right in Con Dao. Standard oyster porridge must have a fine texture and sweet taste. To enjoy this dish in Con Dao, you can visit any oyster porridge shop located adjacent to the beach. The best time to enjoy this dish is when your stomach begins to go hungry. Go to the shore and immediately order the oyster porridge that is always hot.
III. Where To Eat Vietnamese Oyster Porridge In Hanoi
Although Hanoi is not a perfect city for you to enjoy Vietnamese oyster porridge, you can find some street vendors and restaurants that sell this simple-to-make yet delicious dish. And now, in this article, we will show you some of the best destinations that you should try out in Hanoi.
1. "Chao Viet" In Cat Linh Street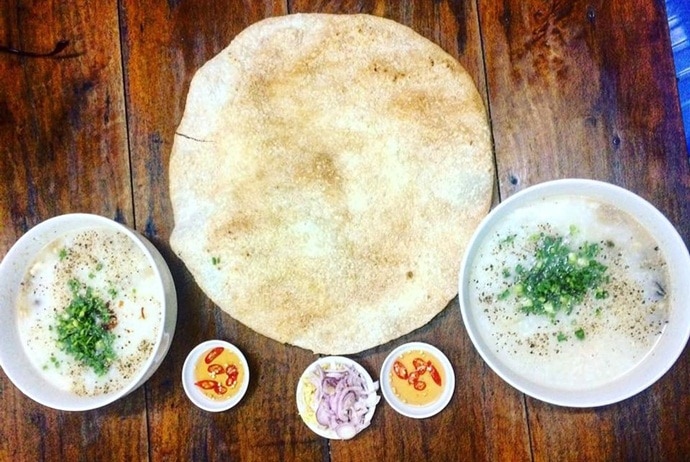 Source: baomoi
This restaurant is located at No 8 Hang Bot Lane, Cat Linh Street. This is a famous place for oyster porridge. In this porridge restaurant, the sweet taste of oysters mixed with the sweet smell of taro and sweet potato makes this dish very unique. Through the process of making oyster porridge, the seller pours porridge into a bowl, adds oysters, and sprinkles pepper, chili and chopped herbs. The porridge is hot and sweet while the oysters are soft and fat, so many people highly appreciate this porridge shop. Apart from oyster porridge, the restaurant also serves many other kinds of porridge such as shrimp porridge, clam porridge, fish porridge, etc. With a capacity of up to 30 people and have amusement park for children, this place is ideal for those who love hot oyster porridge.
Address: 8 Hang Bot lane, Cat Linh Street, Dong Da District

Opening Time: 8:00 a.m – 8:00 p.m

Pricing: 25.000 – 55.000 VND
Learn More: Steamed Sticky Rice With Perch – Discover the Secret of Xoi Ca Ro Dong
2. "Hau Quan" On Lac Trung Street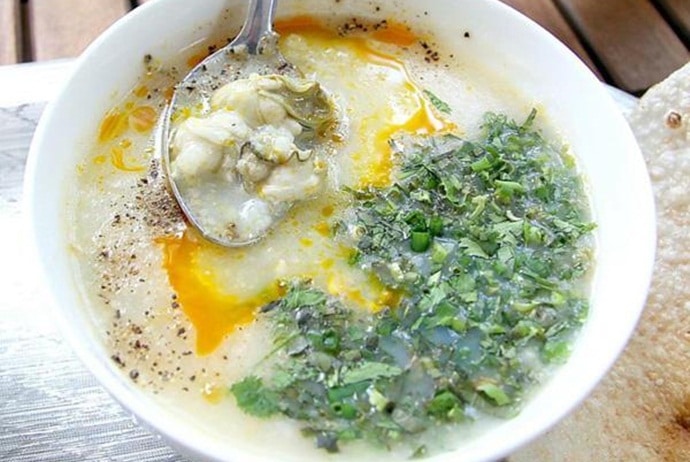 Source: news4.vnay
This restaurant is well-known for dishes made from oysters. Therefore, if you are looking for a place where you can enjoy Vietnamese oyster porridge, you should not miss "Hau Quan" on Lac Trung Street. The oyster porridge here is very delicious thanks to their fresh ingredients. When serving, the bowl of oyster porridge is sprinkled with fried onions and pepper, creating a dish aromatic and nutritious.
Address: 286 Lac Trung, Hai Ba Trung District

Opening Time: 8:00 a.m – 8:00 p.m

Pricing: 25.000 – 35.000 VND
3. "Chao Hau Sua" On Duong Quang Ham Street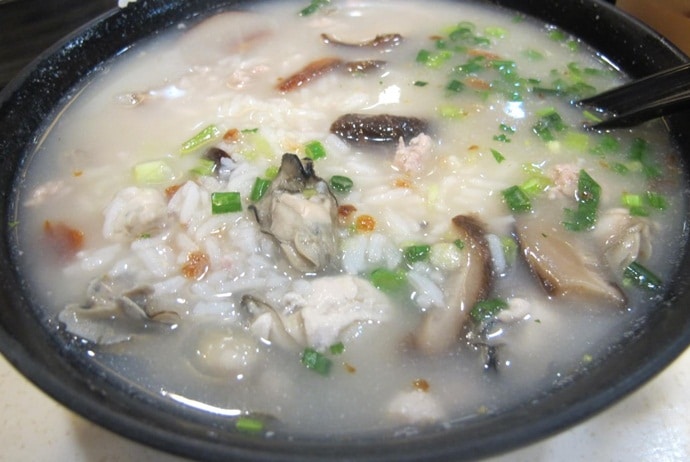 Source: phunutieudung
When it comes to restaurants that sell oyster porridge in Hanoi, you should not skip the restaurant named "Chao Hau Sua". This restaurant is located at 17 lane 167 Duong Quang Ham Street and famous for Nha Trang's dishes. Among them, grilled spring rolls and milk oyster porridge are known to be popular with many young people. Oysters with sweet taste mixed with the tastes of spices and rice will bring you a great feeling. So, people often choose this destination as a gathering place when they want to enjoy Nha Trang's dishes.
Address: 17 lane 167 Duong Quang Ham Street

Opening Time: 8:00 a.m – 8:00 p.m

Pricing: 25.000 VND
Hopefully, this article may be helpful and can help you know the basic knowledge of Vietnamese oyster porridge. Actually, this dish is simple to make, but it is very nutritious, delicious and good for human health thanks to its nutritional values. So, if you have a chance to visit Vietnam, you should try visiting any of the famous places as mentioned above in order to enjoy this kind of porridge.