Source: dichvuhay
There are many different versions of porridge, but the most common are pig offal porridge, chicken porridge, and fish porridge. Also, there are many ways to make porridge. A simple way to make porridge is to make a bland porridge and then add a few different types of toppings and broth. In this article, we will show a traditional way to make Vietnamese fish porridge and famous places where you can enjoy this dish.
I. Vietnamese Fish Porridge – The Introduction
Rice porridge is popular as a breakfast food, however fish porridge can be eaten all day. Many locals consider this dish as a natural cure for the common cold. Besides, this dish is also easy to make and very delicious, so many people love having a hot bowl of fish porridge, especially on cold winter days.
II. Some Versions Of Vietnamese Fish Porridge
There are some versions of fish porridge that you can find in Vietnamese cuisine. And now, we will show you some of the popular versions of this dish.
1. Porridge With Snakehead And Knotgrass Of The Southwest

Source: dichvuhay
The Mekong delta region is well- known for its abundance of rice and fish, and fish porridge is a favorite dish of most families for easy recipe, low price, great taste, and rich nutrition. Especially, porridge with snakehead and knotgrass (rau dang) is known as a specialty food of this region.
Main ingredients of "chao ca loc rau dang" are snakehead, rice, knotgrass, herbs, Fermented soybeans, and green onion. All of these ingredients have to be chosen carefully in order to ensure that the dish is flavorful. Snakehead should have less bone and its flesh should be sweet and firm. The rice should be a little sticky, sweet and fragrant. Then, the rice is toasted until a little burnt and yellow. The belly and the head of the snakehead fish should be cleaned by removing the gills and all the remaining blood. However, the intestines must be left because they are considered to be the best part of snakehead fish and also the attraction of this dish. To keep the taste of the fish fresh and remove the fishy odor, you should poach the fish in hot water with some salt and ginger.
Toasted rice is placed into boiling water and cooked until it could achieve the desired consistency. The snakehead is added after seasoning the porridge with some salt. The snakehead should not be too tender.
There are 2 ways to serve "chao ca loc rau dang". You can serve porridge and fish separately. The whole fish is placed on a plate with herbs and green onions while the porridge is scooped into a bowl. Alternatively, you can serve both the porridge and the fish in a bowl. However, remember to remove all of the bones of the cooked snakehead before you serve with the porridge. After that, you top this dish with minced herbs and chopped green onions. Local people also add some Fermented soybeans to this dish in order to enhance its flavor. And, knotgrass is the last thing to be eaten with this dish. Being bitter and fresh, this kind of vegetable fits the warm porridge and the firm, sweet-tasting fish flesh as well as the distinctive Fermented soybeans.
This dish is not only a wonderful dish on cold or hot days, but it is also good for stomach. Besides, this kind of porridge is also flavorful and nutritious. The perfect mixture of the bitter knotgrass and wild snakehead has made the dish favored by most of the Mekong Delta people and visitors from other regions. Actually, there is no better than enjoying a bowl of "chao ca loc rau dang" to soothe your stomach and refresh your mind.
Read More: 18 Sticky Rice Dishes And How To Make Vietnamese Sticky Rice
2. Porridge With Red Tilapia Of The North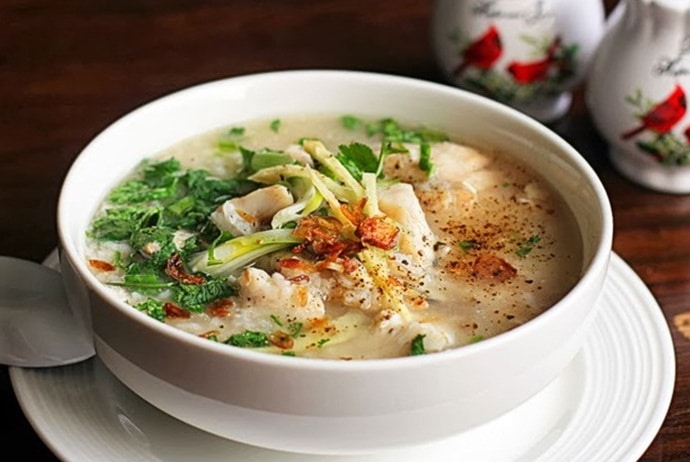 Source: phunudep24h
When hearing the name of this dish, many people will immediately think of the famous dish of the Southwest. However, the fact is that this dish is different from raw materials, ways of processing and it has all of the features of northern cuisine. Besides, the sweetness of this dish also comes from vegetables such as mushroom, spring onions, etc.
Although this dish is delicious, the ingredients of this dish are quite simple, including fish, rice, vegetables, and mushroom. Instead of using snakehead, the dish of the north uses red tilapia as the main raw material. Besides, the processing is also different. The fish is filleted in thin slices and then placed on the plate with a little shrimp and squid.
Porridge is cooked with water from fish bones. When eating, the hot porridge pot is placed in the middle of the table. You just need to place the fish, shrimp, squid along with the vegetables into the pot, and then you can enjoy this delicious dish.
Learn More: Steamed Sticky Rice With Perch – Discover the Secret of Xoi Ca Ro Dong
III. Where To Eat Vietnamese Fish Porridge In Hanoi
In Hanoi, you can enjoy Vietnamese fish porridge in some restaurants. And here, we will show you some of the most famous places that are highly recommended to sell this dish.
1. "Chao Ca Doan Xom" On Hang Bong Street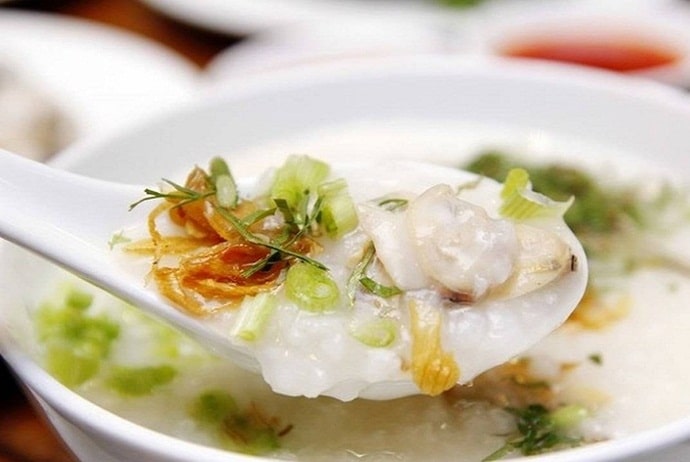 Source: em8
This fish porridge shop looks quite old, but it attracts many guests thanks to its unique taste. The space of this shop is quite small, so guests have to find it difficult to have seats, but that may not be a problem for those who want to enjoy a delicious bowl of fish porridge.
The fish porridge here is thick and has fragrant fish pieces. The main ingredient of this dish is basa fish that is very sweet without bones. Also, the flesh of the basa fish is very fragrant. Many people come here to enjoy this dish because they want to enjoy the sweetness of the basa fish and warm up their bodies.
Besides, when you eat fish porridge, you can order the grilled fish and grilled crab because they are also delicious. A bowl of fish porridge here costs about 30,000 VND.
Address: 213 Hang Bong Street, Hoan Kiem District

Opening Time: 5:00 p.m – 11:00 p.m

Pricing: 30.000 – 66.000 VND
Check Out More:
2. "Chao Ca Cuong Lim" On Chua Lang Street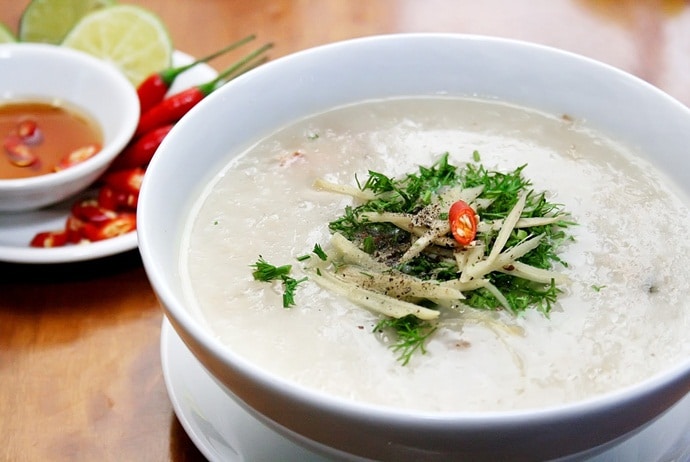 Source: nhahanganngon.blogspot
This porridge shop is located on the sidewalk opposite the University of Foreign Trade. Fish porridge here is easy to eat, and does not give you the feeling of boredom. And, it is also famous for Bac Ninh brand. Although this restaurant is just on the sidewalk, it has opened for more than 40 years and become the destination for many gourmets who want to taste fish porridge, so it is always packed with guests.
This may be one of the most famous porridge shops in Hanoi because it brings the taste of Kinh Bac. The main ingredient of fish porridge here is fresh carp brought from Bac Ninh, which is sliced, and not crushed. Just add a little perilla leaves and pepper and you will have a delicious bowl of fish porridge. The sweetness of the fish combined with the mild taste of herbs and chrysanthemum can give customers a pleasant feeling when eating.
This shop opens from morning till night, so you can comfortably choose the time to eat. A bowl of fish porridge here costs only 20,000 VND. Apart from fish porridge that is a specialty of the restaurant, you can also enjoy other fish dishes. Addition to this, one thing that makes this shop crowded is the enthusiasm of the two owners who are always ready to smile with guests as they enter.
Address: 84 Chua Lang Street, Dong Da District

Opening Time: 7:00 p.m – 10:00 p.m

Pricing: 20.000 – 28.000 VND
Learn More: Grilled Quail Eggs – Trung Cut Nuong – a New Vietnamese Street Food
3. "Chao Ca" On Giang Vo Street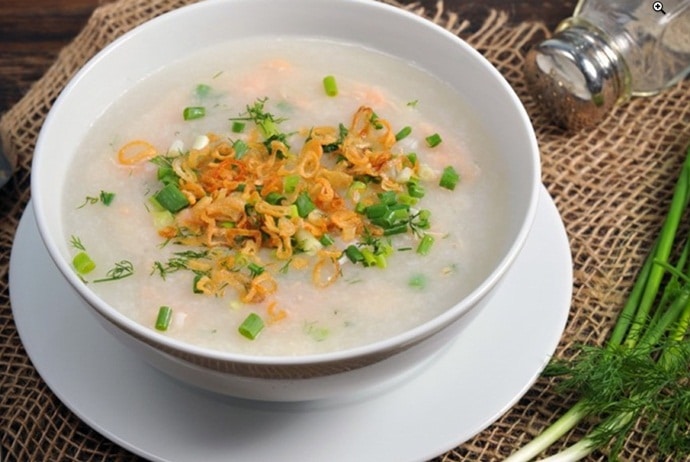 Source: dichvuhay
This fish porridge shop is quite cheap with only 25,000 VND per bowl. The location is easy to find and attracts many guests because it is located right at the intersection.
Fish porridge here is cooked with green beans, so it is slightly yellow. Besides, rice grains are cooked in a special way, so they are very fragrant. The porridge of the restaurant is topped with a large amount of dried onions to make this dish more flavorful. Addition to this, the fish used to make porridge is ground fish, not fried fish like some other places. Therefore, the mixture of the fish, glutinous rice and green beans makes this dish become strange.
This shop has recently opened, so not many people know about it. If you have never visited, let's come to enjoy this nutritious dish in these cold days.
Address: 75 Giang Vo Street

Opening Time: 7:00 p.m – 10:00 p.m

Pricing: 25.000 – 30.000 VND
4. "Chao Ca Bay Ngoc" On Hoang Ngoc Phach Street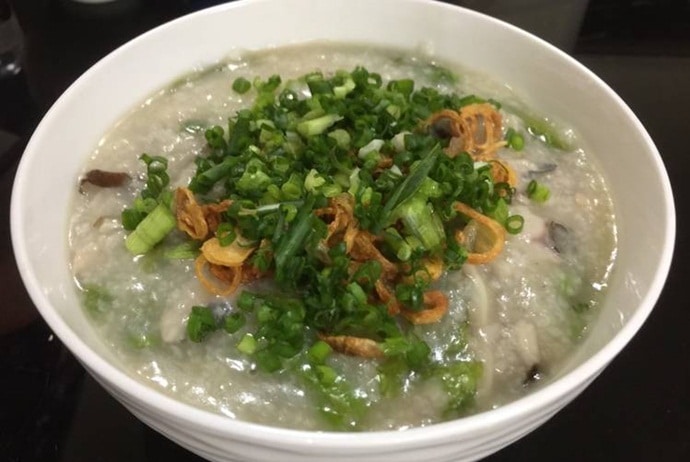 Source: cookpad
The first impression when enjoying the bowl of hot fish porridge is that it is packed with the flesh of the fish. The fish flesh is white, sweet, and fragrant. The owner of the restaurant shared that in the past his family often bought the fish from 2-3kg and seasoned with ginger and lemongrass before being placed into a steamer. Next, the bones of the fish would be carefully removed. The steamed fish water was used to cook porridge, so the porridge was very sweet. Now, snakehead is rare, instead, his family often buys the grass carp from 3-5kg to make porridge. Although the flesh of the grass carp is not as good as snakehead fish, but thanks to the skillful hand combined with traditional recipes, the fish porridge here still retains the taste.
Especially, this restaurant also serves porridge fish with the fish's innards. The number of fish's innards is limited, so the owner rarely invites strangers. Therefore, when you come here, remember to ask her about this strange dish.
Address: 14 lane 21 Hoang Ngoc Phach Street, dong Da District

Opening Time: 7:00 p.m – 10:00 p.m

Pricing: 25.000 – 50.000 VND
Hopefully, you can visit any of the restaurants as mentioned above to enjoy this delicious and nutritious dish. In fact, this kind of porridge is very sweet, tasty and healthy, so you should not miss this dish yet introduce it to your friends and family as well if you have chance.