Source: baomoi
Soups hold an important place in Vietnamese cuisine, cleansing and soothing the body, the soul, and in some cases, the occasional hangover. And, porridge represents the simplest of Vietnamese soups, providing comfort and nourishment. Easily digested, porridge is fed to both young toddlers and elders. If you are looking for a dish that can cure a bad hangover, warm the body on cold winter days, or fill your belly when you are suffering from a terrible cold, Vietnamese chicken porridge may be a perfect option for you.
I. Vietnamese Chicken Porridge – The Introduction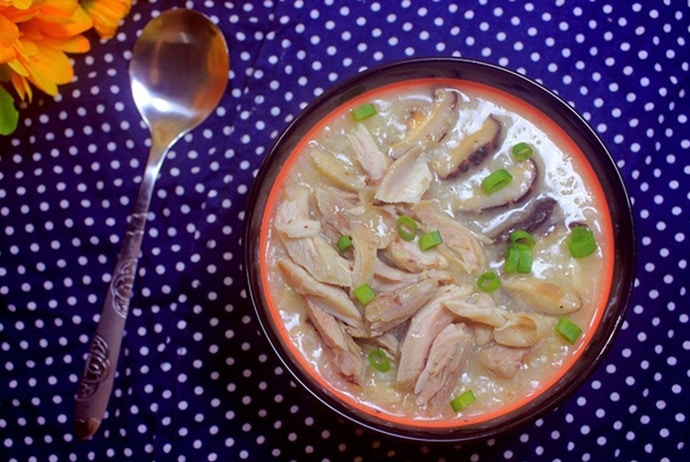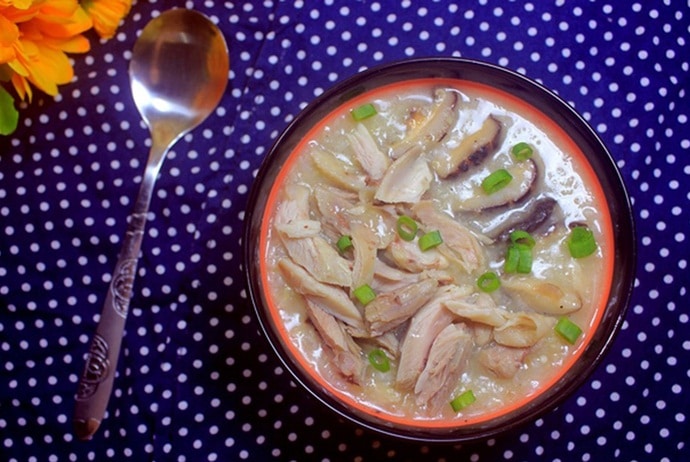 Source: baomoi
Porridge can have many different versions, from rice with soy sauce or salt, to more luscious chicken soups. This easy-to-make yet delicious chicken porridge is believed to be a great dish for recovering after being sick. However, it does not mean that this dish is for only sick people. Anyone can cook and enjoy Vietnamese chicken porridge from the comfort of his/her home. Of course, this dish is ideal during cold weather because it can help keep the body warm and make us feel cozy.
II. Where To Eat Vietnamese Chicken Porridge In Hanoi
You can enjoy chicken porridge in Hanoi at many street vendors. And, here are some of the famous places where you can enjoy this delicious dish in Hanoi. Actually, all of these destinations are highly recommended by Hanoians due to their delicious taste, good service and affordable price. Therefore, now you should follow VinaFood and try all of the following chicken porridge shops to determine which one is your favorite flavor.
1. "Chao Ga Ba My"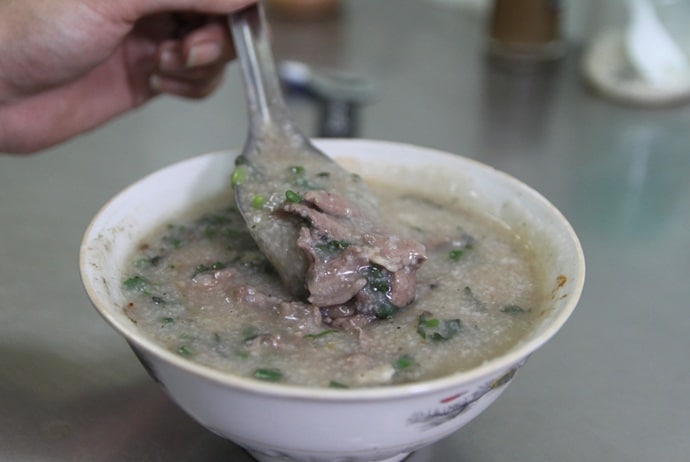 Source: zing
This restaurant has opened on Ly Quoc Su Street for many years, and it is a favorite place of many diners who want to enjoy Vietnamese chicken porridge in Hanoi. The porridge here does not use ground rice like other restaurants and it is made from whole grains. The owner of this restaurant adds a little sticky rice to the rice for more delicious porridge. Porridge here uses many chicken bones, so it is sweet and fragrant. Each bowl of porridge is sprinkled with some onions, perilla, shredded chicken and then poured the hot porridge on the top. Diners just need to add chili and pepper to taste. The ingredients are simple, but when combined, they make the perfect porridge. Apart from the chicken porridge, this restaurant also sells boiled chicken legs, soya noodles with chicken, etc. All of these dishes are also very delicious and highly appreciated by the consumers.
Address: 47 Ly Quoc Su Street, Hoan Kiem District

Opening Time: 7:00 a.m – 10:00 p.m

Pricing: 20.000 – 55.000 VND
Learn More: Vietnamese Clammy Yogurt – Sua Chua Deo – Try a Special Dessert!
2. "Chao Ga" On Tran Nhan Tong Street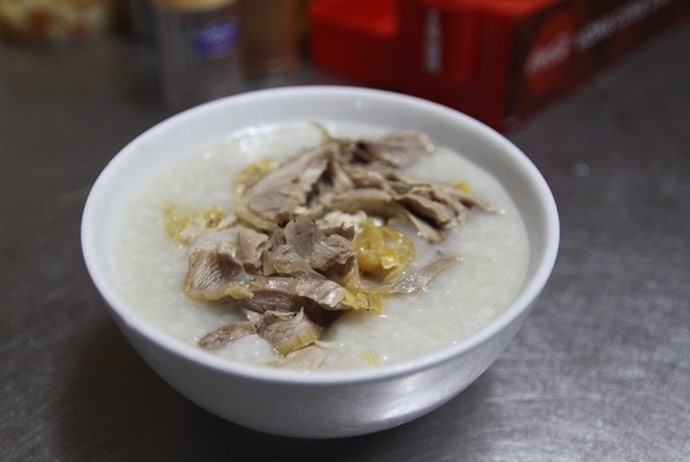 Source: zing
When mentioning delicious chicken porridge shops, gourmets would certainly not skip Tran Nhan Tong porridge or porridge 37 – the name comes from the address. The porridge here is very diverse, from porridge with minced meat, porridge with heart, chicken porridge. Porridge is cooked from ground rice, so it is smooth. When a customer orders, the seller scoops the chicken porridge from the large pot to the small one, and cooks it over the charcoal. Next, she quickly pours the chicken and other ingredients into the bowl.
The chicken porridge here is smooth and extremely attractive. Just add a little pepper and stir the ingredients up and you will have a delicious bowl of porridge. So, many people do not mind coming here to eat or buying this dish for their family members whenever they are tired.
A bowl of porridge here is priced at about 25,000 VND. You can choose to buy other types of organs such as heart, liver or mixture. Especially, if you want to enjoy a bowl of chicken porridge, you have to come early in the morning or early afternoon because this dish is out very fast. Besides, this restaurant also sells hot finger-shaped soufflés with a price of 3,000 VND / dish, and eggs 5,000 VND. Also, if you want to bring back without box, you can buy a plastic box with a price of 3,000 VND.
Address: 37 Tran Nhan Tong Street, Hai Ba Trung District

Opening Time: 8:00 a.m – 11:00 p.m

Pricing: 25.000 – 66.000 VND
Check Out More: Vietnamese Glutinous Rice Doughnut – Banh Ran – Where to enjoy?
3. "Chao Ga" On Tho Nhuom Street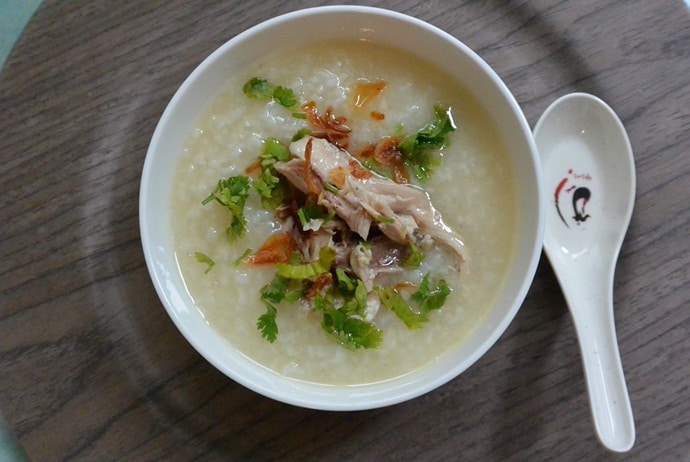 Source: phununews
If you are looking for a restaurant that sells this nutritious and delicious dish, you can try visiting the restaurant on Tho Nhuom Street. On late evenings, when the weather is cool in Hanoi, many people come to this restaurant to enjoy chicken porridge and other street foods. The name of the restaurant bases on the address where the seller usually sits, and this stall is located on the sidewalks on Tho Nhuom Street. This chicken porridge stall only has two small tables, a glass cabinets and a few small chairs for customers to eat. This porridge stall is only sold late in the evening, when the street lights start to turn on.
The most attractive thing of this chicken porridge here is the tasty and delicious chicken. The owner of this restaurant always leaves the whole chicken. She shreds up the chicken only when a customer orders. When eating, you will feel delicious pieces of chicken mixed with the sweet porridge. And, the porridge here is different from that mixed with flour.
Apart from chicken porridge, this restaurant also sells other delicious chicken-related dishes. A specialty of the restaurant is soft and aromatic boiled chicken legs. Often, consumers of the restaurant order a few chicken legs or a bowl of chicken-related dishes before enjoying a bowl of chicken porridge. Besides, this restaurant also sells chicken noodle soup and beef noodle soup. So, you can choose chicken porridge or noodle as you like.
Address: 6B Tho Nhuom Street, Hoan Kiem District

Opening Time: 9:00 a.m – 10:30 p.m

Pricing: 20.000 – 55.000 VND
Check Out: Hue Lemongrass Skewer – Nem Lui Hue – a Famous Hue Speciality
Actually, Vietnamese chicken porridge is favored by many people and it is especially ideal for those who are sick. A bowl of chicken porridge is nutritious and healthy, so it is good for people of all ages. So, if you have a chance to visit Hanoi or if you want to enjoy this kind of porridge, you can go to any of these restaurants as we mentioned above.