Source: sentosa 
Many people love eating chicken feet that can be cooked in many different ways. Popular ways are deep frying them and then stew, and if these dried chicken feet are well done, their bones can be removed from the skin with ease. However, another dish made from chicken feet that we want to introduce here is boneless chicken feet salad. Although it looks complicated, you can prepare this dish quite easily at home. It is a great appetizer and is often eaten cold.
I. Vietnamese Boneless Chicken Feet Salad – The Introduction
With this delicious dish, you will not have a sense of boredom. This dish has both meat and vegetables, has sweet and sour tastes. So, if you eat it once, you will want to eat it again. Especially, this chicken feet salad is popular for beer drinkers and this dish is highly recommended for social gathering.
II. Where To Eat Vietnamese Boneless Chicken Feet Salad In Hanoi
In Hanoi, you can find a few street vendors and restaurants where sell Vietnamese boneless chicken feet salad. Each place uses unique ingredients and formulas, so if you have time, you should visit all of the following places to enjoy this dish.
1. "Che Xoan" On Cau Giay Street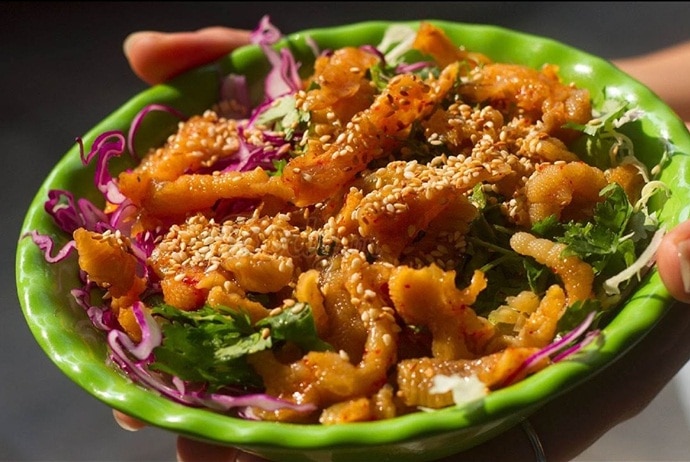 Source: baomoi
If you often go to the famous restaurants in Hanoi, you may know the shop named "Che Xoan" on Hang Giay Street. Apart from going to the shop to eat the sweet gruel, many people love eating another dish at this shop. It is boneless chicken feet salad.
This shop is located at 29 Hang Giay Street. Although it is small, it is still clean and airy. This shop is often crowded in the evening, especially on weekends. Therefore, guests often have to sit on the sidewalk.
Actually, this shop is a gruel selling address. But, apart from the sweet gruel, ice cream, the shop also sells boneless chicken feet salad. Going to this shop to eat this salad can seem a bit ridiculous, but many people come back to the shop just because they like this dish. Overall, the chicken feet salad here is relatively full. The chicken feet are topped up, covered with a thick layer of sesame, making this dish look extremely attractive. Below are pickled vegetables, herbs and salad dressing. Instead of green papaya, the shop uses thinly-sliced cabbage to make this salad. The chicken feet are pulled out of the bone, making them crispy. The sesame seeds are sprinkled on top in order to create a pleasant aroma and strange taste when eating.
When mixed up, you can feel that the cabbage is very soft because they are thinly-sliced and soaked in the salad dressing. Especially, in addition to the familiar chilli sauce, the shop also has a lemon sauce with a very fragrant aroma. This may be a reason why many enjoy the Vietnamese chicken feet salad here. However, this street food has so much water, so it is quite light. Therefore, if you love salty dishes, you may not like it.
A plate of chicken feet salad costs 35,000 VND, which is slightly higher than the average. However, because of the attractive flavour and the complicated process, there are still many customers who come to the shop in order to enjoy this dish. Although employees are a bit less friendly, but very fast, so guests do not have to wait for a long time.
Address: 29 Hang Giay Street, Hoan Kiem District

Opening Time: 9:00 a.m – 11:00 p.m

Pricing: 15.000 – 100.000 VND
Learn More: Trang Tien Ice-Cream – Let's try Kem Trang Tien in Hanoi!
2. "Nom Chan Ga Rut Xuong" On Cua Bac Street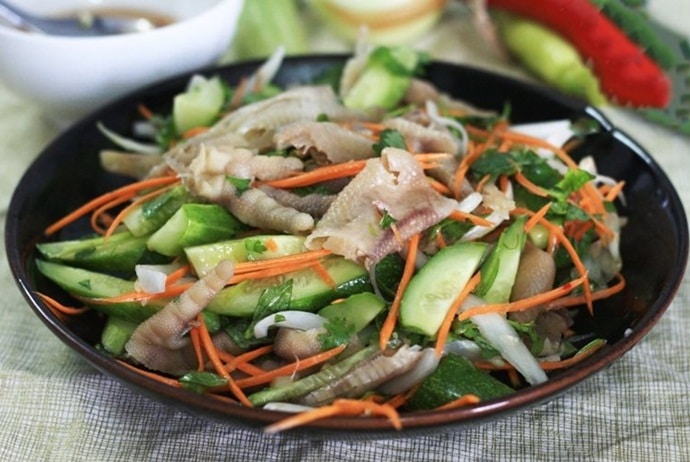 Source: cooky
This shop attracts young people by the delicious dishes from the chicken feet. The boneless chicken feet salad is made from vegetables, herbs, chicken feet, lemon, chilli and vinegar. Apart from this dish, the restaurant also serves chicken feet soaked in vinegar that brings the characteristics of the traditional Hanoi dish. Also, the grilled chicken feet are also favoured by guests, especially on the cold winter. Actually, if you are looking for a place where you can enjoy the chicken feet salad in Hanoi, you should not miss the shop on Cua Bac Street.
Address: 30 Cua Bac Street, Ba Dinh District

Opening Time: 9:00 a.m – 10:00 p.m

Pricing: 20.000 – 40.000 VND
Read More: Vietnamese Street Style Snails In Hanoi
3. "Nom Chan Ga Rut Xuong" On To Hien Thanh Street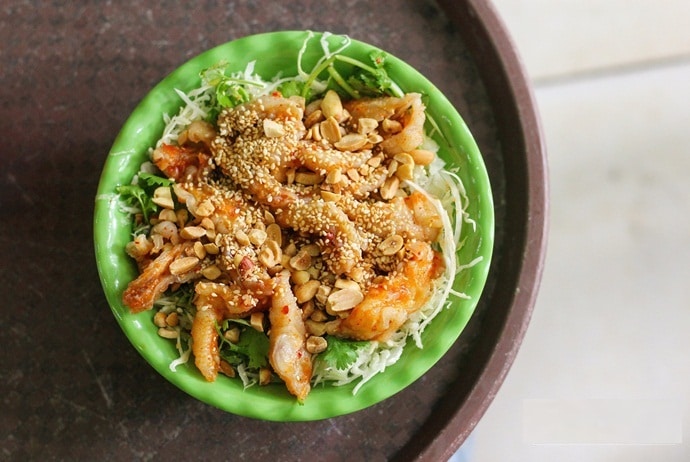 Source: kenh14
This is a small shop located on To Hien Thanh Street. With a glass cabinet, a few small table and chairs on the sidewalk hidden deep in the alley, the shop has opened for 30 years to sell boneless chicken feet salad. This dish is made from crispy yellow radish with chicken feet and herbs, all mixed in a sweet and sour sauce, creating a strange dish.
Small and fresh chicken feet are carefully removed by the seller in front of the guests. Gourmets can easily recognize that these chicken feet are not those used in many other places. The seller said that in autumn, when starting in the wedding season, there are many chicken feet to get.
Often, diners who come to the restaurant still call a bowl of chicken noodles and then add a bowl of chicken feet salad. The salad is so small, but it is also enough for breakfast. The shop opens from 6.30am to 1h30p.m. However, many diners occasionally call the owner of the restaurant to order this salad every afternoon. A bowl of chicken feet salad costs 20,000 VND.
Address: 30 Cua Bac Street, Ba Dinh District

Opening Time: 6:30 a.m – 1:30 p.m

Pricing: 20.000 VND
Learn More: 30 Quick & Easy Cooking Vietnamese Desserts Ideas
Hopefully, you can come to any of the restaurants as mentioned above in order to enjoy the delicious chicken feet salad. Actually, this dish is very delicious and unique, so many people love it. Therefore, if you have a chance to visit Hanoi or if you want to enjoy the crispy, sour and sweet taste of boneless chicken feet, you should not miss this dish.