Updated: 08/28/2019
Every year, at the end of September and early October, terraced fields in Hoang Su Phi (Hoàng Su Phì), Ha Giang (Hà Giang) make the northern mountainous region become warm and rich by the golden of the ripe rice. This is really a masterpiece that you cannot take your eyes off. If you are a photographer or someone who likes to play with cameras, then this is an ideal destination to visit.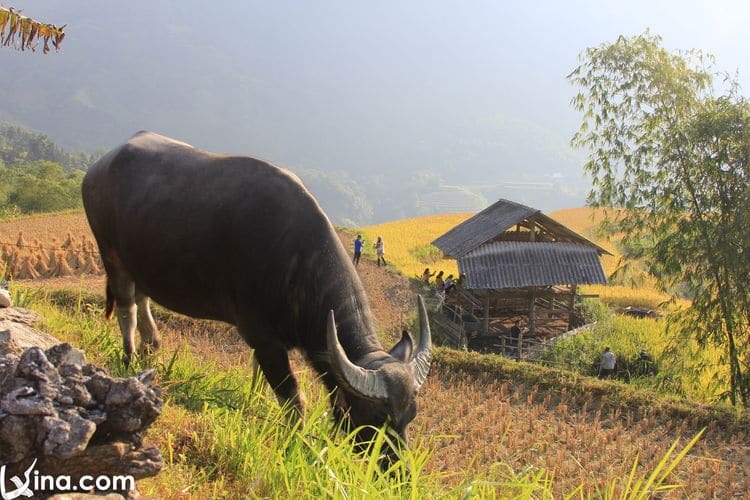 Phung Village Photo By Phuong Truc Thi Nguyen
Hoang Su Phi is famous for its terraced fields which are considered as the most beautiful fields in Vietnam during the harvest. Hoang Su Phi District possesses around 3000 hectares of terraced fields spreading over the hills. These fields are located mainly in 6 communes: Ban Luoc (Bản Luốc), San Sa Ho (Sán Sả Hồ), Ban Phung (Bản Phùng), Ho Thau (Hồ Thầu), Nam Ty (Nậm Ty), and Thong Nguyen (Thông Nguyên). It is worth mentioning that the Ministry of Culture, Sports, and Tourism has officially identified Hoang Su Phi's terraced fields as the National Scenic Heritage in 2012, which is an affirmation for the recognition and appreciation of the authorities for that natural landscape.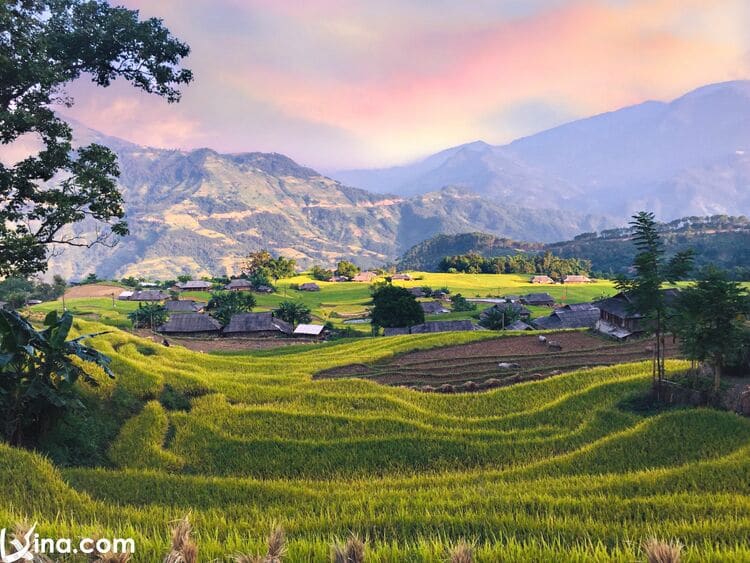 Phung Village Photo By Vu Tuan
Even the natives here do not know since when the terraced fields were formed, but they are certainly the result of a tireless labor process of everybody. These fields are inestimable assets passed down from one life to another. They besides bringing great material values also hidden the unique culture of a nation.
The Charming Beauty As A Paradise Of Hoang Su Phi Terraced Fields In Harvest Season
I. What Are Attractions In Hoang Su Phi?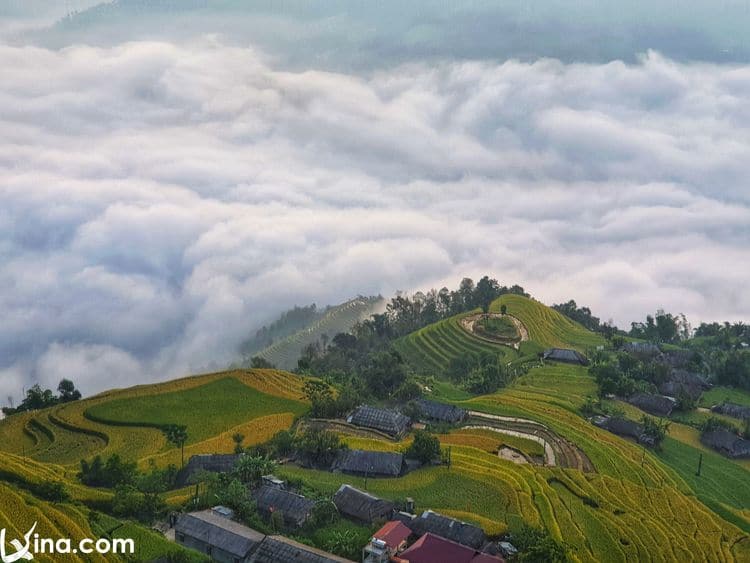 Phung Village Photo By Hao Tuan
Hoang Su Phi is much more rustic, poetic, and romantic in the autumn, attracting both domestic and foreign tourists. Coming to this place in late September, you will have chance to attend in the annual event "Through the heritage of Hoang Su Phi's terraced fields", which is held in Vinh Quang Town (Thị trấn Vinh Quang) with several cultural activities to introduce the traditions of ethnic minorities and promote the tourism potential of the province. If you, unfortunately, miss this event, do not be too regretful as you still can participate in other experiential activities such as fishing in the field, harvesting, and making green rice. Additionally, you can also watch rituals related to agricultural beliefs of the local people, typically "lễ cúng cơm mới", organized to express gratitude to the ancestors, heaven, and earth before the harvest.
See more: 11 Vietnam top attractions for tourists to visit
II. What To Eat In Hoang Su Phi?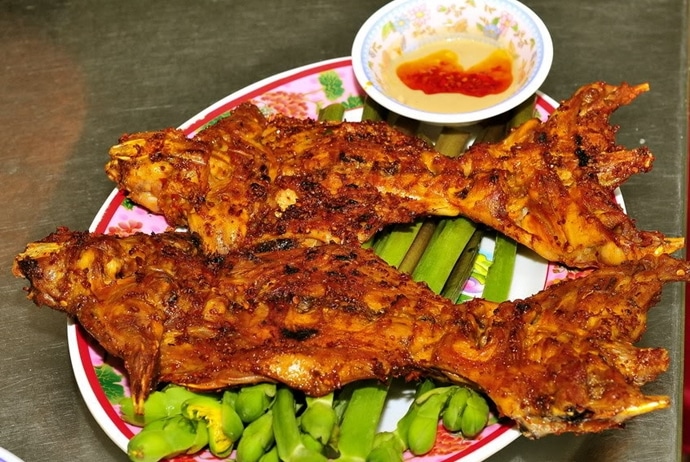 Source: xulychuot
Not to be missed when you arrive in any new land, is to try the specialties, and for Hoang Su Phi, one of its diverse specialties is field-mouse. Unlike most people living in the delta who treat pork as a daily food, highlanders choose field-mouse meat. They can process the mouse into various delicious dishes, in which grilled, fried, and barbecued are most popular.
III. How To Get To Hoang Su Phi?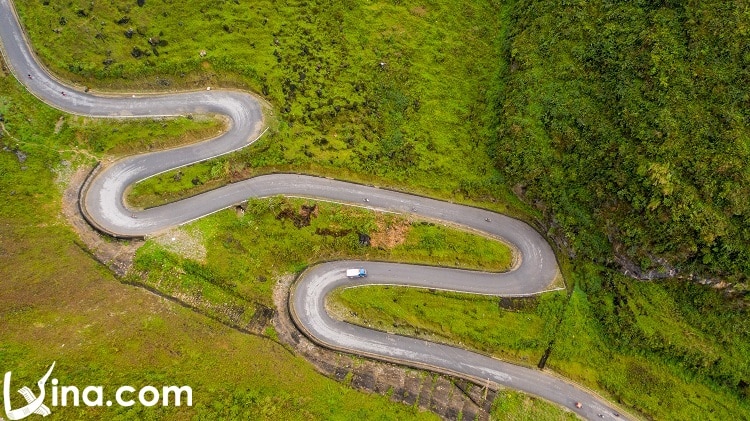 Source: Ha Giang In Spring Photos By Tien Nguyen
1. By Motorbike
The most convenient route is to follow the National Highway 2 (Quốc lộ 2) to Tan Quang Commune (Xã Tân Quang), then turn onto the road DT177 and continue on until you reach Hoang Su Phi. The total distance from Tan Quang to Hoang Su Phi is about 66 kilometers.
2. By Coach
You need to transfer between coaches to get to Hoang Su Phi. First, catch a coach to Tan Quang at My Dinh Station (Bến xe Mỹ Đình) depending on your schedule, the fare is 200.000VNĐ/person. When you are in Tan Quang, find a coach to Hoang Su Phi, the ticket price for this stage is 50.000VNĐ/person. Every day from Tan Quang there are only two trips to Hoang Su Phi at 7 am and 1 pm, therefore, you should arrange a reasonable plan so that you do not have to wait too long.
Due to geographical characteristics, Hoang Su Phi only has one rice crop per year. Apart from the golden rice season, visitors also enjoy the image of this place in the replanting period. At that time, the fields full of water are not any different from the glittering silver silk lying in the middle of the mountain will make you wonder.
Above is the full information about Hoang Su Phi terraced fields in harvest season that is worth a visit. Don't miss to take pictures of the charming beauty as a paradise of Hoang Su Phi terraced rice fields in harvest seasons. We hope you find this article useful for your further journey to Vietnam. To get more information about other places to visit in Vietnam, go to our home page.