If you have a chance to set your foot on the majestic sunny and windy Central Highlands of Vietnam (Việt Nam), where there is full of the immense scent of wild orchids, you should not forget to visit Pleiku city.
1. T' Nung Lake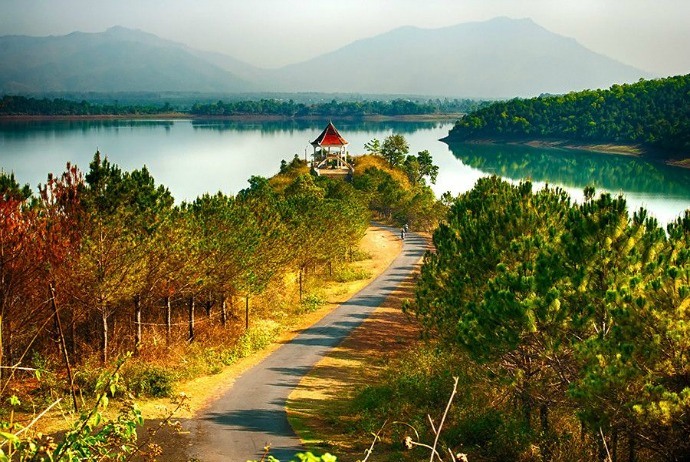 Also known in Vietnamese as Bien Ho (Biển Hồ), T'Nung Lake is one of the lakes having the most natural and romantic beauty endowed by the Mother Nature. This lake was formed from a volcanic crater. If you stand and look away, it is hard to see the shore. Bien Ho is exampled like the eyes of Gia Lai people, in general, and Pleiku people, in particular.
Standing on the shore and looking away, you will see a vast blue color of the sea. This lake is located on the mountain, so when tourists standing on the shore, the sea breeze mixed with forest wind will give them a very strange, different feeling. Cycling across the forest is a way to explore the mysterious beauty of that "Pleiku eyes".
2. Yaly Hydropower Plant And Legendary Rope Bridge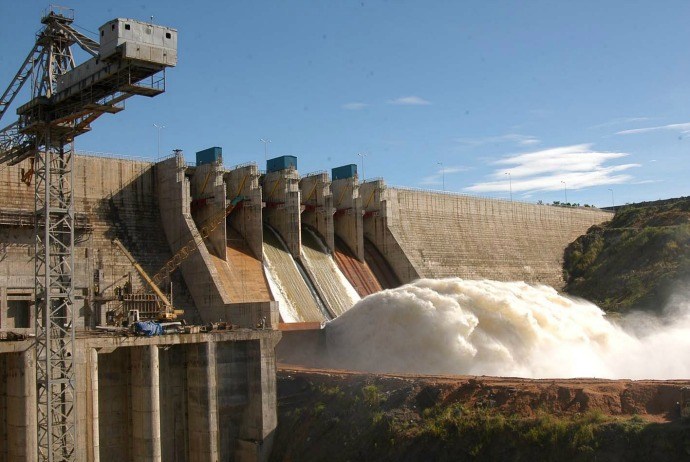 When it comes to places to visit in Gia Lai, Yaly hydropower plant cannot be skipped, which is an important point in the chain of the hydroelectric dams on Se San River. This hydropower plant is the second largest one in the country after Hoa Binh (Hoà Bình) hydropower plant on Da (Đà) River. Looking the flowing water and exploring the supplying place for the entire Central Highlands is a significant thing for your trip.
Have you ever set your foot on a rope bridge yet? Not the concrete bridge or wooden bridge, but the ropes crossing from cliff to cliff. If you visit Pleiku, you will have a chance to explore this legend rope bridge.
3. Phu Cuong Waterfall (Thác Phú Cường)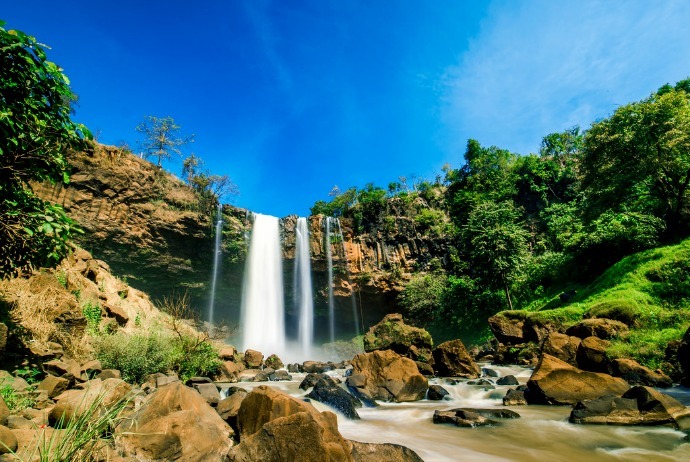 Also called as the white silk strip of Central Highlands, Phu Cuong waterfall is located in the Phu Cuong quarry area, in Dun Commune, Chu Se (Chư Sê) district, Gia Lai province, about 3k away from Chu Se district and 45 km from Pleiku city to the southeast. Coming to mountains and forests of Central Highlands also means coming to the enormousness –the flow of 45m in height on the La Peet stream. Visiting here, tourists will be able to admire the waterfall while listening to the birds twittering.
Moreover, the banks of the waterfall are the settling place of Ba Na and Gia Rai ethnic groups. Talking with them and going to catch small fish or pick the medicinal herbs in the forest will bring to you lots of experiences.
Read more: The best time to visit in Vietnam
4. Daydreaming In The Wind At Dai Doan Ket (Đại Đoàn Kết) Square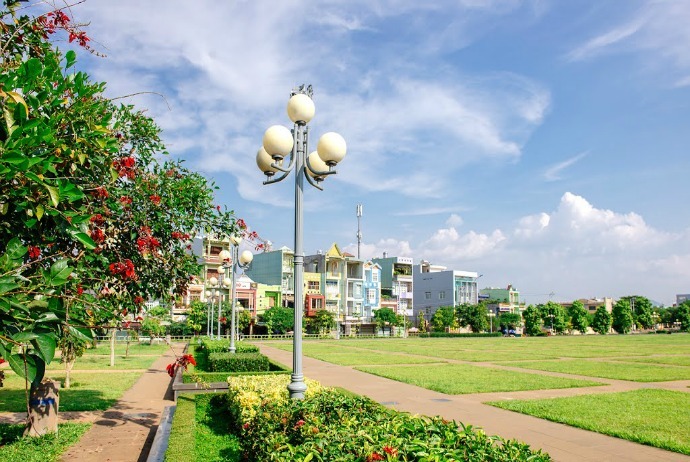 At night, tourists should visit Ho Chi Minh (Hồ Chí Minh) square to relax and enjoy the cool air. Here, you will see how extensive the operation of the whole city is and the nightlife of people in Central Highlands after a hard working day. You can also take some photos and dance some dances with the villagers in order to experience the beauty of life.
5. Dong Xanh (Đồng Xanh) Resort – A Miniature Central Highlands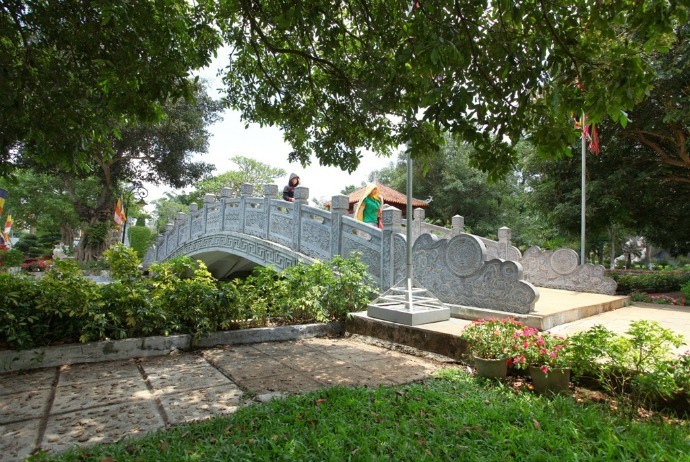 The trip will not complete if you have not stopped to visit Dong Xanh resort located on Highway 19. Located in the middle of green rice paddies named An Phu (An Phú), this is museum reserving the culture of Central Highlands from long time ago.
The special feature here is Gong music of Central Highlands recognized by UNESCO as the Intangible Cultural Heritage of Humanity. Listen to a piece of music coming from T'rung instrument or from the gong is really a good thing to do.
Not only that, coming here, tourists can also enjoy Can (Cần) wine – a typical wine of Central Highlands people which is made from tapioca, rice and natural ingredients. Enjoy the wine slowly and you will feel your body warmer steadily. That means Central Highlands people will protect you and Giang (Giàng) will warm your soul, according to local people.
Do not skip: Top 18 reasons why you need to visit Vietnam
6. Ho Troi (Hố Trời) – The Gift From Heaven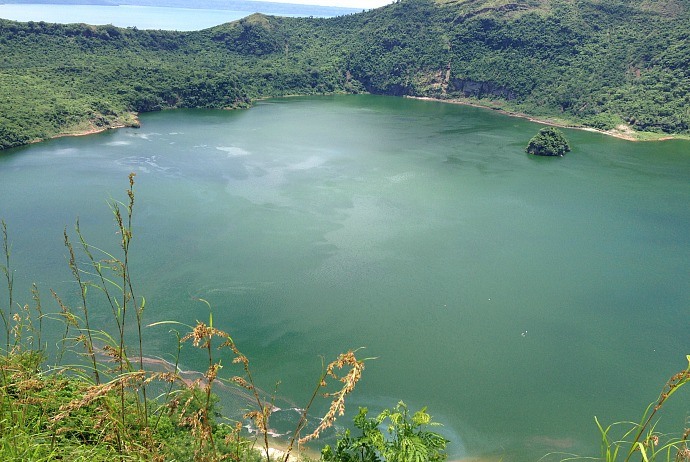 The name Ho Troi comes from local dialects. This is a giant crater caused by the perennial flow generated, without bottom. From the crater, if you want to go down, you have to swing the huge ropes from the trees above. Stalking the ropes, along the steep cliffs, you will reach the first floor of the hole and feel surprised at the moss layer forming on the wall, the different colors of creatures and the small flows flowing along the cliffs.
Here, tourists could look down and feel like being lost in the Penglai Scene. There are about 20 floors and each has a different beauty. Visiting all of these 20 floors, tourists will arrive at Quy Nhon (Quy Nhơn) Sea.
Ho Troi is too primitive and rather dangerous. The majority of people coming here are local people. So, if you want to go to somewhere for relaxing, it is not a good option, but if you want to explore, it should not be missed.
People, Culture And Food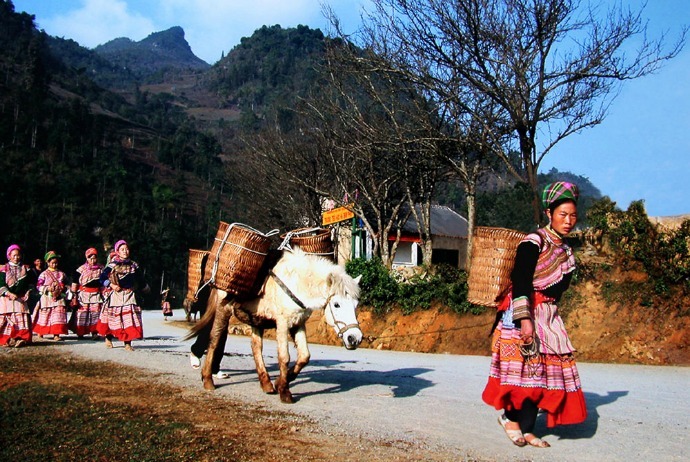 The above are 6 must-visit places in Gia Lai you should not skip if having a chance to visit this land. Indeed, in addition to beautiful scenes, there are so many things about this land that attract you to come back, which are people and food culture here.
Sincerity and hospitality are two prominent personalities of people here. Staying overnight in a local home is a wonderful way to make your trip more meaningful. Here, you can comfortably chat with the home owner, have meals and relax like being at home without paying any cost.
Chatting with the owner is a way to understand more about the culture of people in Central Highlands. You will understand the reason why ancient Central Highlands women were topless, the origin of Can Wine, and the reason why there are "nha san" (Nhà Sàn) on the high mountains. Particularly, in the coffee flowering season, pristine white color covers the whole Gia Lai hills. Or, if you travel to Gia Lai right in the coffee harvest, then the landlord will invite you to visit coffee plantations and manually harvest the ripe coffee.
In regard to food and cuisine, there are specialties which are "Pho Hai To" (Phở Hai Tô) and coffee. Pho Hai To is sold in Ngoc Son eatery from the very old. Its name derives from the way of eating: there are two bowls, one is a bowl of soup and one is a bowl of noodles. These two ingredients will not be mixed together as in other places. Eat a piece of noodle, and then sip a spoonful of soup. The long and chewy noodles are mixed with the seat and sour taste of the soup, making this dish strange but delicious.
You may want to read: Food and cuisine in Vietnam
You can also visit SeSan restaurant located at the crossing corner between Hung Vuong (Hùng Vương) and Tran Hung Dao (Trần Hưng Đạo) street and enjoy a cup of coffee. These experiences should absolutely not to be missed. You will see firsthand the process of making a perfect cup of coffee.