Vietnam (Việt Nam), an S-shaped country located in the Southeast Asia. You will come to this country for the culture and come back for the food. When it comes to the food culture of this country, you could always order something different at each meal and never taste all of delicious, incredible dishes that this country has to offer.
Most tourists visiting Vietnam have heard about the most famous dish named Pho (noodle soup) and Banh Mi (Bánh Mì) (Vietnamese pork rolls); however, there are still hundreds of other options to select before you leave Vietnam. The followings are 9 dishes which are not too famous, yet definitely should not be skipped on your visit to Vietnam.
1. Bun Cha (Bún Chả)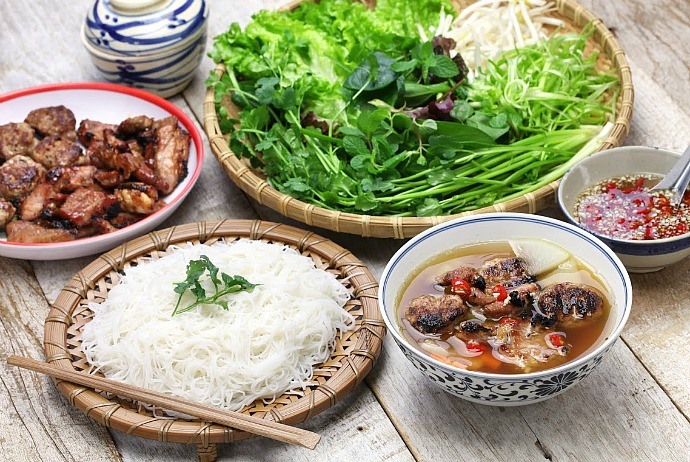 This is a specialty of Hanoi (Hà Nội) – the capital of Vietnam. Basically, it is the Vietnamese version of san choy bow. The dish is made from pork, noodle leafy green herbs, and sour and sweet broth. The process of cooking this dish is rather simple. Patties of grilled pork will be cooked over the grill and then they are served with the cold rice vermicelli noodles, a bowl of sweet and sour broth and herbs. The broth is made from sugar, vinegar, and some lashings of the fish sauce. To eat this dish, wrap the components in a lettuce cup and then dip them into the broth. It is not hard to find bun cha street vendors in the northern areas of Vietnam, and you will easily smell their smoky grills very long before you can see them.
2. Banh Bot Chien (Bánh Bột Chiên)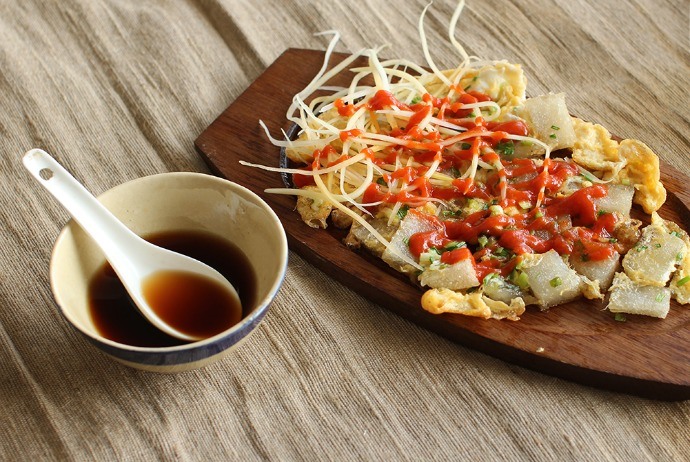 This is a simply but filling dish, which is often sold in front of the schools, particularly elementary ones. When the school gets out, you will witness a lot of kids flocking to the nearest Banh Bot Chien vendor for this dish. To taste this dish, grab a seat and join in. In essence, Bot Chien is the essentially little doughy cakes which are made from the rice flour along with tapioca starch. The cake then will be friend in the lard till golden before being chopped up into many small pieces and topped with an egg plus with shallots. To enjoy this dish, you just need to dip a forkful into the bowl of the salty soy sauce. That way, you will have a perfect snack.
3. Cha Ca (Chả Cá)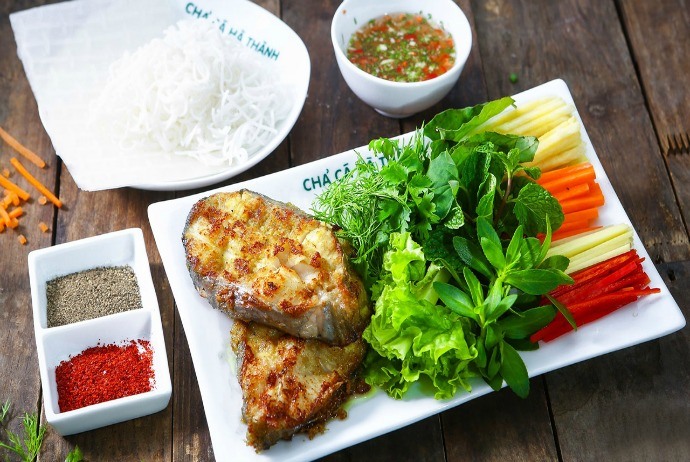 This is another specialty of Hanoi, combining the famous salty, sweet, sour and fragrant elements which Vietnam's cuisine is renowned for. The grilled white fish will be marinated in ginger, turmeric, garlic before being fried till golden and crisp. Scallions, onions, peanuts and handfuls of fresh dill will be rapidly sautéed and tossed with the prepared fish. Then, it will be served with the bed of rice vermicelli noodles. All of them will be topped with the smattering of the fresh herbs containing coriander and mint. To eat them, you just need to dip each mouthful in the Vietnamese dipping sauce which is made from lime juice, fish sauce, red chili and sugar.
4. Bo Bit Tet (Bò Bít Tết)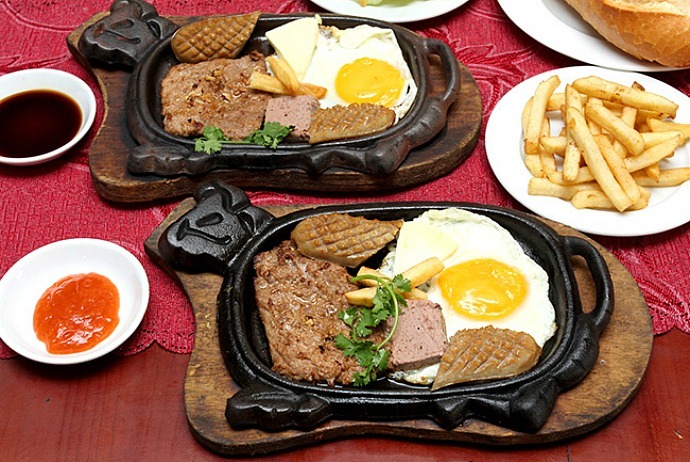 Another great dish in Vietnam you should not skip when visiting this country is Bo Bit Tet. Though this is not a strange dish in Western countries, Bo Bit Tet in Vietnam is rather different from that of other countries. Bo Bit Tet is particularly ideal for those who overindulged in Bia Hoi (Bia Hơi) the previous night. They can order it as the breakfast of steak and eggs, which will surely hitting the spot. Vietnamese version of Bo Bit Tet will be served on the sizzling cast iron plate that is topped with a fried egg and steak, plus with delicious extras like Vietnamese meatballs, diced tomatoes, sliced sausage, baked potatoes wedges or pickled veggies – depending on the place you order it. To enjoy it the best way, you can pierce the egg and let it run down over the dish. When you tuck into the steak, the egg will be continually cooked on the sizzling skillet, forming a crunchy, crispy layer at the bottom.
5. Bun Rieu Cua (Bún Riêu Cua)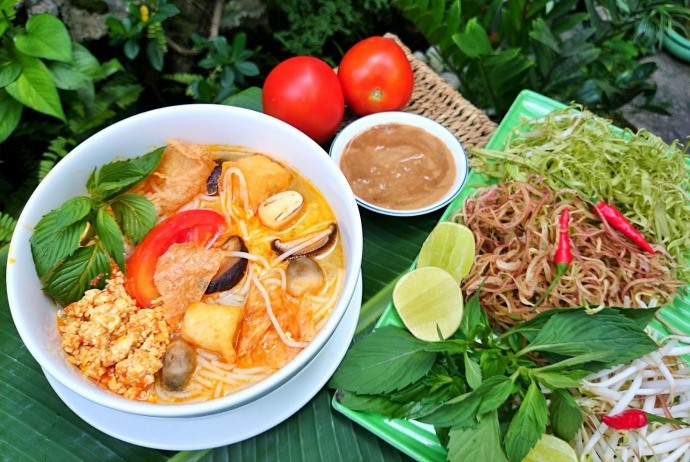 One of the most common but also impressive dishes in Vietnam that is beyond Banh Mi is Bun Rieu Cua – the northern Vietnamese soup flavored with deep-fried tofu, tangy tomato, and fresh crabmeat. In tradition, the base of broth will be made by pounding the whole blue crabs with a pestle and mortar, then straining the water via the crab shell. Then, the meat will be shaped into little crab cakes dropped into soup, which is consumed with pungent shrimp paste and vermicelli rice. The congealed blood of the pig is also used to add a red, rich flavor to the broth. Combining all of them will make a definitely tasty dish.
6. Nom Hoa Chuoi Thit Ga (Nộm Hoa Chuối Thịt Gà)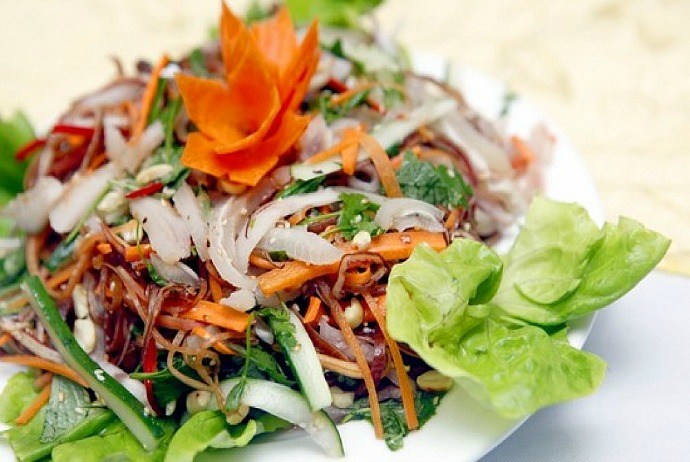 Among specialties of Vietnam, this is simple but impressive, which you just can get in Vietnam. With common ingredients like Chicken and banana flowers, this fabulous dish will bring to you an outstanding, memorable taste. This fairly rustic salad is both crunchy and juicy. The banana blossom is the flower of banana tree and is somehow like an artichoke heart in terms of taste and texture. For such kind of salad, it will be carefully peeled and thinly sliced or julienned prior to being tossed with the green papaya, bean sprouts, lime juice, coriander and carrots. The dressing is often made from lime juice, sugar, garlic, fish sauce, ginger and chili – all are whisked together with the crunchy topping of the crushed peanuts and dried shrimp.
7. Ca Kho To (Cá Kho Tộ)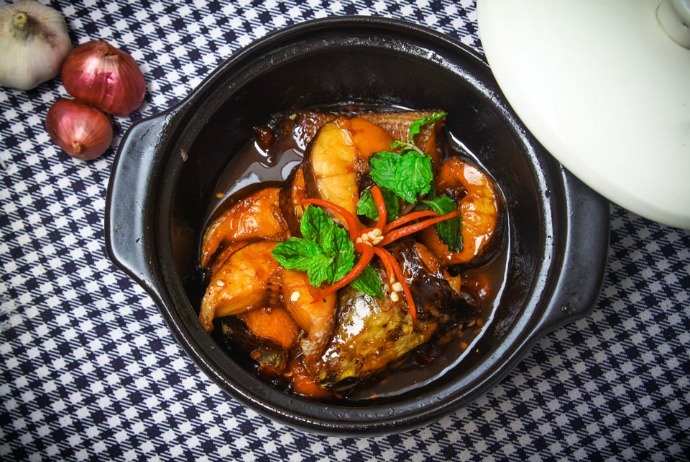 Ca Kho To is a dish with fish as the main ingredient cooked in clay pots which have thick walls in order to help retain the moisture as well as heat. This will help give the fish meat inside a caramelized, soft quality as it is braised. This dish is very popular in the southern areas of Vietnam because it is made from fresh fish (often catfish). The caramelized, gooey quality comes from the fish sauce which is flavored with shallots, ginger and garlic. The dish is rather rich so it is often served on the plain bed of the jasmine rice or with the salad of fresh cucumber. If you are not a fan of fish, you could find plenty versions of this dish which feature chicken, pork and tofu instead.
8. Che Bap (Chè Bắp Or Chè Ngô)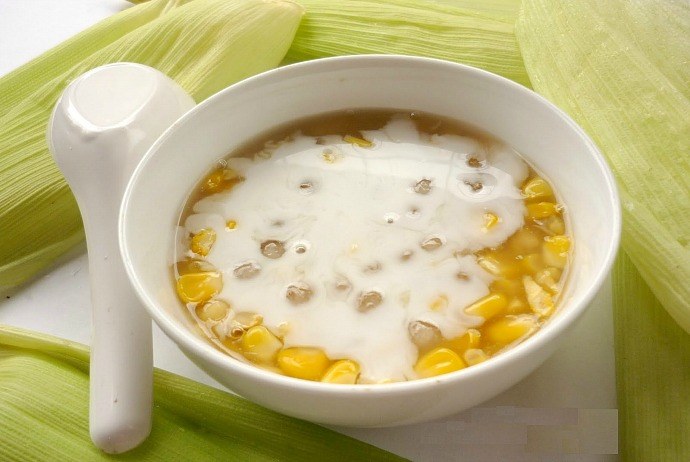 The last one in this list of what dish impressed tourists when visiting Vietnam is Che Bap. This is another dessert made from sweet corn along with sticky rice pudding. As a perfect treat for hot summer, Che Bap is an ideal way for you to recompense yourself after wandering around the winding streets of Hoi An. Depending the place you are staying, this will either be a bit firm like a pudding or runny like soup, and could also be served cold, warm or hot. The base of this dessert is glutinous rice and sweet corn topped with the sugary, sweet coconut milk and somewhat toasted sesame seeds.
9. Che Suong Sa Hat Luu (Chè Sương Sa Hạt Lựu)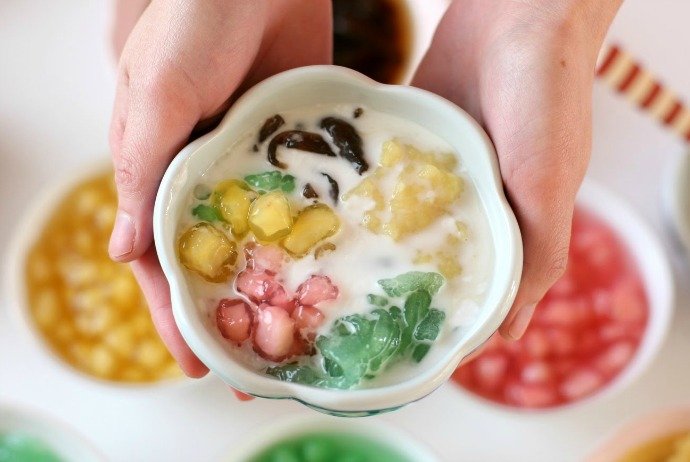 Also known as Rainbow Dessert, this is a refreshing dessert which is served in the glass. Cubes of agar jelly plus with imitation pomegranate seeds (which are made from the water chestnut which are diced, covered with a tapioca starch) are the ingredients of this dish. There are other flavors of this dish, which are mildly sweet mung bean paste, sugar syrup, and creamy coconut milk. A layer of agar jelly, paste of mung bean and pomegranate seeds will be layered on each other and then drizzled with coconut milk and drizzled with syrup. You can enjoy by popping seeds into your mouth because they feature a delightfully chewy coating, containing crunchy water chestnut, and then work your way through the rest of the dish whilst it is still cold and nice.