Paying a visit to Truc Lam Phuong Nam Monastery, one of the most famous tourist attractions in Delta city, Can Tho will bring you an unforgettable experience. You will be harmonized in the spacious atmosphere and admire the wonderful sculptures of Buddha.
Location
Lying on My Nhon hamlet, My Khanh commune, Phong Dien district (Can Tho city), Truc Lam Phuong Nam Monastery is widely regarded as one of the largest monasteries in Southwestern Vietnam. Truc Lam Phuong Nam in the style of Buddhism Ly – Tran Dynasty, was started on July 16, 2013. After 10 months of construction, the monastery was completed with a total value of 145 billion VND architecture. 
Architecture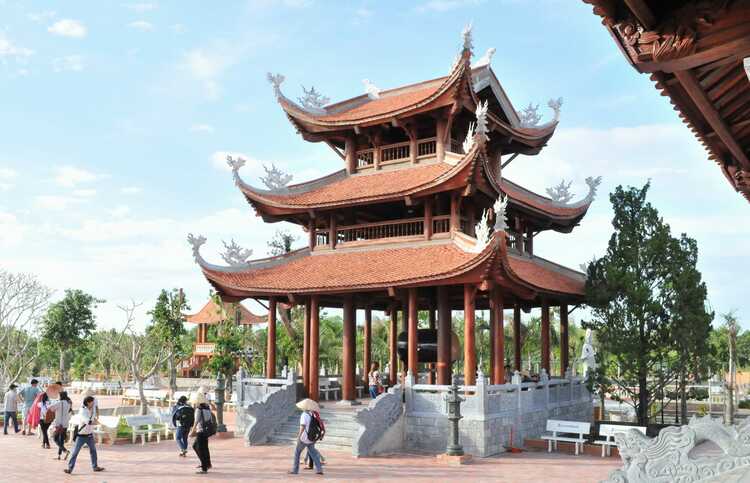 With the square area of four hectares, the monastery features a hall which can contain 500 people. Tourists can admire many architectural features when setting foot on this place. The main gate has curved arches with stylized dragon's head, the gate was made of precious wooden and painted in lustrous brown. Each side of the gate has one gilt steel statue: on the left is Vi Dai Ho Phap (the good) with the role of protecting Tam Bao (Three Jewels), on the right is Tieu Dien Dai Si (the evil) with the purpose to surrender devils and save sentient beings.
The gate is a huge yard tiled with bricks; the scenery is in harmony of decoration, which makes tourists feel spaciousness in the tranquil atmosphere. In two sides tourists can see two pavilions constructed on water. In the right pavilion, there is a statue of Maitreya, while on the left side there is the white-rock statue of Avalokiteśvara Bodhisattva with the height of 2 meters. Also, in two entrance-gates to the sanctum, there is a range of marble statues arranged parallel, each side consists of 9 talentedly sculptured figures. On the right side of the sanctum, the bell-tower with high curved roof has a 1.5-ton copper bell. On the left side of the sanctum is the drum-tower with a meticulously and sophisticatedly sculptured drum shelf. One Pillar Pagoda lies next to Drum Tower, which is ideal for tourists to visit.
The sanctum is Dai Hung Buu palace. Tourists will be impressed by the solemn and tranquillity around the place. The floor was lined with red Chinese bricks, the sanctum area is tiled with eight roofs in the style of Buddhism in Tran Dynasty, the pillar is made of ironwood and painted smooth and lustrous. All of 44 posts are solemnly put on the granite stone boards with stylized sculptured lotus flowers. The centre of the sanctum is the gilt copper Buddhist statue of Shakyamuni 2m high and 3.5-ton weight meditating in the lotus flower.
Reasons To Come Here
Coming to this place, tourists can feel peaceful because of the vegetation and extensive grounds. It is such a beautiful and solemn monastery, spacious with huge grounds which are covered with Buddha statues and unique structures. It takes by surprise to tourists when they have a chance to admire meticulous and sophisticated sculptures by skillful and talented hands.  
In addition, Truc Lam Phuong Nam is the place for people getting eagerness to learn about Tran Dynasty and cultural values for centuries. Buddhism in the Tran Dynasty helps people to live in "full awareness" and bring their souls back into a peaceful state. It also emphasizes on everyone's interior concentration, either a religious or someone in their family. This introspective soul training process leads to purification in each prayer, builds a calm mind and help one's good nature to show up; this is the real place for everyone to forget sorrow. 
Value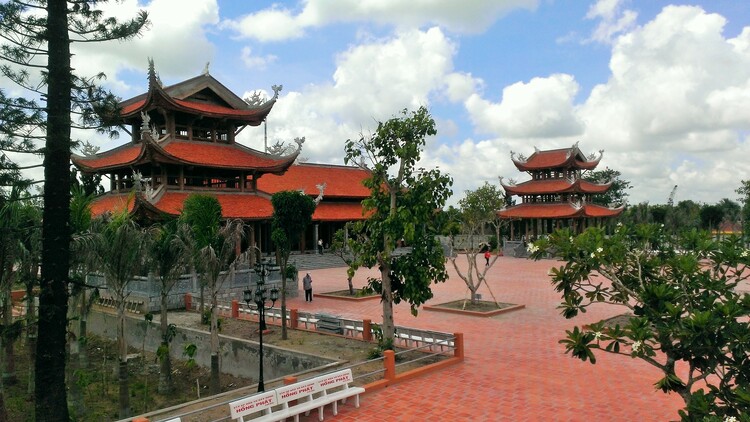 Construction of Truc Lam Phuong Nam monastery bears a meaning with not only Buddhists and Executive Board of the City Buddhist Church, Phan Van Tra but also the local people. People wish to restore the Zen of Truc Lam Yen Tu Buddhist- the Emperor Tran Nhan Tong to inherit and promote cultural values, spirituality. Especially, building the monastery is a way to meet the demand of monks and Buddhists here. People can keep and preserve the beautiful and meaningful traditions of worshipping and dedicating to Buddhists, as cultural features in Vietnam generally and Southwestern particularly.
Nearby Location
My Khanh is another destination you should not ignore when coming to Phong Dien District. My Khanh Tourist Village is generally regarded as the iconic beautiful ecotourism destination in Can Tho city. Fascinatingly, tourists can come here to explore and experience the natural beauty and cultural features. My Khanh Tourist Village is the paradise of fruits such as plums, mango, rambutan, jackfruit, strawberry, durian. This paradise always bring tourists the feelings of comfort and friendliness due to unique delicious flavors of fruits and  countryside landscapes. Notably, the tourist village also has a great number of appealing folk games and team games such as wood clogs racing, experiencing the bridge of magpie.