Ta Chi Nhu Mountain Photos By Tien Duc Hoang
Ta Chi Nhu (Tà Chì Nhù) is one of the highest mountains in Vietnam, which belongs to the famous Hoang Lien Son mountain range. Also, it is regarded as the kingdom for the cloud hunting trip because the views here are covered by clouds. The way to Ta Chi Nhu seems to be harder than Fansipan peak because of the rocky and mountainous terrain. However, with the fantastic views and peaceful atmosphere,  this place is one of the attractive northern tourist spots that you should experience once in life. Today, Vina.com will introduce to you some helpful information when conquering Ta Chi Nhu. Let's continue reading to understand more!
Conquer Ta Chi Nhu – A Majestic Mountain In Yen Bai, Vietnam
I. General Information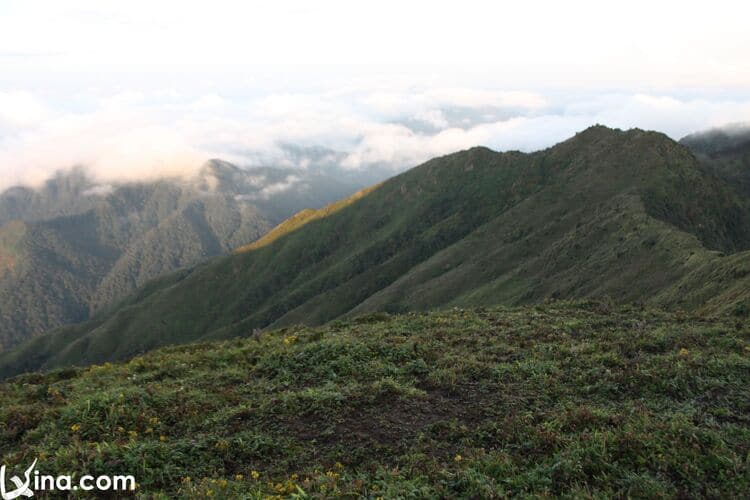 Ta Chi Nhu Mountain Photos By Tien Duc Hoang
Located in the northern mountains of Yen Bai province, Ta Chi Nhu is also known as Phu Song Sung by the Thai people (người Thái), or Chung Chua Nha (Chung Chua Nhà) by the Mong people (người Mông). It is located in Tram Tau district (huyện Trạm Tấu), Yen Bai province with the height of 2,979 m.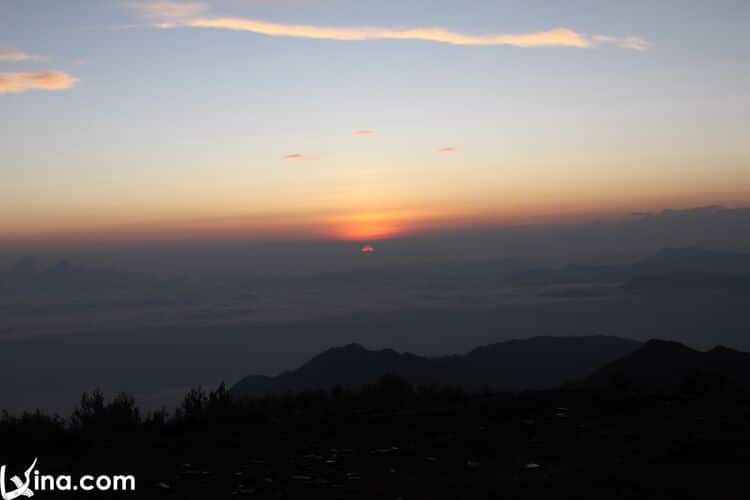 Ta Chi Nhu Mountain Photos By Tien Duc Hoang
Placed in the deep mountain range of Phu Luong (Phú Lương), Hoang Lien Son range with the complex terrain, high slopes, and harsh climate, but Ta Chi Nhu is still attractive due to its beauty of clouds and mountainous wind. In recent years, this mountain has become an exciting destination for people who want to explore and climb the mountain.
II. Best Things To Do In Ta Chi Nhu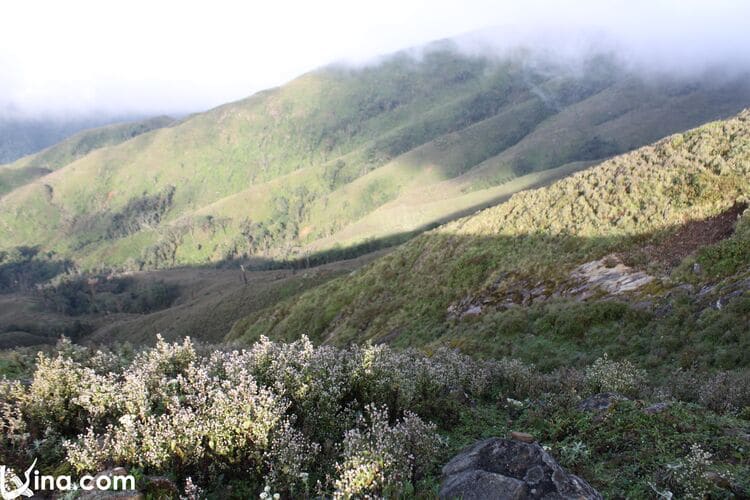 Ta Chi Nhu Mountain Photos By Tien Duc Hoang
1. Enjoy The Beauty Of Nature On The Way To Ta Chi Nhu
Before conquering this adventurous journey, visitors have to follow the unique paths, which make you curious. From the bottom of the mountain, you can see the fog surrounding the mountain. Moreover, you also see the white clouds hovering around the peak if you climb more highly. The cloud is so close that you can touch it. Especially, tourists will see the peaceful villages with cows and buffalos, which makes the scenery here more peaceful.
d as an important significance in human civilization. The sun is not only life but also the inspiration for life. When standing on Ta Chi Nhu, you can enjoy beautiful dawn moments. Also, you can feel the warmth of the sun and the shimmering sunshine. It's wonderful!
2. Watch The Beautiful Sunrise At The Top Of Ta Chi Nhu
From ancient time to the present day, the sun is considereIn order to see the sunrise fully, you should choose the time to conquer Ta Chi Nhu peak on sunny days. If you depart from Hanoi, you should spend 3 days enjoying this trip for climbing mountains, seeing beautiful scenery, and protecting your health.
3. Camp On The Ta Chi Nhu Peak
Ta Chi Nhu is an ideal place for travelers to camp, surrounded by mountains, clouds, and winds. You should prepare tents, foods, and drinks to camp overnight. This allows you to see two most beautiful cloud moments in the day in Ta Chi Nhu, including sunset and sunrise.
III. Best Time To Visit Ta Chi Nhu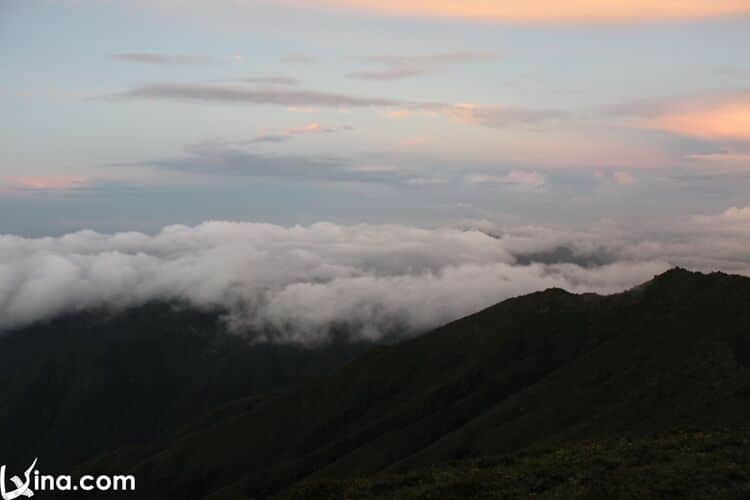 Ta Chi Nhu Mountain Photos By Tien Duc Hoang
The best time to climb is October when the weather is not too sunny or too cold. Thus, tourists will not be lost much energy when climbing.
1. Means Of Transportation To Ta Chi Nhu
You can catch a coach from Ho Chi Minh City to Yen Bai at Crossroad Station; the ticket price is about 600,000 VND. However, it takes nearly 2 days to reach Ta Chi Nhu.
From Hanoi, you can choose the coach or motorbike to move to this mountain. If you go by coach, you should come to My Dinh or Giap Bat bus station and catch a coach with Ha Noi – Yen Bai route, the cost is from 100,000 to 150,000 VND/ticket. It takes 2 hours to reach this place.
Or if you want to go by motorcycle, you need to follow the instructions: Depart from Hanoi – Nhon (Nhổn) – Son Tay – the Trung Ha Bridge (cầu Trung Hà), turn left to Thanh Thuy  street –  crossroad in Thu Cuc commune, Thanh Son district – Khe pass (đèo Khế) – Ba Khe,  turn left to Nghia Lo. You go more 3.5km to Tram Tau (Trạm Tấu), then go to several kilometers to Xa Ho, from 6 to 7 km to the lead mining area. Through the gate of this area, you can ask for the guards, leave your motorbike in the park, and start climbing.
2. Prepare For Foods
You should buy the foods before going to Ta Chi Nhu. Don't come to Tram Tau district to buy the foods because it will be difficult to get what you need in this small district. However, to avoid carrying the heavy luggage, you can buy everything you need when arriving in Yen Bai city.
IV. Some Useful Tips Before Your Journey
Before starting your trip, you need to see the weather forecast to avoid the rain or the slippery road after rain.

Like any other climbing trips in the North West, you should hire a porter who is a local people to guide the road and carry your luggage.

You should be very careful; try to balance your breath for a perfect trip. On normal days, the clouds cover densely at the bottom of the mountain. So, if you climb with the group, you have to follow the group during the journey to conquer the thick clouds.

If it is dark, and you do not arrive at your accommodation, it is best to stop and seek a place without wind to camp. You should not go on because climbing mountain in the dark is very dangerous.

The winds at the location for camping are very strong. So, you need to have good camping skill.
After months and dates of stressed study and hard work, you should have the opportunity to move and explore the beautiful natural scenery in Ta Chi Nhu, from the peaceful villages at the mountain bottom to the clouds on the mountain top. If you are interested in exploring and conquering the high peaks, don't hesitate to take Ta Chi Nhu to your trip collection. To know more about Vietnam travel, visit our site.