Updated: 08/22/2019
As one of the most beautiful and most attractive city, Da Lat (Đà Lạt) is called The Little Paris Of Vietnam and The City Of Flower. Visitors and tourists choose Da Lat to be their must-visit destination because of the peaceful atmosphere, charming places, and romantic attractions. Da Lat houses thousands of species of beautiful flowers. Dalat Flower Festival is a famous traditional event that is held annually. In this article, I would like to give you the complete guide if you want to visit Dalat Flower Festival in Dalat.
The Basic Information About Dalat Flower Festival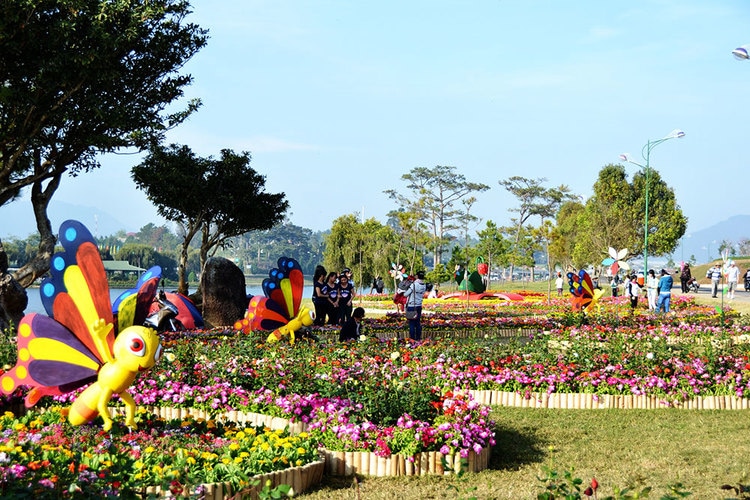 Located at 1500 m above the sea level, Da Lat is beautiful with the immerse pine forest, mild climate, blossoming flowers, etc. Visiting Dalat Flower Festival, tourists and visitors are astonished at the colorful flowers and great nature. Thanks to the cool weather, flowers in Dalat blossom all year around.
Flowers in Da Lat are supplied for many parts of Vietnam and exported to other countries in the world. Da Lat City has 30 companies and over 5000 families planting and selling flowers. In this city, you can find many kinds of flowers such as Mimosa, Rose, Carnation, Forget Me Not, Gladiolus, Pensee, Purple Flamboyant, Snapdragon, Orchid, etc,…
Dalat Flower Festival is held to honor the value of flowers in Da Lat and the farmer, which are the potential and position of growing flowers. That contributes to the socio-economic development of Lam Dong (Lâm Đồng) province and Da Lat City.
In this festival, exhibitions on thousands of flowers are showcased locally, in neighboring countries and in many regions nationwide. The Dalat Flower Festival in Da Lat attracts a huge investment. On this occasion, Da Lat is decorated brightly with colorful flower and lights. Hundreds of beautiful flowers, miniature landscapes, and ornamental plants are arranged around main streets and attraction points including Prenn Falls, Xuan Huong (Xuân Hương) Lake, and Le Dai Hanh ( Lê Đại Hành) Flower Street.
When Is The Dalat Flower Festival Held?
Dalat Flower Festival is held generally in December and lasts for 5 days. Each year, the festival has different themes. The first Dalat Flower Festival was celebrated on 10th  to 18th  December 2005. It is an exclusive tourist product that appeals to a large number of domestic people and foreign tourists. As an impressive successful event, Dalat Flower Festival has many stunning performances including art programs, 160 kinds of flower floats and bright fireworks display.
Amazing Features Of Dalat Flower Festival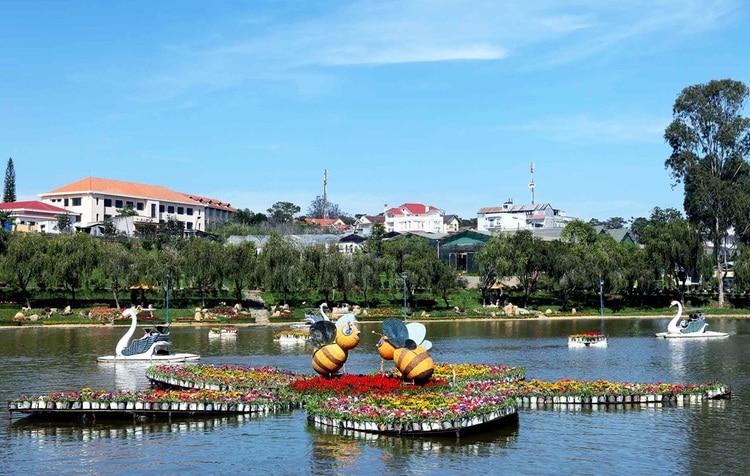 Dalat Flower Festival is one of the most famous and biggest festivals in Lam Dong Province. To organize and celebrate this important flower festival in Vietnam, there is the participation of many unprofessional and professional artists. The festival has the opening ceremony, many interesting programs such as flower car march, flower exhibition fair, a contest of Dalat farmers and trade fair, and closing ceremony. Programs of Flower Festival in Da Lat have a variety of content and many interesting activities, depending on each period. That will appeal to participants and tourists. There are exhibitions on mementos of Da Lat City, costumes of Central Highland local peoples, brocade art festivals, Carnival, laser light performances, dance music, artistic fireworks. If the Flower Festival in Da Lat is held at Christmas-Eve Festival, many fun entertainments and fascinating activities like loving dances, Christmas tree decoration, getting gifts from Santa Claus, perfect couples, etc.
Read also:
Dalat Flower Festival in Da Lat, Vietnam is a great opportunity for flower lovers, local people, festival participants and tourists across the world to meet and interact with each other. Visiting Dalat Flower Festival in Da Lat, you will be astonished at the wonderful and unique flowers. Let's plan your trip to Da Lat and enjoy your time in Dalat Flower Festival. I guarantee that you won't regret. I hope that you will find useful information in this article. Any questions can be left in the comment section and we will answer them as soon as we can. On our website Vina.com, there are informative and detailed articles about Vietnam's attractions and activities. You should read more if you are interested.