Running along with the S shaped land of Vietnam, I suddenly set foot on Ba Ria-Vung Tau and was allured by the beauty of a sheep pasture. Suoi Nghe sheep pasture in Vung Tau is considered the most beautiful and rustic grassland for tourists to come here and experience local people's life. 
I have heard that every landscape photo through your lens becomes fascinating and arouses a feeling of tranquillity and amazement. There is somewhere in the world, something to see and capture a shot of this wonderful land where I fall in love with rustic and everyday scenery. Trips to promising land urge my mind, curiosity and adventurousness to experience and find peace for the soul. I made a plan to Ba Ria-Vung Tau to satisfy my internal child with photography and discovery. Spending my holiday on Suoi Nghe sheep pasture in Vung Tau brings strange emotions which appear like imaging pictures of sheep grassland in Southern Vietnam.
Someone once said: "There is an eternal landscape, geography of the soul; we search for its outlines all our lives". Suoi Nghe sheep pasture is not an exception. If you ever set foot on this land in the previous years, you saw it was a wild land in dry season heat yearly. It comes as a surprise to you that Suoi Nghe has been in a period of great change in appearance. Thanks to households' raising sheep in this grassland, the sheep pasture suddenly becomes a favourite destination for tourists, especially young people to catch awesome pictures, also enjoy a peaceful life here.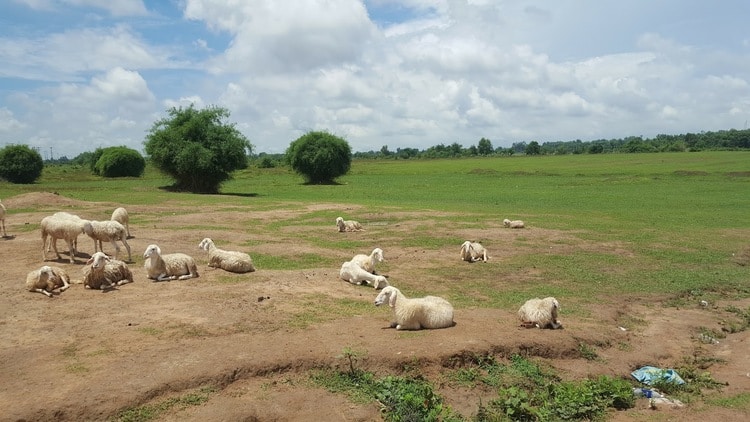 About 70km away from Saigon, this pasture is located on Phuoc Tan-Hoi Bai street, across Suoi Nghe commune, Chau Duc district. Initially, Suoi Nghe sheep pasture was a sheep pasture to serve local people's livestock. However, tourists, including young people, foreigners and even married couples, often drop by and take photos; residents here plan to open services for tourists. Especially to attract more visitors and have impressive points for the pasture, the local people bought horses living along with sheep to make pictures remarkable and lively. People coming to this pasture have to pay a small fee for photography. Hence, Suoi Nghe sheep pasture tourist attraction was built in sudden.
Roaming up the sheep pasture here makes me so impressed; it sounds perfect for taking a break from the increasingly noisy life. As its name – the sheep pasture, the first incredibly interesting is the picture of sheep. Some small herds of sheep are raised in the field. The number of sheep is about hundreds of both adult and young sheep. In Vietnam, sheep are not as popular as other animals; therefore, it is such a little opportunity to oversee and touch sheep with soft and thick fur. As for a person with endless trips, the landscape in this sheep pasture is immensely alluring to me. The scenery is indeed a field – looking barren in the dry season and grassy in the wet season. Mountains create a charming and tranquil landscape. Sheep with white and soft furs calmly and unhurriedly graze green grass. In particular, horses make the scene more rustic and plain for Suoi Nghe sheep pasture.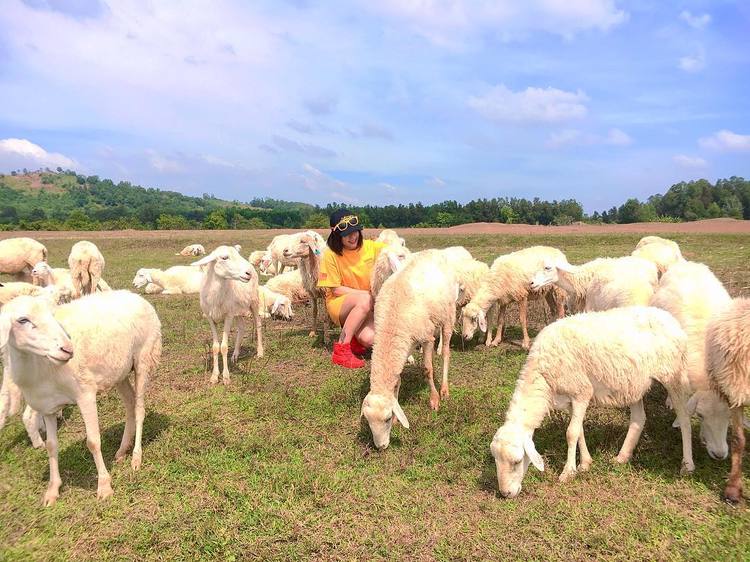 Something is wandering in my mind; I wonder whether Suoi Nghe sheep pasture is the cause of my euphoria; because this place brings me a feeling of excitement and happiness. The answer is probably the pastoral scenery appearing like a picture of Western view in Vietnam. It is such as a sense of tranquillity that partly uplifts my soul to have a getaway from the stressful city. Actually, of destinations in Vung Tau, Suoi Nghe sheep pasture is considered one of the lovely places to bring great experiences. Sheep in this pasture is renowned for gentleness, friendliness and adorability. When getting to this place, you can also touch these sheep, play with them and even hold baby sheep in your arms.
Interestingly, I fed the sheep by corn which were prepared by the farmers. Or the locals often scatter peanuts around you, and the sheep will come close to you to eat. Admittedly, both two ways also bring unforgettable and fascinating experiences for tourists. Among the large field, the spacious atmosphere and friendly sheep, not few tourists feel immersed themselves in some considerable grassland not a pasture of Vietnam. Travelling and other adventure options are waiting for me, though, it is so hard to ignore the beautiful and peaceful place like this sheep pasture.  
However, there are some notes for tourists when you take a trip to this location. The photography fee is a range from 50.000 to 100.000 vnd. Mainly, you should ask the farmers to help you control the sheep to take beautiful pictures. Make sure that you do not run into the sheep and take photos, which makes the sheep run away. What is more? If you want to capture lively shots while the herd of sheep are eating, the great time is from 8 am-10 am and 3 pm- 4 pm.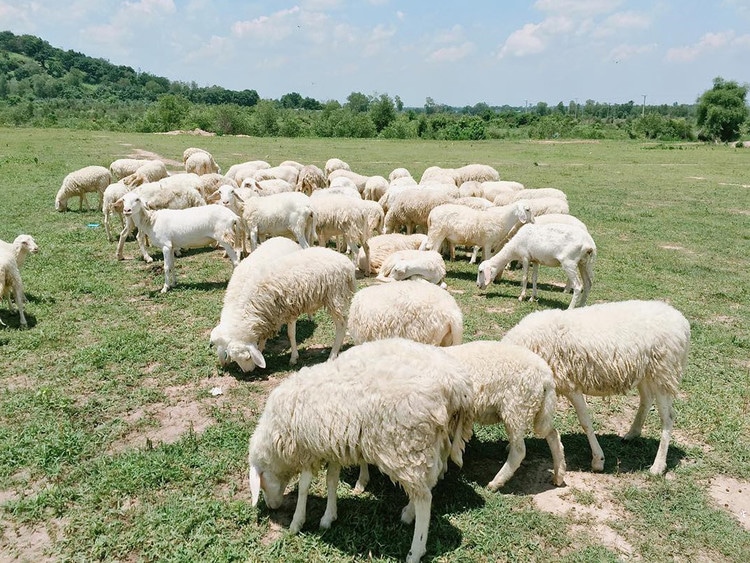 If you start the trip from Sai Gon, you should follow the route: Ho Chi Minh city centre- Thu Thien tunnel – Cai Lai ferry – Nhon Trach industrial zone, then you turn right the 51 national road, look on the left, and you will see Dai Tong Lam. When you come to Tan Thanh coach station, you will see two high blue buildings (Phu My town). About 10km, there is a three-way crossroad, you will turn right Chau Pha. Coming to the four-way intersection, you have to turn left. When you drive near the herd of sheep, you will see a stream; then you will see houses with the blue top, then turn right, you arrive Ms. Lien's herd of sheep.  
Seemingly, there is a steady breeze off the pasture blowing cool air and bringing something comfortable. Incredibly, it is so stunning for a person like me to admire the beauty of this pasture and immerse myself into its strange tranquillity.