First appeared in Phan Thiet, Vietnam – the land with year-round sunshine, wind, and sand, Red Wine Castle is hidden behind the fresh coconuts and luxury resorts with a large scale, European architectural features shown through ancient elegant arches, a soaring tower that offers a view towards Sea Link City's green space, etc. 
To get more details about Red Wine Castle – the European Palace in the heart of Phan Thiet City, check out this article on Vina.com!
I. Where Is Red Wine Castle? 
The beautiful wine castle, also known as the Western sky, is situated on a large area of 12,000 hectares, and belongs to the luxurious 5-star Sea Links resort. It is 6-7 km away from Phan Thiet city. With the inspiration from the Napa Valley in California, United States, Red Wine Castle was designed in typical style of ancient, noble castles. Indeed, all features and images that typically appear in European countries now display in this ancient Southeast Asian region.
Address: 706B Mui Ne, Phan Thiet city.
Opening hours: Monday to Thursday (7:30 to 16:30), from Friday to Sunday (7:30 to 19:30)
Tel: +84 62 371 9299
II. What Are Special Things Of Red Wine Castle?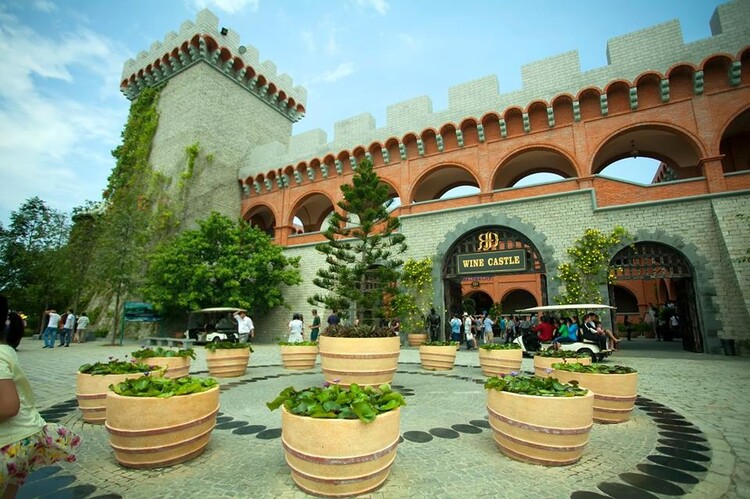 1. The Beauty Comes From Classic Architecture
From a distance, many people fall in love with the unique beauty of Red Wine castle. If having a chance to visit, right from the first steps into the castle, people will be surprised and overwhelmed by its shimmering, magnificent, massive beauty.
Each contour is in harmony with the overall beauty. The castle looks like a giant work of art, a masterpiece of architecture that was created by skilled craftsmen.
Red Wine Castle has an ancient architecture of Europe with a large square, an old but luxurious and gentle dome, a tower giving a panoramic view to Sea Link.
Visitors can take a tour along the corridors, where the inspiration of European Asian architecture meets each other. Entering the castle, you will have a chance to inhale the warm smell of alcohol and even feel overwhelmed by the image of wine everywhere.  
Each zone of the castle has different wall materials, and the vaulted doorway creates the classic sense.
From the outside of the castle, you will see the image of iconic farmers who grind the raisins on the Sand Hill, which acts as a reminder of the distant history of the Napa Valley region growing grapes and making wine. The grape varieties grown here are Cabernet Saugvinon, Syrah, Chardonnnay, etc. These types of grapefruit are found around the castle, introducing tourists about materials making up this valley's luxurious red wine.
There are 3 interconnected parades inside the castle surrounding a vast courtyard. This courtyard is the place Western patrician used to organize some outdoor wine parties.
Stepping into the castle, you will see a distinct area, including wine sampling room and wine storage cellar. This area is for showing and sampling wine and presented in a classical but still luxurious style.
A trip to Red Wine Castle will also allow you to witness the close wine production located deep underground. The wine here is produced in the moderate temperatures of 11-14 degrees Celsius. Of course, you will have a chance to taste some types of famous red wine originating from Napa Valley like Napa 55, 66, 77, 88, and 99.
Here, you can also join some interesting activities like visiting the coffee shop located on the rooftop of the castle, contemplating the panoramic view of Sea Links City Resort, or buy presents as well as souvenirs for friends and family.
With new recreational services, the castle has received a lot of attention from visitors. The campus located near the castle is the No. 3 golf hole – a perfect airy space of natural green lawn. 
2. The Architecture Inside Extremely Refined And Modern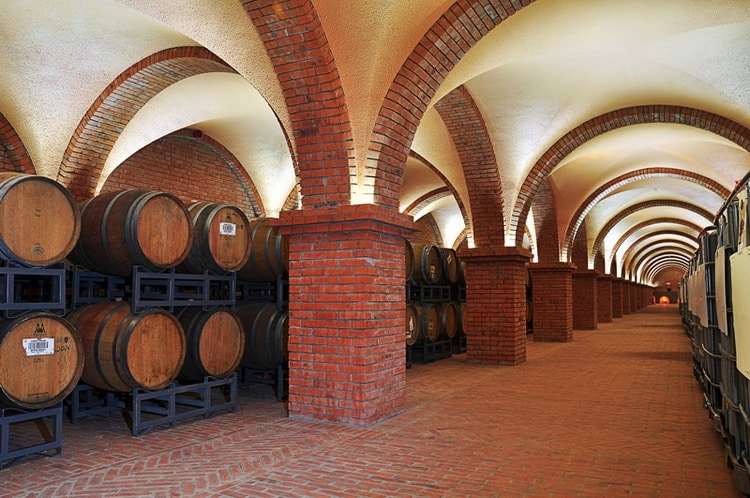 On weekends, there are many Vietnamese visitors and foreign delegations visiting this place. More than 20,000 bottles of wine were preserved along the walkway in the tunnel. Inside the tunnel, the temperature is 13-18oC so visitors going with little kids should bring coats to prevent getting cold. Light in the tunnel is also essential, in order to ensure the process of storing wine.
Being difficult to resist, the wine here, which is also known to infatuate people around the world, is imported genuinely from RD Winery in the US.
Red Wine Castle has 3 spaces which offer tourists lots of surprise and fun. From the outside, you will find the castle's lobby welcoming guests, and the exhibition area displaying old things, implying a distinct cultural meaning about the wine industry. Inside the tunnel, there is a wine tasting room that allows tourists to taste preserved wine professionally.
Here are the details of these 3 spaces:
Basement: Having wine originating from the Napa Valley of California and the exhibition of the bottled wine production line. 

Ground floor: The accommodating capacity is up to 150 people. There is an area for enjoying wine; Wine supermarkets along the 3 regions, catering to the needs of visitors and experience.

Rooftop: There are a historical Vietnam museum, a mini shopping area with many unique souvenir items helping you keep the memory of a memorable resort trip to Red Wine Castle, a garden featured Orchid flowers, and a bar & café that allows you to enjoy the scenery and relax. 
III. How To Get To Red Wine Castle? 
From Phan Thiet to Mui Ne toward the roundabout, you turn right into the road 76B. Keep going for about 1km, you will see an imposing castle on sand dunes looking towards the sea.
IV. Tickets For Red Wine Castle In Phan Thiet
Visiting the red wine castle: 100,000 VND/person/round (get 1 glass of wine).

Trying wine: 100,000 VND/person/round (try 5 wines).

Visiting and trying the wine: 200,000 USD/person/round (try 5 wine glasses).
Inside, there will be an introduction to the wine cellar as well as process and production of making wine. Since the temperature of wine making and storing tunnel is low, so you must remember to bring your jacket. After enjoying wine, if you want to buy it as a gift, just simply go to the second floor and get some guidance for choosing suitable wines.
V. Extra Tips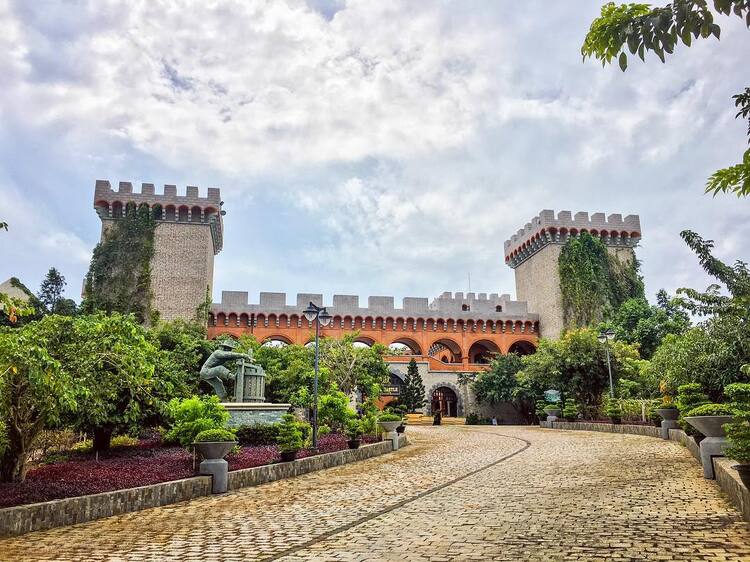 Wine tasting is only applicable for guests aged 18 and over.

Children under the age of 18 will choose another type of drinks instead of wines.
Red Wine Castle in the coastal city of Phan Thiet – Mui Ne brings visitors new and different experiences and becomes a prominent tourist destination when it comes to Phat Thiet tourism. After moments of cool bathing, walking on soft sand, you have no reason to not take a look at the castle wine in order to enjoy delicious wines and explore the "unique" castle in the land of Binh Thuan.
Also read:
Explore Wild and Beautiful Ke Ga Cape in Binh Thuan, Vietnam
Ta Cu Mountain – A Sacred Place in Mui Ne, Binh Thuan, Vietnam
The wine castle promises to bring you and your family comfortable moments thanks to professional services here. Wish you have a fun trip! If you have any questions, please leave a comment, we will reply as soon as possible.
By Van Tran