Updated: 11/14/2019
If you are planning to travel to Vietnam (Việt Nam), do not ever skip visiting Binh Thuan province (tỉnh Bình Thuận) This is home to many beautiful attractions in Vietnam, namely Mui Ne, Phan Thiet. However, if Phan Thiet (Phan Thiết) is renowned for its white sand beaches, Ke Ga Cape (also known as Mũi Kê Gà) attracts tourists by its exotic stones arranged in the shape that arouse the curiosity of tourists.
Ke Ga Cape is a small island which is about 500 meters from the mainland. It is commonly known as Hon Ba (Hòn Bà). This island has an area of 5 hectares with hundreds of yellow granite clusters and hundred-year-old Frangipanes. About 180 km from Saigon, Ke Ga Cape is considered an attractive tourist destination of many Vietnamese and foreigners. This promontory shaped chicken head is famous for its cool blue sea, mountains covered with white sand, thereby creating beautiful undulating spots.
If you are planning to visit Ke Ga Cape, do not miss the article below. It will help you fully explore this destination and have unique experiences.
What Is The Best Time To Visit Ke Ga Cape?
You can go to Ke Ga Cape every month of the year. The climate is windy, sunny and less stormy. However, the best time to visit Ke Ga Cape is in June and July.
You should not go to this place in August because Ke Ga Cape will often appear heavy rain in August.
How To Get To Ke Ga Cape?
Ke Ga Cape is in Ham Thuan (Hàm Thuận) district of Binh Thuan province. If you travel from Mui Ne (Mũi Né) you will spend about half an hour to get to Phan Thiet City, and about another one and a half hour to go from Phan Thiet to get to Ke Ga Cape. You will be extremely excited at driving across the road, of which one side is mountain, and the other is the sea and a series of luxury resorts. You can get there by motorbike, coach, and train.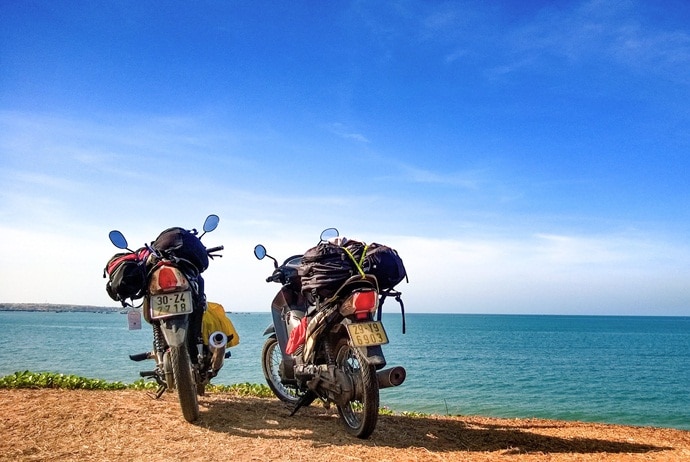 Source: chotot
Traveling to Ke Ga Cape by motorbike is one of the easiest and most enjoyable ways for travelers. You can choose one of the following routes:
Follow the direction of National Highway 1 to Phan Thiet, go to Song Phan (Sông Phan) charging station (Binh Thuan), turn right at the small junction, go straight to Nhum stream (suối Nhum), and turn right towards Ke Ga Cape. This way is easy to follow and most close to the Ke Ga Cape)
Depart from Ho Chi Minh City, follow National Highway 51 in the direction of Ba Ria – Vung Tau Ba Ria – Vung Tau (Bà Rịa – Vũng Tàu), then turn left along the Highway 55 towards Binh Chau (Bình Châu) and Phan Thiet. After that, go straight to Ke Ga Cape.
This is the safest and fastest way for you to travel from Ho Chi Minh City to Ke Ga Cape. You can book train tickets from Saigon Station to go to Phan Thiet. The train will stop at Muong Man station or Phan Thiet railway station. The total time is 4 hours. Then, you can take a taxi to move to Ke Ga Cape.
You can buy coach tickets from Ho Chi Minh City to Phan Thiet, then go to Cat Stream (suối Cát) (Phan Thiet) and take the bus to Ham Tan (bus no.06 to Ke Ga Cape) or take a taxi to Ke Ga Cape. It is about 35 kilometers to go from Phan Thiet to Ham Tan (Hàm Tân).
Where To Stay In Ke Ga Cape?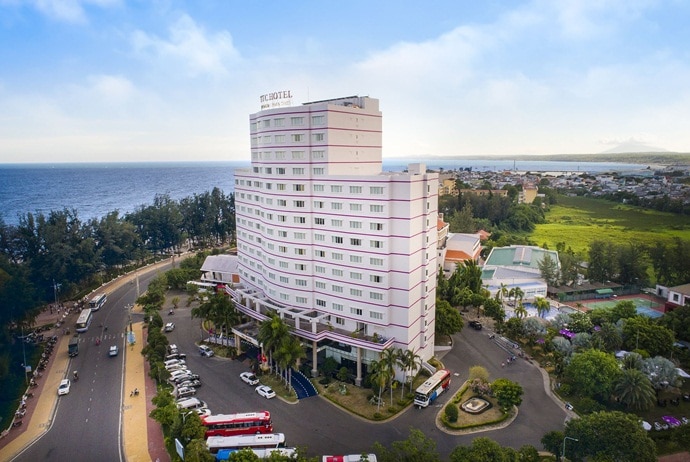 Source: phanthiet.ttchotels
Ke Ga Cape is a popular tourist destination, so there are many resorts, motels and hotels. However, to avoid financial and safety issues, you should book a room before commencing the journey. A booking experience in Ke Ga Cape is to book online on reputable sites like Agoda or Booking. Here are some cheap hotels, motels with full facilities. They are also convenient for your travel in Ke Ga Cape:
Lara Homestay – Hamlet 1, Go Dinh (Gò Đình), Thanh Phong, Tan Thuan (Tân Thuận), Ham Thuan Nam (Hàm Thuận Nam) District, Ke Ga Cape, Phan Thiet – Price from 23.81 USD

Ba That (Ba Thật) Hotel – 25 Thong Nhat (Thống Nhất) Street, Phuoc Hoi (Phước Hội) Ward , La Gi Town, Ke Ga Cape, Phan Thiet, Binh Thuan – Price from 14.73 USD

Kim Sang Guesthouse – 41 Thong Nhat (Thống Nhất) Street, Lagi Town, Ke Ga Cape, Phan Thiet – Price from 9.92 USD

Peaceful Resort – Tan Thanh (Tân Thành) Ward, Ham Thuan Nam District, Ke Ga Cape, Phan Thiet, Bình Thuan – Price from 47.45 USD

Dat Lanh (Đất Lành) Resort – Tan Tien (Tân Tiến) Ward, La Gi Town, Ke Ga Cape, Phan Thiet – Price from 39.00 USD

Bau Mai Apricot Resort – Tan Thanh Ward, Ham Thuan Nam District, Ke Ga Cape, Phan Thiet – Price from 33.34 USD
If you want to experience the feeling of being in harmony with nature, you can set up a tent near the beach to enjoy the beautiful morning sunrise. If you do not want to stay in Ke Ga Cape then you can return to Phan Thiet since there are many hotels priced from 200.000 to 1 million VND depending on the quality and service.
Also read: 16 Best Things To Do In Phan Thiet – Mui Ne, Vietnam For Tourists
What To Do In Ke Ga Cape?
Ke Ga Cape is a new tourist area with strict investment. This small island has been turned into an isolated island surrounded by blue sea due to the tides. When the tides recede, there is a strip of sand revealed which connects the mainland with Ke Ga Cape.
During your trip to Ke Ga Cape, you will be able to witness majestic beauty of the nature. After reaching the beach, you will feel the sea's salty taste and pure air. Ke Ga Cape is considered as one of the most beautiful attractions in Phan Thiet.
That is why the sea strip in this area is very clean and the nature does not suffer from fierce human intervention so you will surely feel very relaxed during your trip here.
Here are some attractions and things to do in Ke Ga Cape:
Visit Ke Ga Lighthouse (Hải Đăng Kê Gà)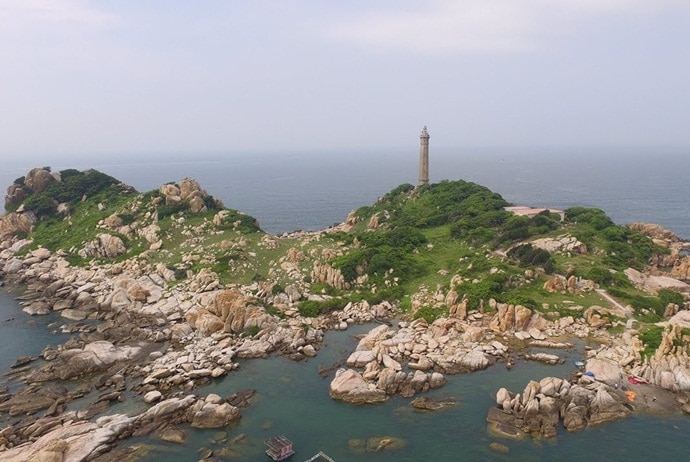 Source: letsgomuine
Ke Ga Lighthouse is located on a small island which is close to the coast. This is the oldest lighthouse in Southeast Asia built by the French. It was completed in 1899 and has enchanting architectural beauty along with 183 spiral staircases. Indeed, Ke Ga lighthouse is considered the highest and oldest lighthouse of Vietnam as well as Southeast Asia. All materials for building this lighthouse were imported from France, such as the large marble slabs in the entrance.
To get there, you have to rent a small boat and life jackets. At first, you may think that the distance from the coast to the lighthouse is very close, but the boat ride to Ke Ga lighthouse is not easy at all. There are many cliffs here, so the boatman must be professional and familiar with the terrain to be able to easily reach Ke Ga Lighthouse. Sitting on the boat is unbelievably fun, as you can touch the sea and see the impressive nature here. Travelers can walk along the trail from the lighthouse to the cape.
Despite Ke Ga lighthouse is no longer working due to the presence of modern marine locating equipment, this is still an interesting site with unique architecture existing for over 120 years.
Once the boat has landed on the island, you will see a wonderful landscape. There are many small and big white rocks on Ke Ga Cape. You can enjoy bathing, swimming near the seashore or wandering along the beach to capture beautiful moments.
In addition to the natural beauty, Ke Ga Cape also offers visitors the opportunity to experience some interesting activities and destinations: morning seafood market, fishing on the sea, catching crab at night, and watching the sunset from the mountain's peak, etc.
What To Eat In Ke Ga Cape?
Ke Ga Cape is famous for its great but cheap seafood. You can buy seafood from the fishing village, rent some equipment and fresh water for processing, and have a party at the beach. You can also buy some fresh seafood from the fishermen while attending seafood markets early in the early morning.
Ke Ga Cape is home to many fruits such as dragon fruit and coconut, so you can buy them in the market or even in the fruit garden.
The above is detailed information and tips on Ke Ga Cape tourism that helps you have the safest and most economical travel. Hopefully, you and your family will have a pleasant and fun trip in Phan Thiet – Mui Ne, Vietnam in general, and Ke Ga Cape, in particular.