Vietnamese beef noodle soup (Pho Bo) is a traditional dish of Vietnam, and it can be considered one of the best representatives for Vietnam Food Art. There are many types of Vietnam noodle soups (Vietnam Pho), such as chicken noodle soup, shrimp noodle soup, pork noodle soup…but the beef noodle soup is the best and most popular version of this dish. It was listed on the list of the best street foods and the best soups in the world by prestigious magazines and chef cooks. The main ingredients of this dish include fresh noodle (Pho) and broth with sliced chicken or beef. Besides, chili sauce, ground pepper, lime, fish sauce, fresh chili…are also served together with this dish. These spices will be added to the soup according to the taste of eaters. Vietnamese beef noodle soup is often served as a tasty and nutritious breakfast or midnight meal, and in big cities in Vietnam, people even eat this dish as any meal of the day. Beef noodle soup is often served with raw herbs, such as scallions, bean sprouts, coriander, basil…in Vietnam's South provinces.
Beef noodle soup is actually a pride of Hanoi – the capital Vietnam although it is now served in every region throughout the country. The recipe of Hanoians is always the best, and the process is always a big secret that not many people know exactly but just the vendors. The sweetness and freshness of this soup will wake your taste bud up within no time! If you really love Vietnam food art and want to try this famous traditional dish but still not have chance to travel to this beautiful land, keep reading the recipe below as it will guide you step by step on how to make Vietnamese beef noodle soup at home with details. After just a short time period, you will have the "best soup of the world" right in front of your eyes and nose. This will also amaze your friends and family!
Vietnamese Beef Noodle Soup Recipe
Now is time for you to check out how to make Vietnamese beef noodle soup at home:
Ingredients


















Wash the cow bone and cow's tale well with salt and clean water for 3 times. Keep the shape of the beef. Soak cow bone, cow's tale, and beef in diluted water within 2 hours to remove all dirt and excess fat from the inside out, as well as to eliminate the bad smell of these ingredients. This will also help to "soften" the beef.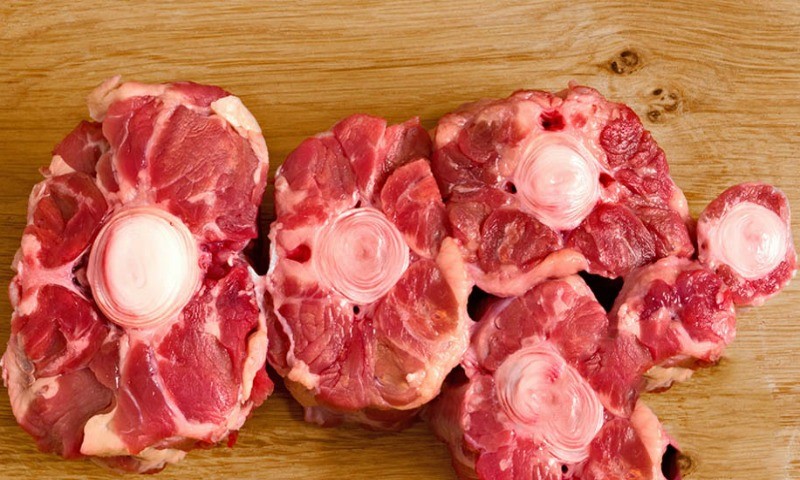 During the waiting time, prepare other ingredients:
Grill large onion, shallots, ginger, and sugar cane (keep the peels). You can use oven or microwave to grill. After that, peel off ginger, shallots, and onions. Wash all ingredients once again. Cut large onion into 2 or 4 pieces. Press or slice the ginger.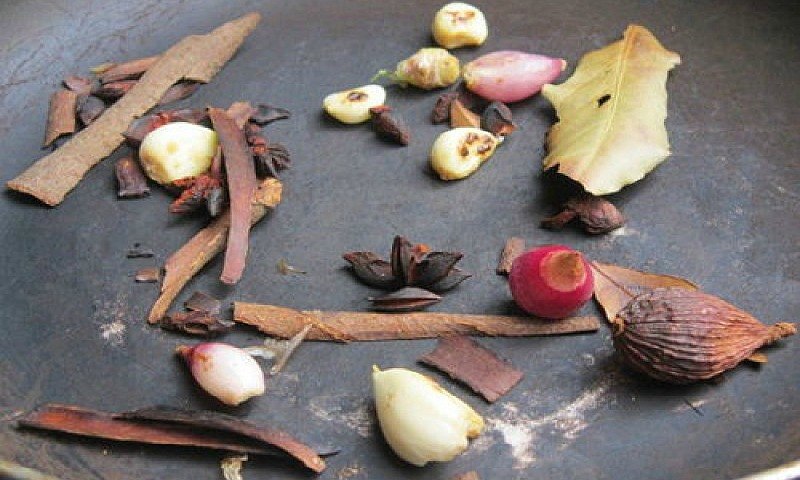 Clean the coriander roots (if available)
Over medium heat, roast coriander seeds, cardamom, cinnamon, and anise on a small pan till fragrant. Put all of these ingredients into a small cloth bag and tie the bag carefully.
Take the bone, tale, and beef out and wash them carefully again. Put all of these ingredients into a large pot and bring to a boil over high heat. When the broth is boiling, reduce the heat and keep boiling for 2 minutes. Remove this first – time broth and wash all ingredients again (this would be the last rinsing time or you can repeat one more time if needed to remove all dirt of the bone and beef).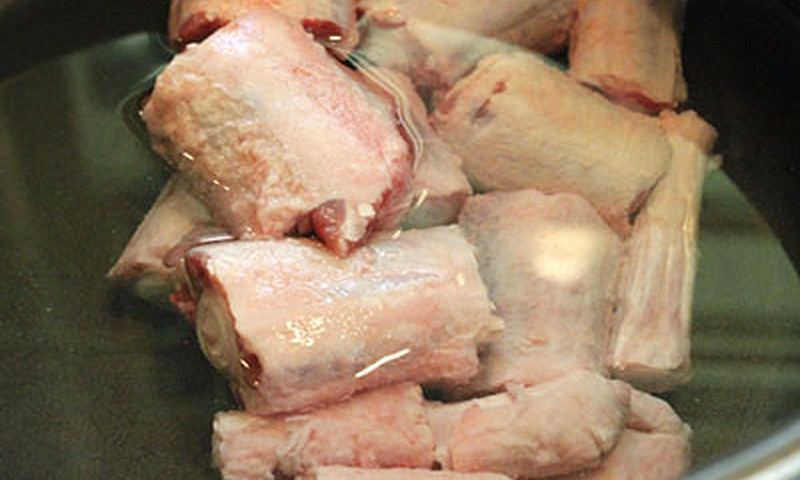 Put cow's tale, cow bone, and beef back into the pot, add more 5 serving bowls of cold water. Over high heat, bring the pot to a boil. Remember to skim the broth if needed. Add grilled onion, shallots, ginger, coriander roots, and the cloth bag of roasted coriander seeds, cardamom, cinnamon, and anise into the broth pot. Add salt to taste according to your own taste. Do not add fish sauce on this step as it will make the broth sour.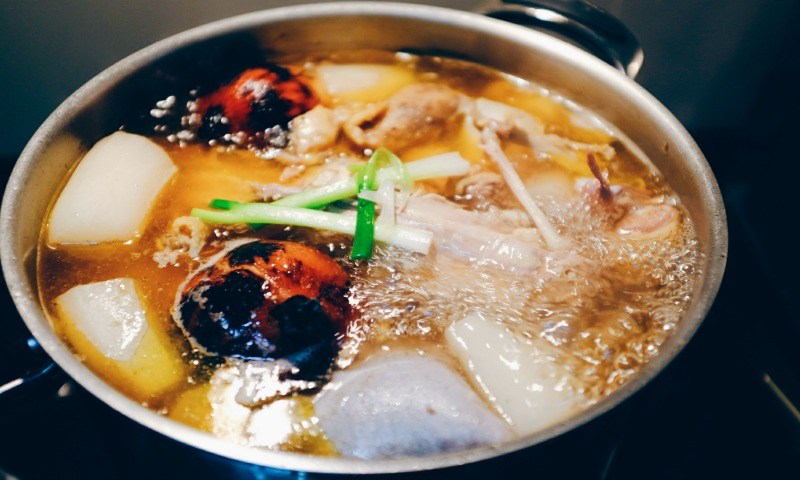 Over low heat, simmer the ingredients in about 1.5 to 2 hours (a pressure cooker will help you save time). You can also add more water if needed.
Remember to take the beef out when it is cooked. Avoid keeping it in the pot for too long as it can get too soft. After take the beef out, soak it in a bowl of cold water, and then cut it into thin slices.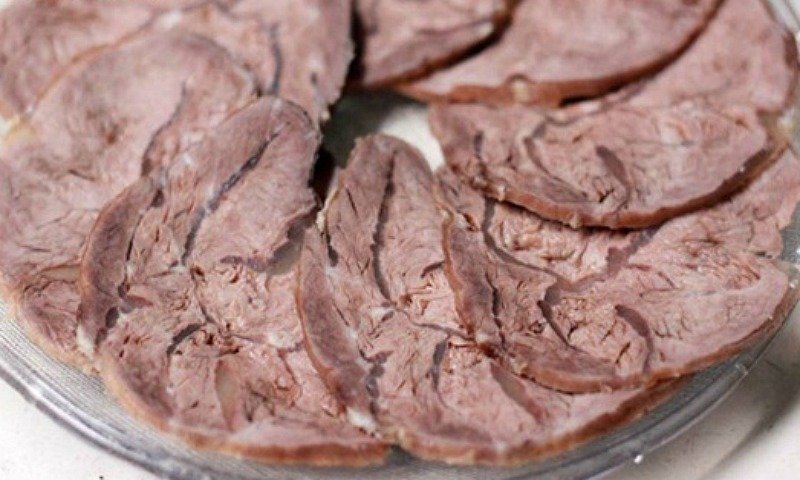 After the tale gets very soft, add more salt if needed according to your own taste.
Arrange fresh noodle, beef slices and raw herbs on top in a large serving bowl. You can chop the raw herbs or keep their shape when serving. Pour boiling broth over the ingredients. Add fish sauce, lime, fresh chili, or chili sauce to taste if you want. Enjoy the dish when it is still very hot.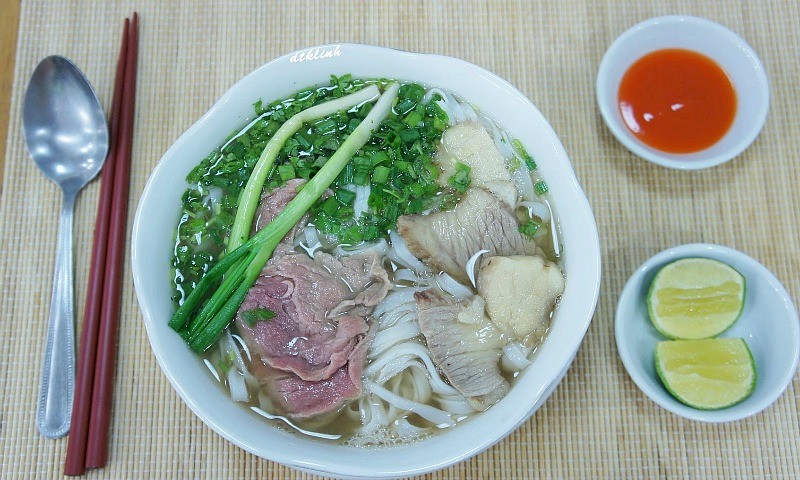 Requirements:
The broth needs to be very fresh, clear, and smells fragrant. The beef and tale flesh are not too soft and taste fresh. You can also serve this dish with rare beef and half-cooked egg.
Conclusion:
Vietnamese beef noodle soup is a huge pride of Vietnam. It represents Vietnamese cuisine and is even considered an emblem of the Vietnam's food elite. Many foreign tourists coming to Vietnam said that the very first dish they want to taste when arriving this land is Vietnamese noodle soup, especially the beef noodle soup in Hanoi. What are you waiting for? Try Vietnamese beef noodle soup recipe and enjoy the "emblem of the Vietnam's food elite" right at the comfort of your own home with family and friends!