Updated: 08/25/2019
Phu Quy Island (Đảo Phú Quý), which has not been exploited much, is an attractive destination in Binh Thuan (Bình Thuận) province. Being a wildlife destination, this island is highly attractive to young people, especially nature lovers.
Phu Quy Island is a new tourist destination in Binh Thuan, so the information related to tours in Phu Quy is not much. However, if you have put Phu Quy Island into your travel checklist, then this article will help you plan a meaningful trip carefully. Let's check it out!
Where Is Phu Quy Island Located?
Phu Quy Island is about 56 nautical miles from Phan Thiet City center, Binh Thuan Province. The island is also known as Thu Island (Cù Lao Thu) or Khoai Xu Island (Cù Lao Khoai Xứ), which has an area of nearly 16.4 km².
What Is The Best Time To Visit Phu Quy Island?
It is highly recommended to visit Phu Quy Island in summer thanks to cool weather, blue sky, beautiful sunshine, and fresh air. The waves here are not so big; therefore, you will not get tired during your trip. However, don't visit Phu Quy Island in October because there are so much large waves in the sea at this time, which are not safe for tourism.
June is the beginning month of storm season in Vietnam, but storms often affect Northern provinces only, and hardly affect Binh Thuan province, so you could plan a trip to Phu Quy Island in this month.
To have the best traveling experiences in Phu Quy Island, you had better spend about 3 days and 2 nights on exploring it. Two first days are ideal for visiting interesting sites in the island while the last day is for boarding a ship and returning to the city.
How To Get To Phu Quy Island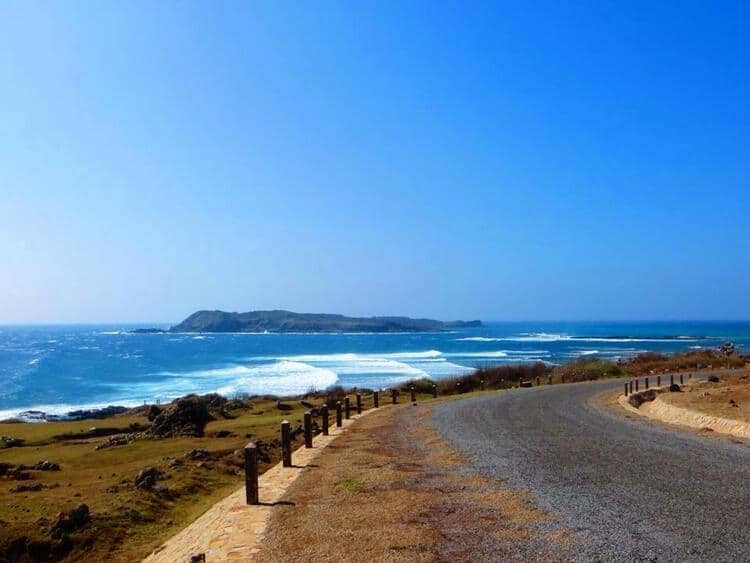 From Ho Chi Minh City, to get to Phu Quy Island, you need to buy a coach or train ticket to move to Phan Thiet (Phan Thiết), and then take the ship to get to the island.
If you take the coach, you can book ticket at one of following coaches:
Phuong Trang Coach: Tel: 1900 6067.

Kumho Samco Coach: Tel: (08) 3511 6861 or (08) 35121212 (depart from Ho Chi Minh City), (062) 38.34.000 or 220 0620 (depart from Phan Thiet City).
If you want to travel by train, you have two choices:
Buy train tickets to get to Phan Thiet City. There is an SPT train departing at 6:50 a.m. every day. The PT fast train only departs at 5 p.m. on Friday, Saturday, and Sunday, following the route from Ho Chi Minh City to Phan Thiet.

Buy train tickets SE or TN to Binh Thuan Bus Station. This train station is 12km west of Phan Thiet. From here, you can take taxi or bus to Phan Thiet City.
From Hanoi, you can go by train or high-quality coach to go to Phan Thiet City. Nevertheless, since the distance is quite far (about 1500km), most visitors in Hanoi often fly to Saigon then go to Phan Thiet by train or coach. Alternatively, tourists can also fly from Hanoi to Cam Ranh Airport (Sân Bay Cam Ranh) in Nha Trang city before continuing their journey to Phan Thiet with a high-quality coach.
After arriving in Phan Thiet City, you can take a taxi to Phan Thiet Pier (Cảng Phan Thiết) and then get on a ship to go to Phu Quy Island.
To book a ship ticket to Phu Quy Island, you can choose one of the following options:
Binh Thuan 16 Ship (Tel: 0907559410)

Phu Quy 7 Ship (Tel: 0914430060)

Binh Thuan 18 Ship (Tel: 0908128110 – 0913172333)
Ships usually depart from the pier at 8 a.m. and 11 a.m. all days of the week.
Note: If the weather is bad, the ship will not go to the island. Hence, before departing, you should contact the pier office in advance to know the ship schedule.
To travel on Phu Quy Island covering an area of 16,4km², you can rent a motorbike at most hotels or motels of for about 100.000VND per day. Although Phu Quy Island is small and unspoiled, and traffic police are not available on the roads like in other cities of Vietnam, local people still strictly obeyed the traffic law. Remember to wear a helmet while driving on this island.
Accomodation In Phu Quy Island
Because Phu Quy Island is a wild and undeveloped tourist destination, there are not many hotels and motels. But most of them are clean and well-equipped, ensuring the most comfortable accommodation for tourists.
Some motels that you can choose from are:
Minh Tan Motel (Nhà nghỉ Minh Tân): room price is 120.000VND / room with fan and 180.000VND / room with air conditioning. Contact: 0933006860 (Ms. Hanh).

Long Vi Motel (Nhà nghỉ Long Vĩ): It is beautifully located. You can camp, campfire, squid fishing, and sea walks here. Contact: 0623509509 – 0918680344 120.

Phuong Tien Motel (Nhà nghỉ PhượngTiến) and guesthouses near the pier.
Due to small area and crowded tourists, you should book a room beforehand to avoid running out of the room.
What To Eat In Phu Quy Island?
When traveling to Phu Quy Island or any other seaside towns in Vietnam, don't miss enjoying seafood. In the morning, you can have breakfast in Tam Thanh, Dong Hai (Đông Hải), Long Hai (Long Hải), or Ngu Phung (Ngũ Phụng) Fishing Village. In the afternoon, you should go to the pier to buy fresh seafood which is sold at a relatively low price. If you do not have cooking utensils, ask the fisherman for help.
In the evening, you can enjoy coffee or go to the seaside to feel the fresh air of the island or walk through the night market to taste some local dishes such as Banh Can (Bánh Căn), Banh Xeo (Bánh Xèo), and Banh Canh (Bánh Canh).
Especially, a trip to Phu Quy Island cannot be complete without enjoying the famous moon crab. This crab is very fragrant and delicious, especially on the moonrise. You should eat this dish with salt and pepper to enjoy its full flavor.
Since there are many food outlets, grocery stores, fruit shops, and cafes at very affordable prices, so you do not need to carry a lot of supplies from the mainland to the island.
What Are Attractions In Phu Quy Island?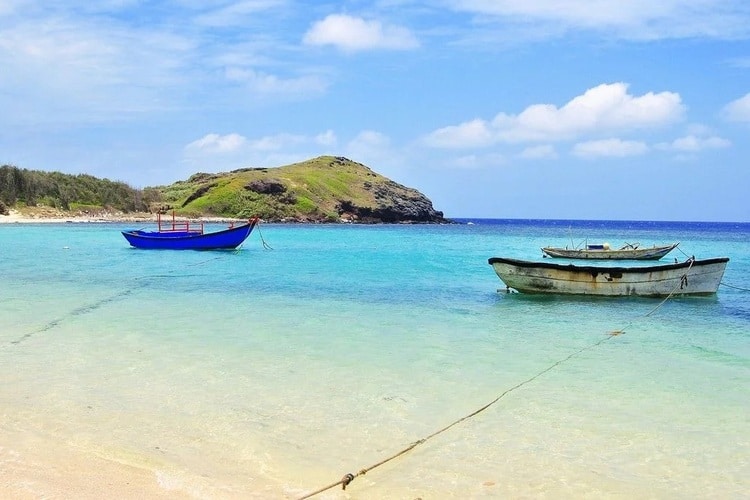 Not only does Phu Quy attract tourists by many beautiful beaches with clear waters, but it also has many scenic spots and temples:
Trieu Duong Bay (Vịnh Triều Dương)
This bay is a popular tourist destination for many locals and visitors. With its flat and wide sandy beaches, clear blue water, and poplar forests, this place is perfect for picnicking.
Nho Beach – Ganh Hang (Bãi Nhỏ – Gành Hang)
Nho Beach is one of the most beautiful ones in Phu Quy. This crescent-shaped beach is limited by the rocks that protrude the sea. Sandy beach here is small but very clean and quiet. The water is blue and the air is fresh. There are not many boats anchored here, so it is an ideal place for any visitor who wants to be in harmony with nature.
Linh Quang Pagoda (Chùa Linh Quang)
It is a national historical monument and located on a high hill in My Khe Hamlet (Thôn Mỹ Khê), Tam Thanh Commune (Xã Tam Thanh). This temple was built in the 8th Canh Hung Period (Thời Cảnh Hưng), which means that it has been over 250 years old until now.
Van An Thanh (Vạn An Thạnh)
It is located on a white sand beach next to Trieu Duong (Triều Dương) Village's beach, Tam Thanh Commune, Phu Quy District. At present, Van An Thanh stores nearly 100 skeletons of whales and leatherbacks, making it an oceanographic museum with extensive collections of whales.
Tomb Of Thay Phan (Dinh Mộ Thầy Nại)
It was built in the 17th century and is considered the moral support of the inhabitants of local fishermen.
Phu Quy Lighthouse (HảiĐăngPhúQuý)
This lighthouse is located on top of Cam Mountain (Núi Cấm), Ngu Phung Commune (Xã Ngũ Phụng). With an altitude of 108m above the sea level and about 3km west of the port, Phu Quy Lighthouse is one of the largest lighthouses in Vietnam.
Phu Quy Lighthouse is 18m in high. The light has a range of 22 knots, and the coordinates of the light is 10 degrees 32'05 " north latitude and 108 degrees 55'07 " East longitude.
This lighthouse was built to help ships determine their position. It also has an important purpose of determining the sovereignty of Vietnam's sea border.
To get to the lighthouse, visitors have to walk and climb the mountain with more than 120 stone steps along the mountainside. It is said that the lighthouse is an ideal place to witness charming landscape of Phu Quy Island.
Linh Son Pagoda – Cao Cat Mountain (Chùa Linh Sơn – Núi Cao Cát)
Cao Cat Mountain is located in the north of Phu Quy Island and has sacred meaning with to the Islanders. Looking at the top of the mountain, you can easily see the majestic statue of Buddha Guan Yin. Standing from the top of Cao Cat, visitors can cover the whole panorama of the island.
Admire The Giant Wind Fans
They were built to create electricity for islanders. On the island, there are three wind fans, and each is 60m in high and 37m in long. From the lighthouse and the summit of Linh Son Pagoda, you can easily see them. Especially, the road leading to these fans is very beautiful with sea on one side is the sea and poplar trees on the other.
Linh Buu Pagoda (Chùa Linh Bửu)
Linh Buu Pagoda is located in 1 Village (Thôn 1) of Ngu Phung Commune (Xã Ngũ Phụng). It is built by venerable Thich Tu Hue Buddhist Monk and Buddhists in 1971. After many times of construction and renovation, the pagoda is now very beautiful and solid. Because Linh Buu Pagoda is very sacred and silent, tourists should wear long clothes and not make noise upon visiting the pagoda.
Thanh Lam Pagoda (Chùa Thạnh Lâm)
Located in Ngu Phung Commune (Xã Ngũ Phụng), Phu Quy District (Huyện Phú Quý) Thanh Lam Pagoda was built in the late 18th century. At the pagoda also preserve over 30 ancient Buddha images with many materials such as copper, wood, and terracotta.
The architectural complex of Thanh Lam Pagoda is made up of many large-scale items intermingled with ancient and modern architecture. Come to Thanh Lam Pagoda, besides sightseeing, visitors can also contemplate a large Buddhist architecture, including the seven-storeyed tower and bronze bell weighing 1.2 tons. They are considered the largest and most beautiful architecture pieces and artifacts at present in Binh Thuan province.
In addition to the aforementioned attractions, Tranh Island (Hòn Tranh), Trung Island (Hòn Trứng), Den Island (Hòn Đen), and Ngu Phung Embankment (Bờ Kè Ngũ Phụng) are also attractive destinations on Phu Quy Island tourists should not miss.
There you have grasped some basic information about tourism in Phu Quy Island – one of attractions in Vietnam – which hopefully can help you have a well-planned trip. For any question about Phu Quy Island, please leave a comment, we will reply as soon as possible.