Coco Beach Camp is a luxury camp located in the beautiful pristine beach of Lagi Town – Binh Thuan (Bình Thuận) Province, Vietnam. Just about 160 km from Saigon, it takes only 3 hours for you to drive or take a bus to get there. If you come here, you will experience the best moments of your life.
Despite Coco Beach Camp is not separated from the surrounding world, but when you set your foot in this area, it will bring to you a feeling of a completely different world in compared with other nearby beaches. There is just a large beach, a small white villa, and a circle bar designed in Hawaii style, and a big library. The special thing about Coco Beach camp is that there are not hotels and resorts but colorful tents readily built in the area and lengthening from the seashore to the garden inside. This is the place where tourists will sleep and relax throughout their trip in Coco Beach Camp.
Indeed, Coco Beach Camp is one of ideal places for camping in Vietnam that is really suitable for those who want to go camping while still enjoying the beauty of the sea.
What Is The Best Time To Visit Coco Beach Camp?
The best time to visit Coco beach is in spring and summer, especially from January to May, as the weather is great in these months. During this period, it is the dry season in Binh Thuan with clear sea, fewer big waves and no rain. Therefore, this is a good time for you to go to the beach, especially to sleep in a tent on the seashore. It is not always rainy from September to December so you should check the weather to have a perfect trip. You should also avoid the time such as weekend or 30/4 -1/5 since there are too many tourists, especially local ones, visiting here to relax.
How To Get To Coco Beach Camp?
Coco Beach Camp is a campground located in the sea of Cam Binh in Lagi town, Binh Thuan province. To get to Coco Beach Camp, it only takes 4 hours if you go by motorbike and 3.5 hours if you go by car, coach, train or bus. The coach and bus from Ho Chi Minh City (Thành Phố Hồ Chí Minh) to Coco Beach Camp are always flexible. Nowadays, the way to get there has become more convenient and faster than before.
If you go from Ho Chi Minh City, you can follow the following routes:
District 1 – Vo Van Kiet (Võ Văn Kiệt) – Long Thanh – Dau Day (Long Thành – Dầu Dây) Expressway – National Highway 51 -National Highway 55 – Nguyen Du (Nguyễn Du) – Le Minh Cong (Lê Minh Công):
When you pass half of Long Thanh – Dau Day Expressway, you will see the sign to turn right to Ba Ria – Vung Tau (Bà Rịa – Vũng Tàu) or National Highway 51. After running about 40km on National Highway 51, turn left into Chau Duc Industrial Park (Khu Công Nghiệp Châu Đức). Take the left turn onto National Highway 55 (Bong Trang). Ride when you meet the guide to Xuyen Moc-Binh Chau (Xuyên Mộc – Bình Châu). Go straight about 45km to Cam Binh junction. Turn right into Nguyen Du then turn left onto Le Minh Cong. When you meet Le Minh Cong Street, you turn left about 700m and you will see the sign of Coco Beach Camp camping. The Coco Beach Camp is about 200 meters far from that place.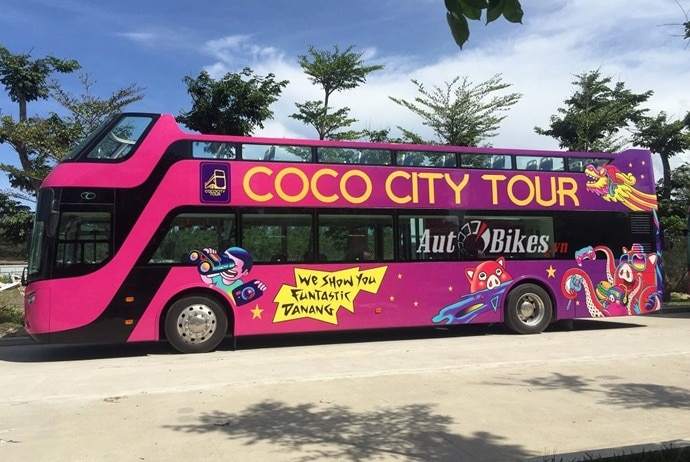 Source: autobikes
To get to Coco Beach Camp, visitors can call the shuttle bus or coach to take you from Ho Chi Minh City. The price for traveling is very reasonable, for only 120,000 – 150,000 VND. There are some coaches with very good price and services for you to choose from to go directly to Coco Beach as the following:
Vinh Hoa Coach: 0916475985
Mr Liêm Coach: 0913848404
Ngọc Mỹ Coach: 0913825627
Mỹ Loan Coach: 0918389444
You can take the train from Ho Chi Minh City to Phan Thiet (Phan Thiết) for about 4 hours with the ticket price from 170.000 VND- 270.000 VND then take a taxi to Coco Beach Camp. To book train tickets, you can contact Saigon train station or book via internet.
Where To Stay In Coco Beach Camp?
You can rent tents or bed sets that are overlooking the sea or book a room in the hotel. However, for better experience, you should rent a tent to camp on the beach of Coco Beach Camp. Because this place is often crowded so visitors should book 3-4 days in advance. The tent renting price at Coco Beach Camp is very reasonable.
Visiting, swimming, fresh water bath: 50.000 VND / person
Day tent rental: 200.000 VND / unit
Overnight luxury tent board includes: blanket, pillow, and mattress: 150.000 VND / person
The tents here are very diverse which are mostly selected and imported from abroad. There are both large and small tents which can adapt to one person or a whole family. If you spend the night in the tent at Coco Beach Camp, you will enjoy its pristine beauty of, cool breeze, and beautiful waves.
If you do not like to rent a tent, you can book a room in a hotel as the options below:
Mon-Fri: 700.000 VND / night
Saturday: 1.500.000VND / night including breakfast, swimming pool, BBQ
Mon-Fri: 800.000 VND / night
Saturday: 1.600.000VND / night
Price BUNGALOW SEA VIEW (2 persons)
Mon-Fri: VND 1.500.000 / night
Saturday: 2.200.000VND / night
Mon-Fri: VND 3.000.000 / night
Saturday: 3.750.000VND / night
Coco Homestay is about 5 km from Coco Beach Camp. It is located at the end of Phuoc Tho village (Làng Phước Thọ), which is a quiet countryside. This is a green garden with old coconut trees and singing birds, squirrels, gecko, wind blowing and insect sounds.
What Are Attractions In Coco Beach Camp?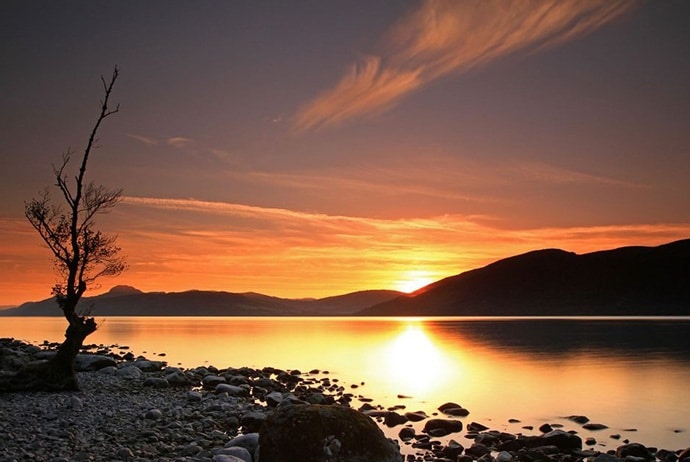 Source: tinhte
Coco Beach Camp is comparable to paradise because it has long, clean beaches with golden sand, blue sea. In particular, Coco Beach Camp is decorated very romantically in natural wild style with swings, white hammocks, and colorful wooden huts. It is also like Hawaii or Brighton Beach, but still has its own Vietnamese beauty.
You can participate in some exciting activities at Coco Beach Camp such as:
See sunrise and sunset at the beach

Rent a motorbike to explore Lagi

Play sports such as kayak, standup-paddle, windsurf, kitesurf,

Visit the stone dam: 5km from Coco beach camp. There are dams with big waves.

Visit the eruption

Coco Beach camp regularly organizes campfire and BBQ party for 350.000 VND / person with many kinds of seafood and other delicacies. You will sit in the romantic space looking straight to the sea while listening to the waves, fishing boats, and enjoying BBQ.

A bar under the old poplar is the centerpiece of the night with Latin, Flamengo or Deep house, reggae, R & B … from Bose speakers with moderate sound. Therefore, you can sip a glass of cold beer, cocktail or whiskey at the bar and chat with friends.
Don't skip: Mui Ne Sand Dunes – A Surreal Destination In Phan Thiet, Vietnam
What To Eat In Coco Beach Camp?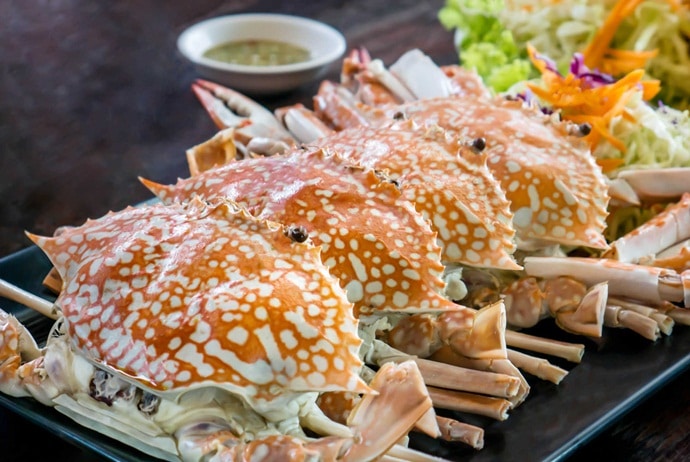 Source: phobien
The dishes of Lagi you can enjoy at the Coco Beach Camp are delicious and cheap seafood such as fish, snails, shrimp, crab, squid, scallops. Especially, Nhan Crab is a famous crab that you should not skip trying. For cooking, you can rent a stove from Coco Beach Camp, and buy coal for 100.000 VND. Then use prepared food to cook.
You can also walk along the beach about 200 meters to a coastal fishing village and buy new seafood caught or you can ask them to prepare food at reasonable prices. There are so many restaurants in here with so much kind of food that you can choose. Therefore, you can enjoy delicious meals at the restaurants in the surrounding area or in the hostel that you stay.
The above is the detailed information for those who want to travel to Coco Beach Camp in the near future. Wish you have a fun trip! If you have any questions, please leave a comment, we will reply as soon as possible.