Phu Quoc (Phú Quốc) is known as the largest island of Vietnam with plenty of beautiful beaches, white sands, impressive landscape, friendly locals and excellent seafood. It is great to travel to Phu Quoc and admire its beauty and attractiveness. We all know there are a lot of activities to do in Phu Quoc in the early morning but the nightlife in Phu Quoc island is not also as boring as many people thought. In this article, I would like to give you some suggestions and inspiration for your crazy fun night out in this beautiful island.
Nightlife In Phu Quoc, Vietnam – What To Do In This Island At Night
1. Watch A Gorgeous Sunset
Talking about Phu Quoc island, we cannot forget to praise its spectacular ocean sunset. And the tour to this beautiful little island won't complete without sunset watching. Watching the sun shining the orange light beams on the ocean and disappearing behind the horizontal line brings great memorable experiences for tourists. There is no doubt when watching a gorgeous sunset is one of the must-try activities for the best nightlife in Phu Quoc if you have a chance to visit there.
2. Go Squid Fishing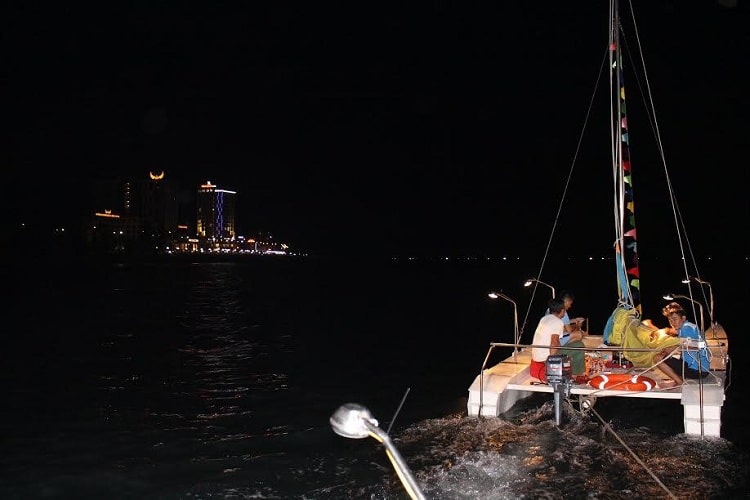 The early morning is the ideal time for you to go fishing but the night time when squids go out for food is the perfect time for you to try squid fishing. That will be your best experience when you are in Phu Quoc.
If you do not know how to catch squids on your own, some fishermen are skillful and open enough to instruct you some special techniques and guide you where you can hire the necessary tools and a fishing boat. They will also let you know how to recognize the right spots for squids. We will need some lights to make the squids gathering. It is not as simple as you do with fish but there are a lot of excitements and fun for that first-time experience.
3. Enjoy Water Puppet Show
The Phu Quoc Water Puppet Show & Theater in Phu Quoc is situated in 129 Tran Hung Dao (Trần Hưng Đạo) Street, Duong Dong (Dương Đông) town. Enjoying water puppet show in the evening helps you understand and learn more about the traditional art of water puppetry (múa rối nước) of Vietnam.
The art originated in Vietnam and dated back in the 12th century. The water puppets are made of wood and lathered with lacquer to prevent corrosion when they are used in water. Controlled by the hands of skillful artists, the puppets will dance on the water with traditional folk music and the voice of people who tell visitors and guests different stories of local village life.
The Phu Quoc Water Puppet Show & Theater often opens at 5 pm on Saturdays and Sundays, or at 7.30 pm and 8.45 pm from Monday to Sunday.
4. Visit Ham Ninh Fishing Village
If you don't like the noisy and busy atmosphere at night, you can visit Ham Ninh Fishing Village (Làng Chài Hàm Ninh) where you can enjoy the cool wind blowing from the ocean, bright moonlight, shimmering and ancient beauty of the night.
Ham Ninh Fishing Village is well-known for its delicious and cheap seafood and the beat must-try speciality for every tourist coming to this Phu Quoc's village is a sweet and meaty crab. It is great for you to buy crab and seafood here as a gift for your friends and your family.
5. Wander Around Ong Lang Beach (Bãi tắm Ông Lang)
After a long day of exploring and playing in Phu Quoc, nothing will be greater than wandering around Ong Lang Beach and enjoying the pristine and peaceful beauty with the soft white sands, clear water, and precipitous cliffs.
Ong Lang Beach is an excellent destination for tourists to come when the sun sets as Ong Lang Beach's beauty will become more exceptional. During this time, you can have a great chance to see many fishing boats coming back home, the children running and playing along the beach and young girl wandering on the white sand with their bare feet.
6. Visit Dinh Cau (Chợ Đêm Dinh Cậu) And Bach Dang Night Market (Chợ Đêm Bạch Đằng)
Dinh Cau Night Market is one of the most popular tourist spots and an ideal place for visitors to enjoy fresh seafood and go shopping in Phu Quoc. Dinh Cau Market is also called Phu Quoc Night Market and it features 50 stalls selling fresh seafood, local snacks, drinks, and many special souvenirs. This market often opens at 5pm and during this time, the street is used for walking only with no vehicles allowed. In this market, you can find sea snakes, urchins, conches, oysters, blood cockles, abalones, scallops, red snapper, tuna, cobia, kingfish, crabs, lobster, and other marine creatures. You can also buy one of the beautiful souvenirs such as pearls, shells, wooden boats, handicrafts and many handmade items here.
Dich Cau Night Market is always busy and crowded at night. So, if you do not like going shopping with noise, you can choose Bach Dang Night Market, a new market in Phu Quoc. This market also features 12 souvenir shops, 20 food stalls selling Phu Quoc specialities and 12 cuisine stalls for Korean, Japanese and American foods.
7. Have Fabulous BBQ Party On The Beach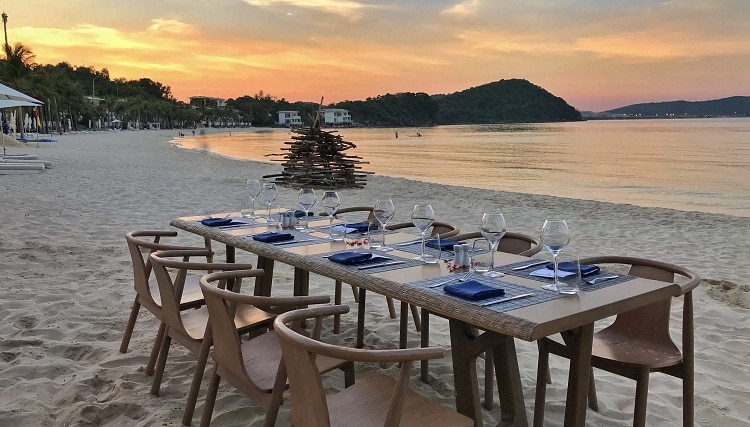 Phu Quoc has bunches of restaurants that can serve dinner on the beach, even the seafood BBQ party. You can easily find the great restaurant you like with great food, wind, swash, and music. Some restaurants also give tourists fire camp on the beach. It will be your wonderful experience when you travel to Phu Quoc Island.
8. Drink At A Popular Bar In Phu Quoc
If you are energetic and want to enjoy the best nightlife in Phu Quoc, Vietnam, you should go to the popular bar or pub in Phu Quoc where you can enjoy an awesome night out with great beer, animated or peaceful atmosphere, and great music. Rory's Beach Bar, The Rabbit Hole Irish Bar, Coco Bar, and Golden Sand Bar are a few names you can look for.
Visiting Phu Quoc at night, you will have the best time for relaxation and romance. No matter whether you go to Phu Quoc in the morning or in the evening, this island is always beautiful and charming. I hope that you can find useful information in this article of Vina.com.Any questions can be left in the comment section below and we will answer them as soon as we can.