Updated: 09/01/2019
Nam Du archipelago, about 40km away from the famous Phu Quoc (Phú Quốc) island, Vietnam, is becoming an attractive destination for those backpackers, both domestic and international, to head to. Situated in Kien Hai (Kiên Hải) district, this archipelago contains 21 islands, of which the Big Isle (Also known in Vietnamese as Hon Lon (Hòn Lớn)) is the biggest one.
Located about 120 km away from Rach Gia (Rạch Giá) mainland, this archipelago is less expensive than Phu Quoc Island and unspoiled at this moment. The best time to travel Nam Du island is from December to March because in this time, the sea is quite clear and peaceful, so those people suffer from seasick might find it easier and more comfortable to travel by ship.
In fact, the waters of Kien Giang (Kiên Giang) province is not directly impacted by storm, but the rainfall caused by tropical storms accounts from relatively large proportion. The rainy season here often starts from April to November annually.
How To Get To Nam Du Island
Transportation from Saigon to Nam Du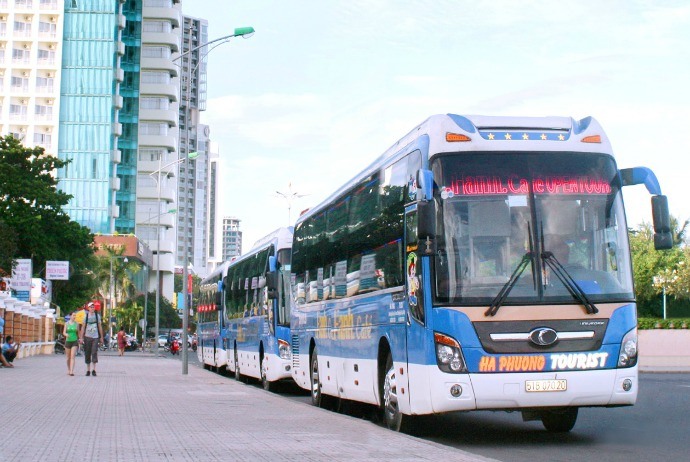 In essence, the way to get Nam Du is rather similar to Phu Quoc Island. You need to get Rach Gia (Rạch Giá) from Saigon (Sài Gòn) (also known as Ho Chi Minh (Hồ Chí Minh) City) by bus (it takes about 6 hours and cost about 150,000 – 170,000/ ticket) then keep moving to get Nam Du by boat. You had better depart from 23pm in order to get Rach Gia in 6am the next morning.
To continue your trip to Nam Du, you travel by speedboat with the round-trip fare of about 440,000 VND per person.
Some Ship Firms From Rach Gia To Nam Du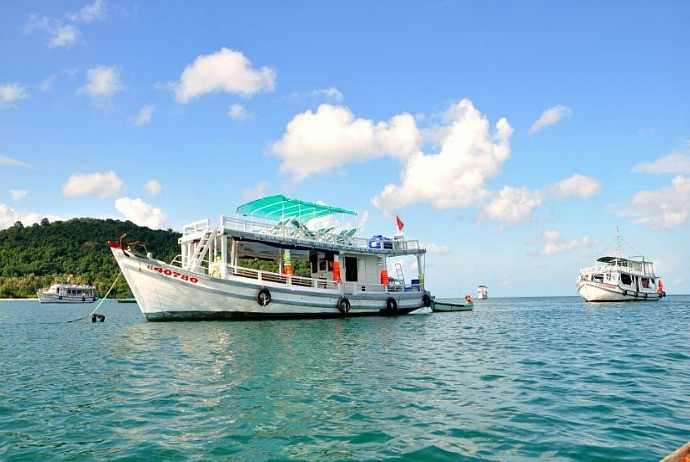 Ngoc Thanh (Ngọc Thành) (speedboat)
Schedule: Rach Gia – Nam Du
Departing time: from Rach Gia at 8:15 and Nam Du at 12:15
Travel time: 2 hours
Ho Hai (Hồ Hải) (normal ship)
Schedule: Rach Gia – Nam Du
Departing time: from Rach Gia at 9 and Nam Du at 10
Travel time: 5 hours
Phone: +84 77 3863019
If you pick the voyage at 8:15 then it will arrive at around 11 in Hon Long belonged to Nam Du archipelago.
Schedule: Rach Gia – Vietnam Travel
Departing time: at Rach Gia 7:20 and Nam Du at  10h15
Travel time: 2 hours
Phone: +84 919664660
Transportation on the island
1. Ship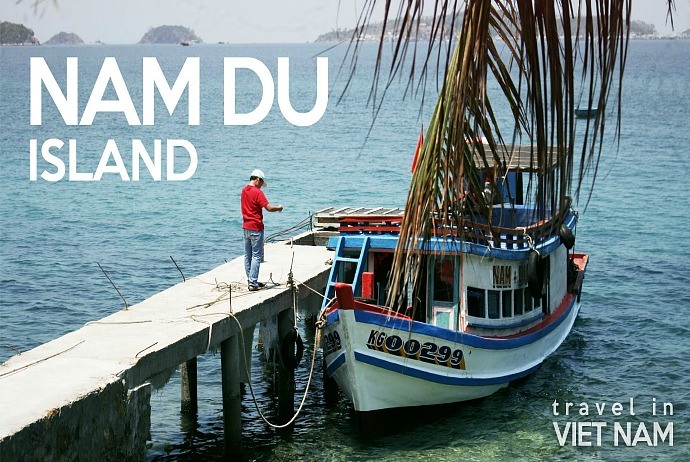 To explore the islands surrounding Hon Lon and visit some beautiful places, you should hire the ship to move. On the island, there are some individuals who have boats or ships for rent. Or, if not you cannot rent, you can go straight to the pier, look for any fishing vessels of local people, bargain the price and the places that you want to go).
2. Motorcycle
You can rent a motorbike at the boarding house for about 150,000-200,000 VND / day, and freely visit the places that you want to go.
Where To Stay In The Nam Du Island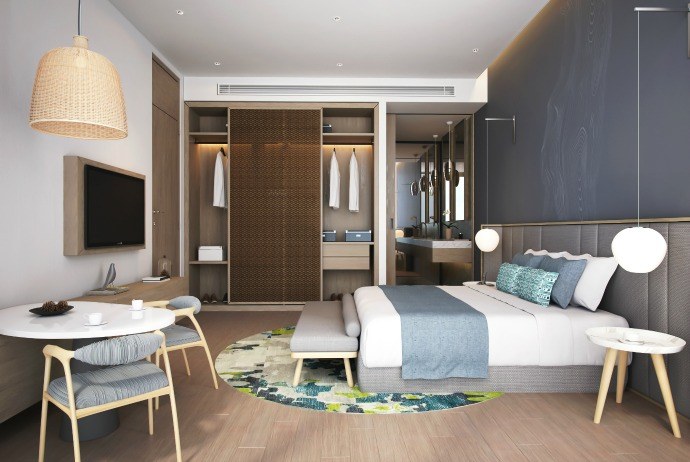 There are 2 ways to spend the night at the Nam Du island: one is renting vacation homes or locals' houses with the price of 150,000 – 200,000 VND / night.
If you like to have more experience, you can rent a tent and a ground space to spend the night. The most suitable beach for staying overnight is Hon Dau (Hòn Dầu) because there are coconut trees and wind sandy area which are quite broad, convenient for camping and recreation. The price of renting is about 30,000 VND per person. Meanwhile, tent rental price is 40,000 VND per person.
Must-See Destinations When Traveling Nam Du
Hon Lon (Hòn Lớn) (Lon Isle)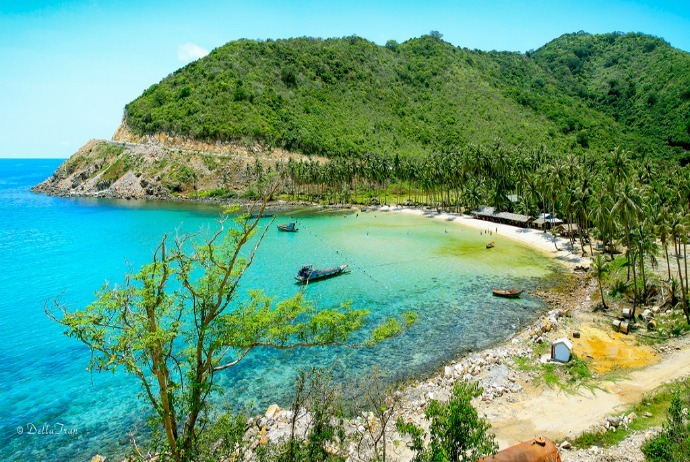 Being a beautiful bay enclosed in the Gulf of Thailand, Hon Lon is considered the most beautiful beach in the Nam Du archipelago. There are green coconut trees with the life of up to 70 to 80 years. Coming here, you will dive to catch fish or squid or enjoy the colorful corals. Cay Men beach (bãi Cây Mến) is not crowded so you can freely have fun and swim. The sea water is clear and cool here.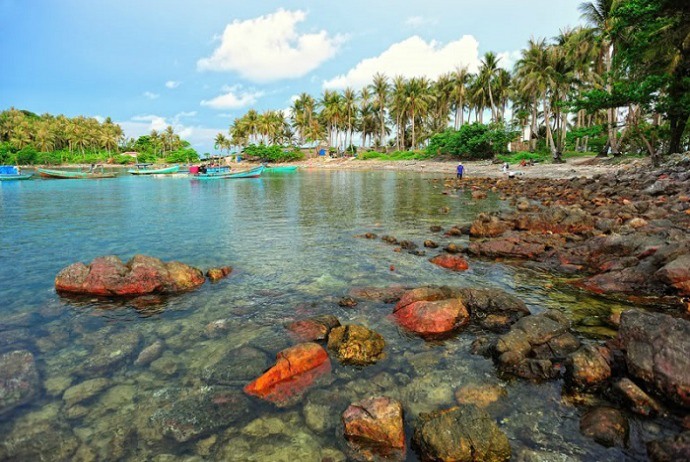 Located in the west of Cu Tron (Củ Tron), Ngu beach is a famous destination in Nam Du archipelago. In legend, it used to be the destination for King Gia Long to stop, that is why this area has its name as Bai Ngu. In dry season, this beach is still full of fresh water while other areas suffer from severe water shortage. Here, there is a well which is always filled with water. Local people said that the well that was dug when the King arrived here should be named as King Well.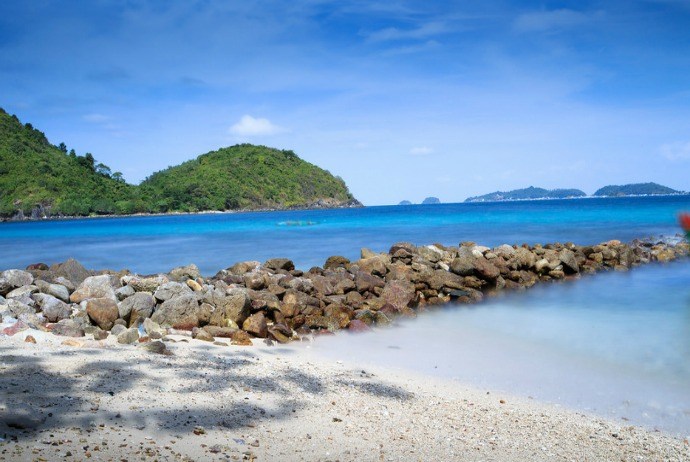 According to the folk back in the 16th century, there was a hug battle between the Netherlands and Chinese cruise on the way to Phu Quoc (Phú Quốc) for trading. A few days later, there were hundreds of Chinese corpses pulling over this beach, so since then, people called this beach as Bai Chet.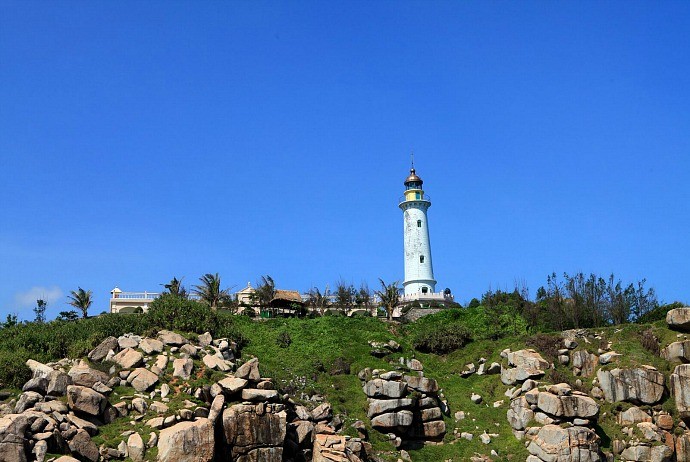 Nam Du Lighthouse is located on the top of Hon Lon (Cu Tron) belonged to An Son (An Sơn) Commune. This is considered as the highest lighthouse in Vietnam because of locating in the top of the hill of over 300 meters above the sea level.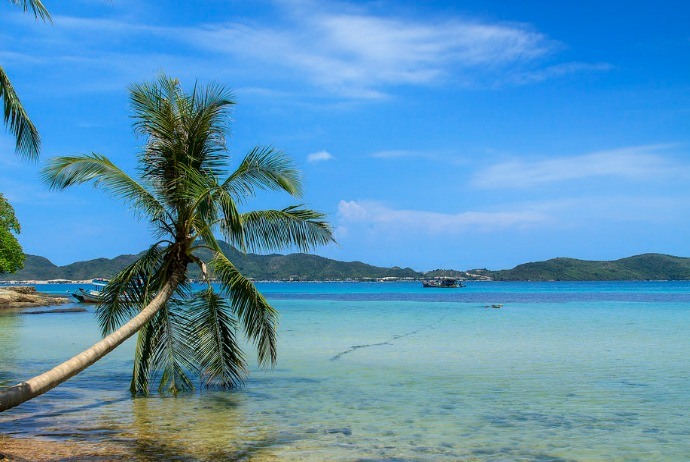 Similar to Hon Lon (Hòn Lớn), Hon Dau has clear water and rustling coconut trees on the bank. This island is relatively large in compared with other islands, with the pristine forest accounting for about 90% of the area. Near the coast, there are many growing reefs, not as impressive as in other deep waters but the crystal and clear water here is another plus point of this island. Some sloping coconut trees slope towards the sea, you could lie under theirs shades to take a nap and enjoy the cool breeze.
As one of 11 inhabited islands, there is just the family of Mr. Duong Van Sau (Dương Văn Sáu) living in this island. The island was reclaimed and built by Mr. Vuong Van Kieu (Vương Văn Kiều) in 1960. The whole island has an area of about 10 hectares, but only 3 ha is arable, the remaining area is completely rocky.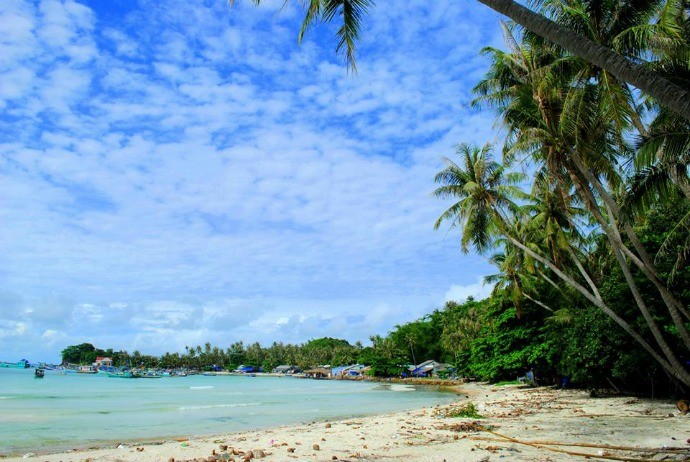 This island is about 200 hectares in width with more than 120 households located adjacent traversing the lowest part of the island. Most people on the island have fishing as their main earning method. Because it is a small island, so when setting your foot here, people on this island all know that you are from other places.
Among 21 islands of this archipelago, the Creator seems biased when giving this small island beautiful beaches. There are five beaches on the island. Among them, there are two white sandy beaches which are hardly found anywhere else – Bai Chuong (Bãi Chướng) and Bai Nam (Bãi Nam). The rest are three rocky reefs:  Beach South Beach; the rest are three reefs: Bai Bac (Bãi Bắc), Bai Den (Bãi Đen), Bai Trang (Bãi Trắng). Nam Beach is the island's facade. This beach is quiet almost all year round, so trading ships all stop in this beach. Therefore, residents here are also more crowded.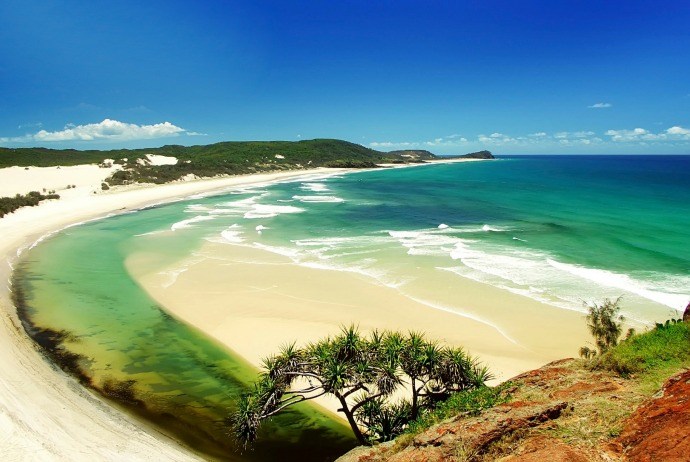 It is very interesting when you can immerse yourself in the cool water in Bai Chuong. This beach looks like a giant lake surrounded with coconut trees. The sandbanks stretches and water has clear blue color. If you stand about tens of meters afar, you can still see the bottom.
The most interesting is to be immersed in cool water in Bai Chuong. The beach looks like a giant lake surrounded with coconut trees having one year-old life. Sandbanks stretch and water is clear so if you stand about tens of meters far away, you can still see the bottom.
There are two adjacent rock fields, which are impeccable. Bai Den has many beautiful stones. The majority of stones are black so that is why people give its name as Bai Den. The stones in this area have a wide range of shapes and when the sun shines, the stones underwater sparkle with eye-catching colors. From Bai Den, you just need to walk about 15 minutes to reach Bai Trang. This beach has almost no sand, just white stones. Almost people coming to these beaches all pick a few stones as the gift from the sea.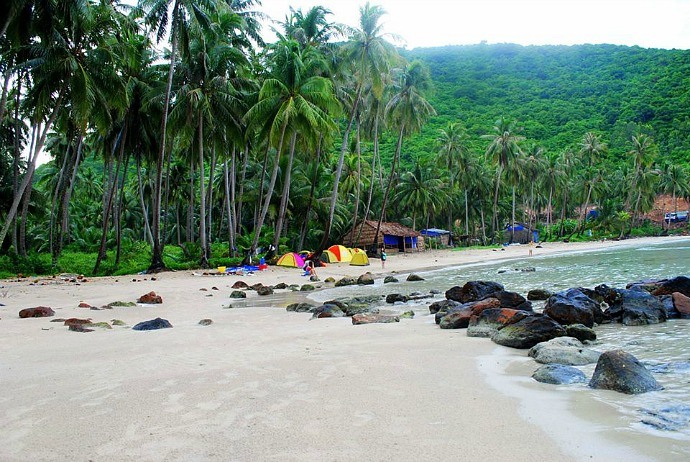 Ngang Isle has the most quite harbor in Nam Du, so it attracts a large number of ships, boats and fish cages. It takes 30 minutes going by ferry to travel from Hon Lon to Hon Ngang. There are just only two trips daily, one at 7 am and the other at 3pm.
Ngang Island is the center of Nam Du Commune. There are thousands of ships and boats along with nearly 60 fish cages anchored in Hon Ngang (Hòn Ngang) pier.
Hai Bo Dap Isle
This is the spot where tourism lovers often select for camping overnight. It is also a suitable location for snorkeling, catching pinch (urchin), fishing and swimming.
Son Isle (Hòn Sơn) (Hon Son Rai (Sơn Rái), Lai Son (Lại Sơn))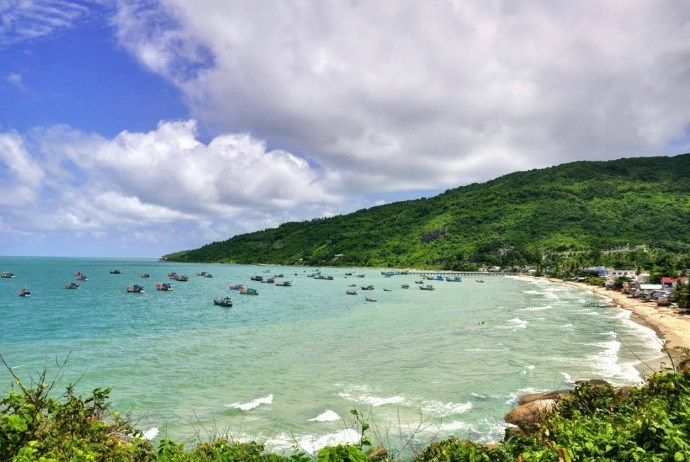 Son Isle is located between Hon Tre and Nam Du archipelago, about 60km from the mainland, on the background of the deep blue ocean, Hon Son (Son Rai isle) shows up as a giant mountain. Since 1983, this charming island is named Lai Son, one of four islands in Kien Hai (Kiên Hải) commune (Kien Giang) with an area of 11.5 km2 and having over 2,000 households living. Visiting Hon Son, visitors can see all the poetic landscape, the harmony between the sea – island with the humanistic values associated with the history and culture of the land where the waves keep rolling.
On a clear day, the clouds cleared, Hon Son when looked remotely is like a sparkling jewel with 7 peaks bobbing on the waves. The closer, the more attractive of the blue color on the island because around this island, there are untouched green palm trees, creating peaceful and romantic scenery. Along the coast, there is a fishing village, with train boats crowded, extremely lively atmosphere.
Standing on the shore to overlook far away, everyone will enthrall to see small rocks, stacked on each other, forming interesting shapes.
Ma Thien Lanh Hill (Đồi Ma Thiên Lãnh)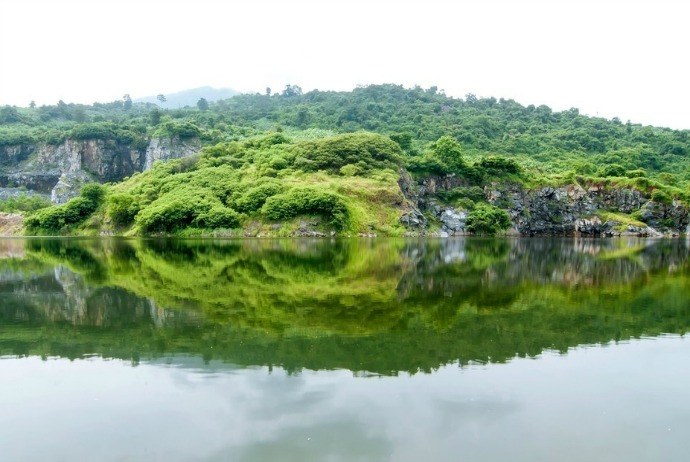 Most visitors visiting Hon Son all prefer to explore the Ma Thien Lanh hill, which preserves many myths that all people here know. That was the fairies often descending the mountain top, called as the fairy yard. Later on, this place has many trees, purity caves so many Taoist hermits come here to sit in meditation. On the way to Ma Thien Lanh, there is an exposed Buddha statute, and many traces of ancient people recorded on stones.