About trips to poetic Hue, tourists often opt for attractions with beautiful landscapes, fresh and cool environment. These criteria are suitable for famous Lang Co beach, Thuan An beach or Canh Duong. Yet, one place you should not ignore is Vinh Thanh beach in Hue – with alluring beauty and pristine nature, which is ideal for a perfect trip!
Although it is not as famed as Lang Co beach or Canh Duong, also not as near Hue city as Thuan An, Vinh Thanh beach (Phu Vang district, Thua Thien Hue province) allures tourists with its unique and pristine beauty. You seemingly immerse yourselves into the crashing waves, feel the salty smell in fishing boats coming back ashore with a big haul.
About 30km in the southeast of Hue City, Vinh Thanh become more and more attractive to tourists by its picturesque and peaceful landscapes that are hardly found in any industrial beaches.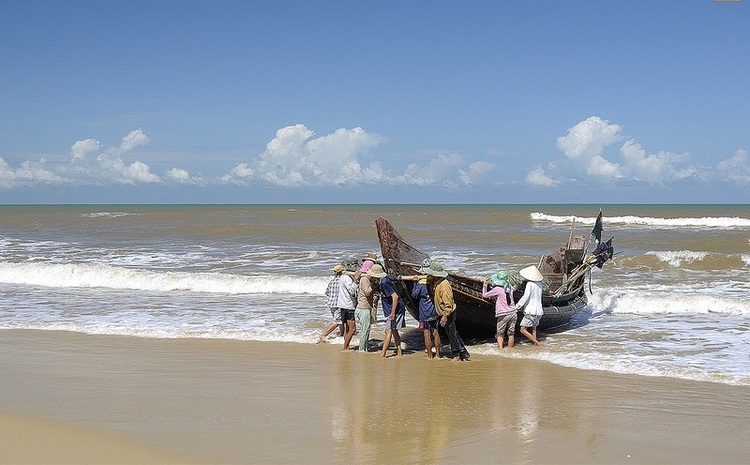 Said to resemble other sunny and windy beaches in the central region, Vinh Thanh is always bathed in sunlight with blue sky and white clouds, the crashing waves beneath your feet. Not many people know Vinh Thanh, so it remains the pristine beauty of nature. With the white sandy area running along the shore, the blue seawater and romantic sunset and tranquil space, Vinh Thanh is alluring to tourists seeking a stop to escape the noisy life in city and tiredness of work.  
In addition, Vinh Thanh marks an impressive point about local people's life here. You can see familiar pictures of fishing boats lying on the sandy shore and waiting for a new journey with fishers who speak Hue dialect entirely and have burnt skin with a deeply lined brow as their unstable livelihood, but they are always friendly, plain and hospitable. Optimistic smile and hope for offshore journeys full of fish never disappear on local people's face. On sunny days, finishing lunches, about 1 am, fishermen who are too familiar with waves, wind of the sea check nets and prepare necessary facilities to start a new journey in the large sea where their companions are waiting for and promise to have ample fish, squids, crabs.
Read more: Quang Loi Lagoon With Peaceful and Alluring Beauty In Hue / Stunning And Famous Landscapes Photos – Top Attractions In Hue City 
What to do in Vinh Thanh beach?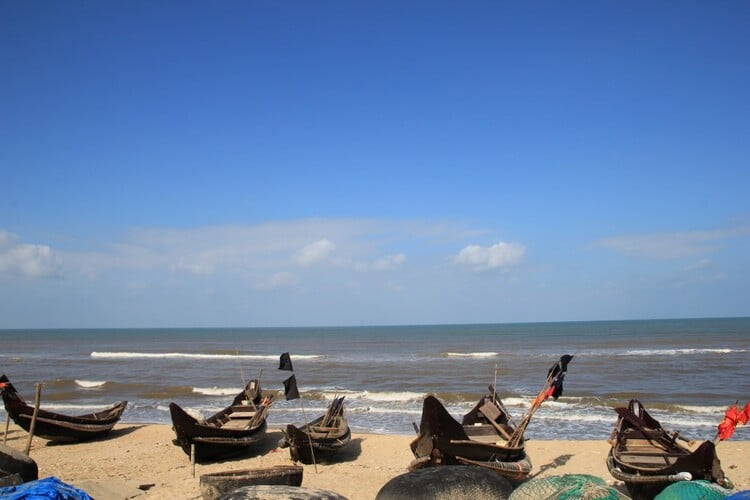 Vinh Thanh beach always brings tourists a sense of peace and amazement that you hardly find in any places. In the morning time, observing daily life by walking the small paths that curve through small fishing villages is a wonderful experience. You can capture beautiful shots of children playing in the shore; a woman collecting water lilies; a fisherman with his nets and preparation of a new journey. A lovely and plain scenery makes people feel peaceful in mind and soft in heart. Vinh Thanh beach appears a small local boat characterized by beautiful morning light during the sunrise over the shore. Nothing fascinating compared to a quiet and beautiful beach like this place when you can see local fishermen wash their waves after they bring in their catch for the morning. To sunrise or sunset lovers, contemplating the sky along with enjoying the cool fresh air on a volcano peek is a wonderful thing that nature gives you. 
More commonly known pristine beauty and alluring landscapes with poetic seascape, Vinh Thanh beach has gained attention from independent travelers who are in search of a tranquil place and refresh after bustling life in cities. It is not luxurious, not enough equipped with convenient accommodations, but peace and plainness. Do not miss an awesome place like Vinh Thanh beach.
What to eat?
Vinh Thanh beach is also known for its friendly people and delicious coastal cuisine, highlighted by its seafood specialities. Tourists who set foot on this place will have a chance to buy fresh seafood from friendly and social Hue people. Interestingly, you yourselves can choose many kinds of seafood such as shrimp, fish, crabs which have been brought from fishing boats in landfall.
With available advantages of nature, Vinh Thanh is worth receiving more investment and the local authority's concern for the development of potential tourism. In fact, the authority has made great efforts to improve the facilities and accommodations for many recent years. However, it is still a big problem for Vinh Thanh when this place is not as popular as other beaches in Hue and lack of staying service for tourists if they want to stay here for several days. The authority and local people hope that Vinh Thanh can attract investors and encourage tourism to develop. One day when you come back here, you realize that Vinh Thanh remains its pure and pristine beauty but convenient accommodations and enough services to supply tourists' experience in each time to a poetic Hue as well friendly and hospitable Hue people.
Written by M.Phuong
Proofread by Hang Pham