Updated: 08/19/2019
Ho Chi Minh (Hồ Chí Minh) is a bustling modern city owning many relaxing and entertainment parks with green space. A green corner that is worth a visit is Le Van Tam Park (Công viên Lê Văn Tám) located in the block of Dien Bien Phu (Điện Biên Phủ), Vo Thi Sau (Võ Thị Sáu), Phan Liem (Phan Liêm) and Hai Ba Trung (Hai Bà Trưng) Street, Dakao Ward, District 1, Ho Chi Minh City. In the middle of the crowded and dynamic city, relaxing in the green space of Le Van Tam Park will give you a memorable and pleasing experience. Let's find out more about this beautiful green park.
When Is The Best Time To Visit Le Van Tam Park

 
Planning a visit to Ho Chi Minh City in general and Le Van Tam Park in particular, most visitors and tourists ask the common question "When is the best time to visit?"
To enjoy the best trip to this dynamic city and the park, you need to know about the weather in Saigon. Saigon with a tropical climate has a wet season from May to October and a dry season from November to April. The best time you can visit the city and the park is between December and February. These are the busiest months of the year with the temperature between 17°C to 26°C, so it is easy for you to meet a lot of interesting people and know more about the daily activities of local people in Ho Chi Minh City.
If you want to enjoy the festive atmosphere in Le Van Tam Park, it is recommended visiting the park in December, January and February when many festivals are held in the park.
The dry season from March to April is hot and dry. However, do not worry if you want to visit Ho Chi Minh City at this time as relaxing and strolling around the park will be a wonderful experience.
Le Van Tam Park – The Green Space In The Middle Of Ho Chi Minh City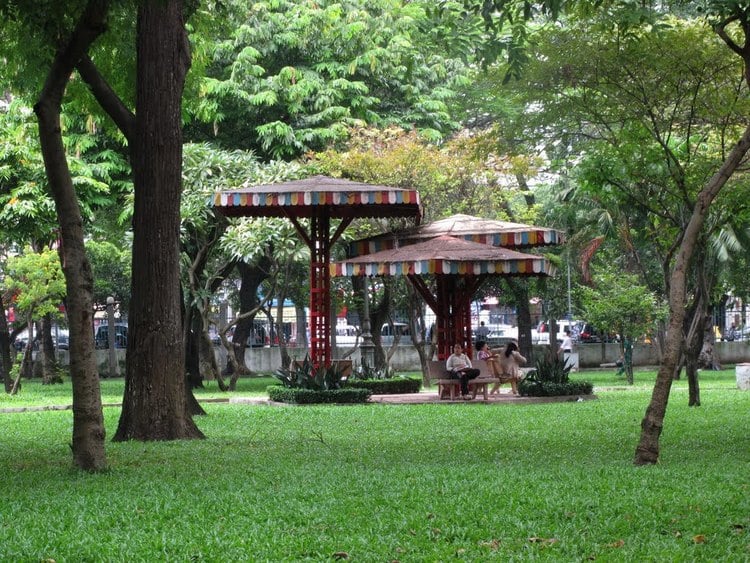 Before 1975, it was used as a cemetery French built. During this time, this place was called Dat Thanh Tay (Đất thánh Tây) and then renamed Mac Dinh Chi (Mạc Đĩnh Chi).
The cemetery was used to bury French soldiers, military leaders, high-ranking politicians and leaders of Southern Vietnam Government.
In 1983, Saigon or Ho Chi Minh City became more and more crowded and the cemetery was removed to a different place, and the Vietnamese local authority at that time decided to build a green park Le Van Tam. It was named after a brave hero of Vietnam in Indochina War.
Le Van Tam Park is not as large as other parks in Ho Chi Minh City but visiting the park, you can enjoy the peaceful, pleasing and fresh atmosphere here. The whole park is covered by the green of big shady trees, green grass and vibrant sunlight. In the early morning and late afternoon, if you visit the park, you can see the daily activities of local people in the park. It is the place where people can stroll around, do exercise, take the rest under trees, chat with their friends and admire the beautiful flowers and scenery.
Young people often come to the park to play guitar, organizes some outdoor activities in groups and do team buildings. Heading the square, you can see the statue of Le Van Tam, a legendary hero placed in the middle and surrounded with beautiful flowers and the big old trees. Behind the square is an entertainment area for children with some interesting fun games like swings, slides or seesaws. Therefore,  on weekends, it is not surprising when many parents and families take their children to the park to play and have fun.
With the spacious and green space, Le Van Tam Park is not only a relaxing and entertainment park but also an ideal place to hold several important events or festivals such as Ho Chi Minh City Book Festival and International Food Festival. The Book Festival is celebrated every two years, and it is one of the biggest and the most important book festivals in Ho Chi Minh City.
Where To Eat Near Le Van Tam Park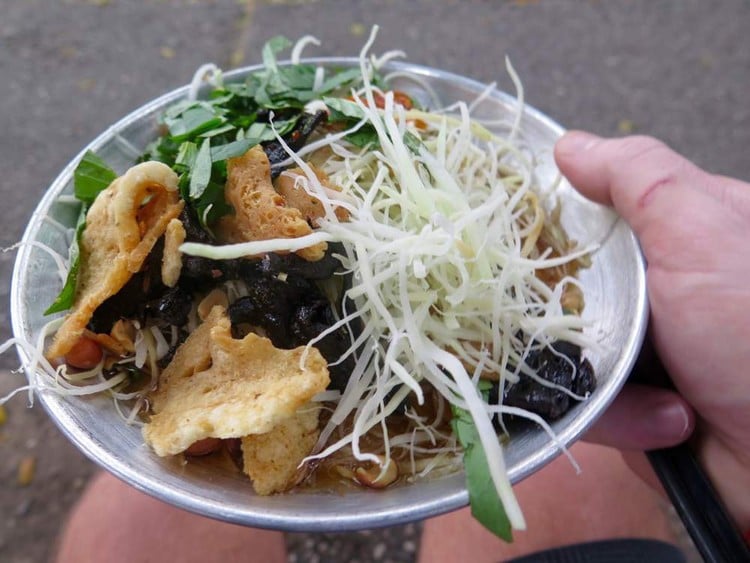 Located in the middle of the city, Le Van Tam Park has many restaurants and food stalls nearby. Furthermore, it is great to eat the special local street foods sold at the vendors in the late afternoon.
One of the special foods you should eat if having a chance to visit the park is Goi Du Du (gỏi đu đủ), a delicious version of Vietnamese green papaya salad. The little plates of green papaya salad are sold across the busy streets of the park and then carried over the park. Sitting under the shade of trees and enjoying the foods is a wonderful experience.
Where To Stay Near Le Van Tam Park 
Ho Chi Minh City has various types of accommodation with the different price range. Whichever attractions you come to visit, you can easily find the best hotel nearby. If you visit Le Van Tam Park, you can stay in the hotels like Sherwood Suites (0.3 miles far from Le Van Tam Park), Sherwood Residence (0.2 miles from Le Van Tam Park), Hotel Des Arts Saigon Mgallery (0.3 miles), Somerset Ho Chi Minh City (0.6 miles), Sofitel Saigon Plaza (0.5 miles), etc.
After a plan of building a convenient underground parking lot started, Le Van Tam Park is promising to attract more tourists and visitors to come. I hope that this article gave you useful information which makes you satisfied. If you have any questions, you can leave them below the post, and we will answer them as soon as we can. On Vina.com, there are many informative, interesting articles that give you useful suggestions and ideas especially when you are planning for a visit to Vietnam.