Hue (Huế) is a great city not only with picturesque and romantic landscapes but also plenty of shopping places. Visiting this beautiful city, you can easily find a few plazas, malls, markets and popular shops scattered on the road. It is great to buy special souvenirs such as creations, traditional artifacts, authentic handicrafts, clothes, and boutiques. Shopping in Hue city can help you understand the local lifestyle, culture, and unique history of this city. It is also meaningful when you can buy some gifts for your friends and family back home. If you are not sure about what to buy in Hue, this article will give you the ideal shopping places for shopping in Hue.
Top 10 Popular Places For Shopping In Hue, Vietnam
1. Dong Ba Market (Chợ Đông Ba)
As one of the popular places for shopping in Hue, Vietnam, Dong Ba Market is the oldest market in Hue, featuring hundreds of stalls and shops that sell handicrafts, household items, fresh product and clothing at affordable prices. Situated on Tran Hung Dao (Trần Hưng Đạo) Street, this market opens at 3 am to cater the fresh goods such as fruits, seafood, and vegetables to local market-goers.
There are also many food stalls in the dining section which has plastic chairs and tables. It is recommended visiting this market between 8am and 11am because you can have a chance to enjoy the delicious Vietnamese dishes such as banh khoai (bánh khoai) (stuffed omelet), pho (phở), and fresh spring rolls.
Location: Tran Hung Dao Street, Hue
Opening Hours: Daily, 3 am – 8 pm
What To Buy: Traditional Vietnamese handicrafts, household items, clothing, fruits, vegetables, and fresh seafood
2. Gia Huy Silk Shop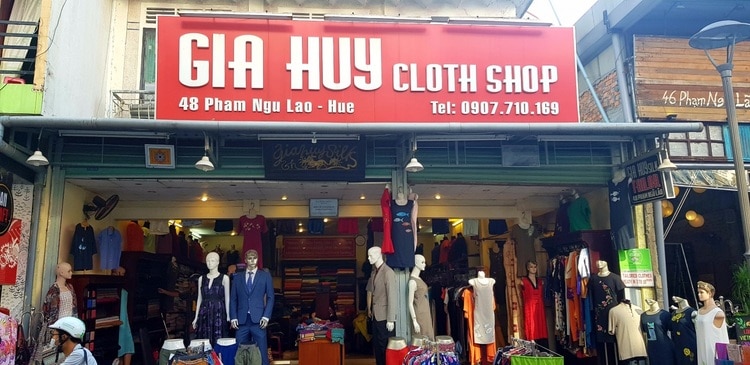 Located on Pham Ngu Lao (Phạm Ngũ Lão) Street, Gia Huy Silk Hue is a famous tailor shop that is well-known for its huge collection of textiles and efficient tailoring services. Visiting this shop, you can find the favorite clothes in terms of size, style, and material.
The staffs are very open and friendly as they take your measurements and create your favorite designer suits, jackets, and dresses within 24 hours.
After the staff finishes making the product, it will be delivered to your hotel for free. Furthermore, Gia Huy Silk Hue also has the international shipping services via Vietnam Post airmail which cost you about from US$15 to US$30. If your products are more than US$300, Gia Huy Silk Hue offers free shipping.
Location: 48 – 50 Pham Ngu Lao Street, Hue
Opening Hours: Daily, 10 am – 10 pm
What To Buy: tailor-made dresses, suits, and jackets
3. Healing The Wounded Heart Shop
This handicraft shop was founded by Spiral Foundation, a non-government organization in 2009. In Healing the Wounded Heart Shop, you can find plenty of handicrafts, apparel, and accessories made from recycled items.
It is great to buy the impressive bowls made from colorful telephone wires (US$9 – US$25), silk scarves ( US$18), handwoven handmade bamboo baskets (US$16) and photo frames made from beer cans (US$7). Furthermore, you can relax by enjoying a cup of hot tea and observing how the skillful local artists are working at this non-for-profit handicraft shop. The funds raised here are used to provide the disabled artisans in Hue fair wages, housing, medical insurance, recreational allowance, and a daily sponsored meal.
Location: 23 Vo Thi Sau (Võ Thị Sáu) Street, Hue
Opening Hours: Daily, 10 am – 10 pm
What To Buy: Handicrafts, accessories, and apparel made from recycled materials
4. New Space Art Foundation
New Space Art Foundation, an independent art gallery, was founded by brothers Le Ngoc Thanh (Lê Ngọc Thanh) and Le Duc Hai (Lê Đức Hải). This art gallery displays a huge collection of folk paintings. Situated on Pham Ngu Lao Street, this gallery is a two-story venue that features a garden, photography studios, and lacquer which give you the best shopping in Hue.
Furthermore, visiting the New Space Art Foundation, you also have a great chance to take part in many dinner events, art exhibitions for the new artists, and communal cooking.
Location: 28 Pham Ngu Lao Street, Hue
Opening Hours: Daily, 10 am – 10 pm
What To Buy: folk painting, impressive art pieces of the new artists
5. Tay Loc Market (Chợ Tây Lộc)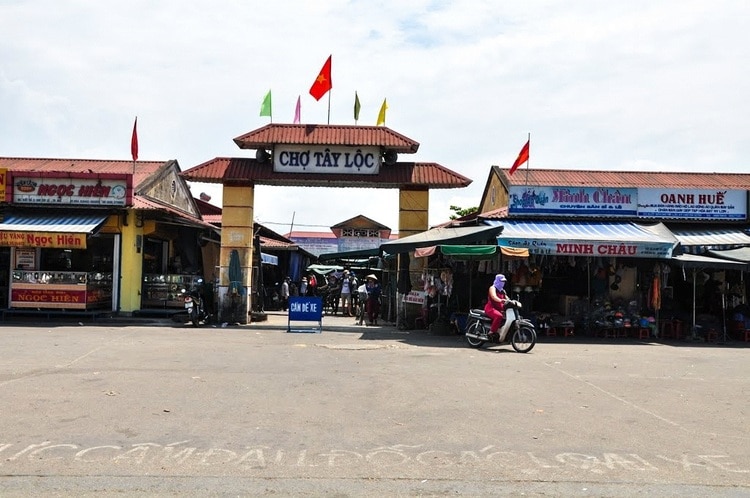 Tay Loc Market is the local market which caters the products to the local population of Hue but Tay Loc Market also attracts a larger number of travelers because of the several shopping places and dining section here.
Tay Loc Market sells plenty of goods such as household items, fresh products, and clothing. You can explore several stalls and shops selling typical souvenirs with high quality like wooden carvings and conical hats. To get a good price, you should know how to bargain the goods in Vietnam.
To get fresh products, you should go to the market early in the morning. Do not worry about your empty stomach because there are many cheap local delicacies like fresh spring rolls, banh beo (bánh bèo) (steamed rice cakes), and Hue beef noodle soup.
Location: 209 Nguyen Trai (Nguyễn Trãi) Street, Hue
Opening Hours: Daily, 6 am – 10 pm
What To Buy: Clothing, accessories, local food, souvenirs
6. Posh Boutiques
Near the junction of Trang Tien Bridge are several cool posh boutiques. They are situated between Trang Tien Bridge and Duy Tan Hotel. These boutiques sell numerous high-end products from modern international designs to traditional Vietnamese garments. The garments here has very good quality but the price is quite expensive. If you are not in a tight budget, it could be an excellent souvenir to buy when you have a chance to visit Hue.
Location: Between Trang Tien (Tràng Tiền) Bridge And Duy Tan (Duy Tân) Hotel, Hue
What To Buy: Customized garments
7. The Gift Shops At Pilgrimage Hotel
The Gift Shops at Pilgrimage Hotel are outstanding with numerous traditional Vietnamese craftwork and impressive souvenirs for your friends and family back home. The crafts here are divided into four types including fabric/silk, ceramics, woodwork and rattan/wicker. They all have good quality and eye-catching appearance. Furthermore, the price of these products varies from the expensive to pocket-friendly ones. That will provide tourists and visitors amazing shopping experiences in Hue, Vietnam.
Location: 130 Minh Mang (Minh Mạng), Thuy Xuan (Thủy Xuân), Hue
What To Buy: crafts made from ceramics, silk fabric, rattan/wicker or woodwork.
8. Trang Tien Plaza
Trang Tien Plaza is the famous shopping mall in Hue. Exploring Trang Tien Plaza, you can buy almost anything from high-end branded garments to household items. It is the four-story building which caters food, shopping, and gaming services for customers.
There are over 200 fashion brands, handbags, cosmetics, accessories, and footwear. Trang Tien Plaza also has more than 50 leading international brands of fashion including Cartier, Burberry, Rolex, Louis Vuitton, etc
Furthermore, visiting Trang Tien Plaza, you can also enjoy the great relaxing time in many restaurants and café housing inside and outside this shopping mall.
Location: 06 Tran Hung Dao Street, Phu Hoa (Phú Hòa) Ward, Hue
Opening Hours: 9:30 am – 10 pm
What To Buy: Accessories and high-end branded fashion
9. Blue De Hue
Vietnam is also well-known for the beautiful Chinese white and blue porcelain that is one of the ideal souvenirs you can buy in Hue, Vietnam. In Blue De Hue shop, you can find plenty of impressive bowls, plates and other containers made from ceramic and porcelain. You will be astonished at their unique designs with the wonderful harmony of white and blue colors
If you have a chance to visit Hue city, you should not miss these art pieces because you can not find them from anywhere else in Vietnam. Hue is one of the main manufacturers of this special and beautiful artwork.
Location: 43 Vo Thi Sau, Phu Hoi (Phú Hội), Hue
Opening Hours: 7 am – 9 pm
What To Buy: Stonework, ceramics, lacquerware, and wooden carvings
10. Queen Pearl Gift Shop
Pearl is the most attractive and unique gemstone which is believed to bring prosperity and luck to anyone who has it.
If you want to buy the valuable pearl, you can go to the Queen Pearl Gift Shop, one of the major shopping centers in Hue, which displays and sells a variety of beautiful eye-catching jewelry made from pearls.
Clients just need to choose the pearls and then the product after completing will be delivered to your hotel. The prices of jewelry are affordable and fixed; therefore, the purchasing process is fast without bargaining
Location: 29B Chu Van An (Chu Văn An), Hue
Opening Hours: 8 am – 10 pm
What To Buy: Accessories and pearl jewelry
Read more:
Everything is cheap in Hue and other areas of Central Vietnam. Hue has several unique items that can not be found anywhere in Vietnam. The prices of souvenirs and goods in Hue vary, depending on the quality, design, and decorations. It is important for you to know some useful tips to communicate and bargain for the product in Vietnam. Do you have any questions to ask? If yes, please feel free to leave your comments below this article of Vina.com and wait for the responding soon.