Updated: 11/20/2019
Hue (Huế) is an imperial city known for its rich culture and history. Furthermore, it is also a charming city with many beautiful and picturesque landscapes. If you love discovering the historical mysteries, exotic cultures and hidden beauty, Hue that used to be Vietnam's Royal Capital is definitely on the top of your choice for a wonderful travel plan. Not only the daytime but also Hue nightlife has the unique beauty and charm for tourists to discover and admire. What to do in Hue at night? In this article, I would like to recommend to you the best things to do in Hue when the sun sets. That will definitely make the most out of your evening in this beautiful city.
Hue Nightlife – Things To Do At Night In Vietnam's Hue City
1. Visit Hue Citadel At Night
One of the best things to do in Hue at night is to visit Hue Citadel that has been known as a must-see destination for tourists traveling to Hue City thanks to its authentic culture and hidden beauty. At daytime, you can explore many famous sites here such as Tu Cam Thanh (Tử Cấm Thành), Cuu Dinh (Cửu Đỉnh), and Thai Hoa Palace (Điện Thái Hòa). However, have you ever thought of visiting Hue Citadel at night? Let try it. It will definitely give you memorable experiences when you admire the mysterious and shimmering beauty of Hue Citadel in the evening with the lights shining from Ngo Mon Gate (Cửa Ngọ Môn).
The Hue Citadel started to open at night in the second quarter of 2017 with the opening hours from 8:30 pm to 10 pm, daily. Tourists who want to take the night tour in Hue Citadel just need to pay the same entrance fare as at daytime.
At night, the sites that are opened included Dien Tho Palace (Cung Diên Thọ), The Mieu (Thế Miếu), Tu Phuong Vo Su (Lầu Tứ Phương Vô Sự), Truong Sanh Palace (Cung Trường Sanh), and Hoa Binh Door (Cửa Hoà Bình). Visiting Hue Citadel in the evening, visitors will have the opportunity to enjoy the ancient rituals and ceremonies, listen to music performance and art acting performance. Furthermore, you can also take part in many interesting games of the imperial palace.
2. Listen To Hue Folk Song And Release Lanterns On The Perfume River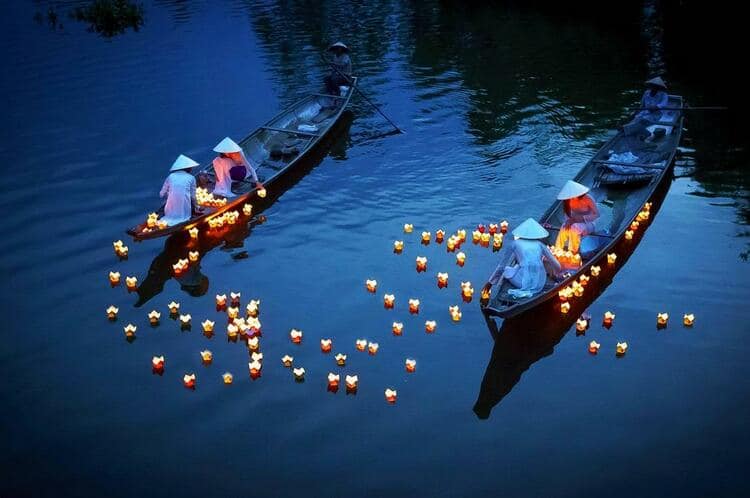 The performance of Hue folk songs on the Perfume River is one of the unique activities of Hue 's locals and it has been begun and developed for hundreds of years. Therefore, it will be a pity if you travel to Hue without listening to that great performance on the Perfume River. In Hue night tour, nothing is better than sitting in a dragon boat cruise and listing to the Hue folk songs. You will feel the soul of the locals in Hue through this delicate art performance.
Furthermore, if you travel with your love or you are on a honeymoon trip, you should try releasing lanterns on the Perfume River, one of the best thing to do in Hue at night. This unique beautiful activity aims to not only commemorate and show the local's gratitude toward their deceased ancestors but also wish for peace and health for their own family. Taking a Dragon Boat cruise and releasing lanterns on the Perfume River, you can wish for your life and future too.
3. Walk On Nguyen Dinh Chieu (Nguyễn Đình Chiểu) Street
Situated in the heart of Hue City, at the foot of Truong Tien Bridge (Cầu Trường Tiền) and alongside the beautiful Perfume River, this Nguyen Dinh Chieu walking street that has the riverside Hue night market is an ideal place for walking, sightseeing, enjoy Hue specialties and shopping as on the street is full of street food stalls and colorful souvenirs.
Furthermore, you can easily find the kiosks with many impressive Hue crafts and will be astonished at the traditional wood architectures of many restaurants here. Besides, young people from every part of Hue City also come here to perform street arts and play street music. Walking on Nguyen Dinh Chieu Street gives you a wonderful chance to enjoy these performances and immerse in the vintage ambiance for the most out of your evening here.
If you talk a walk on Nguyen Dinh Chieu Street, I would like to suggest you taste Hue special delicious food types at several local food stalls such as water fern cake, mussel rice, tapioca dumplings, sweet soup, and thick noodle soup.
4. Watch Artwork At XQ Co Do Gallery (Bảo tàngTranh thêu XQ Cổ Độ Huế)
Located on 27 Nguyen Thai Hoc (Nguyễn Thái Học) Street and opening from 7 am to 9 pm, the XQ Co Do is a famous embroidery art gallery. Visiting here at night, you can admire the impressive embroidery works that are made by the talented hands of artisans with the aim of weaving the great stories and strong spirits of Vietnam people and culture. The artisans Hoang Le Xuan (Hoàng Lệ Xuân) and Vo Van Quan (Võ Văn Quân) have turned each embroidery work into a wonderful visual threat art to preserve and restore the traditional embroidery culture of Vietnam. It is great to buy that meaningful souvenir as a gift for your friends and family.
5. Spend Time At Diem Phung Thi (Điềm Phùng Thị) Sculpture Garden
Near Nguyen Dinh Chieu waking street and night market is a white charming French villa located at 17 Le Loi (Lê Lợi) Street. Inside the villa are 386 artworks made by a well-known sculptor Madam Diem Phung Thi. To show her own sculptural language called "seven modules", she used five basic elements including wood, metal, fire, water, and earth and blended them nicely to create the abstract but vibrant artworks which own the unique meaning and symbolism.
If you want to go admire her works inside the villa, you have to go between 7.30 am to 5.30 pm and need to pay the entrance fee of 30,000 VND for one person. But if you want to visit in the evening, you can wander in the garden outside the villa where some of her wonderful artworks are displayed for free. The Diem Phung Thi Sculpture Garden opens 24 hours a day for the whole week; therefore, you can visit at any time you want. It is one of the very interesting and fun things to do in Hue at night especially when you try to think and guess the symbolism and meaning of her work.
6. Enjoy The Street Food In Hue At Night
When the sun goes down in Hue City, many street foods stalls will open and you can hear the voice of vendors welcoming eaters. Your tour to Hue will be complete if you do not taste the delicious street food types in Hue at night. Hue City has various local food options with many street food corners you can easily find.
Here are some suggestions where you can taste delicious dishes in the evening:
Bun Bo My Tam (Bún bò Mỹ Tâm) at 24 Le Duan (Lê Duẩn), Hue

Banh Mi Dem (Bánh mì đêm) at the food of Trang Tien Bridge (cầu Tràng Tiền)

Banh Canh Han Thuyen (Bánh canh Hàn Thuyên) on Han Thuyen (Hàn Thuyên), Hue

Nem Lui Nhu Y (Nem Lụi Như Ý) at 102 Nguyen Sinh Cung (Nguyễn Sinh Cung), Hue

Banh Khoai Hong Nhan (Bánh khoái Hồng Nhân) at 78 Dinh Tien Hoang (Đinh Tiên Hoàng), Hue

Banh Khoai Hanh (Bánh Khoái Hạnh) at 11 Pho Duc Chinh (Phó Đức Chính), Hue
7. Enjoy The Illuminating View Of Hue Nightlife On The Rooftop Café Or Bar
Hue is full of many beautiful stylish cafés with wonderful views and great coffee. Visiting a quiet café and watching the city in the evening is one of the wonderful activities for Hue nightlife tour. Sitting at the café rooftop, you can enjoy a shimmering view of Hue Night Market, Truong Tien Bridge, The Floating Restaurant, Timber Wood Bridge, and dragon boats on the water with the music in the air. It is great to enjoy the true beauty and tranquility of Hue.
Here are some famous café locations that give you the great views of the Perfume River:
Sky Café inside Midtown Hotel

The Café inside the Imperial Hotel at 8 Hung Vuong (Hùng Vương), Hue

Co Huong Café (Cô Hương Café) at 2 Tran Hung Dao (Trần Hưng Đạo), Hue
8. Visit Bars At Pham Ngu Lao Walking Street Or Nearby Streets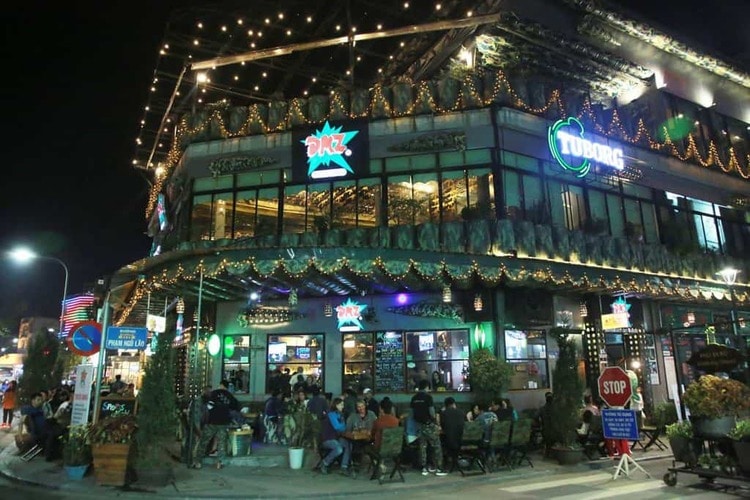 Pham Ngu Lao (Phạm Ngũ Lão) Street is a small walking street housing the ancient homes and modern style houses. If you want to enjoy the stunning and quiet atmosphere and various cheap drinks or foods, visiting a pub or a bar in Hue at night is your top choice. Pham Ngu Lao and its nearby streets are full of popular bars and pubs for tourists. It is great to spend time with your friends with a drink in your hand and music in the air.
Here are the most popular bars and pubs you can look for:
DMZ Bar at 60 Le Loi, Hue

Why Not Bar & Restaurant at 26 Pham Ngu Lao, Hue

Brown Eyes Bar at 56 Chu Van An (Chu Văn An), Hue

Ta Vet Pub at 11 Vo Thi Sau (Võ Thị Sáu), Hue

Taboo Pub at 16 Vo Thi Sau, Hue

Gecko Pub at 9 Pham Ngu Lao, Hue
9. Get Around Hue By Cyclo
It is not only one of the best things to do in Hue at night but also a part of Hue's culture as the cyclo is a mean of transport many tourists and visitors love to experience in Hue. Taking the night tour around Hue on a cycle can help you watch citadels, Hue streets, beautiful river and the quiet gardens in the evening.
Many visitors thought that Hue is a boring city with nothing interesting to do at night. I hope that after reading this article about Hue Nightlife – things to do in Hue at night, you can change your conception of Hue and want to plan the tour to this beautiful city. I guarantee that you will have a memorable experience in Hue with any exciting things to do.